Rhode Island Sick Leave Law 101
Not sure if your employer is legally required to give you paid sick leave?
Legislation varies from state to state. Understanding Rhode Island sick leave law will allow you to take advantage of your entitlements and avoid having to be sick at work.
Our comprehensive guide to RI sick leave law will explain what time off you are eligible for and how to call in sick. Request Sick Leave product makes it easy to ask for time off—find out how below.
What You Need To Know About Paid Sick Leave in Rhode Island
While there is no federal law for sick time, Rhode Island's Healthy and Safe Families and Workplaces Act includes provisions to ensure adequate paid sick leave for most workers in the state. There are a few exemptions to the law—consult this chart to determine your eligibility:
| Employment Type | Eligible (Yes/No) |
| --- | --- |
| Full-time | Yes |
| Part-time | Yes |
| Temporary | Yes |
| Federal, municipal, or regional government | No |
| Independent contracting and subcontracting | No |
| Work-study participation | No |
| Internship | No |
| Apprenticeship | No |
Those that do not qualify under this law may still be eligible for sick leave via the Family and Medical Leave Act (FMLA) or the Emergency Paid Sick Leave Act.
How Does Rhode Island Sick Time Law Work?
If eligible, you can accrue up to 40 hours of paid sick time per year. You earn one hour for every 35 hours worked. Sick leave is unpaid unless your workplace has more than 18 employees.
You can use this time for any of the following situations:
Recovering from physical/mental illness or injury
Seeking medical services
Dealing with your workplace or your child's school being closed as the result of a public health order
Dealing with domestic violence, sexual offenses, or stalking
Can I Only Use RI Paid Sick Leave for Myself?
No—you can also use your accrued time off to care for others, including:
Children
Spouses or common-law partners
Parents and parents-in-law
Grandchildren
Grandparents
Siblings
Care recipients
Household members
Do I Have To Work While Sick?
As long as you have accrued enough time off, you cannot be forced to work while sick. Doing so is dangerous for both staff members and customers. If you must work while ill, be sure to limit your exposure to and contact with others.
Rhode Island law ensures you cannot be fired for using your earned paid sick leave. If your employers take action against you, you can sue them—DoNotPay will help. Our Small Claims Court product assists with the filing process for your wrongful termination suit.
How To Call in Sick
Before picking up the phone, make sure to check whether your employer has a specific policy in place for taking paid sick leave. Larger companies often have a dedicated phone line or an online form to fill out.
If there is no standard process, you can call in sick in one of two ways:
Via phone
Via email
Be sure to provide as much notice as possible. The later you inform your boss about your absence, the harder it will be to cover for you.
DoNotPay Takes the Stress Out of Asking for Time Off
You may have earned sick days, but that doesn't make the prospect of asking for time off any easier. We all struggle with the idea of talking to the boss about time off—allow DoNotPay to ease the process for you.
Our Request Sick Leave product helps you draft a professional request for time off, taking all the guesswork and stress out of the procedure.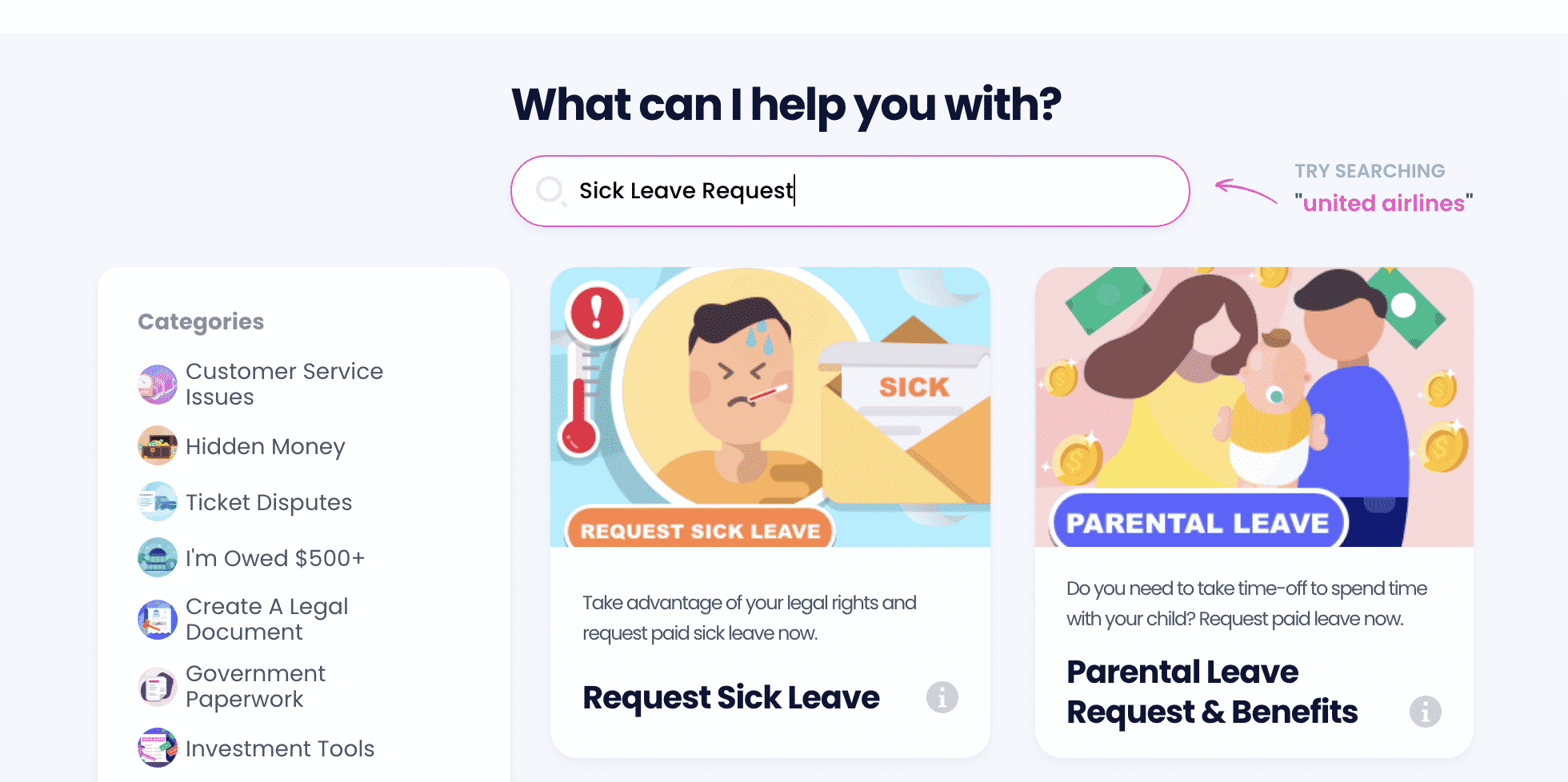 Here is how it works:
Choose the Request Sick Leave product
Fill in a few details about your job and your company
Upload a photo of your doctor's note if you have one
You can download a copy of the request or have DoNotPay submit it to HR on your behalf right away.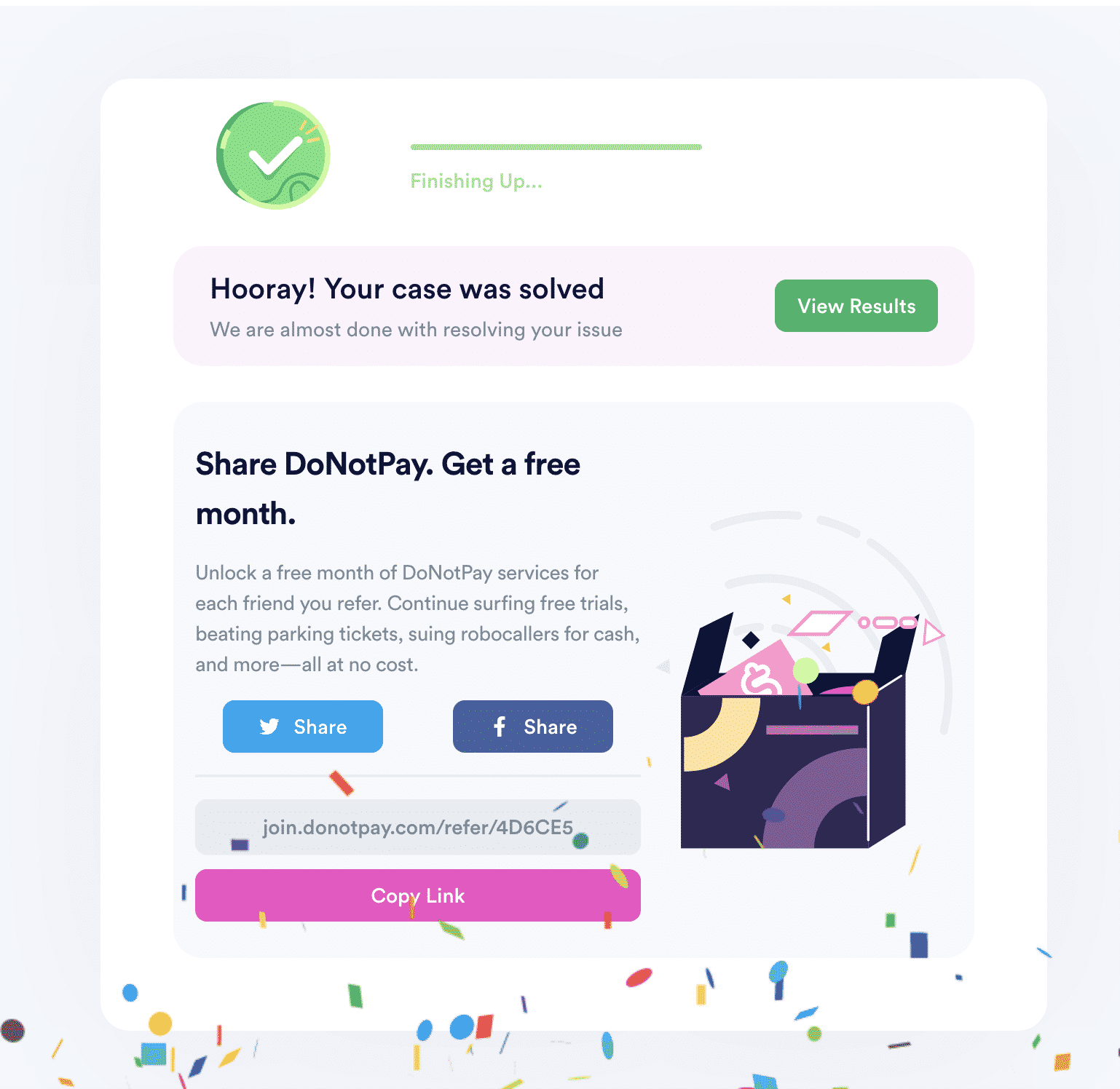 Let DoNotPay Help You With Various Tasks
The assistance we can provide doesn't stop here! Check out the table below for more details on our services:
| Improving Your Security | Making Your Everyday Life Easier | Creating Customized Paperwork |
| --- | --- | --- |
| | | |
Struggling To Be Economical? Rely on DoNotPay!
Our app—the world's first virtual lawyer—can help you save a significant amount of money in a few clicks! Starting from lowering your bills and reducing property taxes to claiming missing funds under your name, DoNotPay will keep the cash in your pockets.
Our system will also prevent you from financing unwanted or unused memberships and subscriptions by canceling them. You will be able to enjoy free trials without getting charged for them and get refunds from any merchant or airline company due to dissatisfying service!