Under the Weather? Here's What You Need To Know About New York Sick Leave Law
Most New Yorkers are entitled to sick leave (paid or otherwise) but may not know how many days they can use. Given how different one state's legislation can be from another state's, there's no standardized approach to earning and using sick leave.
The bottom line is that you shouldn't feel compelled to work while sick. Being sick at work is bad for you and your coworkers, which is why you need to request time off when you're ill—DoNotPay can help by breaking down the New York sick leave law and sending your leave request.
NYC Sick Leave Law 101
In September 2020, New York enacted two laws to help expand employee rights beyond temporary legislation connected to the pandemic:
New York State Paid Sick Leave law (NYSPSL)
These New York state sick leave laws allowed residents to begin accruing time in 2020. Employees were able to start using their time off as of January 1, 2021.
How Does the New York Sick Leave Law Work?
Whether you are eligible or not depends on the nature of the business you work for:
| Number of Employees | Net Income | Sick Leave Allowance | Paid (Yes/No) |
| --- | --- | --- | --- |
| 0-4 | Less than $1,000,000 | 40 hours | No |
| 0-4 | More than $1,000,000 | 40 hours | Yes |
| 5-99 | / | 40 hours | Yes |
| 100+ | / | 56 hours | Yes |
Can You Carry On Your Unused Sick Leave to the Next Calendar Year?
Although you can carry over unused sick leave to the next calendar year, the law permits employers to limit employees' use of sick leave to 40 or 56 hours each year. In other words, you may accrue sick leave that you won't be eligible to use.
Acceptable Uses Under the New York Paid Sick Leave Law
As the name suggests, ESSTA covers two primary purpose categories:
Sick leave
Safe leave
Sick Leave Uses
You may claim accrued sick days for:
The care of a mental or physical illness, injury, or health condition
The diagnosis or treatment of a mental or physical illness, injury, or health condition
You may also use sick leave to take care of a family member or relative that meets one of the above conditions.
Safe Leave Uses
You may use earned safe leave time to:
Engage services offered by a domestic violence shelter or rape crisis center
Take part in a safety planning process
Plan the relocation of yourself or your family in addressing a safety concern
Work with a lawyer or social services professional
Engage support from a law enforcement agency
Enroll your children at a new education institution
Take any action in support of your or your family's safety
Methods for Calling in Sick
First, check if your company has an official policy for taking sick leave. Some organizations use an online portal or a specific phone number to manage the process.
Otherwise, use one of the following contact methods to call in sick:
Ideally, you should give as much notice as possible. If you are already at work and begin feeling sick, inform your manager directly that you need to take the rest of the day off.
DoNotPay Will Help You Claim Your New York Paid Sick Leave
While your employer cannot legally terminate your employment because you're sick, they may not be happy about your absence. That pressure can make the prospect of asking for time off stressful—allow DoNotPay to make it easier for you.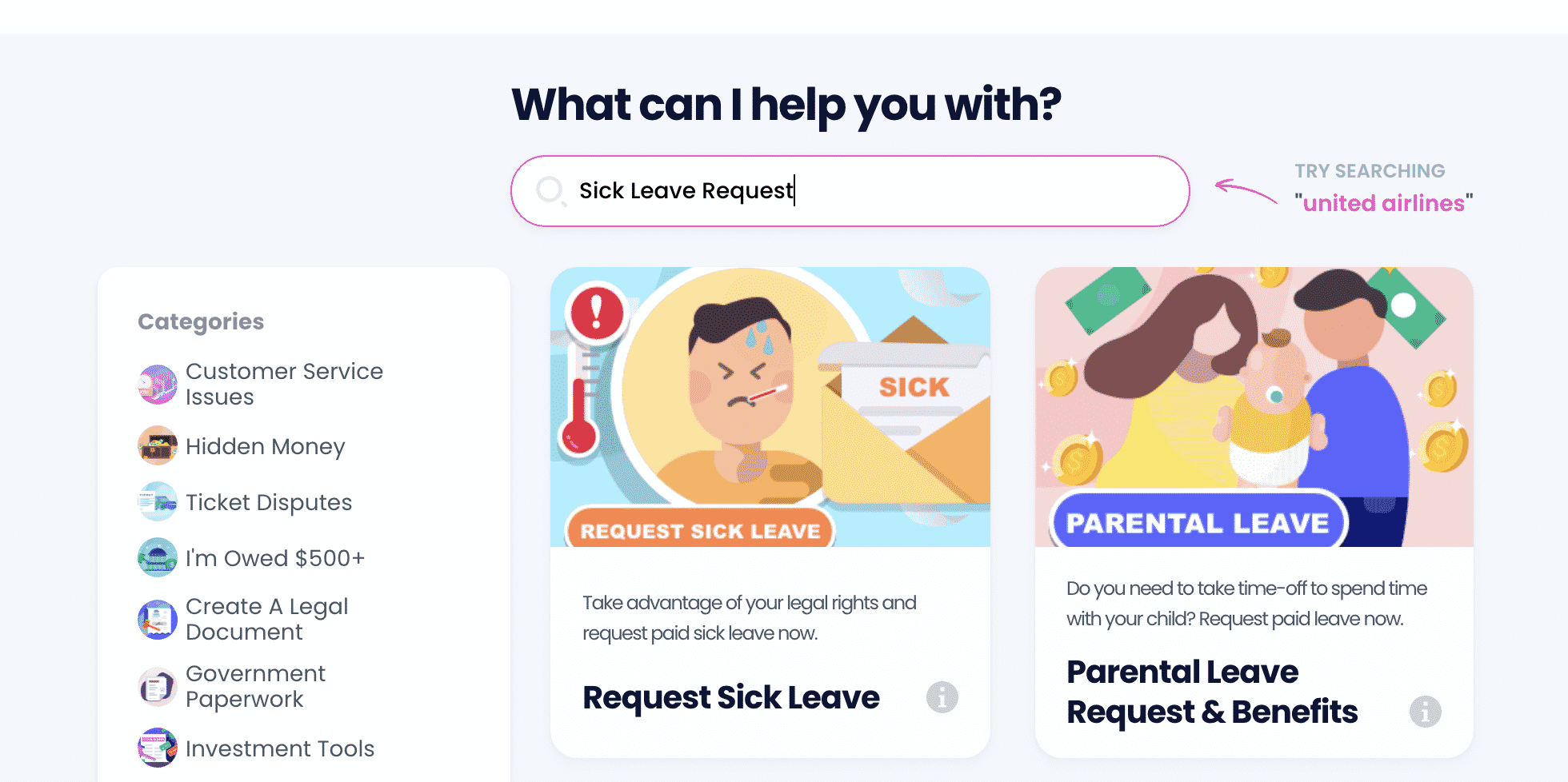 Our Request Sick Leave product streamlines the process of informing your employer about your need for time off. Here is how it works:
Choose the Request Sick Leave product
Fill in a few details about your job and your employer
Specify which days you will be absent
That's it! You can download a copy of the request or have DoNotPay submit it to your boss on your behalf.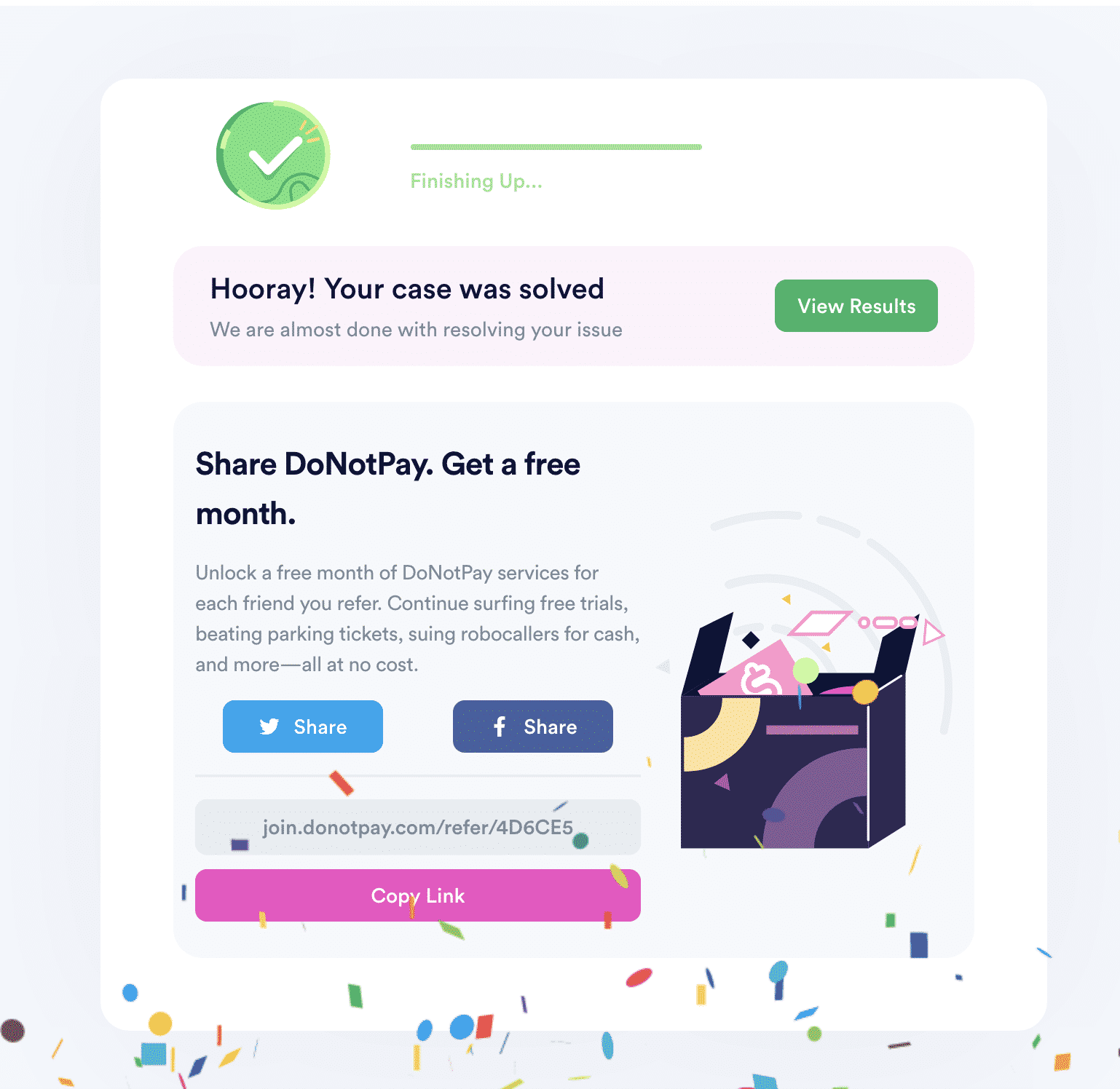 Administrative Issues Are No Longer a Problem With DoNotPay
By signing up with DoNotPay, you can say goodbye to tiring bureaucracy and:
Our App Generates Legal Documents and Letters in Your Stead
If you need some important paperwork, DoNotPay can generate it for you in record time! Our tools can assist you in drafting the following categories of documents:
| Legal Documents | Appeals and Letters |
| --- | --- |
| | |
All legal documents you create can also be notarized and faxed online in our app!