How Does the Emergency Paid Sick Leave Act Work?
When it comes to paid sick leave, the United States is not one of the most generous countries out there. No federal law offers paid leave, and only 15 states and D.C. demand (or plan to demand) companies to do so.
In the past, this usually meant employees would refrain from calling in sick and would opt to show up to work ill.
The COVID-19 pandemic has changed that. In this article, we'll explain what the Emergency Paid Sick Leave Act (EPSLA) is and how it helps employees who have Coronavirus.
We'll also explain how you can find out about sick day rules in your company and request leave effortlessly if you .
What Is the Emergency Paid Sick Leave Act?
The EPSLA is a part of the Families First Coronavirus Response Act (FFCRA), which fights workplace deficiencies caused by the pandemic. The act provides help to both sides:
Employers who provide paid sick leave receive payroll tax
Employees aren't in the position to feel forced to work and can adhere to public health measures
The EPSLA offers ten workdays (two weeks) of paid sick leave to Coronavirus-infected employees. During this period, the employer has to pay 80-hour wages to full-time employees and the average number of hours to part-timers.
If the employee has to take care of a child whose school was closed during the pandemic, they are entitled to additional ten weeks of family paid leave.
The act has several rules of eligibility and exceptions to it, as shown in the table below:
Qualifying Reasons
Exceptions
Salary Limitations

Self-quarantine
Ordered quarantine or isolation
Symptoms of the COVID-19
Symptoms similar to the COVID-19
Care for a child in quarantine
Care for a child whose school closed due to the pandemic

Small businesses with under 50 staff members that can prove it jeopardizes their viability
Health care providers and emergency response companies

$511 per day ($5,110 in total) for a 10-day leave
Two-thirds of pay up to $2,000 for employees on the family paid leave
Other Sick Leave Acts and Laws
Aside from the EPSLA, you can rely only on the Family and Medical Leave Act (FMLA)—a federal-level act that provides unpaid sick leave of 12 weeks in a 12-month period.
If your company doesn't fall under the FMLA regulations, you can turn to your company's policy or state and county laws (if there are any). Check out the table below for guides to individual state laws:
Secure Your Emergency Paid Sick Leave Act Rights With DoNotPay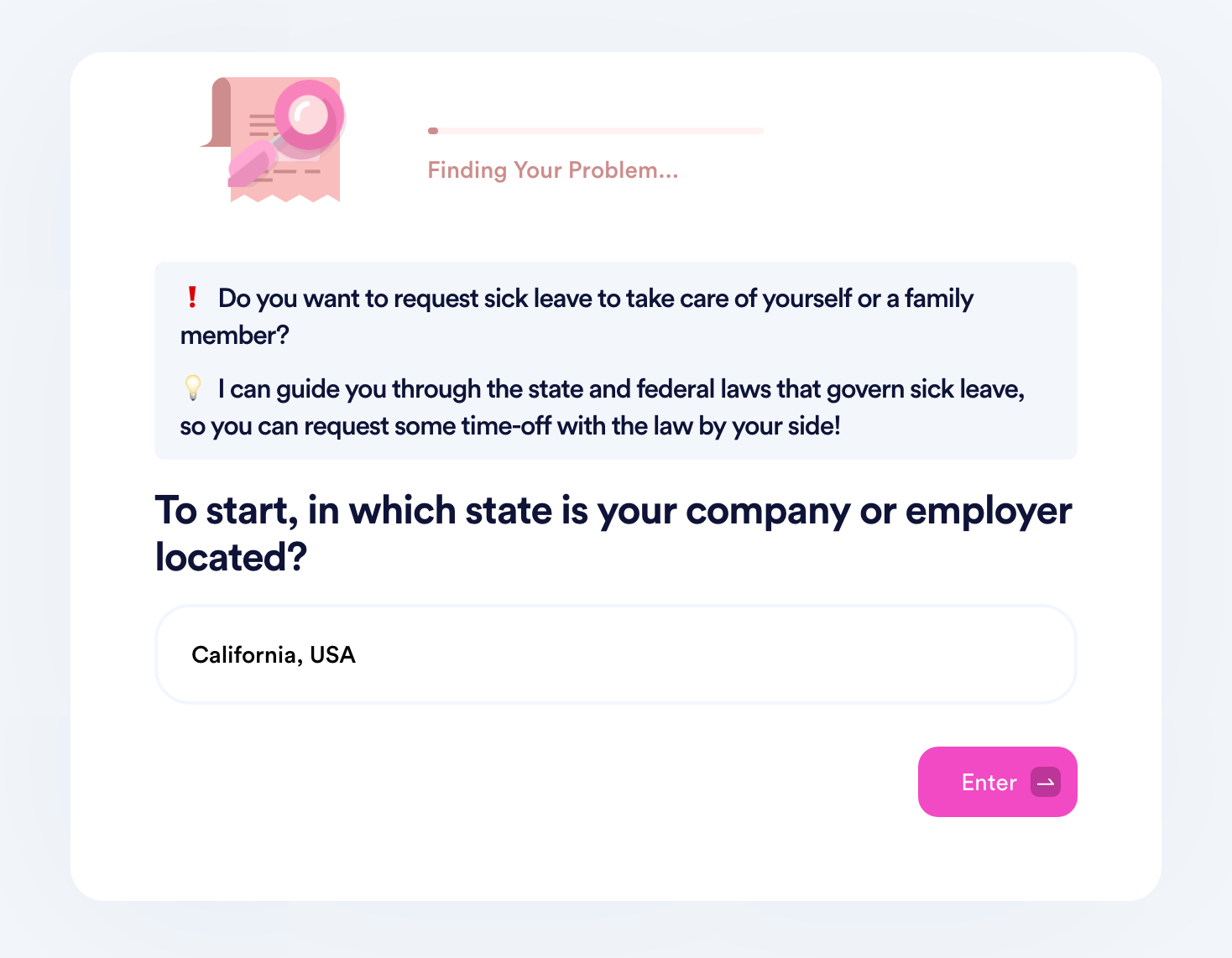 If you contract Coronavirus—or feel the symptoms of it—it would be reckless of you to go to work, and your employer would be endangering other staff members if they forced you to. Thanks to the EPSLA, you can stay at home until you get better and still receive your salary. Still, you need to request your sick leave and explain to your boss on which basis you want to stay at home. You can send an email on your own, which takes time and is not a sure-fire way of getting it approved.
DoNotPay is here to help you ensure you receive the rest you need! Our app will draft a professional leave request letter using the information you provide.
All you need to do is and:
Choose the Request Sick Leave product
Insert the state the company is in—we'll show you what sick leave laws are in place (if any)
Answer a few questions about the company
Enter the dates on which you'll be absent from work
Choose whether you want DoNotPay to send the request or email it to you
If you still fail to receive paid days off, you can sue your employer and force them to give you what is rightfully yours.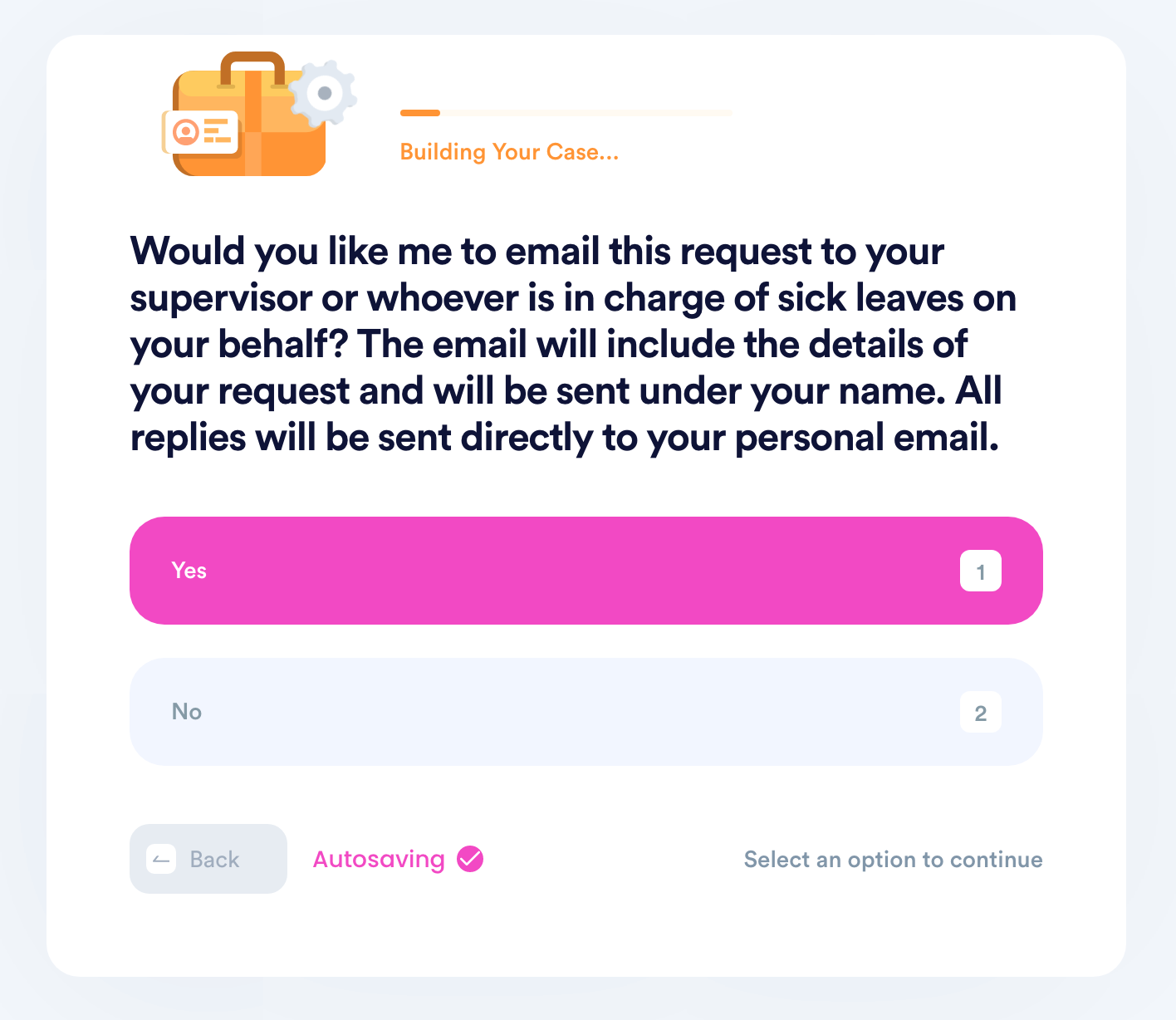 DoNotPay Is Your Ultimate Money-Saver
Don't spend your hard-earned money on subscriptions you don't use—cancel them with our app in a few simple steps! The best part is—that's not all we can do to help you save some coins. DoNotPay can also reduce other expenses by helping you:
Reduce property taxes

Create legal docs without hefty attorney fees
Kiss Spammers and Harassers Goodbye for Good With DoNotPay
Our app offers handy features that can assist you with blocking irritating robocalls and getting rid of pesky spam texts and emails. It also gives you peace of mind by helping you fight workplace discrimination, stalking and harassment, annoying neighbors, and defamation.
With DoNotPay, you will always be able to maximally protect your safety by searching updated sex offender databases and avoiding unpleasant situations. Suppose you have already been a victim of harassment or any other crime. In that case, we can help you get compensation with no difficulties!