Find Out if Pennsylvania Sick Leave Law Applies to You
Are you trying to find out if there's a Pennsylvania sick leave law?
If you think you need to call in sick, you may have a right to paid time off. That's why you need to do your homework and find out what you are entitled to.
While there are no sick leave laws that apply to Pennsylvania as a whole, there is county- and city-specific legislation under which you may be covered. Find out what it entails and how in this guide.
Basic Information About Pennsylvania Sick Leave Laws
There is no state-wide law that regulates sick leave for workers in Pennsylvania. While other states have their own form of legislation or fall under the Family and Medical Leave Act (FMLA), only specific areas in the state are covered by similar laws:
Paid Sick Days Act Ordinance (Allegheny County)
Paid Sick Days Act Ordinance
This ordinance was approved in September 2021 and is seen as the first step towards a state-wide provision for sick leave.
Applying to all businesses in Allegheny County with more than 26 employees, this law allows workers to accrue one hour of Pennsylvania sick leave for every 35 hours worked. Accrual and use of sick leave are capped at 40 hours per year.
Whether or not this PA sick leave law applies to you depends on your type of employment:
| Employment Type | Covered (Yes/No) |
| --- | --- |
| Full-time | Yes |
| Part-time | Yes |
| Temporary | Yes |
| Union | No |
| Seasonal | No |
| Independent contracting | No |
| Government | No |
The law states several uses for Pennsylvania sick leave:
Diagnosis, care, or treatment of your mental or physical illness, injury, or health condition
Care of a family member with one of the conditions named above
Situations when your workplace or your child's school or care facility has been closed due to a public health emergency
Care of a family member deemed dangerously contagious by healthcare professionals
Temporary COVID-19 Paid Sick Leave Ordinance
Similar to national emergency legislation implemented during the pandemic, this ordinance applies specifically to Philadelphia and will remain in effect until the end of the pandemic.
It stipulates that employers with more than 50 employees must offer up to 80 hours of sick leave for workers for the following reasons:
Care for oneself or a family member with COVID-19 symptoms
Care for oneself or a family member in quarantine at the recommendation of a healthcare professional
Closure of your child's school or daycare center as a result of the pandemic
COVID-19 vaccination
Should You Call In Sick?
Not sure when it's severe enough to take a sick day?
No one should have to be sick at work. Cloud-based data access and communication platforms like Zoom have made it easy to stay in the loop while you spend a day resting in.
Whether you have a sore back or it's your first day at work, experts agree that the best course of action is to stay home. Depending on where you work in Pennsylvania, you may not have the right to paid sick leave, but you can still ask your employer to take a day off to rest and keep your coworkers from catching whatever you have.
While your boss cannot force you to come into work, you're also not protected from termination by any state or federal laws. If you believe you have been wrongfully fired for being sick, you can sue your boss in small claims court—and DoNotPay can help.
How To Ask for Sick Leave
Start by checking whether your company has a formal policy for sick leave requests. You may be required to fill out a specific form or try to arrange coverage with a coworker.
Next, get in touch with your boss by:
Not sure how to broach the topic over the phone or email? Allow DoNotPay to help.
DoNotPay Will Draft Your Sick Leave Letter in Minutes
Our AI-powered app offers the Request Sick Leave product to facilitate the process of preparing a professional letter for your manager.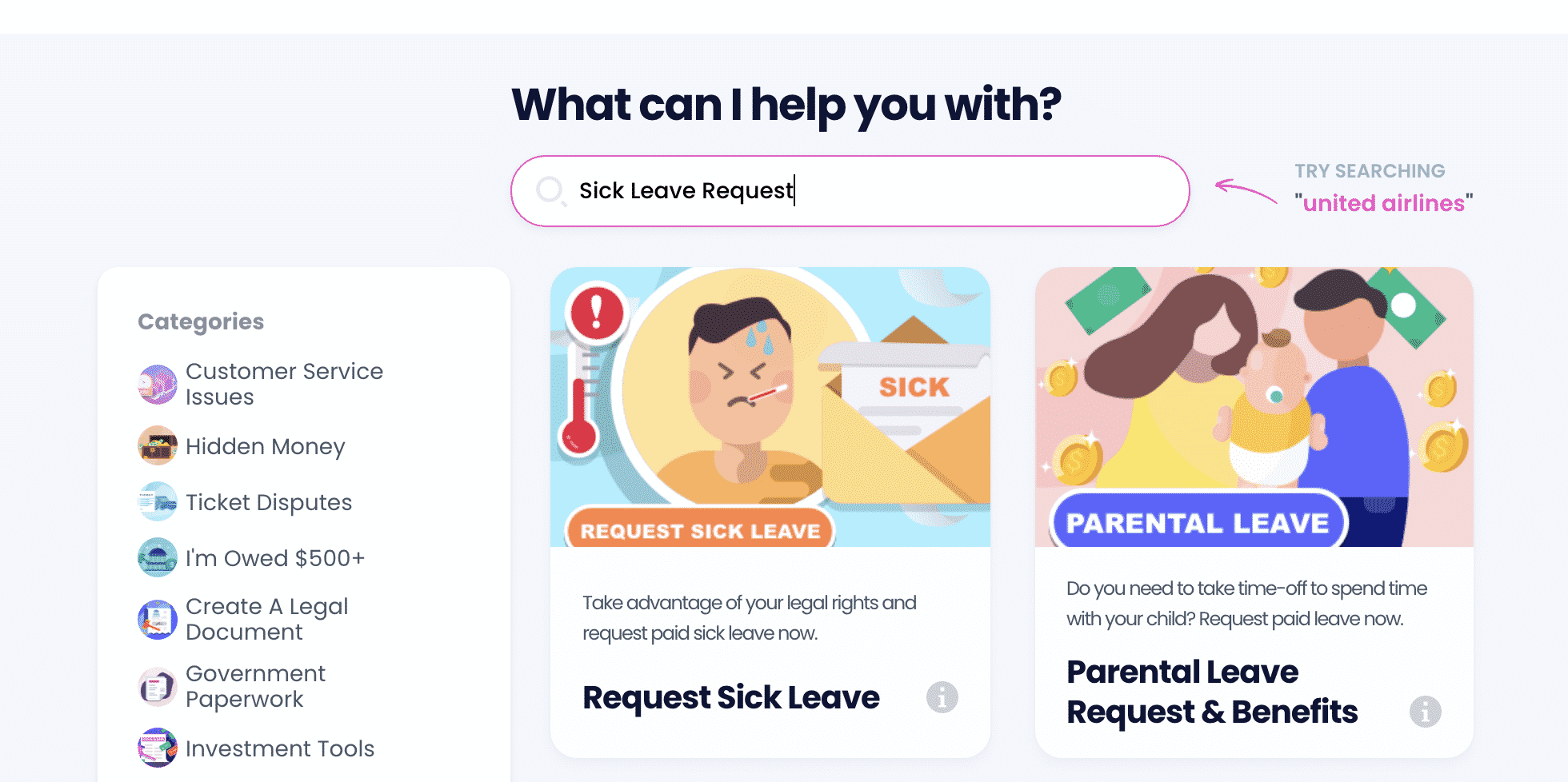 Here is how it works:
Select the Request Sick Leave product
Provide information about your job
State how long you will be away
After you've finished those steps, you can let DoNotPay send the letter, or you can download a copy for your own use.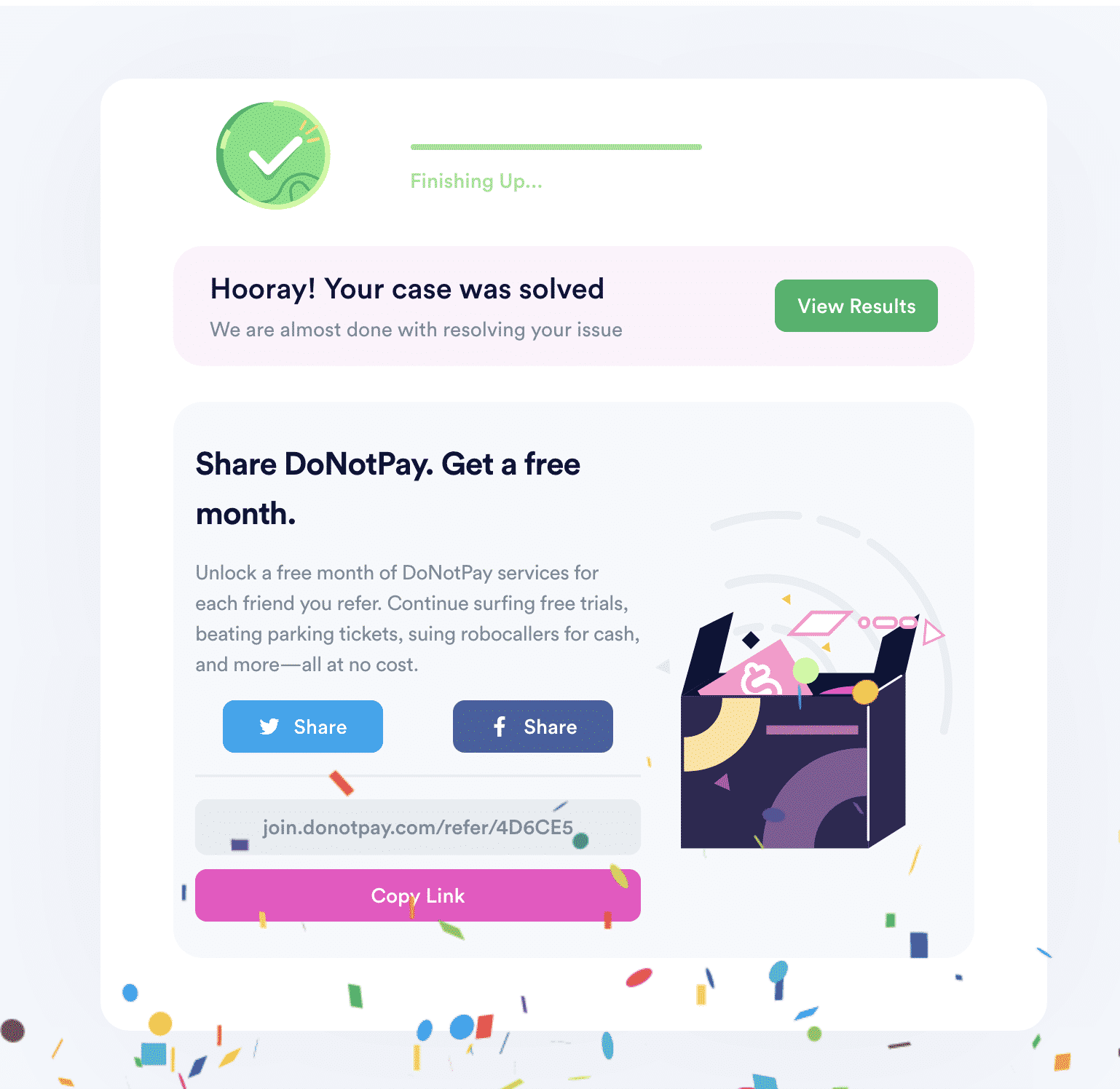 DoNotPay Handles Lengthy and Challenging Tasks on Your Behalf
No time to dedicate yourself to drawn-out procedures or solve administrative issues yourself? Keep calm—that's why DoNotPay is here! By creating an account on our platform, you will be able to:
Convert various files into different formats
Keep the Cash in Your Pockets With Our App
DoNotPay doesn't bring you money-saving hacks—it actually assists you in cutting out expenses and living more economically. The tools we provide are made to help you pay less for utilities, end unwanted paid memberships, have college fees waived, or get lower tax bills. You can also save more on education-related costs by applying for scholarships and other financial aid via our app!
If you have a few forgotten gift cards lying around, don't let them go to waste. DoNotPay can cash them out and send the remaining funds to your home address!