Your Go-To Guide to the Philadelphia Sick Leave Law
What does the Philadelphia sick leave law say about the amount of sick leave employers are required to provide? It's a valid question since attending work while sick can not only worsen your health issues—it can endanger the health of your customers and fellow workers.
Are you ill but don't know how to call in sick—or are you worried that you won't get time off? This guide will teach you all about the Philadelphia paid sick leave law.
if you're still unsure about how to proceed—we'll help you draw up a professional sick leave request letter hassle-free!
How Does the Philadelphia Sick Leave Law Work?
Laws on sick leave vary from state to state since there is no federal body that regulates how many sick days an employer has to provide to their employees. In 2021, Philadelphia issued a law called the Promoting Healthy Families and Workplaces Ordinance, which offers protection to employees on sick leave.
The following table will show you whether an employer in Philadelphia has to provide paid or unpaid sick leave, depending on their number of employees:
| Number of Employees | Type of Time Off |
| --- | --- |
| Ten or more | Paid |
| Nine or fewer | Unpaid |
Philadelphia Paid Sick Leave Ordinance—Are You Eligible for Paid Time Off?
While companies may have independent rules regarding sick days, the Philadelphia Paid Sick Leave Ordinance states that employers should give paid sick leave to employees who are:
Ill or severely injured
In need of medical diagnosis
In need of preventive care
Subjected to domestic or sexual abuse or stalking
In Philadelphia, paid sick time is guaranteed to most employees who work at least 40 hours a year. The following categories are not covered by the ordinance:
Independent contractors
Seasonal workers
Adjunct professors
Interns
Pool employees
Employees whose time off is covered by collective bargaining agreements
Employees who have been hired for less than six months
All state and federal government employees
How Many Paid Sick Days Do You Get in Philadelphia?
According to the Philadelphia sick leave law, employees are entitled to one paid sick day off for every 40 hours spent at work.
Due to the current COVID-19 pandemic, the Philadelphia Paid Sick Leave Ordinance requires employers with more than 500 employees to provide 112 paid sick leave hours to those who are:
Quarantined
Showing symptoms of COVID-19
Suffering from a case of COVID-19
Caring for family members affected by COVID-19
Providing care or guardianship to a minor
Requesting time off to be vaccinated
Employers who have 50 or more employees need to provide at least 80 paid sick leave hours.
Philadelphia Paid Sick Leave Poster—Sick Leave Notice
The Philadelphia Paid Sick Leave Ordinance also requires employers to inform their employees of their right to sick leave. They can do this by:
Writing a notice and sending it via email to their employees
Displaying the Philadelphia paid sick leave poster at the workplace
Employers are also forbidden from firing employees who choose to exercise their right to sick leave—you can even sue your boss if they punish you for taking time off!
DoNotPay Will Whisk Your Trouble Away—Compose a Sick Leave Request Letter the Simpler Way!
Are you having trouble getting sick leave, or is your manager not responding to your email? No need to work while sick—subscribe to DoNotPay, and we'll help you get time off by composing a custom sick leave request letter! It will notify your boss about your illness and specify the amount of sick time off you'll need. You can print it or let DoNotPay forward it to your employer on your behalf!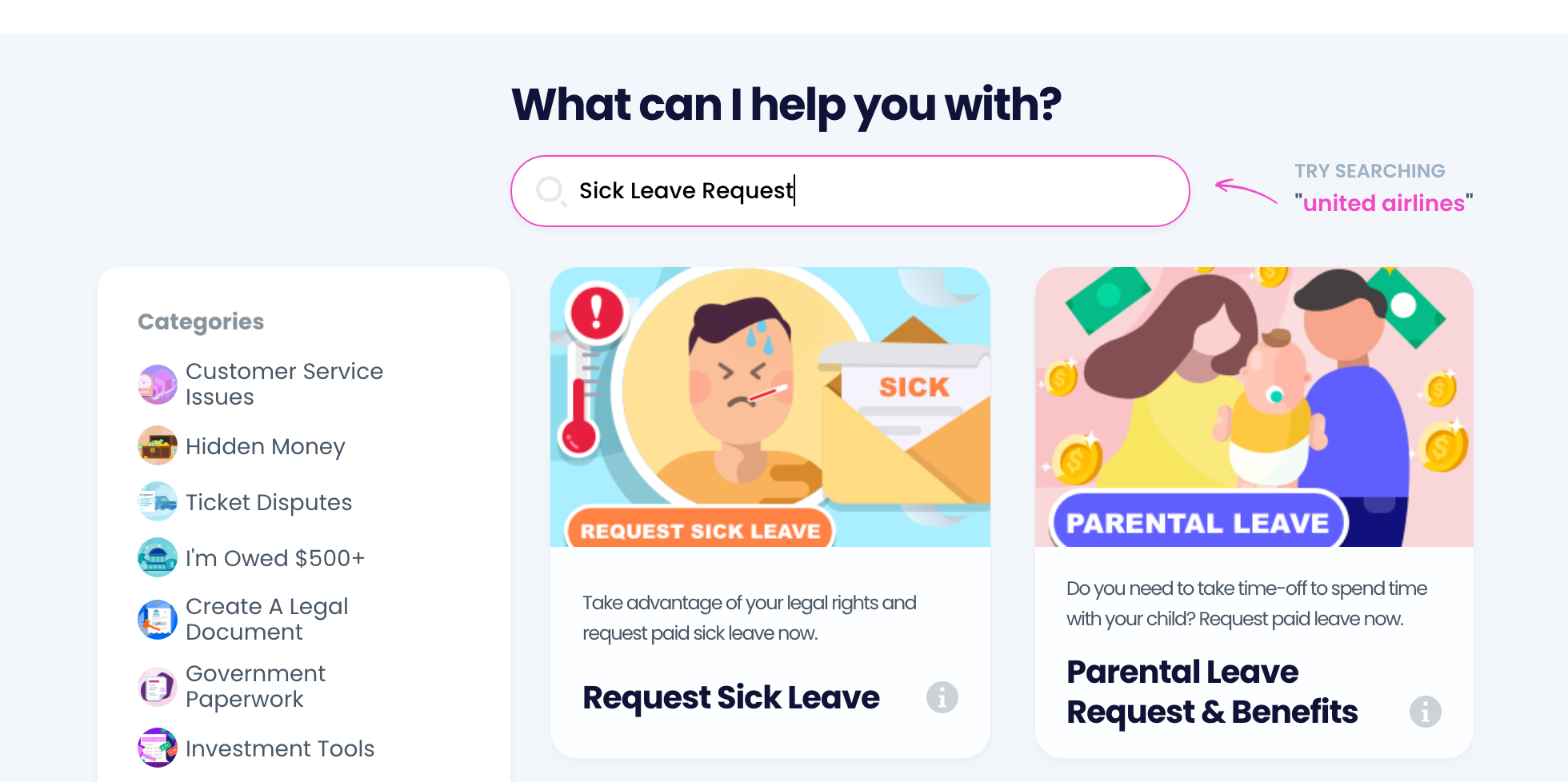 To use our AI-powered resource, follow these easy guidelines:
Use our Request Sick Leave product
Specify your company and the time you'll be absent
Submit the letter
Consult our extensive knowledge base for more information on taking advantage of the Emergency Paid Sick Leave Act, finding a replacement when calling in sick, emailing your boss when your child is sick, and much more!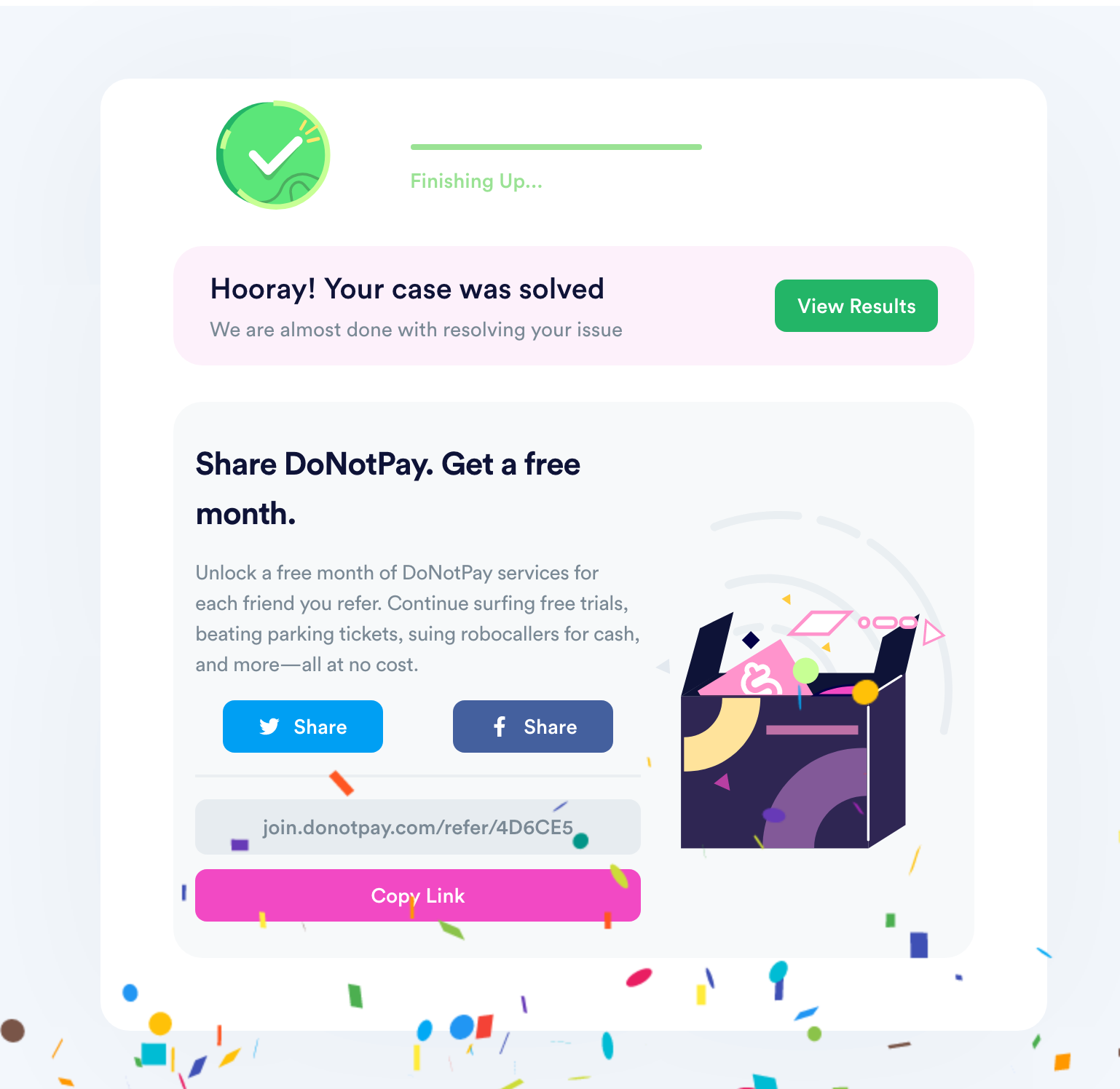 What Else Can DoNotPay Do for You?
Our vast collection of products simplifies various everyday tasks, including:
Various mailing issues by:
Applications for:
Traveling tasks, such as:

Getting tourist visas the easy way

Appeals of:

Unfair property tax assessments

Other tasks, such as:
Get More Money the Easy Way With DoNotPay
Is a tight budget a constant problem in your household? DoNotPay is here to reduce your expenses and help you get the money others owe you. Our app helps you get refunds from companies, find unclaimed money, cash out old gift cards, and terminate unused subscriptions in a jiffy!
You can also request violent crime compensation, demand chargebacks from airline companies, or claim your warranty or insurance without paperwork.