How Does the Washington State Sick Leave Law Work?
Did you know that only 15 states (including the District of Columbia) have—or intend to create—laws about paid sick leave? Federal law doesn't provide paid leave—about 33 million Americans have no access to paid days off when sick, and many of them are forced to turn up when feeling unwell.
The Evergreen State is one of the 15 that offer protection to its residents. In this article, we'll show you how the Washington state sick leave law works. We'll also explain:
How to avoid being sick at work during the COVID-19 pandemic
What companies are affected by the federal Family and Medical Leave Act (FMLA)
How to call in sick hassle-free if you register for DoNotPay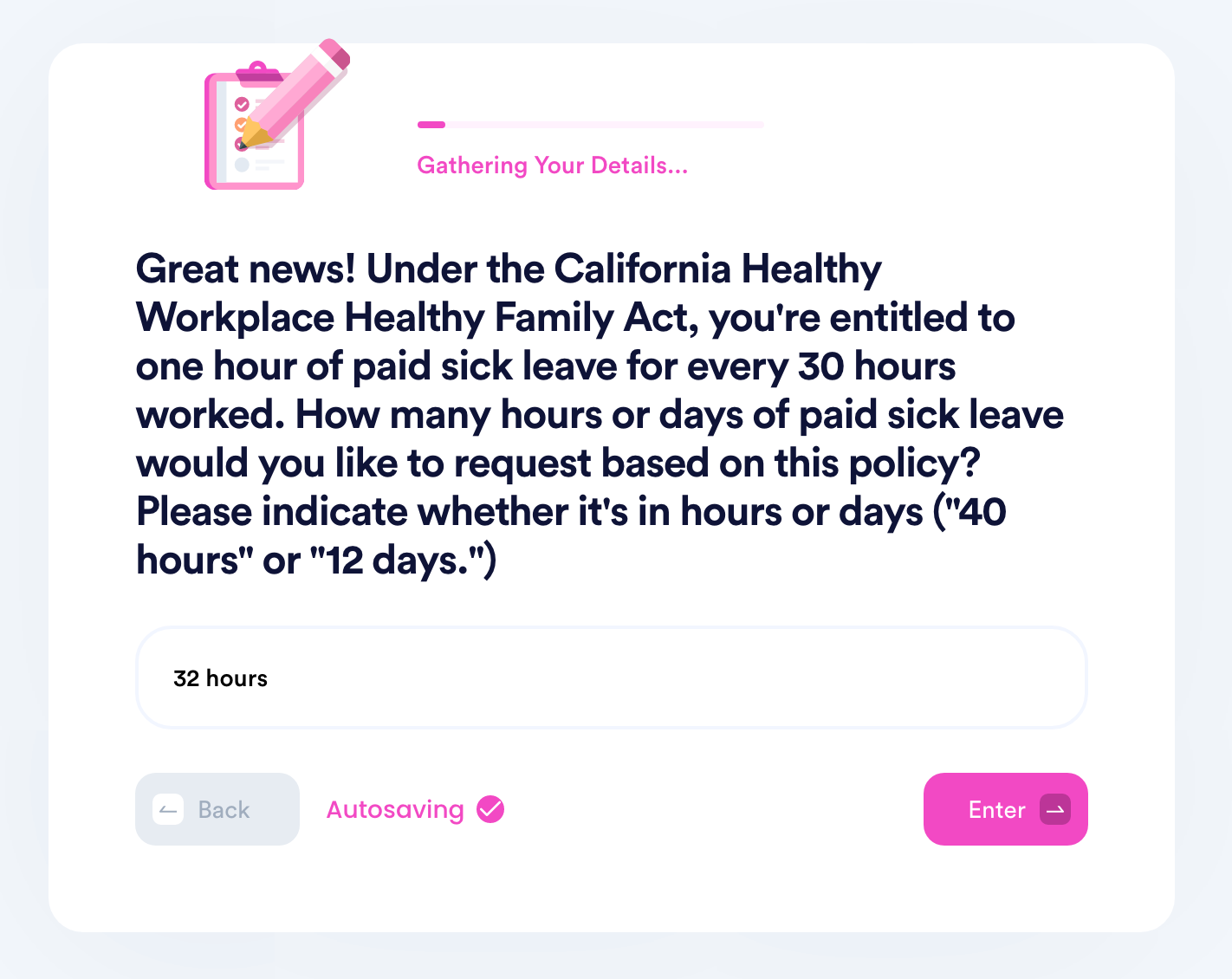 What Is the Washington State Sick Leave Law?
According to the Washington sick leave law, companies within the state must offer paid sick leave to their staff. The law applies to all full-time, part-time, and temporary employees, except for federal workers. Note that there are some local laws in place that offer additional sick day rules, as is the case in Seattle.
Valid reasons for requesting paid sick leave are as follows:
Recovering from a physical or mental illness or injury
Seeking diagnosis or treatment
Caring for a family member in need of medical treatment
Not working due to the company being closed for a health-related reason
Caring for a child whose school closed for a health-related reason
Suffering from sexual assault, domestic abuse, or stalking
If you need to take more than three consecutive days off, you'll need a note from your doctor.
How Does the Washington State Sick Leave Accrual Work?
You'll receive an hour of paid sick leave for every 40 hours worked. There is no upper limit to how much you can accrue, but the law doesn't prohibit the employer from capping at 40 hours per year.
If you're a new employee, you start accruing sick leave hours 90 days after your employment.
Is Washington State Sick Leave Cash-Out Possible?
Yes. If you have any unused sick days left at the end of the year, the employer may cash them out, or the days will roll over to the next year. The employer cannot consider these days forfeited.
Getting Paid Sick Leave in Washington State for Coronavirus
During the COVID-19 pandemic, you can rely on the Emergency Paid Sick Leave Act (EPSLA), which is a temporary, federal-level act that provides ten workdays of paid sick leave to anyone who:
Has to go into quarantine
Feels the symptoms of COVID-19 (or similar)
Has a child in quarantine
Has to care for a child whose school closed due to the pandemic
How the FMLA Affects Washington Sick Leave Rules
The FMLA is a federal-level act that offers job-protected, unpaid sick leave to employees of companies that meet certain criteria. Check out the following table for more information about the FMLA:
Qualifying Reasons
Eligibility Criteria

Childbirth or adoption
A serious health condition or caregiving to a family member with one
Reasons connected to a family member being on active military duty

Employees must have accrued at least 1,250 hours of work over the past 12 months
Employees must have worked for the company for a minimum of 12 months
The company has to employ at least 50 people in the 75-mile radius
Need Help Getting Paid Sick Leave? Use DoNotPay
DoNotPay can help you avoid calling in sick or drafting long and confusing email requests. Our app will generate a sick leave request based on the information you provide—you won't have to write anything!
You only need to sign up for DoNotPay, choose the Request Sick Leave product, and:
Choose your state and see what sick leave laws apply
Answer a few questions about the company
Enter the dates on which you'll be absent from work
Choose whether you want DoNotPay to:

Send the request to your employer directly
Share it with you so you can email it on your own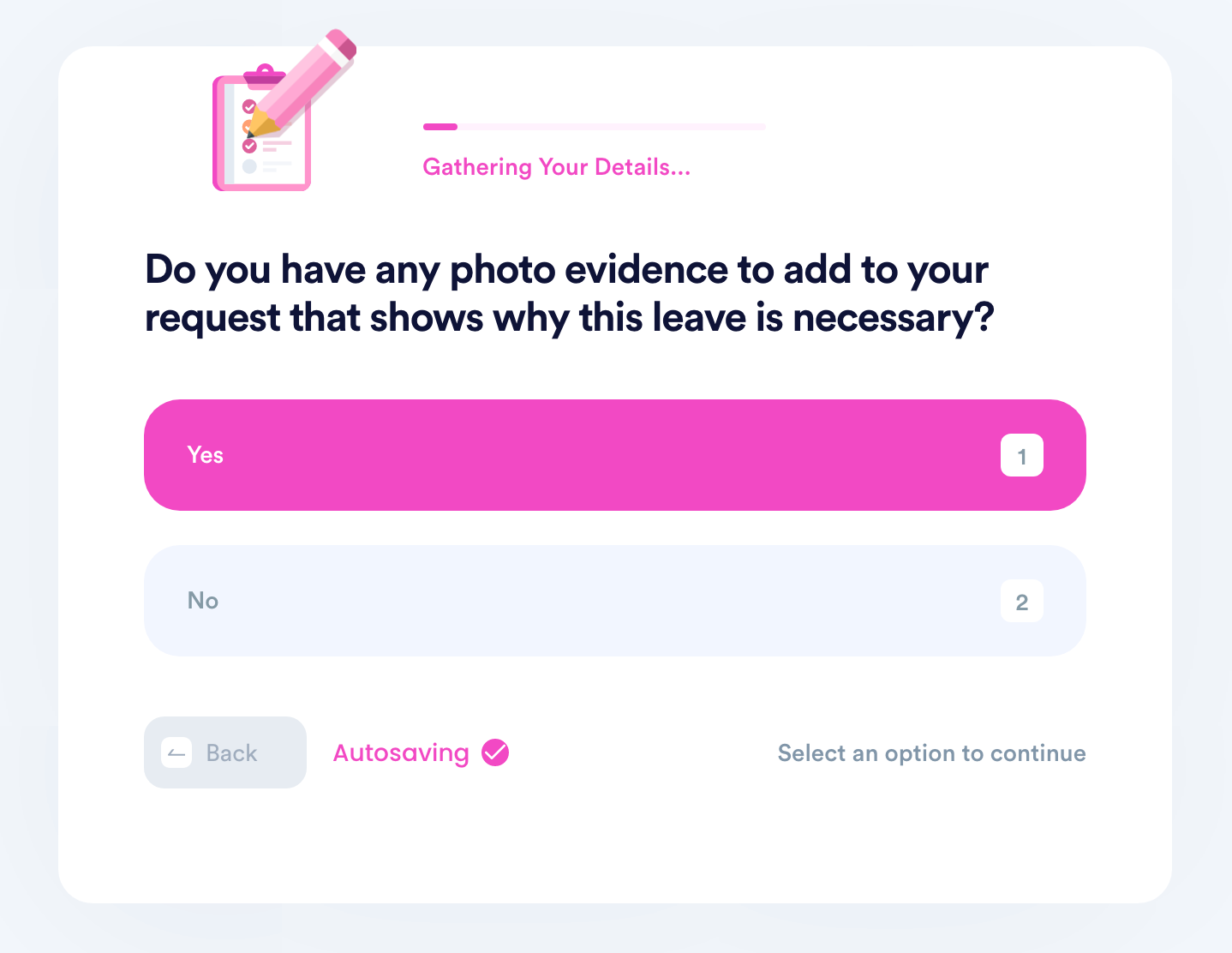 If your employer neglects the WA sick leave law, you can sue them with our Small Claims Court feature.
Get the Best Solutions for Everyday Tasks With Our App
DoNotPay has come up with multiple handy products whose purpose is to make your life simpler and more enjoyable! Don't hesitate to check out the features that will help you:
Complaints and Appeal Letters Have Never Been Easier To Draft With DoNotPay
Dissatisfied with a delivery? Use DoNotPay to file an item return request and get a refund from the merchant if the product didn't meet your expectations! We can also help you apply for a late delivery refund or help you claim your warranty or insurance if the product you purchased gets damaged or breaks down. Our multi-functional app also allows you to appeal potentially inaccurate property tax assessments, banned accounts, and seatbelt or parking tickets.
If you subscribe to our platform, you will have a chance to file anonymous HR complaints and prevent discrimination at work more effectively.