A Splitting Headache—Should You Call In Sick With a Migraine?
A migraine isn't just a measure on the spectrum of pain for regular headaches. According to the World Health Organization, it is an actual neurological disease—it is the 6th most incapacitating disorder in the world. Still, you have to be sure that a migraine is impairing your ability to fulfill your work obligations before you consider calling in sick.
Should you call in sick with a migraine after all? Are there unpaid or paid sick leave laws that allow it? We'll explore these questions in this article and show you how to using our AI product.
Do Sick Leave Laws Allow Employees To Call In Sick With a Migraine?
Whether it's the Family and Medical Leave Act (FMLA), the Americans With Disabilities Act (ADA), or a state-specific sick leave policy, these laws generally do not focus on a particular type of illness—except for the Emergency Paid Sick Leave Act. Instead, they focus on the way the illness affects your ability to do your job.
Can you call in sick for a migraine? Yes, you can because a migraine is an illness according to employment law—in some situations, it can even count as a disability.
If you're not sure whether you can use your sick days when you have a migraine, it is best to check the terms of the contract with your employer or discuss it with them directly.
What Protection Can You Get Under the FMLA?
The FMLA establishes certain rights for eligible employees who need to request time off due to an illness. You have to follow the instructions to ensure you don't encounter any legal problems with your employer. The benefits and instructions are outlined in this table:
FMLA Rights/Benefits
Instructions

Notify your employer immediately about your migraines
Request leave via appropriate written documentation and not just verbally—you can write a sick leave request letter yourself, use an online email template, or let DoNotPay's AI-powered tool take care of everything for you
Provide medical proof if your employer requests it
Does the ADA Cover Migraine Patients?
According to the ADA, some migraines may qualify as a disability if:
The migraine is serious enough to impair the employee's ability to do his job at all or to acceptable standards
There is proof that the employee would be suited for the role without the migraine
The frequency and severity of the migraine reach the ADA's discretionary benchmark
The ADA cannot be invoked when requesting time off or sick leave, but it can mandate your employer to make reasonable accommodations for you. These can include:
Providing you with flexible work hours
Allowing you to work remotely
Rearranging your office space to eliminate migraine triggers
Create a migraine-friendly break room
What States Have Their Own Sick Leave Laws?
The number of states, cities, and counties that have their own sick leave laws—or are currently developing them—keeps growing. If you have migraines or any other illness and need sick leave, check out our resources about the following locations:
Need To Request Sick Leave Urgently? DoNotPay Can Help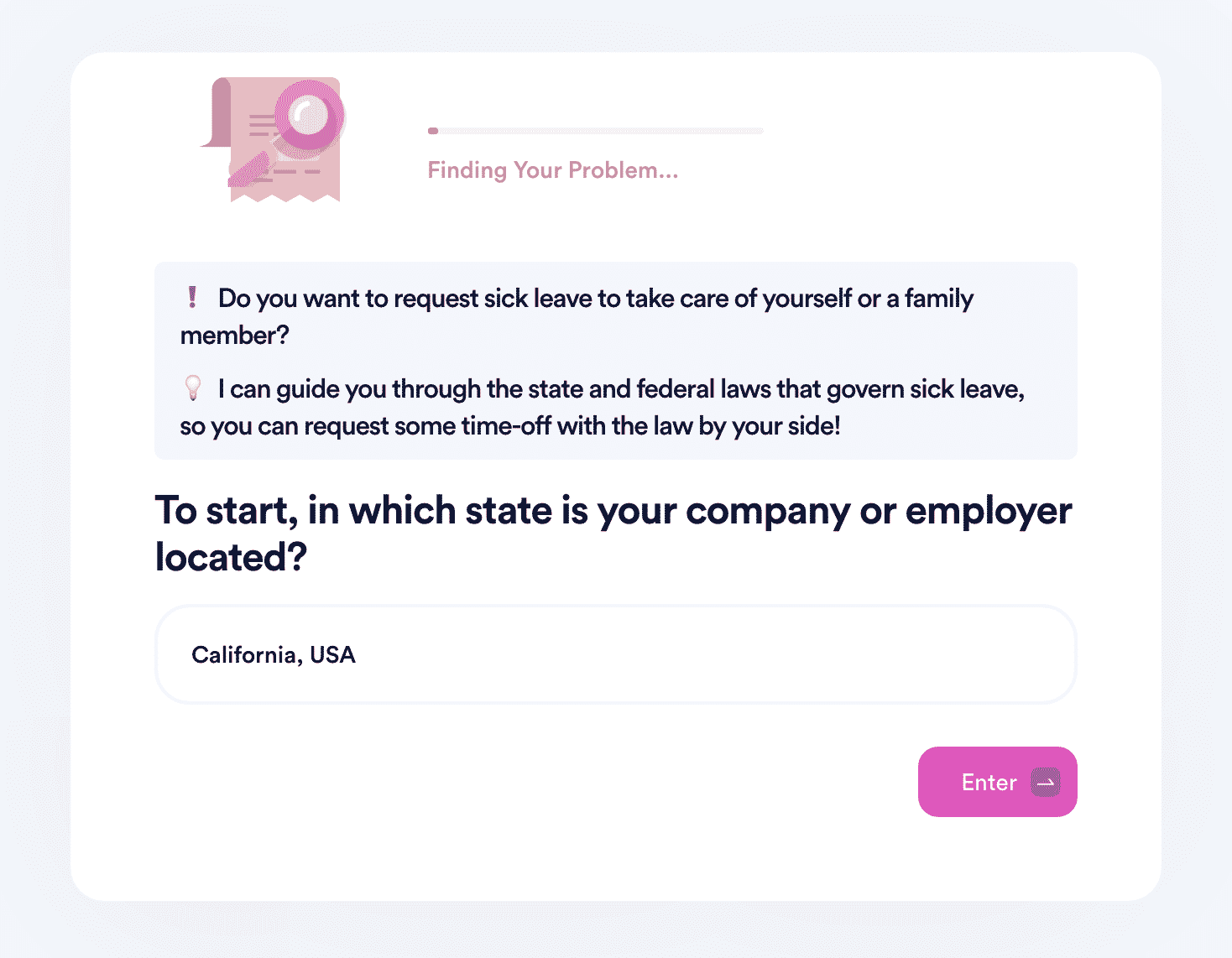 If you're unsure how to request sick leave from your employer, DoNotPay can create a sick leave request letter for you in minutes. and follow these few steps:
Locate the Request Sick Leave product
Type in the state where you work so we can find the sick leave laws applicable to you
Answer a few questions about your employer
Provide the amount of time you'll need away from work
Select whether DoNotPay should automatically email the request letter to your employer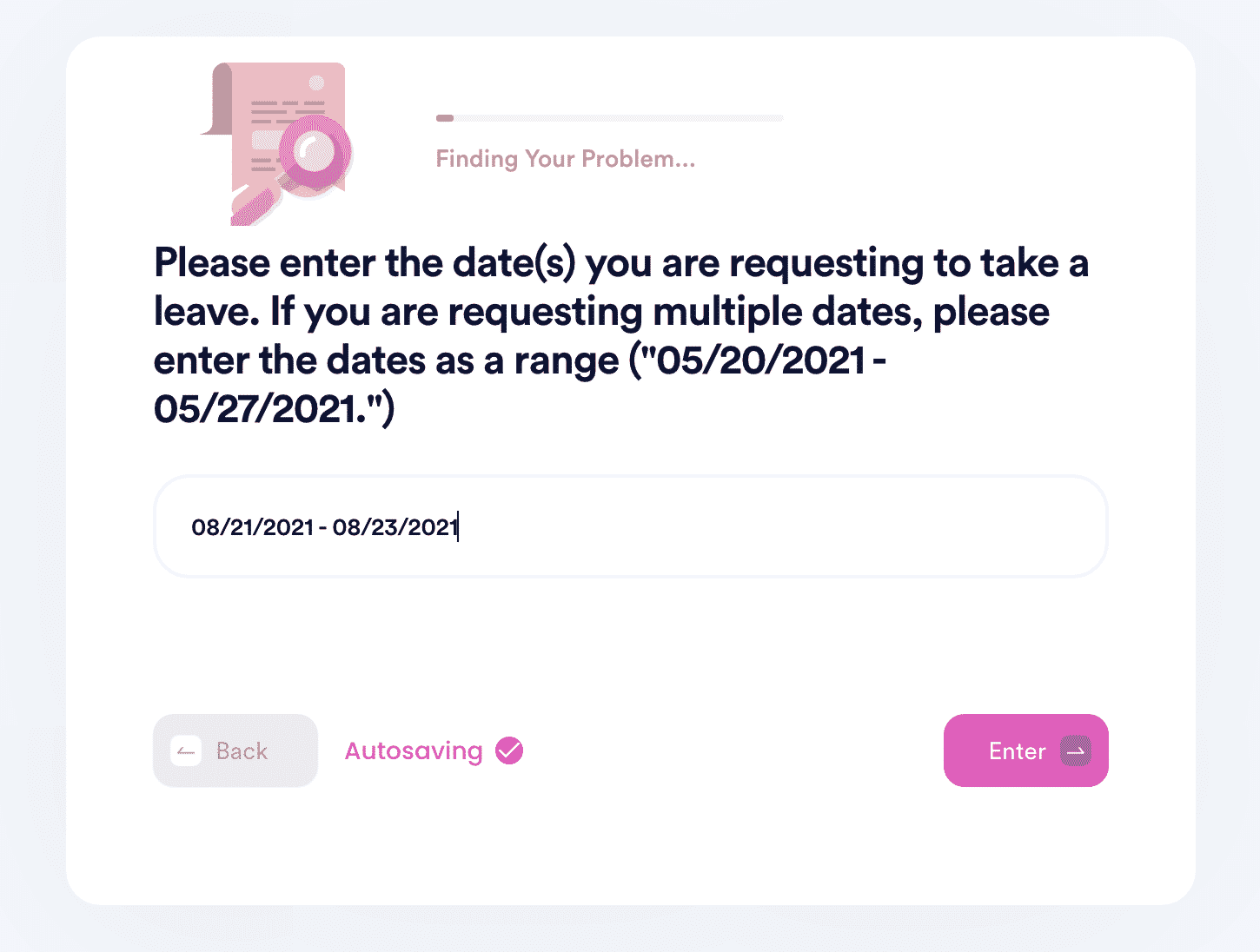 Let DoNotPay Help You With Various Tasks
The assistance we can provide doesn't stop here! Check out the table below for more details on our services:
| Improving Your Security | Making Your Everyday Life Easier | Creating Customized Paperwork |
| --- | --- | --- |
| | | |
Struggling To Be Economical? Rely on DoNotPay!
Our app—the world's first virtual lawyer—can help you save a significant amount of money in a few clicks! Starting from lowering your bills and reducing property taxes to claiming missing funds under your name, DoNotPay will keep the cash in your pockets.
Our system will also prevent you from financing unwanted or unused memberships and subscriptions by canceling them. You will be able to enjoy free trials without getting charged for them and get refunds from any merchant or airline company due to dissatisfying service!