The Ins and Outs of the Target Call-In-Sick Policy
Did you get sick at work and would like to take some time off? If you want to learn more about the Target call-in-sick policy, you've come to the right place! We'll tell you how the company handles sick leave and explain the law that protects you as an employee.
Need to notify your boss about taking sick leave? Use DoNotPay and find out how to call in sick the easy way!
Does Target Have a Call-In-Sick Policy?
Target doesn't have a sick leave policy. Whether you have the right to get unpaid or paid sick leave depends on your state, county, or city laws.
You can consult our table to find out more about sick leave laws in some states:
If the laws in your state or county don't regulate paid sick leave, you can always rely on the Family and Medical Leave Act (FMLA) if you need to take unpaid sick days.
What Is the FMLA?
The FMLA ensures eligible employees get unpaid sick leave if they:
Have a serious health condition
Are caring for a newborn or a newly adopted foster child
Are caring for their spouse, parent, child, or a service veteran with a serious health condition
Need time away from their job to address particular circumstances arising from the deployment of a service member or a member of the armed forces
Who Is Eligible for Sick Leave Under the FMLA?
Under the FMLA, you are eligible for unpaid sick leave if you:
Are an employee at a Target location that has more than 50 employees within 75 miles
Have worked for Target for at least 12 months
Have worked 1,250 hours during those 12 months
How To Call In Sick at Target
You shouldn't be forced to work when sick. If you plan on taking sick leave, you should notify your employer as soon as possible. You can call in sick at Target either by calling or emailing your office. Regardless of the option you choose, you should provide the following info:
Reason for your absence
Information on how long you won't be showing up
An emergency phone number in case your boss needs to contact you regarding a work-related issue
Doctor's note or any other document that proves your state
Don't want to talk to your boss or waste your time writing a formal email? Subscribe to DoNotPay and let our app create a tailor-made leave request letter in no time!
Get a Flawless Leave Request Letter Easily With DoNotPay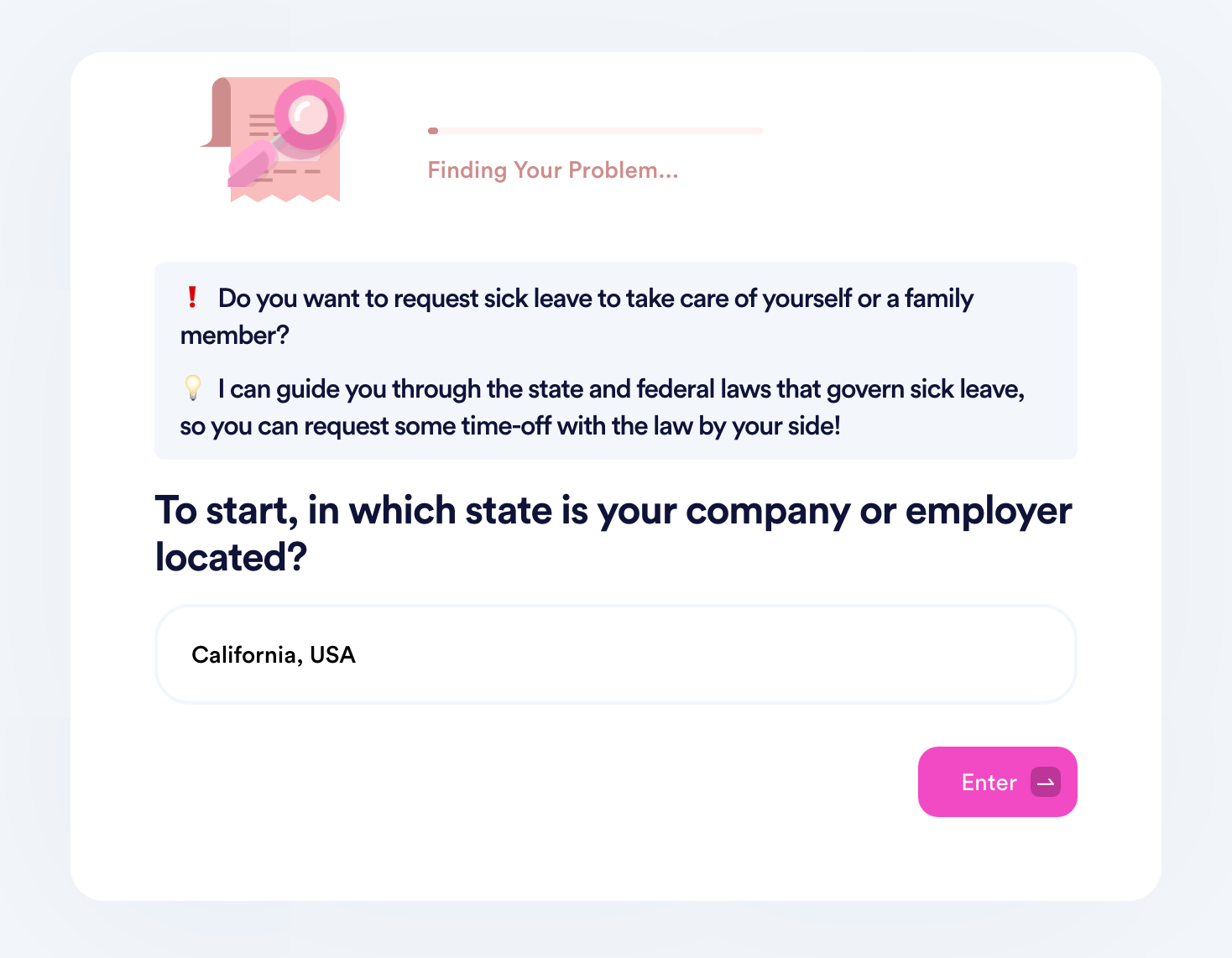 DoNotPay is not only the easiest way of calling in sick at work but also the fastest! To get a leave request letter, you only have to:
Sign in to DoNotPay from your preferred browser
Select our Request Sick Leave tool
Give us the necessary details, such as:

The name of the company you work for
The amount of time you need off
The reason for your absence

Choose whether you want us to:

Forward the letter to your manager
Send the letter to you so you can download and print it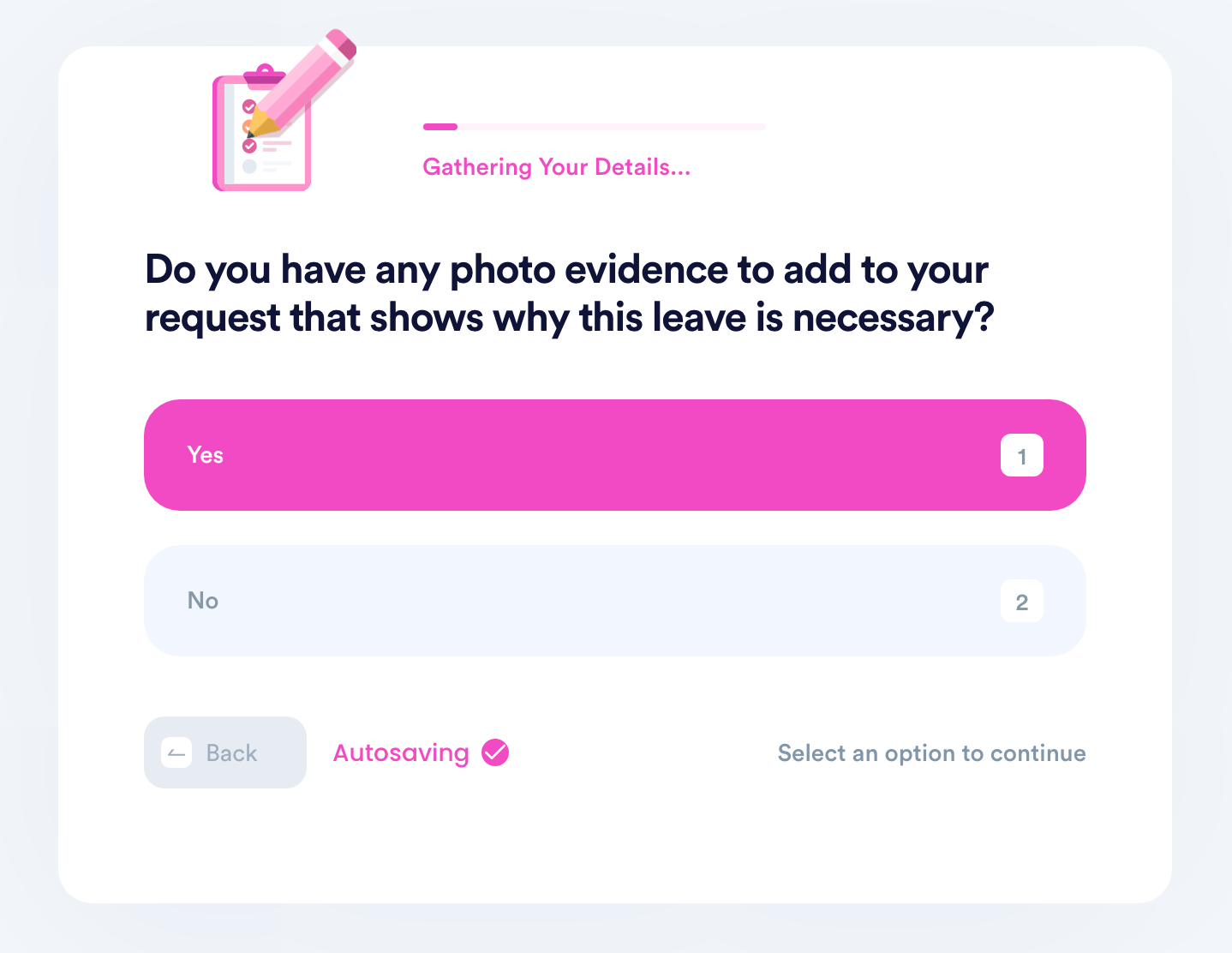 Our app's help doesn't end here! If you feel that you've been wronged by your employer or if they're threatening to fire you for taking sick leave, we can help you sue them in small claims court hassle-free!
Does Target Have a Policy for Emergency Leave?
Target has updated its emergency leave policy since the outbreak of COVID-19. This means that anyone who has contracted the virus or has been quarantined due to exposure will get up to 14 days of paid sick time.
DoNotPay Handles Lengthy and Challenging Tasks on Your Behalf
No time to dedicate yourself to drawn-out procedures or solve administrative issues yourself? Keep calm—that's why DoNotPay is here! By creating an account on our platform, you will be able to:
Keep the Cash in Your Pockets With Our App
DoNotPay doesn't bring you money-saving hacks—it actually assists you in cutting out expenses and living more economically. The tools we provide are made to help you pay less for utilities, end unwanted paid memberships, have college fees waived, or get lower tax bills. You can also save more on education-related costs by applying for scholarships and other financial aid via our app!
If you have a few forgotten gift cards lying around, don't let them go to waste. DoNotPay can cash them out and send the remaining funds to your home address!