What You Need To Know About the Maryland Sick Leave Law
Confused by the fine print in the Maryland sick leave law?
This type of legislation differs from state to state and can be difficult to parse without a little help. In this article, we'll explain how this law works, what it offers you, and how to take advantage of it.
If you are eligible for paid sick leave, you should feel comfortable calling in sick when necessary. If you don't know how to word a sick leave request, DoNotPay can help.
Basic Information About the Maryland Sick Leave Law
The Healthy Working Families Act was signed into effect in early 2018, providing eligible workers with the right to accrue one hour of sick leave for every 40 hours worked. Common questions about Maryland paid sick leave bill include:
Is my employer covered?
Am I eligible?
What can I use sick leave for?
What does my employer have to do?
Coverage
This law applies to all Maryland businesses with 15 or more employees. While this bill does not apply to COVID-19 medical situations, emergency federal legislation may allow for approved absence from work.
Eligibility
Certain types of employment are exempt from the bill's provisions. Only employees that are 18 or older are eligible. Refer to this table to find out if you qualify for paid sick leave:
| Nature of Employment | Qualify (Yes/No) |
| --- | --- |
| Full-time | Yes |
| Part-time | Yes |
| Seasonal | No |
| Agricultural | No |
| Federal | No |
| Independent contracting | No |
Usage
You may use your accrued sick leave for any of the following reasons:
Caring for oneself or a family member during recovery from a physical/mental illness or injury
Seeking medical services
Dealing with domestic violence, sexual offenses, or stalking
Having your workplace or your child's school or childcare provider closed as the result of a public health order
Employer Obligations
Covered employers are subject to a series of requirements. They must:
Provide notice of sick leave availability to eligible employees
Provide reporting of accrued sick days
Allow employees to use sick leave
Maintain three years of records of employee sick leave usage
Your employer cannot force you to work while sick, and they cannot fire you for using sick leave. If your boss violates your rights granted by the Maryland sick leave law, you can get in touch with the Commissioner of Labor and Industry's office to file a complaint.
How and When To Use Your Maryland Paid Sick Leave
You should avoid being sick at work at all costs, even if it is a mild cold. Medical experts recommend getting as much rest as possible and limiting your contact with others to ensure your illness does not spread.
To use your sick leave, you must inform your employer of your absence. If it is for fewer than three days, you are not required to provide a doctor's note.
Unless your company follows a specific policy for claiming sick leave, you can inform your manager by phone or email.
Trying to draft a sick note can be a daunting task—that's why you should instead.
DoNotPay Can Generate Your Sick Leave Request in Minutes
Don't consider coming in to work sick just because you can't work up the nerve to tell your boss you need time off. DoNotPay makes the process stress-free with our Request Sick Leave product.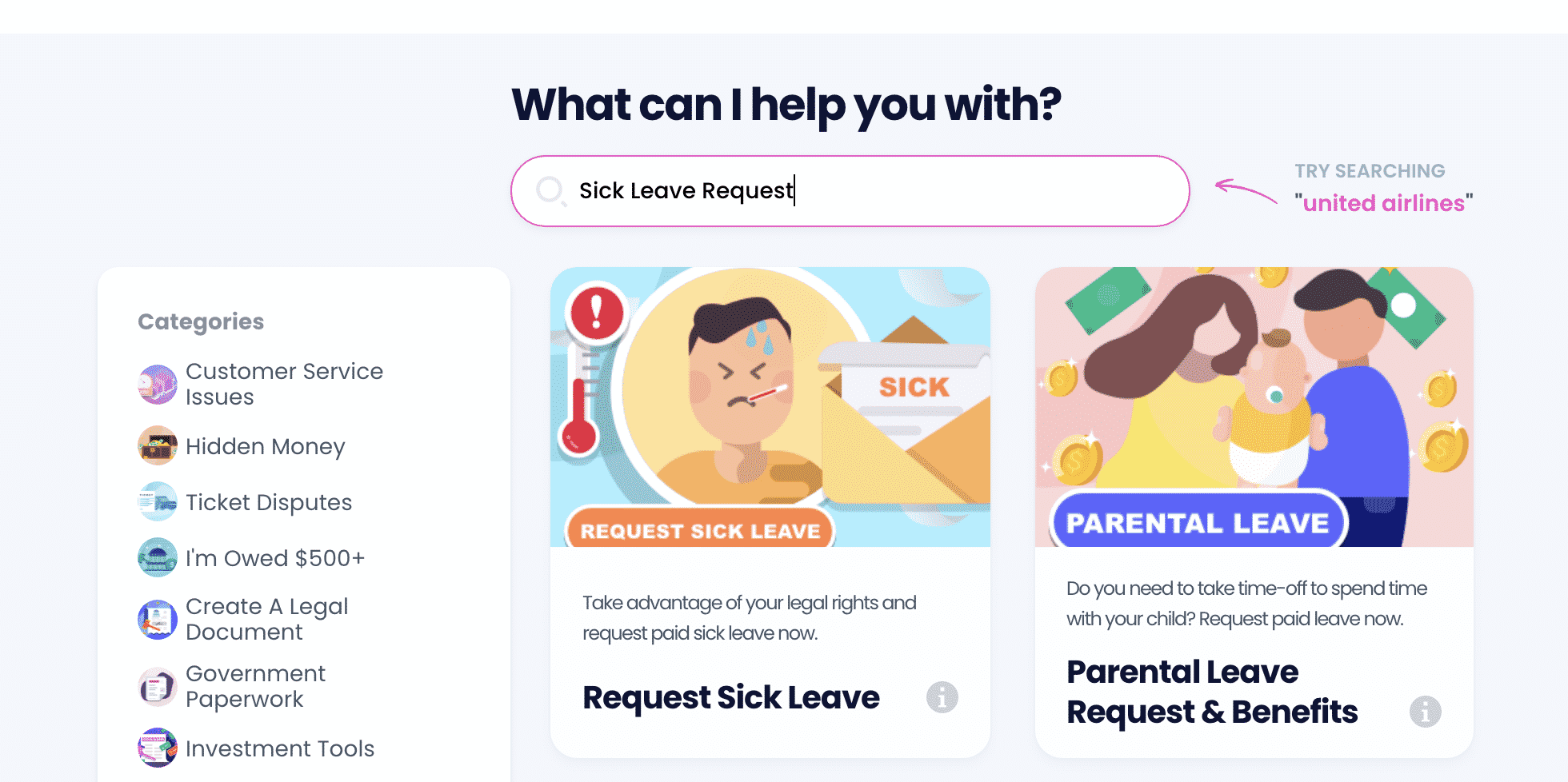 Here is what you have to do:
Navigate to the Request Sick Leave product
Input the necessary information
Specify which days you will be absent
Once you have completed those steps, we will write a professional letter that you can send to your boss. If you would rather have DoNotPay submit it on your behalf, all you need to do is provide your manager's contact info.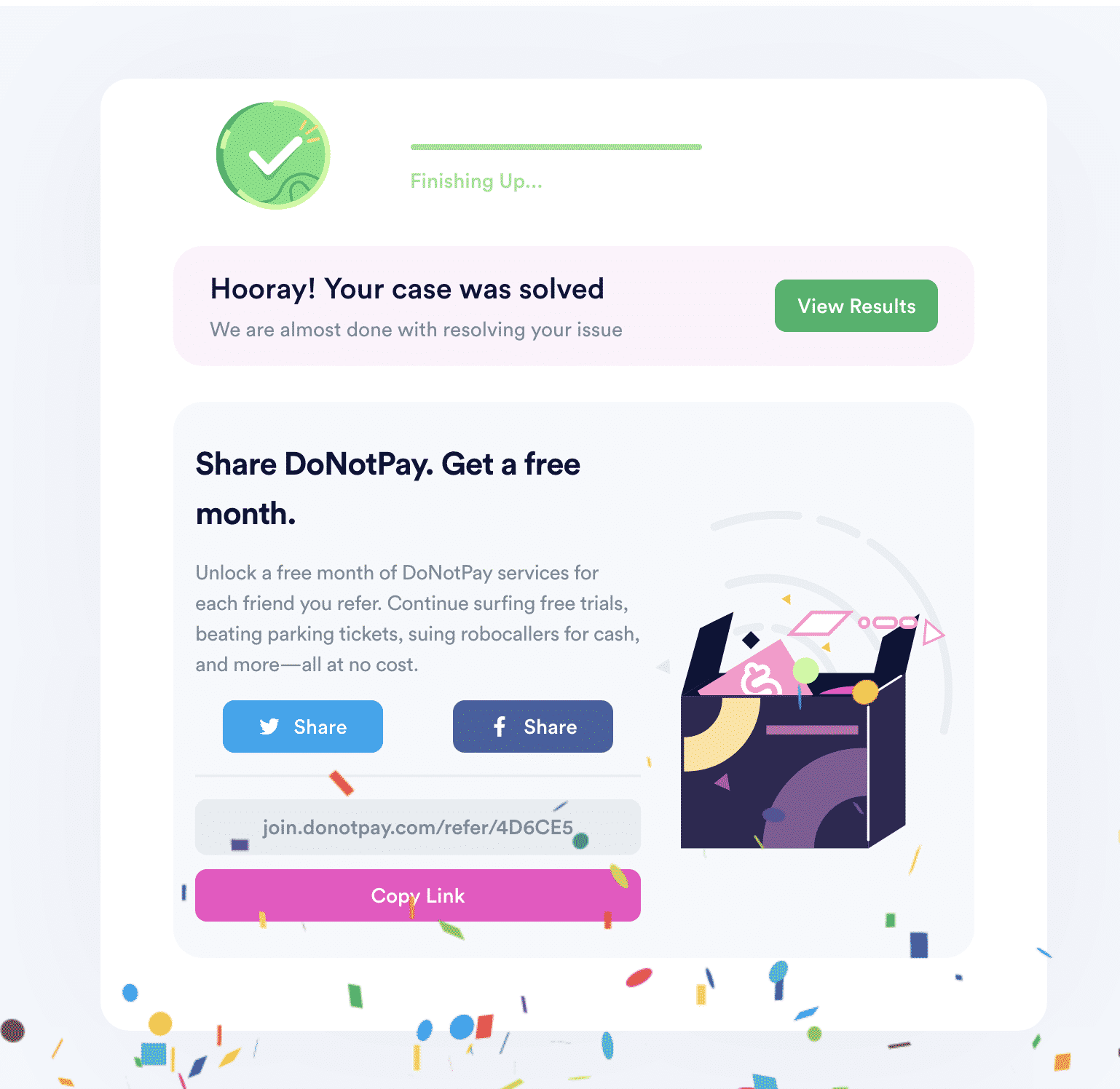 Expect More Help From DoNotPay
Do you want to know what else DoNotPay can do for you? Have a look at the following lists and discover some of our most prominent services:
| Type | Particular Services |
| --- | --- |
| Getting more cash or saving the existing funds | |
| Fighting various issues | |
| Other helpful services | |
Let Our App Fight Grabby Merchants in Your Name
Have you received a damaged item? DoNotPay helps you file a return request and get a replacement for the faulty product. We can reach out to companies and demand refunds or chargebacks in your stead or request late delivery refunds. This way, you avoid paying for the goods that didn't meet your expectations and standards.
Our app can also send refund requests to airlines and help you get compensated for postponed or canceled flights. You won't need to contact the particular company yourself—DoNotPay does the grunt work and lets you enjoy the results!