A Guide to Getting Paid Sick Leave Without Hassle
Roughly a third of all Americans—around 33 million people—can't go on paid sick leave. If they can't come to work sick, they have to either use paid time off or say goodbye to their salary.
Many employees don't know their rights and aren't familiar with sick leave rules, which is why they feel forced to work when sick.
This article will explain how paid sick leave works and what laws protect your interests. We'll also show you how you can call in sick with ease if you subscribe to DoNotPay.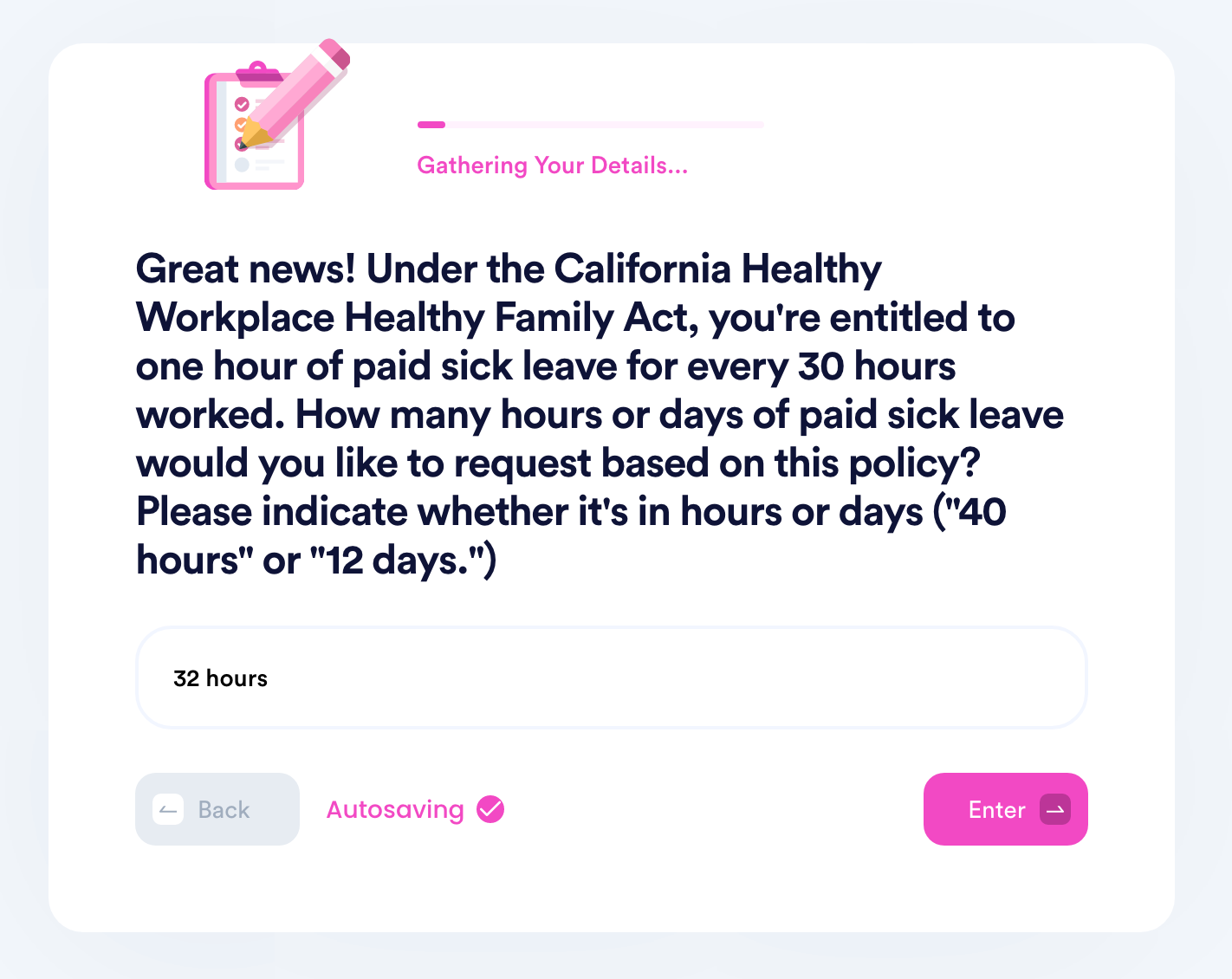 Paid Sick Leave—Acts and Laws
According to federal law, the employer has no permanent obligations toward the employee when it comes to paid sick leave. The only federal-level rule is the Family and Medical Leave Act (FMLA), which provides employees with 12 weeks of sick leave, unfortunately unpaid.
The only way you can secure a paid sick leave legally is through:
State- and county-level laws
The Emergency Paid Sick Leave Act (EPSLA)
While the EPSLA is a federal-level act that enforces paid sick leave, it's a temporary rule that will go away with the COVID-19 pandemic. The EPSLA defines money limitations, duration, and eligibility criteria, as shown in the table below:
Sick Leave Duration
Eligibility Criteria
Maximum Salary Covered
Ten workdays (two weeks)

Symptoms of or similar to the COVID-19
Ordered or advised quarantine
Care for a child in quarantine

$511 per day
Ten weeks
Care for a child whose school or another place of care closed down due to the pandemic
The lower amount between:

Two-thirds of the salary
$2,000
State- and County-Level Laws
Unlike the federal government, there are states and counties which have laws about mandatory paid sick leave.
Sadly, only 15 states and the District of Columbia have such laws or intent to enact them. Outside of those 16, you'll have to rely on your local government and see if your county requires your sick leave to be paid.
Check out the following table to find articles about different paid sick leave state laws:
If you don't have COVID-19 or don't live in one of the states above, the only way you can get paid leave is if your company's policy mandates it.
Is There an Easier Way to Request Sick Leave?
When requesting sick leave, you should be aware of your rights and your employer's obligations. If you plan to send an email request, you should include a state law or contract term that grants you paid leave.
How should you write your request, and where can you find these laws? You can do the research yourself, or you can let DoNotPay do it all for you! Our app will consult any applicable laws or acts and draft a professional request letter that is bound to be approved.
All you need to do is sign up for DoNotPay, navigate to the Request Sick Leave feature, and:
Insert the state the company is located in
Answer a couple of questions about the company
Enter the dates on which you'll be absent from work
Choose whether you want us to:

Send the request to your employer directly
Share it with you so you can email it on your own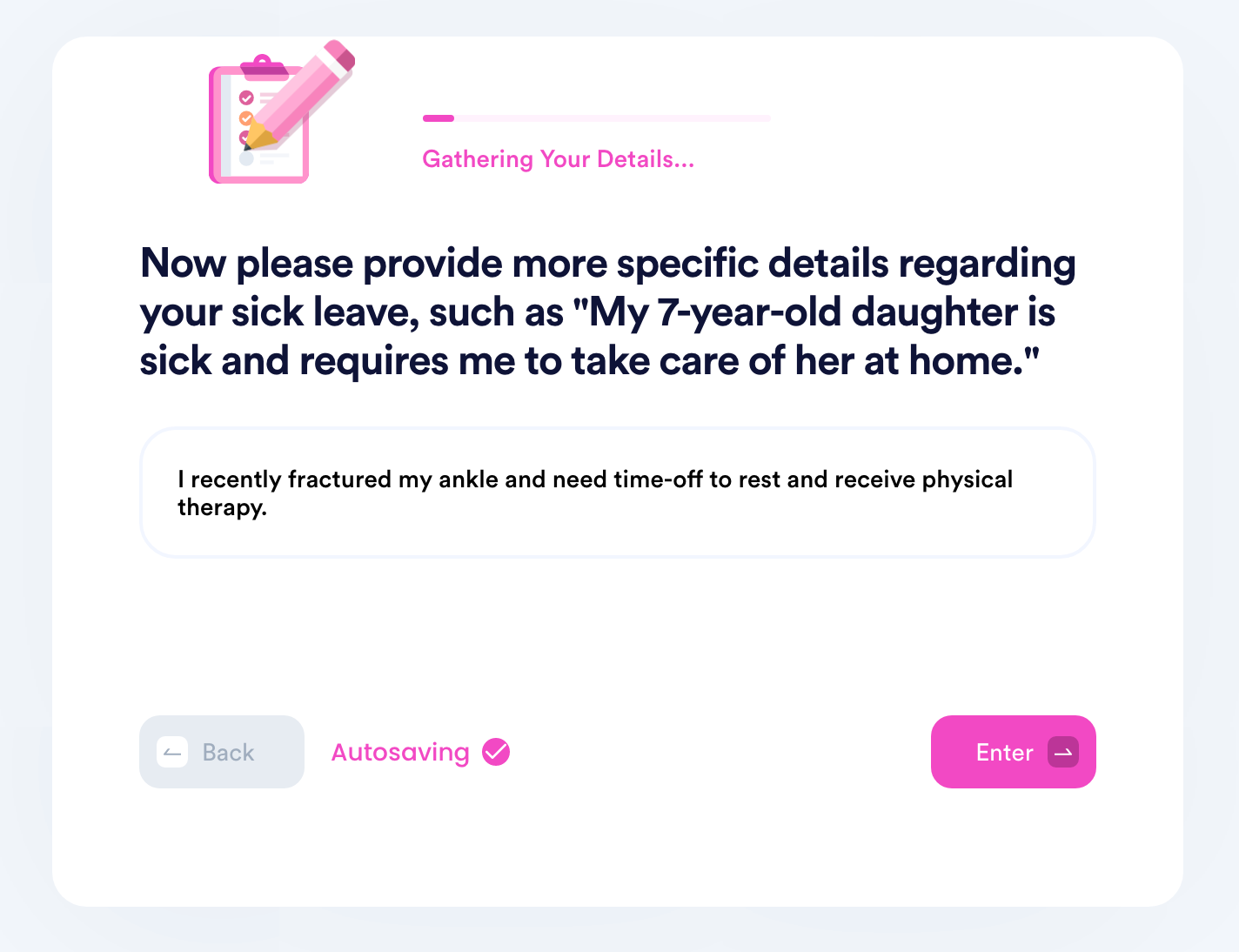 If there's a law in place but your employer still denies you your paid sick leave, you'll have a strong case to sue them. Our Small Claims Court product will guide you through the entire process by helping you with:
Drafting a demand letter
Filling out court forms
Gathering necessary documents
Filing the complaint
Creating an argumentative script to use during proceedings
Let DoNotPay Help You With Various Tasks
The assistance we can provide doesn't stop here! Check out the table below for more details on our services:
| Improving Your Security | Making Your Everyday Life Easier | Creating Customized Paperwork |
| --- | --- | --- |
| | | |
Struggling To Be Economical? Rely on DoNotPay!
Our app—the world's first virtual lawyer—can help you save a significant amount of money in a few clicks! Starting from lowering your bills and reducing property taxes to claiming missing funds under your name, DoNotPay will keep the cash in your pockets.
Our system will also prevent you from financing unwanted or unused memberships and subscriptions by canceling them. You will be able to enjoy free trials without getting charged for them and get refunds from any merchant or airline company due to dissatisfying service!