Answered—Is Diarrhea a Reason To Call In Sick?
Going sick to work can be hazardous to your colleagues and sometimes even customers if you work with food—especially if your illness is foodborne. Are you wondering: "Is diarrhea a reason to call in sick?" DoNotPay will tell you all about when you should avoid working.
If you don't know how to tell your boss that you are sick, , and we'll do it instead of you.
Should I Call In Sick if I Have Diarrhea?
Diarrhea can be a sign that you have a stomach virus or some contagious disease, so you should call in sick when you notice this symptom. You can go to work only if you are certain that you don't have an illness that can be contracted by your colleagues and, in some cases, customers. It would be easier for you to stay at home, especially if you need to visit the restroom often.
You should generally stay away from the office if you notice any of the following symptoms:
Fever
Vomiting or diarrhea
Rash
Pain
Cold
Fever
Having a fever can be a symptom of any type of disease. When you have a fever, your body is trying to fight off an infection that could be contagious—in this case, you should stay home until you get better.
Vomiting or Diarrhea
Diarrhea and vomiting may be symptoms of a stomach virus, so until you're sure that it's not transmittable, you should stay at home and avoid putting your coworkers at risk.
Rash
Not all rashes are contagious, but until you know for certain that your skin problems cannot affect others, you should stay at home.
Pain
Chronic pain isn't contagious, but it can make you exceedingly uncomfortable, and you might not be productive if you're in pain. If you have any of the following problems, consider taking sick leave:
Rest is a must when you're in pain, so check whether there's a policy in your company that allows employees to take paid sick leave when they're in pain.
Cold
If you have a case of the sniffles, that's not a reason enough to miss out on work. But if your cold is severe, with symptoms such as uncontrollable cough, you should consider taking sick leave.
How To Call In Sick With Diarrhea
There are a few options to call in sick depending on where you work—you can:
Call your manager
Use DoNotPay
Be sure to inform your supervisor in time about your sick leave because they need to find someone else to cover your work. The common practice is to call at least two hours before your shift, but you should check your company's policy for more specific rules.
Your employer might force you to come into work, and unfortunately, not all states have laws that can prevent them from doing this.
If you contract COVID-19, there is the Emergency Paid Sick Leave Act that protects you. Your employer must give you time off if you are ill with coronavirus.
Get Your Sick Leave With the Help of DoNotPay
If you're not keen on talking to the HR department or your supervisor when you're dealing with stomach pain, we have the best product for you. Once you , we'll create a professional sick leave request based on your state laws and the information you provide.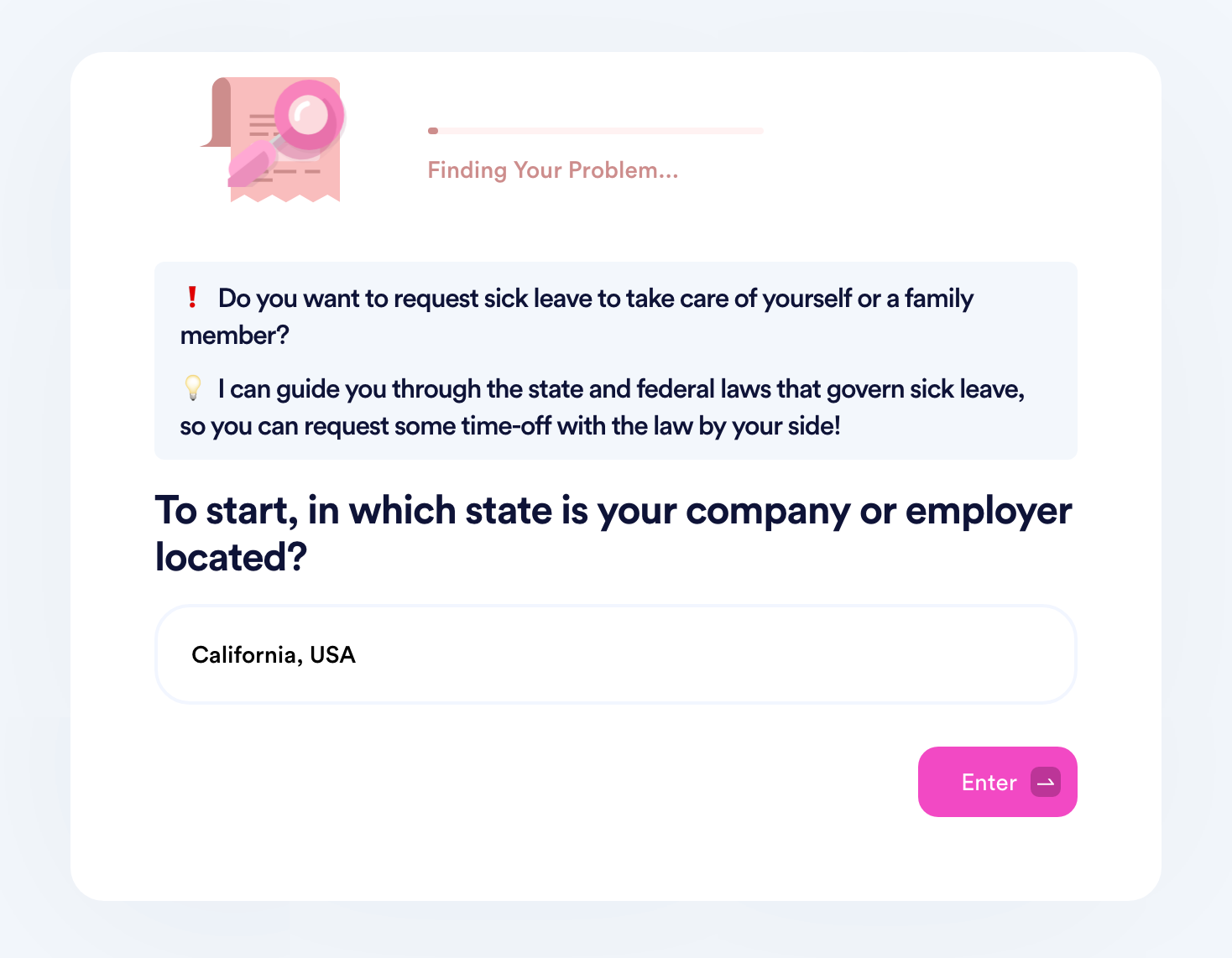 To use our services, follow the steps below:
Log in and locate the Request Sick Leave product
Select the state where your company is located (so we can find relevant sick leave laws if your state has them)
Provide information about your company
Enter the dates on which you'll be absent from work
You can also choose whether you want us to send the sick leave request letter in your stead or you prefer doing it yourself.
Keep in mind that your employer cannot fire you for being sick, and if they do, you can sue them in small claims court with DoNotPay's help.
The following table contains articles with more information about states that have regulations regarding paid sick leave: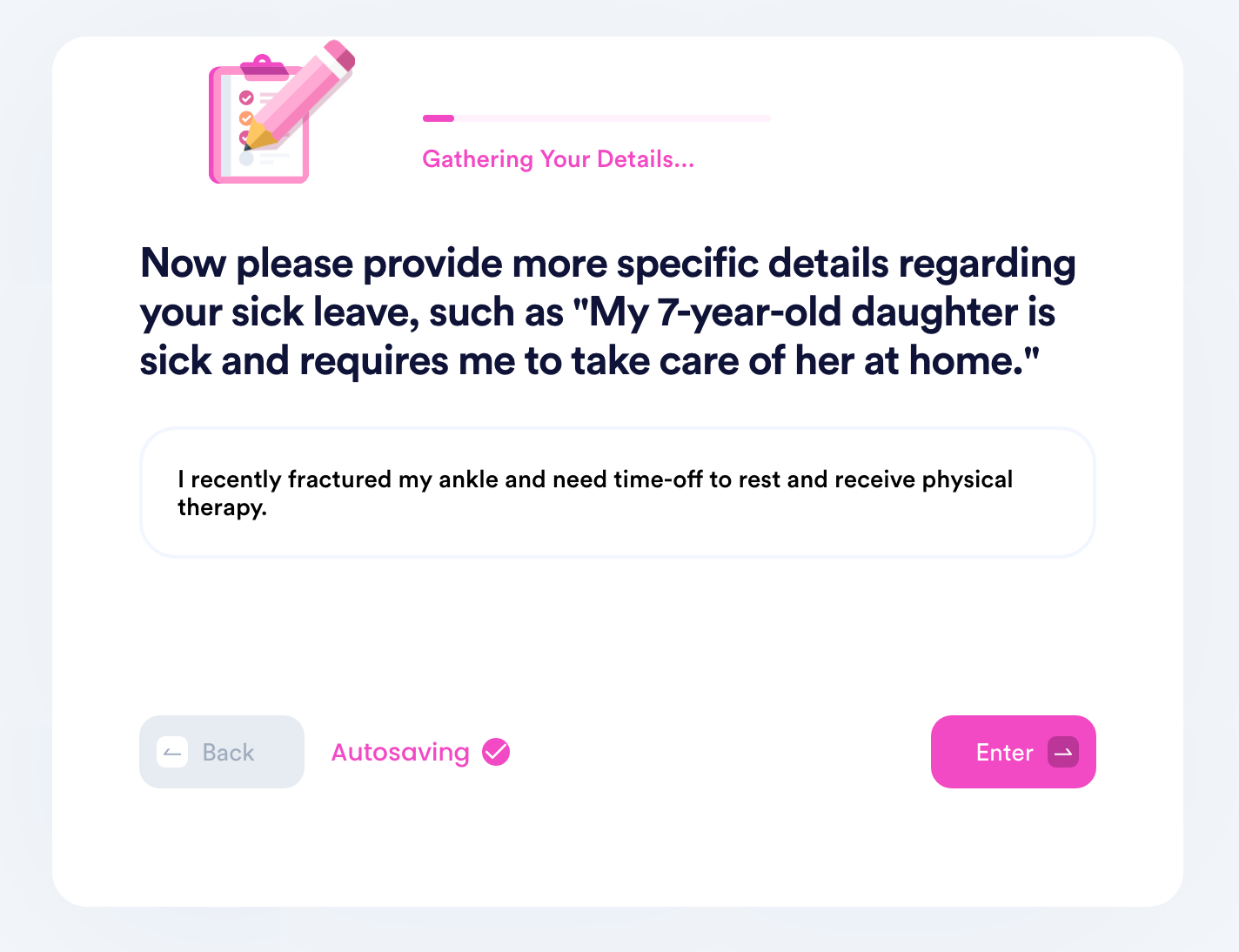 Our Virtual Lawyer Has Got Your Back
DoNotPay has solutions for all those burdensome tasks you would rather avoid or entrust to someone else. Our AI-empowered app can assist you with copyright protection, clinical trial applications, DMV appointments, FOIA requests, mailing services, item returns, and delivery refunds. It also generates standardized legal documents and gets them notarized or faxed with zero fuss!
Through the same app, you can:
File tourist visa applications
Make Education More Accessible and Affordable With DoNotPay
College expenses can be quite a burden for the entire family. Luckily, DoNotPay can have your tuition expenses waived or assist you in applying for various types of financial aid, such as scholarships.
We also offer you a chance to prepare for government tests in a much simpler way or contact embassies or consulates quickly and efficiently if you want to travel abroad to continue your education. If you are a parent who wants to withdraw their kid from a standard school, we will help you draft a notice of intent to homeschool and send it to the local authorities with no stress!