The Ins and Outs of Sick Leave in California
Can you request sick leave in California?
No one wants to stay at work sick. Unhealthy employees in the workplace put staff and customers at risk and negatively affect the quality of work. Health experts agree that paid sick leave improves public health on the whole.
As a Californian, you get a certain number of sick days, provided that you meet the requirements of state legislation. Find out what they are in this article, and get expert assistance drafting your time off request by using .
Is There a California Sick Leave Law?
As no federal laws govern sick leave, legal entitlements vary from state to state. While temporary pandemic-based legislation has largely expired, California's Healthy Workplace Healthy Family Act of 2014 (AB 1522) provides specific provisions for employees. If you haven't had to take sick leave recently, you likely have a few questions:
Am I eligible for paid sick leave in California?
How much paid sick leave do I get?
What if I need to take care of someone else?
California Paid Sick Leave Eligibility
Paid sick leave is available for:
Full-time workers
Part-time workers
Temporary employees
The specific terms of your entitlement may differ if you are a government employee or an air carrier employee or if your employment is subject to a collective bargaining agreement.
How Much California Sick Leave Do You Get?
The number of days you're entitled to depends on where you work. At a minimum, California employers must offer one hour of paid sick leave for every thirty hours worked in a 12-month period.
Certain cities in California offer more generous annual paid sick leave benefits than the standard legislation, depending on how many employees the business has:
| City | Fewer than 10 employees | More than 10 employees | Fewer than 25 employees | More than 25 employees |
| --- | --- | --- | --- | --- |
| Berkeley | - | - | 48 hours | 72 hours |
| Los Angeles | 48 hours | 48 hours | 48 hours | 48 hours |
| Oakland | 40 hours | 72 hours | - | - |
| San Diego | 40 hours | 40 hours | 40 hours | 40 hours |
| San Francisco | 48 hours | 72 hours | - | - |
| Santa Monica | - | - | 40 hours | 72 hours |
Emeryville offers 48 hours of paid sick leave for companies with fewer than 55 employees and 72 hours for those with more employees.
Using California Sick Leave To Care for Others
Being sick doesn't just mean having back pain or coming down with the common cold. You can also use this time to care for your next of kin.
You may qualify for paid sick leave if you need to take care of a:
Child (step, foster, and adopted children included)
Spouse or common-law partner
Parent
Sibling
Grandchild
Grandparent
Is Your Employer Refusing Your Request for California Paid Sick Leave?
It's not uncommon for employers to try to force their employees to work while they're sick. If you insist on taking time off and are fired for doing so, you may have grounds to sue your boss.
If it comes to that, DoNotPay offers a Small Claims Court product that helps you file your lawsuit.
How To Request Sick Leave in California
If you have confirmed that you qualify for paid sick leave, your next step is to call in sick if you're not feeling well. Make sure to do so as soon as you've determined you can't go in to work—the later you give notice, the harder it will be on your boss and coworkers.
If your company doesn't have a formal policy to manage the process, you can give notice of your absence in one of two ways:
Phone
Many employees are uncomfortable with the prospect of asking for time off. Drafting an email from scratch can be daunting—you should use DoNotPay instead.
How Does DoNotPay Help You Secure Paid Sick Leave?
Our Request Sick Leave product gathers all the necessary information and plugs it into a formal letter to give to your boss.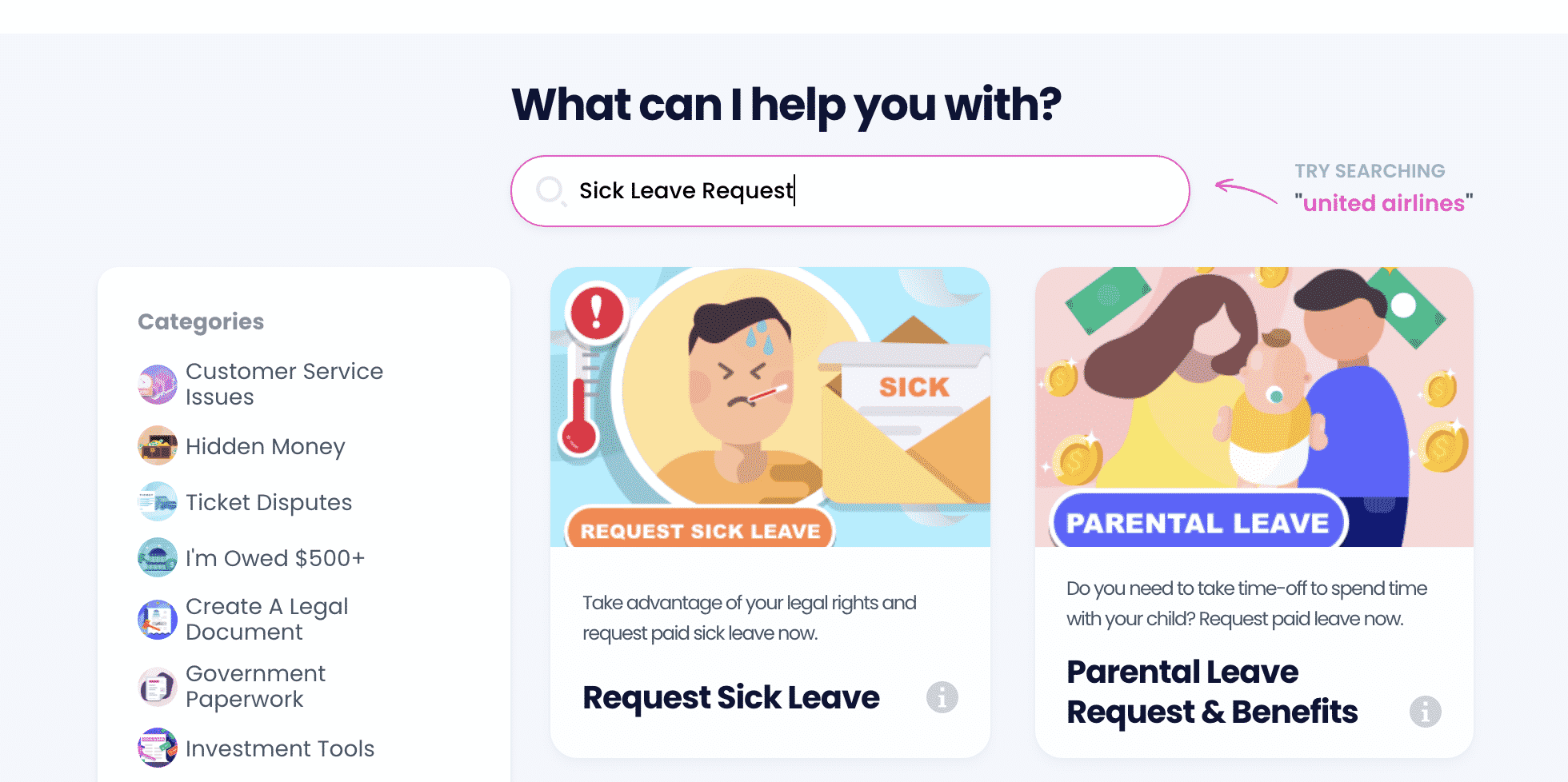 Here is what you have to do:
Navigate to the Request Sick Leave product
Input the necessary information to ensure you qualify for California paid sick leave
Specify on which days you will be absent
Attach a photo of your doctor's note if you have one
From there, you can choose to download a copy of the letter for your own use or let DoNotPay submit it to your employer on your behalf.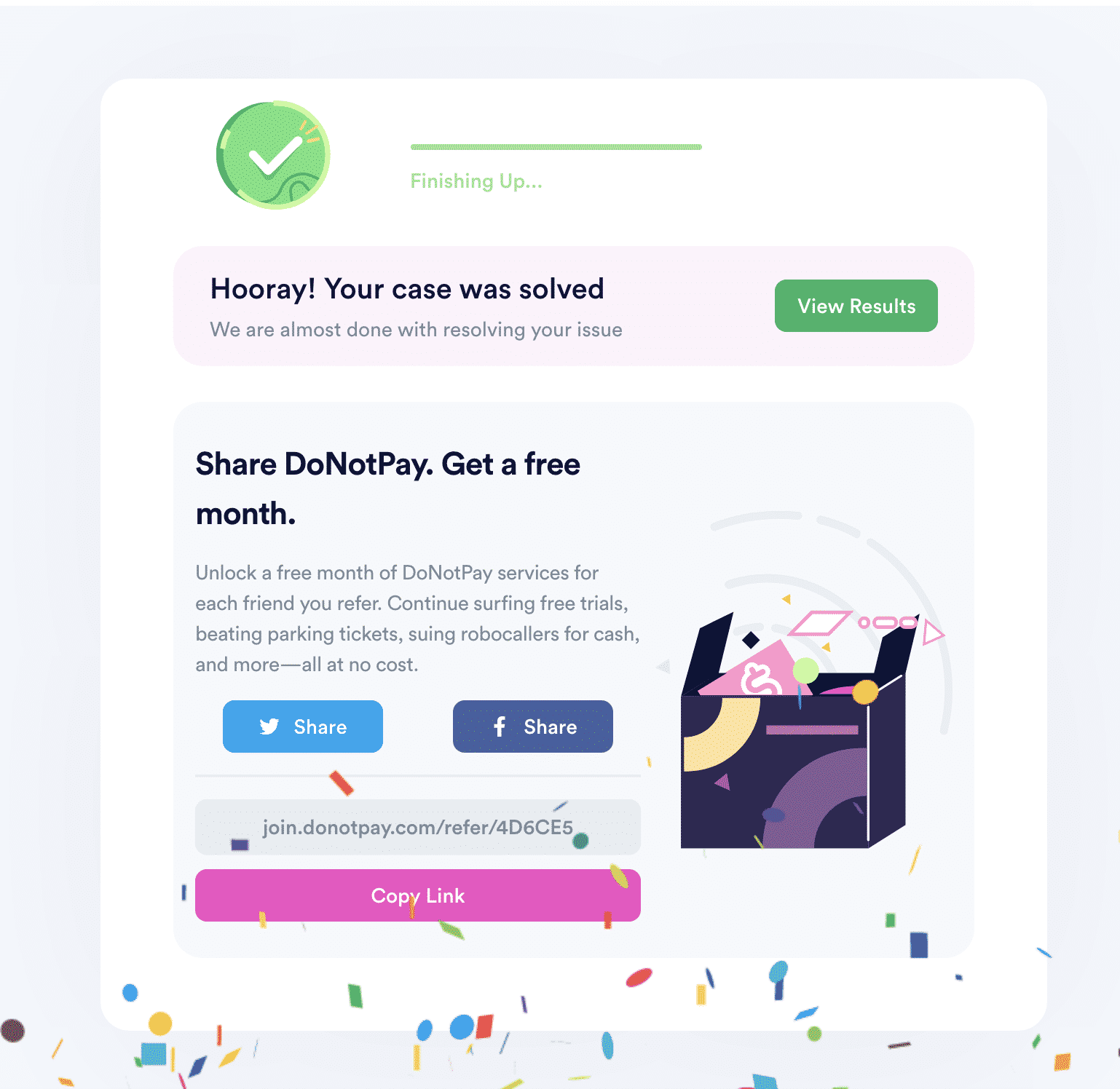 What Else Can DoNotPay Do for You?
Our vast collection of products simplifies various everyday tasks, including:
Various mailing issues by:
Applications for:
Traveling tasks, such as:

Getting tourist visas the easy way

Appeals of:
Other tasks, such as:
Get More Money the Easy Way With DoNotPay
Is a tight budget a constant problem in your household? DoNotPay is here to reduce your expenses and help you get the money others owe you. Our app helps you get refunds from companies, find unclaimed money, cash out old gift cards, and terminate unused subscriptions in a jiffy!
You can also request violent crime compensation, demand chargebacks from airline companies, or claim your warranty or insurance without paperwork.