A Complete Guide to Texas Paid Sick Leave
What happens if you or your family member is unwell and you need to call in sick? Will your employer accept your request, force you to work when sick, or fire you for taking time off? The outcome depends on your company's and state's sick leave regulations.
This guide will explain Texas paid sick leave rules and show you how to create a sick leave request letter the easy way .
What Is the Sick Leave Policy in Texas for the Private Sector?
Texas law doesn't require private-sector employers to grant paid or unpaid sick leave to their employees. While there is no statewide law regulating paid sick leave, three cities have attempted to establish it for private-sector employees:
Dallas
San Antonio
Austin
These attempts were met with a pushback from the government—Austin was prohibited from enforcing its sick paid leave regulations in June 2020 by the Texas Supreme Court.
As a private sector employee, you can get sick leave if:
Your employer grants it as an employee benefit
The company is covered by the Family and Medical Leave Act or the Emergency Paid Sick Leave Act
If your employer offers sick leave as an employee benefit, check the company policy for more details.
Family and Medical Leave Act
The Family and Medical Leave Act is a federal sick leave law applicable to both private and public sector employees. It mandates eligible employers to offer their employees up to 12 workweeks of sick leave in a 12-month period. The table below contains key points of the Family and Medical Leave Act (FMLA):
Covered Employer Criteria
Eligible Employees
Use of Sick Leave

50 or more workers in a 75-mile radius
A K12 school with any number of employees

Has worked for a covered employer for at least 12 months
Has completed at least 1,250 work hours
Works in a company that has employed a minimum of 50 workers within 75 miles

Caring for a newborn or an adopted child
Caring for a child, parent, or spouse with a severe illness
Obtaining medical treatment for an illness that leaves you unable to perform your work duties
What Is the Sick Leave Policy in Texas for the Public Sector?
Like in other states, most public sector employees have access to paid sick leave. In Texas, public sector employees who are too sick to work are entitled to a paid sick leave as follows:
Eight hours for each month of employment for full-time workers
The accrual of sick leave starts during the first day of work
A worker can use the sick leave when injured, ill, expecting a child, or needing to take care of an ill immediate family member
The employer can request a doctor's note from an employee for three or more days of sick leave
DoNotPay Helps You Draft a Sick Leave Request Letter Quickly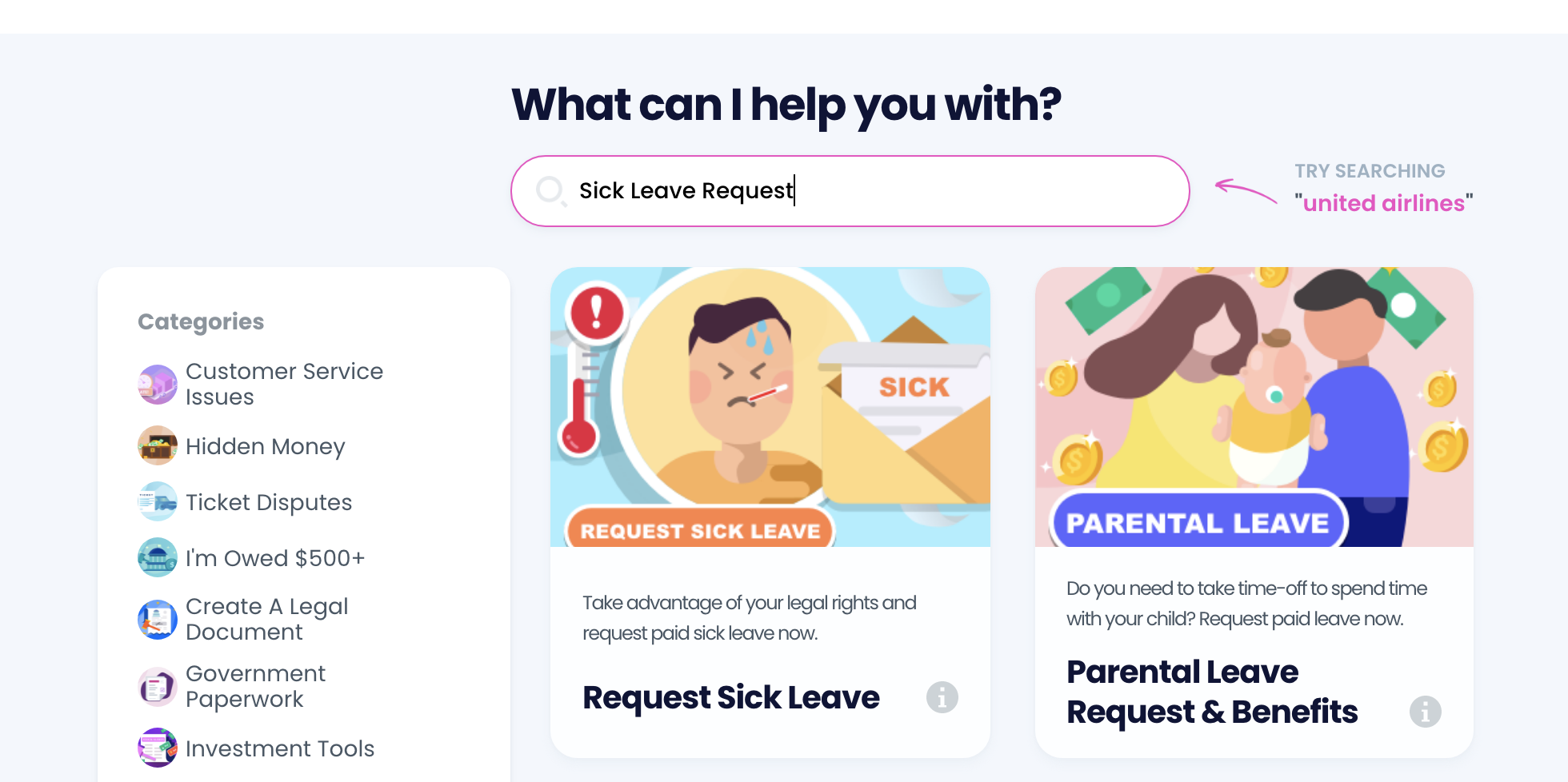 Does the mere thought of calling in sick make you fear that you'll get fired or denied sick leave days? You don't need to waste time writing emails or finding templates and samples of sick leave letters. Our AI-powered app will collect your information—company location, the illness, and the number of sick leave days required—to check the sick leave laws that can apply to your case. All you need to do is:
and search for the Request Sick Leave tool
Answer the brief questionnaire
Choose whether you would like DoNotPay to:

Send the letter to you
Forward the letter to your employer directly
Have you been unlawfully denied sick leave or got fired because you became sick at work and requested time off? You can sue your employer in small claims court easily with DoNotPay's help!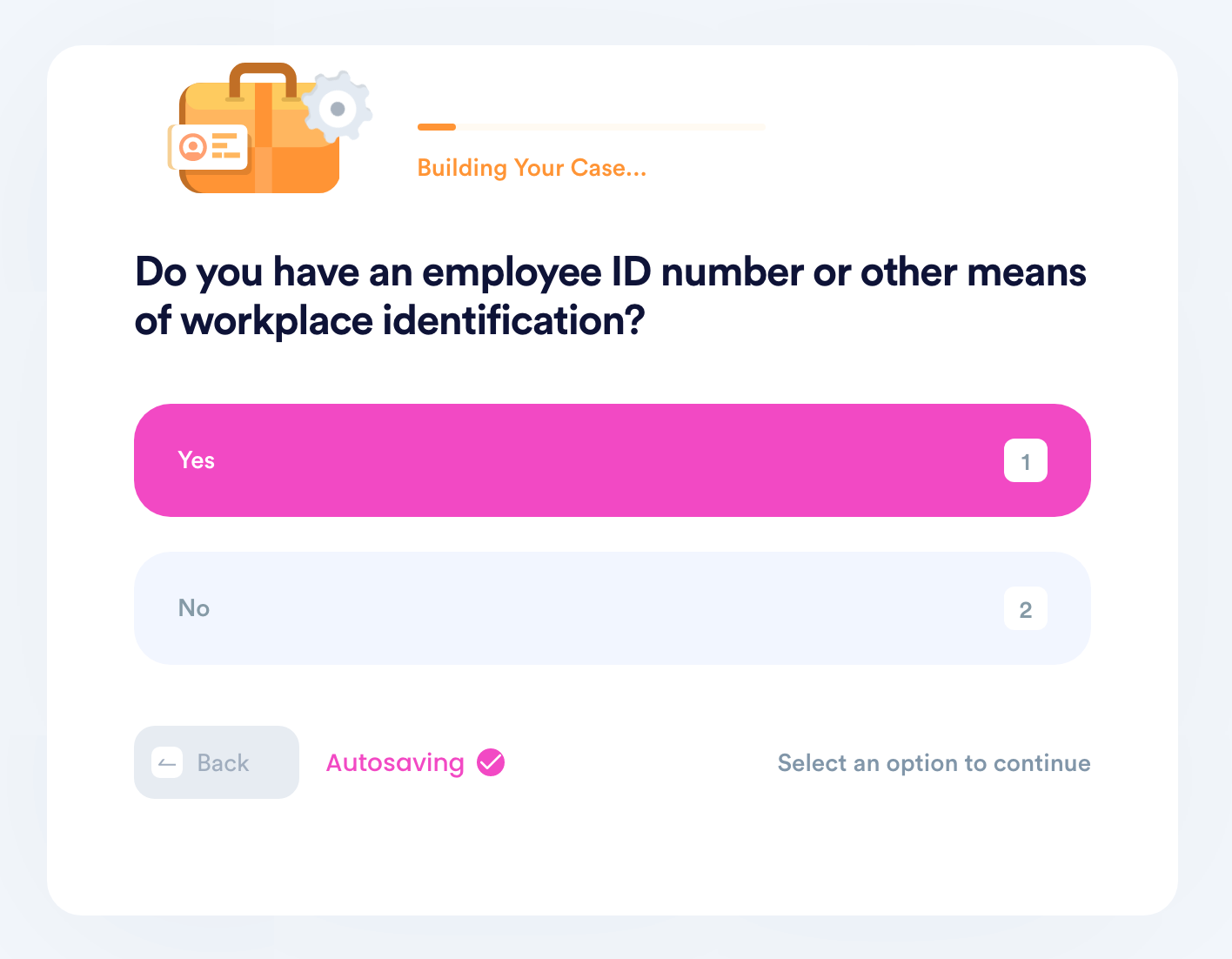 Turn to DoNotPay and Remove Bureaucratic Issues in a Snap
Does paperwork bring you to the edge of a nervous breakdown? With our help, you will skip all administrative impediments and get ready-made legal documents before you know it! No failed drafts or huge legal fees!
DoNotPay can generate:
Once you create the desired document, you can fax it online without a faxing machine or have it notarized with zero complications in the same app!
Your Info Is Safe With Our App
You don't need to leave your credit card info or personal details if you want to start free trials that won't turn into paid subscriptions without notice. DoNotPay will create a virtual credit card with a fake name and generic credit card number for you in just a few clicks. This way, greedy companies won't take a single penny from your account without your authorization!
Our app can also help you file anonymous HR complaints or create burner phone numbers to avoid disclosing your real info when signing up for apps and platforms.