Understanding the Laws on Paid Sick Leave in Georgia
Sick leave laws vary by state, so can you get paid sick leave in Georgia? The Peach State is one of the states that doesn't mandate private employers to provide sick leave, whether paid or unpaid. While the state law doesn't require it, you could be entitled to sick leave if it's promised in the company policies and your work contract.
This guide will help you understand paid sick leave in Georgia and show you how to using DoNotPay.
What Are the Georgia Sick Leave Laws?
The legal obligation for sick leave in Georgia depends on whether you work for a public or private employer.
While Georgia has no law requiring private employers to offer paid or unpaid sick leave, some companies provide it as an employee benefit and create their own policies around it.
Georgia law requires public employers to grant paid sick leave to their employees. The provisions for sick leave in Georgia vary based on the following:
Nature of your employment
Compensation schedule
| Employment Type | Earned Sick Leave at the End of Each Pay Period |
| --- | --- |
| Full-time public employees paid on a semi-monthly basis | Five hours of sick leave |
| Full-time public employees compensated on a monthly basis | Ten hours of sick leave |
| Part-time employees who work 20 hours or more per week | Up to 720 hours in total |
State of Georgia Sick Leave Policy—The Georgia Sick Leave Act
The new Georgia sick leave law took effect in July 2017. Under this law, you can use your earned leave time to care for immediate family members. The law ensures that employers provide sick leave usable for workers' own illnesses and the care for others.
The time off meant for caring for family members is limited to five days per year. The qualifying family members can be:
Children
Spouses
Grandchildren
Grandparents
Parents
Dependents (who are on your most recent tax return)
This provision is applicable to any employee who works over 30 hours every week. Keep in mind that you must use your accrued leave time—you cannot take more sick time than what you have earned.
The law doesn't apply to:
Companies with fewer than 25 employees
Businesses that provide an employee stock ownership plan
What Is the Family and Medical Leave Act?
Are you afraid of being forced to work while sick or getting fired from your job in case you take sick leave? You may be eligible for unpaid sick leave based on the Family and Medical Leave Act (FMLA).
The FMLA guarantees:
Unpaid sick leave
Job-protected leave
The leave is used for specific family and medical reasons. Eligible employees are entitled to:
12 workweeks of leave in a 12-month period for:

Taking care of a newborn child or adopted child during the first year
Caring for your spouse, child, or parent who has a serious health condition
Getting medical help for a critical illness that makes you unable to perform the essential functions at work
If you are diagnosed with COVID-19, you can check out the benefits guaranteed by the Emergency Paid Sick Leave Act.
Create a Rock-Solid Sick Leave Request Letter With DoNotPay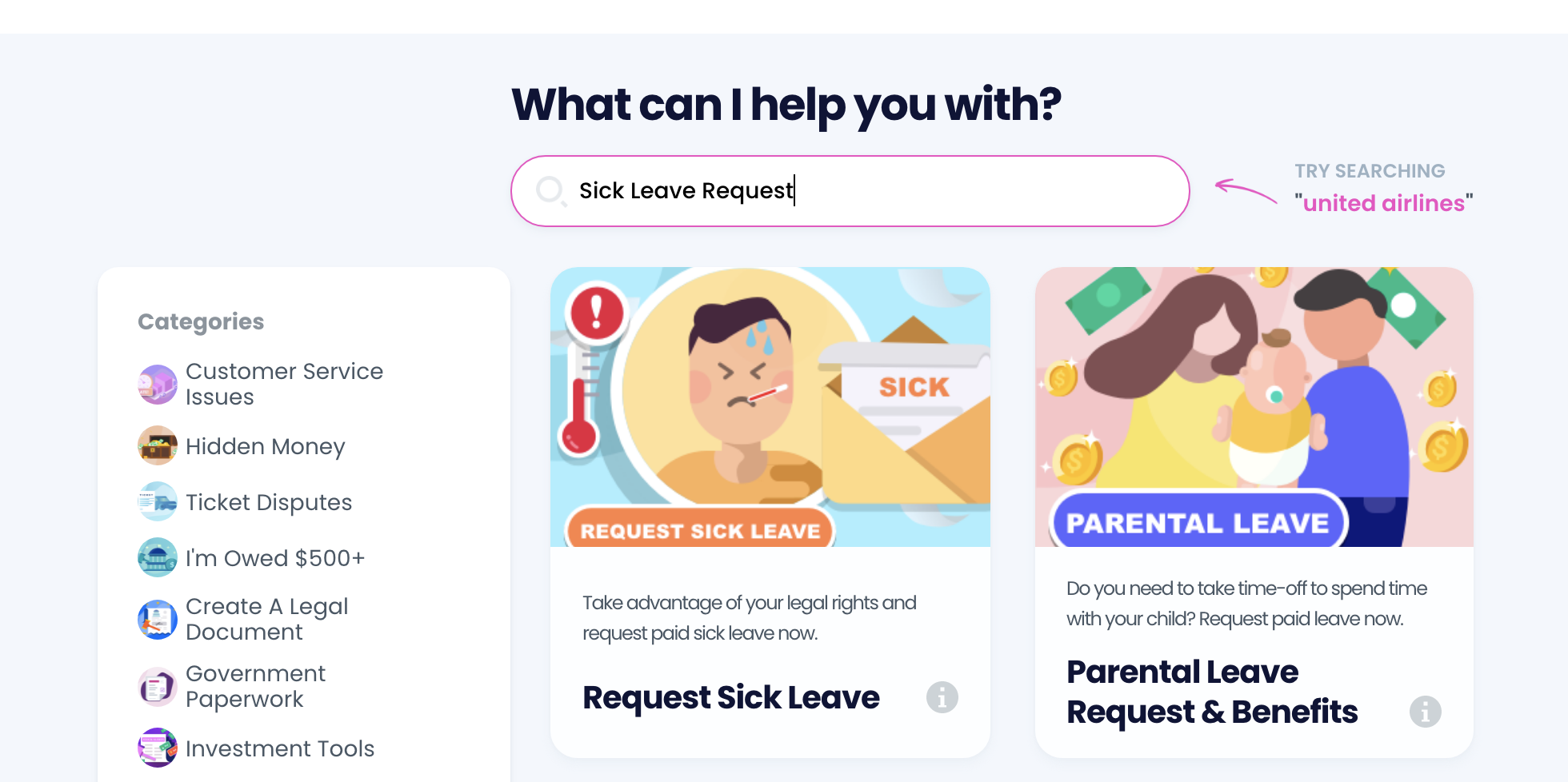 Calling in sick or drafting an email from scratch can be daunting. Either way, you need to do it fast. That is where DoNotPay can help. Our tool collects your essential information and puts together a formal request in just a few minutes.
Follow these steps to handle this task with DoNotPay's help:
Search for the Request Sick Leave tool
Enter the state in which the company is located
Answer a few questions about the company and enter the amount of leave time desired
You can choose to have DoNotPay send the request automatically in your stead.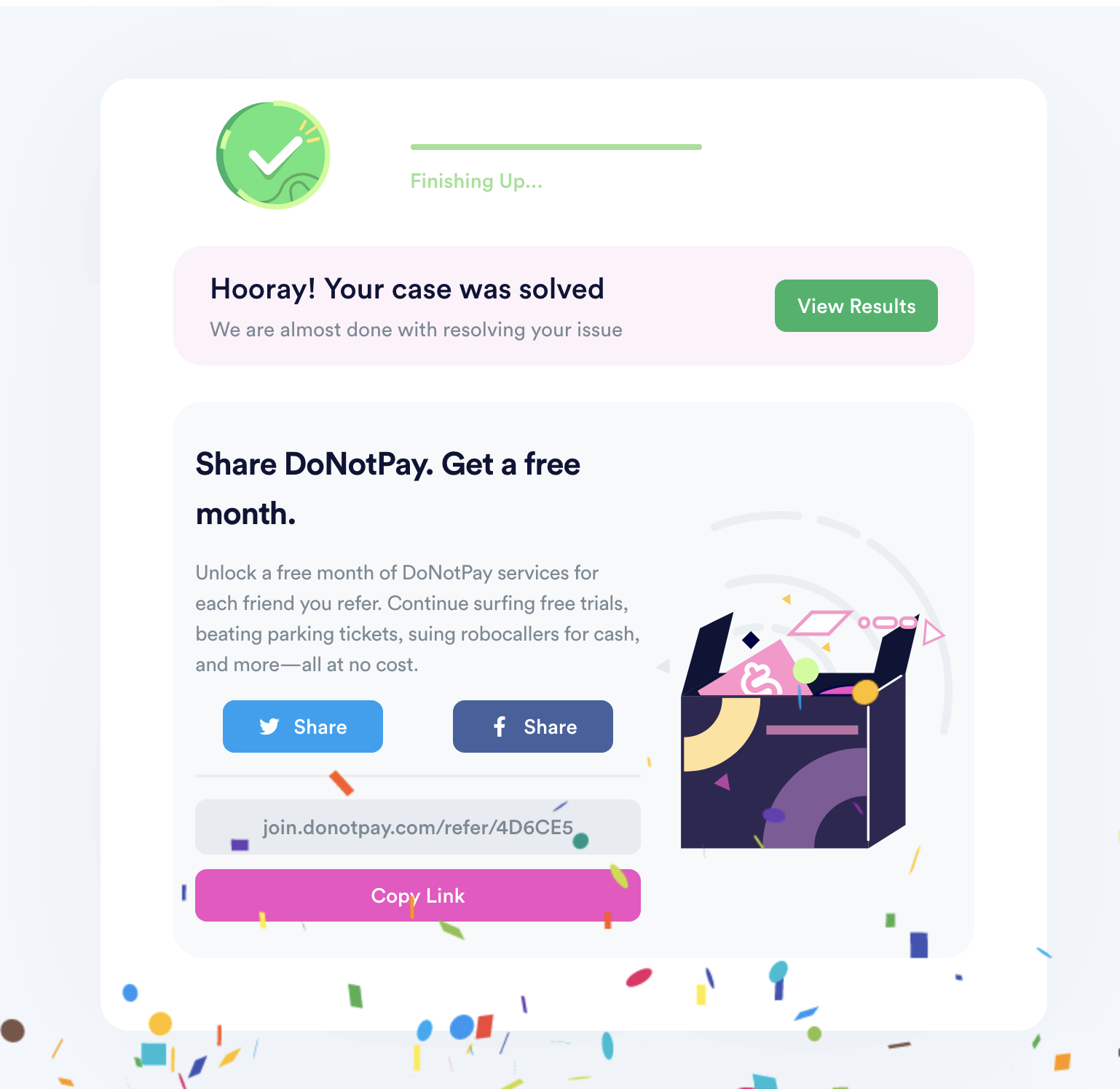 What About Other Perks Our App Offers?
DoNotPay offers valuable assistance with the following tasks:
DoNotPay Cares About Health Matters
Finding suitable and verified clinical trials you can participate in is often complicated and time-consuming. Still, with DoNotPay, it becomes a breeze! Our platform allows you to search through clinical trial databases and apply for the ones that seem acceptable to you.
If you want to make sure your health wishes are honored if you get too sick, we help you compose an advance health care directive based on your preferences. That's not all—you can also name a person who can decide on your finances and estate if you get incapacitated by creating a power of attorney in our app!