Are You Eligible for Oregon Sick Child Leave?
Are you aware of Oregon sick child leave laws?
Most states' sick leave laws offer some general provisions that allow eligible citizens to take time off to care for children. Oregon, in particular, provides more extensive options for working parents. That means you can use your sick days to care for your child instead of yourself—even if they are only suffering from a minor illness or injury.
Use this guide to check whether you are eligible for these benefits and how you can use them. We'll also share how DoNotPay can drastically simplify the task of asking for sick leave.
What Is Oregon's Sick Child Leave Law?
The Oregon Family Leave Act (OFLA) stipulates that covered employers must provide 12 weeks of unpaid sick leave to their employees. You may get paid sick leave if you have vacation days available.
This sick leave can be used for the following general purposes:
Managing a physical or mental illness, injury, or ongoing condition
Seeking professional medical care
Addressing an incident of domestic violence affecting you or a family member
OFLA isn't just intended to help you avoid being sick at work. It also allows for more specific uses of accrued sick leave—caring for a child with a non-serious injury is chief among them.
This refers to instances when a child has to stay home from school due to an illness. While the condition may not be life-threatening, parents covered by OFLA can use their sick leave to look after their children.
Are OFLA and FMLA Requirements Different?
Yes—while you may qualify for both, OFLA has different coverage requirements than the Family and Medical Leave Act. Whether you are eligible and whether your employer is covered depends on the following conditions:
| Sick Leave Law | Number of Employees at Business | Employed for a Minimum Of | Work Rate |
| --- | --- | --- | --- |
| OFLA | 25 or more | 180 days | 25 hours per week |
| FMLA | 50 or more | 12 months | 1,250 hours per year |
Does OFLA Cover COVID-19-Related Purposes?
Yes—the Oregon Bureau of Labor and Industry recently updated OFLA to bring it in line with emergency pandemic legislation. Parents who qualify for OFLA coverage can use their sick time if their children's schools have been closed due to the pandemic.
Oregon Sick Child Leave—Employer Rights and Obligations
Even though you have the right to sick leave under OFLA, your employer may make it difficult for you to use it. That's why you need to understand what your employer can and can't do.
Whether you have a cold or your child does, medical experts recommend taking the necessary time off to rest and recover.
If eligible for OFLA, you have the right to leave early or miss days altogether without facing any consequences from your employer. OFLA legally prohibits your boss from:
Your employer does have the right to ask for the following information if you request sick leave to care for your child:
Your child's name
Your child's school (if closed)
A signed statement detailing that no other family member can take care of the child
How To Use Your OFLA Sick Leave
Whether you're calling in sick on your own behalf or to take care of your child, you need to make sure you do it correctly. The two most direct ways to notify your boss are by:
Phone
It's not necessarily easy to draft an email about your sick child if you don't know where to begin. DoNotPay will help with the process.
DoNotPay Will Help You Access Your OFLA Sick Leave
Everyone struggles with the prospect of asking for time off—allow DoNotPay to make it a little easier. Our Request Sick Leave product helps you draft a detailed request for time off.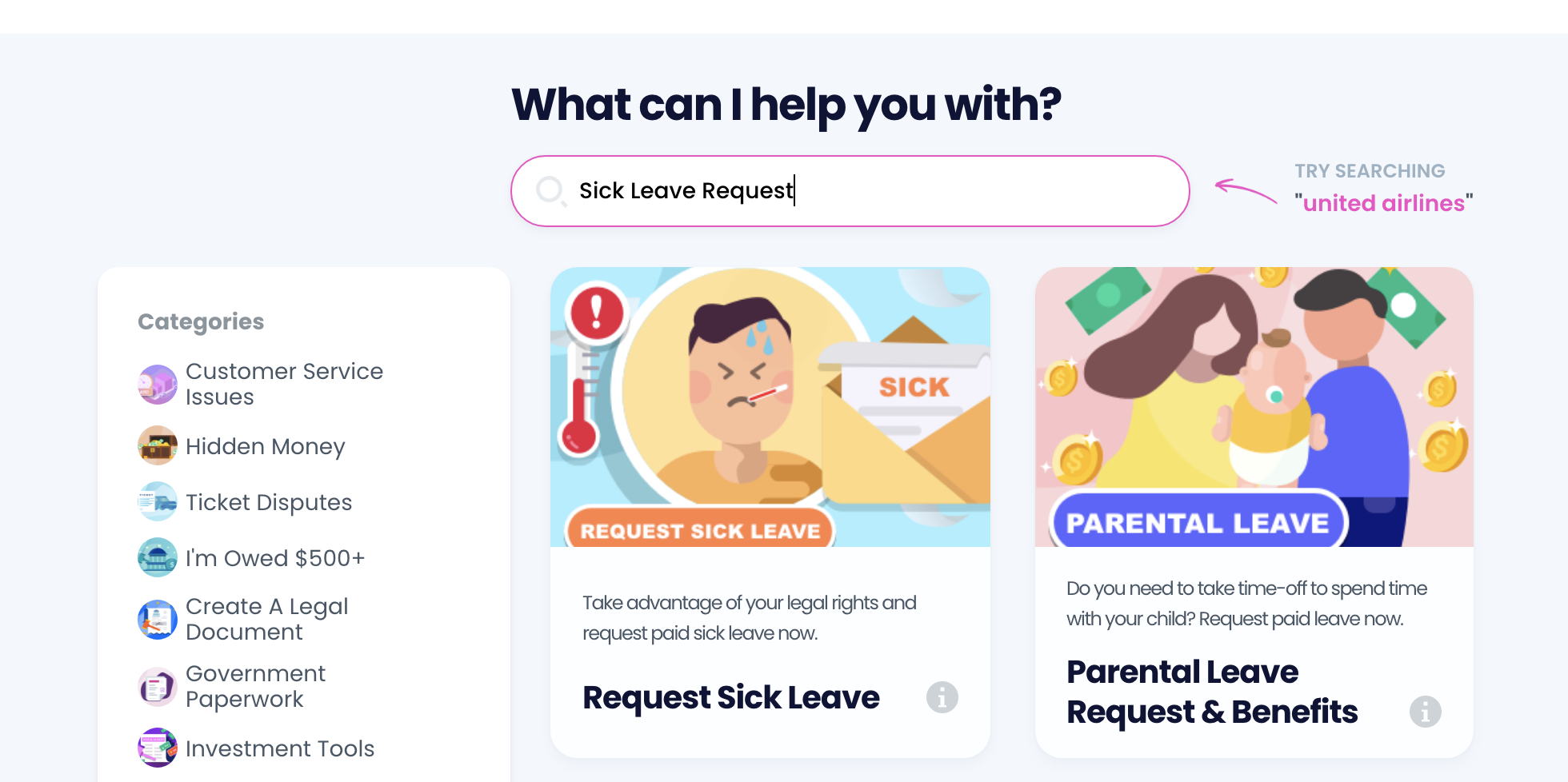 Here is how it works:
Choose the Request Sick Leave product
Tell us about your employer and how long you plan to be absent
After that, your work is done. You can either download a copy of the letter or let DoNotPay send it to your manager directly.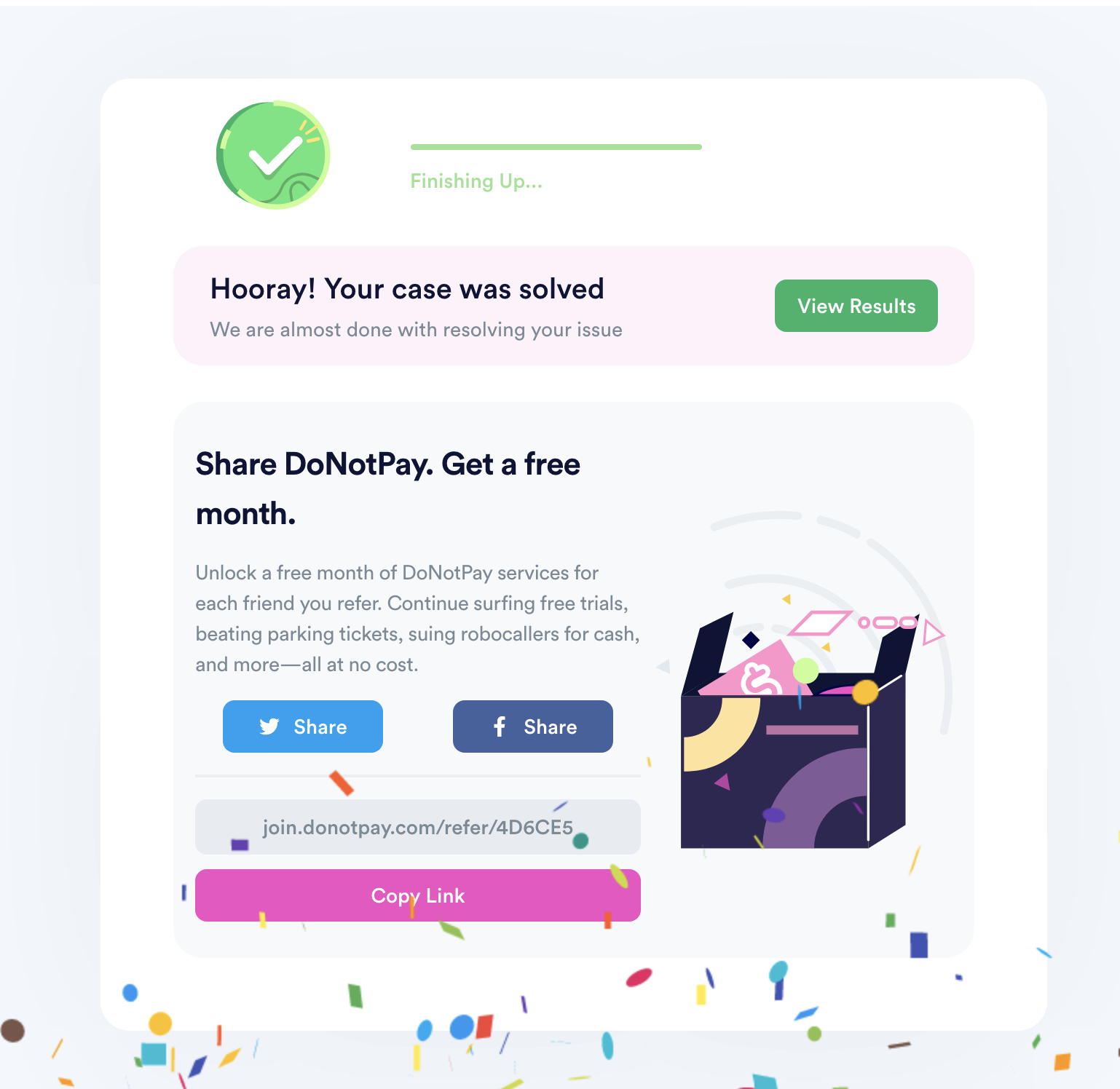 Turn to DoNotPay and Remove Bureaucratic Issues in a Snap
Does paperwork bring you to the edge of a nervous breakdown? With our help, you will skip all administrative impediments and get ready-made legal documents before you know it! No failed drafts or huge legal fees!
DoNotPay can generate:
Once you create the desired document, you can fax it online without a faxing machine or have it notarized with zero complications in the same app!
Your Info Is Safe With Our App
You don't need to leave your credit card info or personal details if you want to start free trials that won't turn into paid subscriptions without notice. DoNotPay will create a virtual credit card with a fake name and generic credit card number for you in just a few clicks. This way, greedy companies won't take a single penny from your account without your authorization!
Our app can also help you file anonymous HR complaints or create burner phone numbers to avoid disclosing your real info when signing up for apps and platforms.