What Employees Need To Know About NJ Sick Leave Law
Wondering how to call in sick or find a sample sick leave email that you can send to your employer? Can your employer force you to work when sick? Since sick leave laws vary by state, this guide will break down the NJ sick leave law to help you understand:
Who is eligible for the NJ sick leave
How the sick leave law works
What you can use the leave time for
How to draft a formal sick leave request in a flash
What Is the New Jersey Sick Leave Law?
Employers in NJ are required to provide employees—including full-time, part-time, and temporary ones—with up to 40 hours of earned sick leave per year. The law dictates how sick leave is:
Accrued—For every 30 hours worked, you accrue one hour of earned sick leave
Compensated—You are paid for the earned sick leave at the same pay rate as your regular earnings
Carried over—An employer may allow you to carry up to 40 hours of accrued and unused sick leave from the previous year
New Jersey Paid Sick Leave—Eligibility Criteria
The table below shows the eligibility criteria employees must meet to get sick leave and conditions under which employers have to comply:
Employee Eligibility
Who Must Comply
Employers are not mandated to grant earned sick leave to:

Construction industry workers employed under a union contract
Per diem health care workers
Independent contractors
Public workers with sick leave benefits provided by other state laws

Employers must comply with the sick leave law if they provide their workers the following types of paid time off (PTO), such as:

Personal leave
Vacation leave
An employer cannot require you to:
Work extra hours to cover your absence period or use your accrued earned sick leave
Find a replacement worker to cover for you while you're on earned sick leave
If you are transferred from a separate division, entity, or location within the same company, you are entitled to your accrued sick leave. In case you are rehired within six months after being laid off, your unused accrued earned sick leave must be reinstated. Should a new employer take over the company, you are still entitled to your earned accrued sick leave.
Keep in mind that an employer may require that you submit documentation—such as a doctor's sick leave notice—if you will be away for three or more days.
What Can You Use the Sick Leave For?
You are allowed to use your earned sick leave for any of the following:
Taking care of your own or family member's mental or physical illness
Obtaining help or treatment if you or a family member are a victim of domestic or sexual violence
Taking care of a child if the schools have been closed due to a public health crisis
Attending your child's school conference or meeting
Not being able to go to work because of a lockdown during a public health crisis
Draft a Formal Sick Leave Request Letter With DoNotPay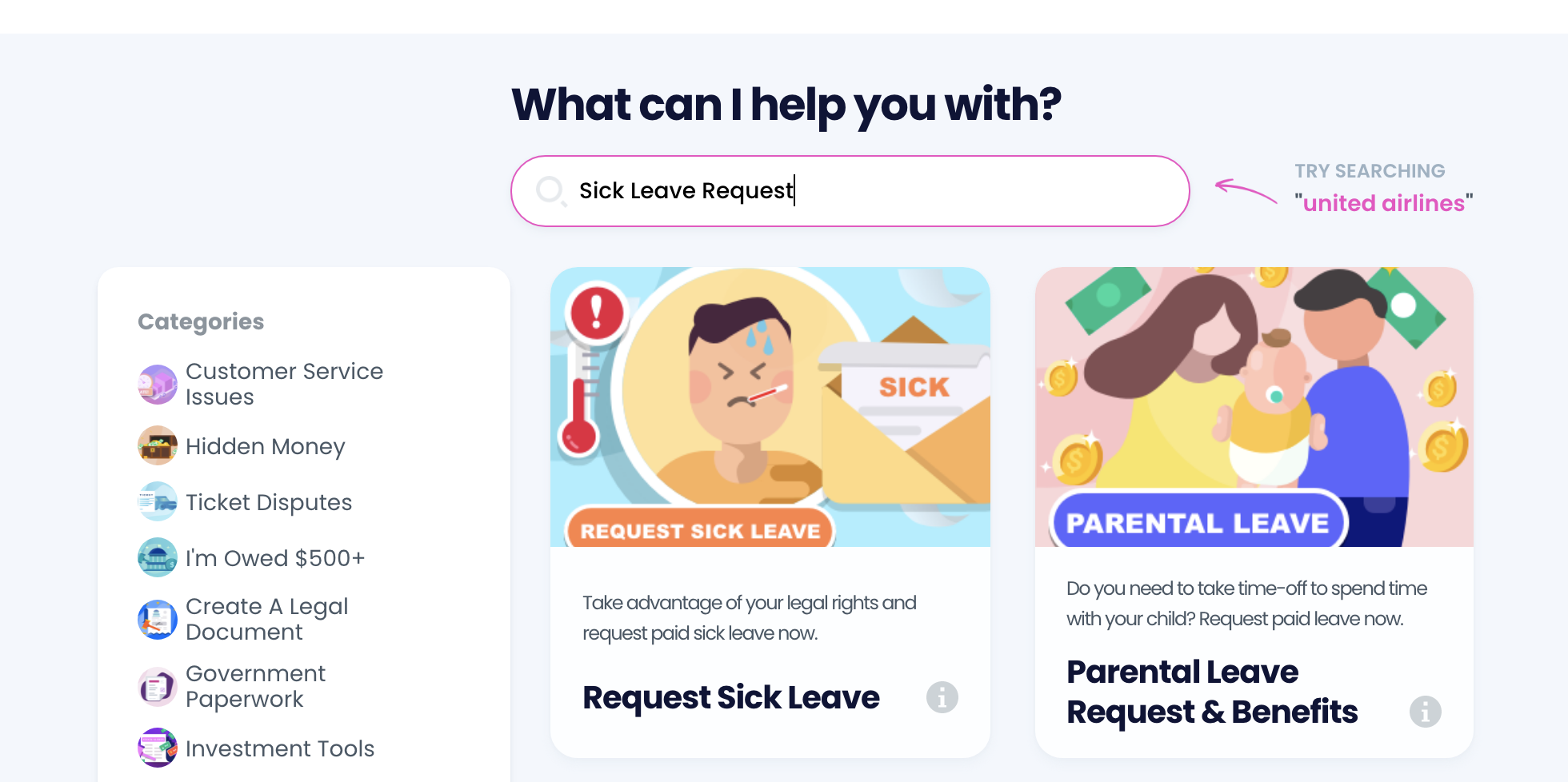 Do you need to call in sick at work but are not sure your employer will grant you the deserved sick leave? DoNotPay will help you draft a bullet-proof sick leave request letter in a matter of minutes.
All you have to do is:
Search the Request Sick Leave tool
Type the state in which your company is located
Answer a few questions about the company and enter the amount of leave time desired
DoNotPay can send the request to your employer in your stead or email it to you.
Check out our extensive knowledge base to learn more about the Emergency Paid Sick Leave Act, the period during which you can call in sick, potential course of action if you get sick at work, and much more!
Don't fret if you go on sick leave and your employer fires you—DoNotPay can help you sue the company in small claims court!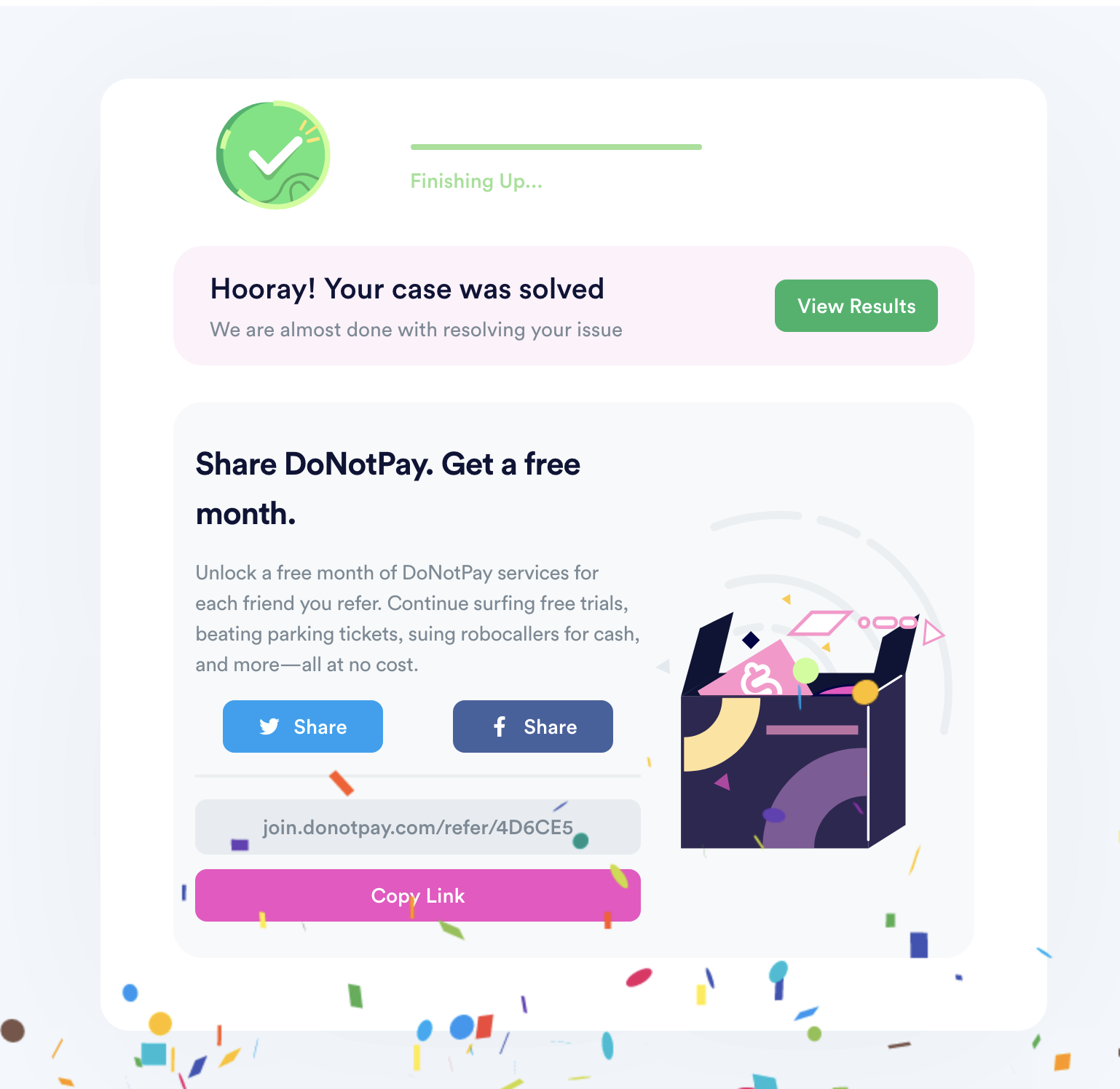 Choose From a Vast Variety of DoNotPay's Handy Services
DoNotPay boasts an enviable collection of various tools that help you cope with administrative matters more efficiently. Here is a small portion of the services we generously offer:
| We Can Help You File | We Can Create |
| --- | --- |
| Tourist visa applications | |
Be Safe Online With the Help of Our App
Keeping your details confident when using the internet is simpler with DoNotPay! Check out virtual credit cards our app can generate for you, and have fun with the free trials no one can charge you for! If you need a quick solution for phone authorization but don't want to use your actual phone number, we can create burner ones and keep your info private.
DoNotPay assists you in reporting defamation as well as stalking and harassment, prevents copyright violation, and helps you eliminate spammers and their annoying texts, emails, and robocalls.