Forced To Work When Sick—How To Deal With Your Boss
One of the first harsh realities you face when starting to work is that it's not that easy not to show up if you're feeling ill. About 33 million Americans don't have access to paid sick leave, while the majority of the employed find it troublesome to ask for leave and go to work sick.
Can your boss make you work if you're sick? In this article, we'll explain what you can do if you're forced to work when sick and show you:
What sick leave laws there are
How to to call in sick and sue wrongful employers
Can a Boss Force You To Work When Sick?
It depends on your sickness. According to the Occupational Safety and Health Administration (OSHA), the employer has a duty to protect employees from being infected. This means that if you are sick from a virus or anything else contagious, they must let you stay at home.
The OSHA doesn't penalize other instances and has no say if the employer fires you because you're on sick leave.
Still, there are other ways they can affect your decision to take a leave. A survey showed that about 90% of employees feel forced to go to work sick because:
They don't want to use a sick day or paid time off
Coworkers come in sick
They have too much work to do
The employer pressures them into it
Laws Against Working While Sick
If you need to go on sick leave, there are laws on both federal and state levels in place that allow you to do so.
Federal law enforces the Family and Medical Leave Act (FMLA) on companies with over 50 employees with which you can get 12 weeks off in 12 months, but you don't receive any pay while being away.
Another federal act is the Emergency Paid Sick Leave Act (EPSLA)—a temporary act that lets employees take ten workdays off with pay if they contract COVID-19.
When it comes to state laws, only 16 states (including the District of Columbia) have a paid sick leave law, while some counties in other states enforce the law on a local level.
In the following table, you can find guides to sick leave laws by state:
If no state law affects your company, you have only your company's policy to turn to, and you should go over your contract to see what sick leave rules there are.
Laws Against Working With Food While Sick
Employees who work with food should stay home until their illness passes so that they don't infect any of the guests or customers.
Sadly, no laws enforce this as a rule—employers, such as restaurant owners, only have guidelines to follow. They won't be in trouble if someone with a fever has to come to work and prepare food.
Avoid Being Forced To Work When Sick—Demand Sick Leave With DoNotPay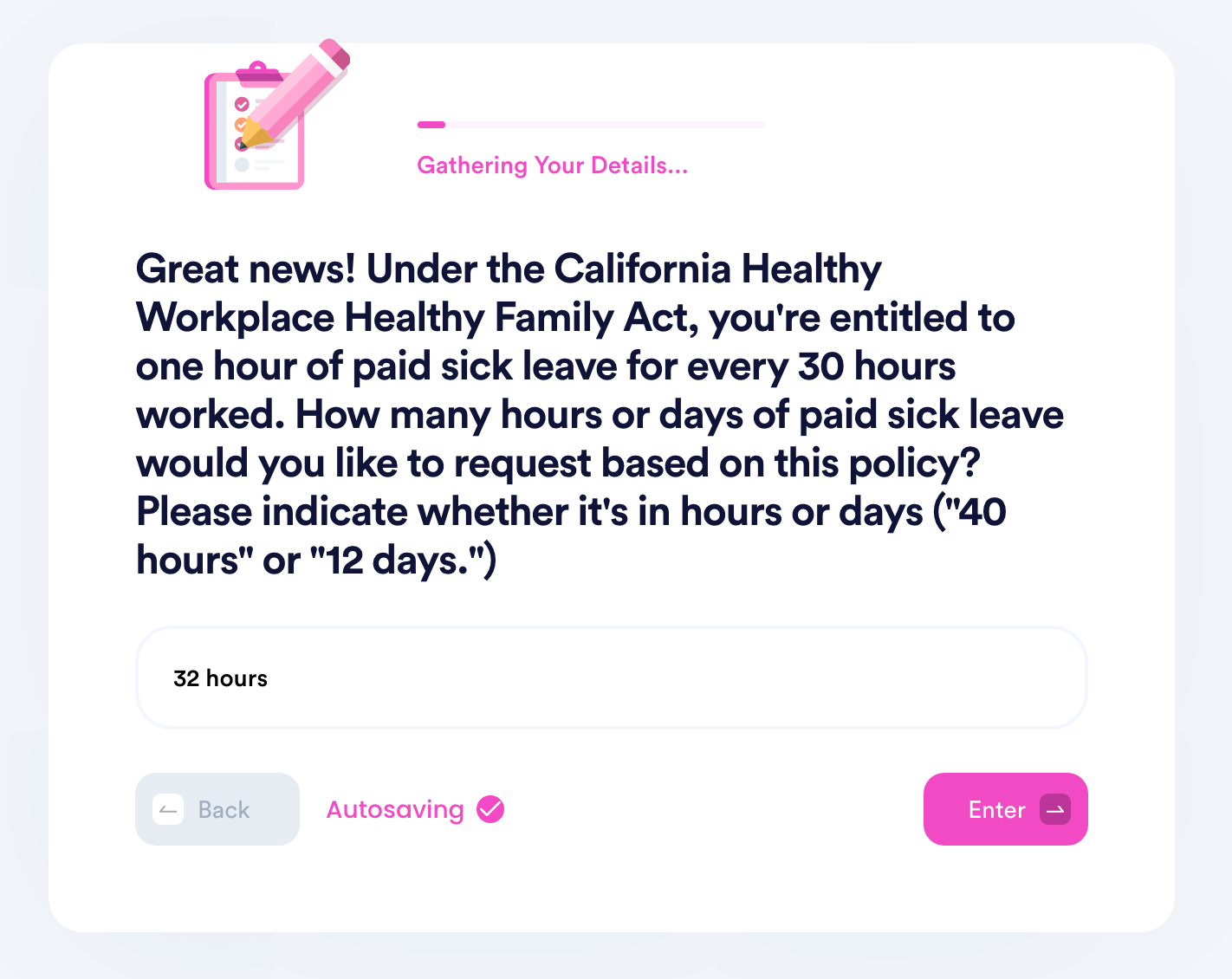 If you can't show up at work, the employer shouldn't force you to. You can research what sick leave laws affect your company and use them as a basis for your sick leave request. If you don't know where to search for these laws or how to write an email request, you can let DoNotPay handle it for you.
Our app will check what laws you can rely on and generate a sick leave request in no time via our Request Sick Leave product. All you need to do is and:
Insert the state the company is in
Answer our chatbot's questions
Enter the dates on which you'll be absent from work
Specify if you want DoNotPay to:

Send the request to your employer directly
Share it with you so you can email it on your own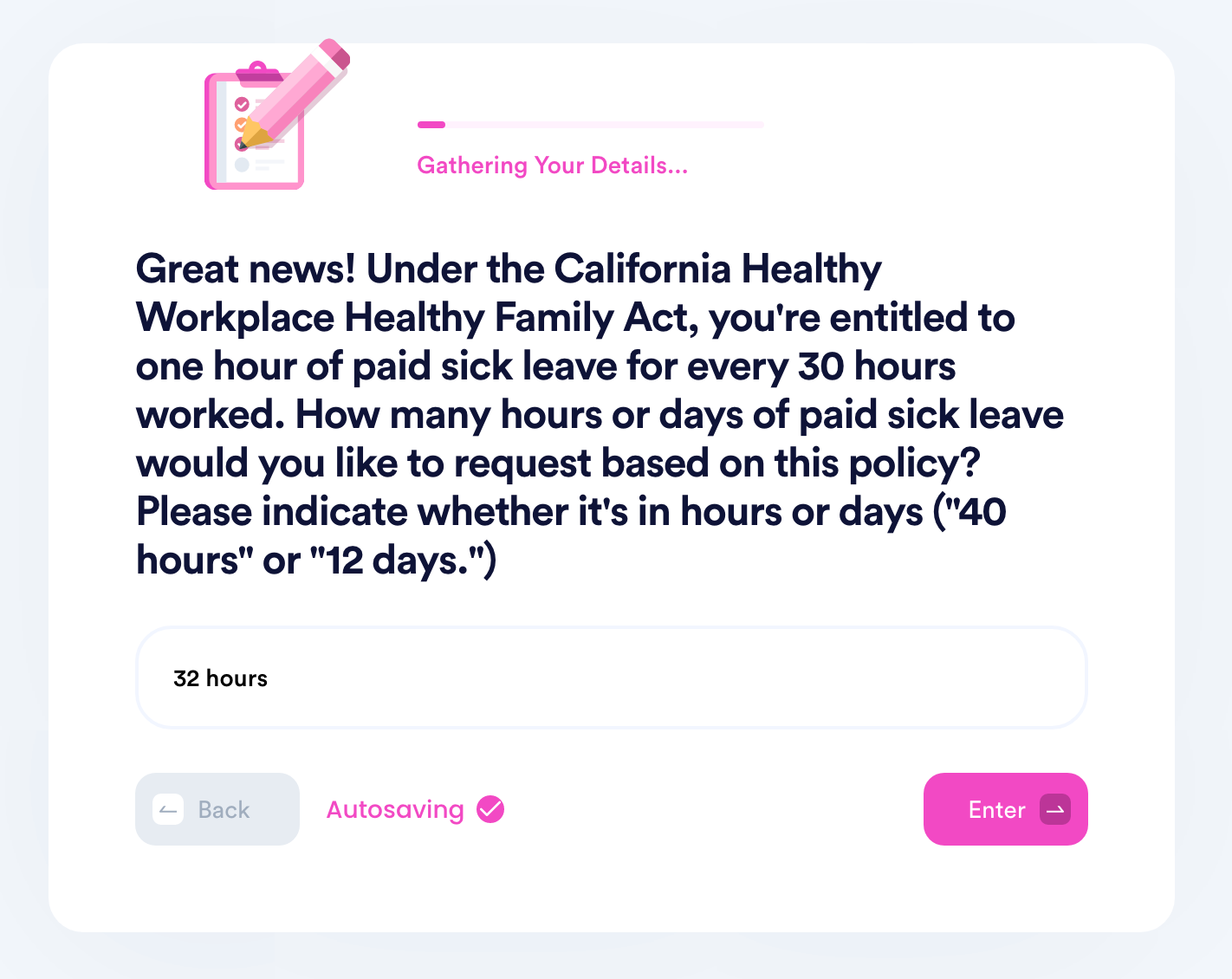 If your employer rejects your request, even if there's a law for it, you can sue them with DoNotPay. Our Small Claims Court feature will help you build your case by:
Drafting a demand letter
Filling out court forms
Gathering the necessary paperwork
Filing the complaint
Creating a script to use in court
What Else Can DoNotPay Do for You?
Our vast collection of products simplifies various everyday tasks, including:
Various mailing issues by:
Applications for:
Traveling tasks, such as:

Getting tourist visas the easy way

Appeals of:
Other tasks, such as:
Get More Money the Easy Way With DoNotPay
Is a tight budget a constant problem in your household? DoNotPay is here to reduce your expenses and help you get the money others owe you. Our app helps you get refunds from companies, find unclaimed money, cash out old gift cards, and terminate unused subscriptions in a jiffy!
You can also request violent crime compensation, demand chargebacks from airline companies, or claim your warranty or insurance without paperwork.