Is There a Florida Sick Leave Law?
While it may sound strange, paid sick leave is not a requirement on a federal level—it's not even mandatory in most states. Only 15 states and the District of Columbia have paid sick day laws.
What about Florida sick leave laws? We'll show you which laws you can rely on in the Sunshine State. We'll also explain how you can use DoNotPay to call in sick and avoid being forced to work ill.
What Florida Sick Leave Laws Are Available?
Sadly, there's nothing that connects Florida labor laws and sick days. The state law doesn't require employees to provide paid sick leave to their employees. Without any sick day rules, the employee has to show up sick at work, use one of their vacation days, or go unpaid (if allowed).
Still, that doesn't mean that employees in Florida have nothing to fall back on. If you need sick leave, you can rely on:
Your company's policy
The Family and Medical Leave Act (FMLA)
The EPSLA—Paid Sick Leave in Florida
The EPSLA is a temporary act the federal government introduced to combat Coronavirus and to stop contagious employees from jeopardizing public safety—it is in effect only during the COVID-19 pandemic.
With the EPSLA, you can receive ten workdays or ten weeks of paid sick leave, depending on the reason for requesting leave. The act also defines salary limitations, as shown in the following table:
Sick Leave Duration
Qualifying Reasons
Payment Cap
Ten days

Advised self-quarantine
Ordered isolation
Symptoms of COVID-19
Symptoms similar to COVID-19

$511 per day ($5,110 in total)
Ten weeks

Care for a child with Coronavirus
Care for a child whose school closed down due to the pandemic

Two-thirds of the salary capped at $2,000
Companies in Florida—Sick Leave Policies
While Florida law doesn't require paid sick leave, many employers offer it as a means of getting a competitive edge when hiring new employees. Once the policy is set in your contract, the state will protect your rights—your company must honor the policy it gives out.
What Is the FMLA?
The FMLA is a federal-level act that offers job-protected, unpaid sick leave. It applies only to employees who work in companies with at least 50 staff members within a 75-mile radius of the workplace.
The act provides such employees with 12 weeks of unpaid leave in 12 months. They can ask for leave for:
Health condition
Childbirth or adoption
Care for a family member with a health condition
Any reason arising from a family member being on active military duty
How To Request Sick Leave With DoNotPay's Help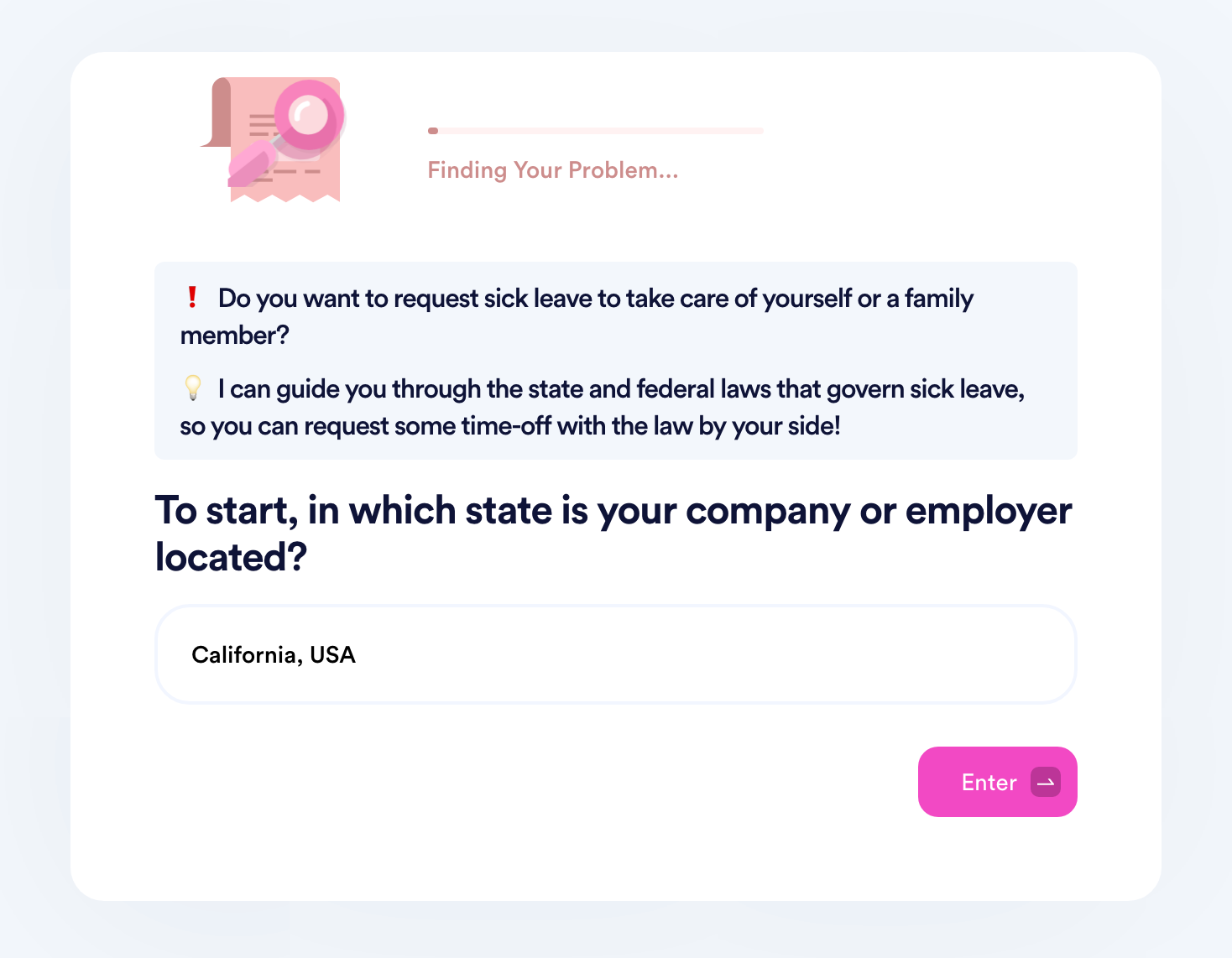 When you need sick leave, you have to request it formally. You can do it either orally or via email. If you would like to avoid awkward conversations and want to ensure your request is perfect, use DoNotPay.
Our app will check what laws you can rely on and draft an airtight request letter based on the information you provide. All you need to do is sign up for DoNotPay, select the Request Sick Leave tool, and:
Insert the state where the company is located, and we'll show you what sick leave laws are in place (if any)
Answer a few questions about the company
Enter the dates on which you'll be absent from work
Choose whether you want DoNotPay to:

Send the request to your employer directly
Share it with you so you can email it on your own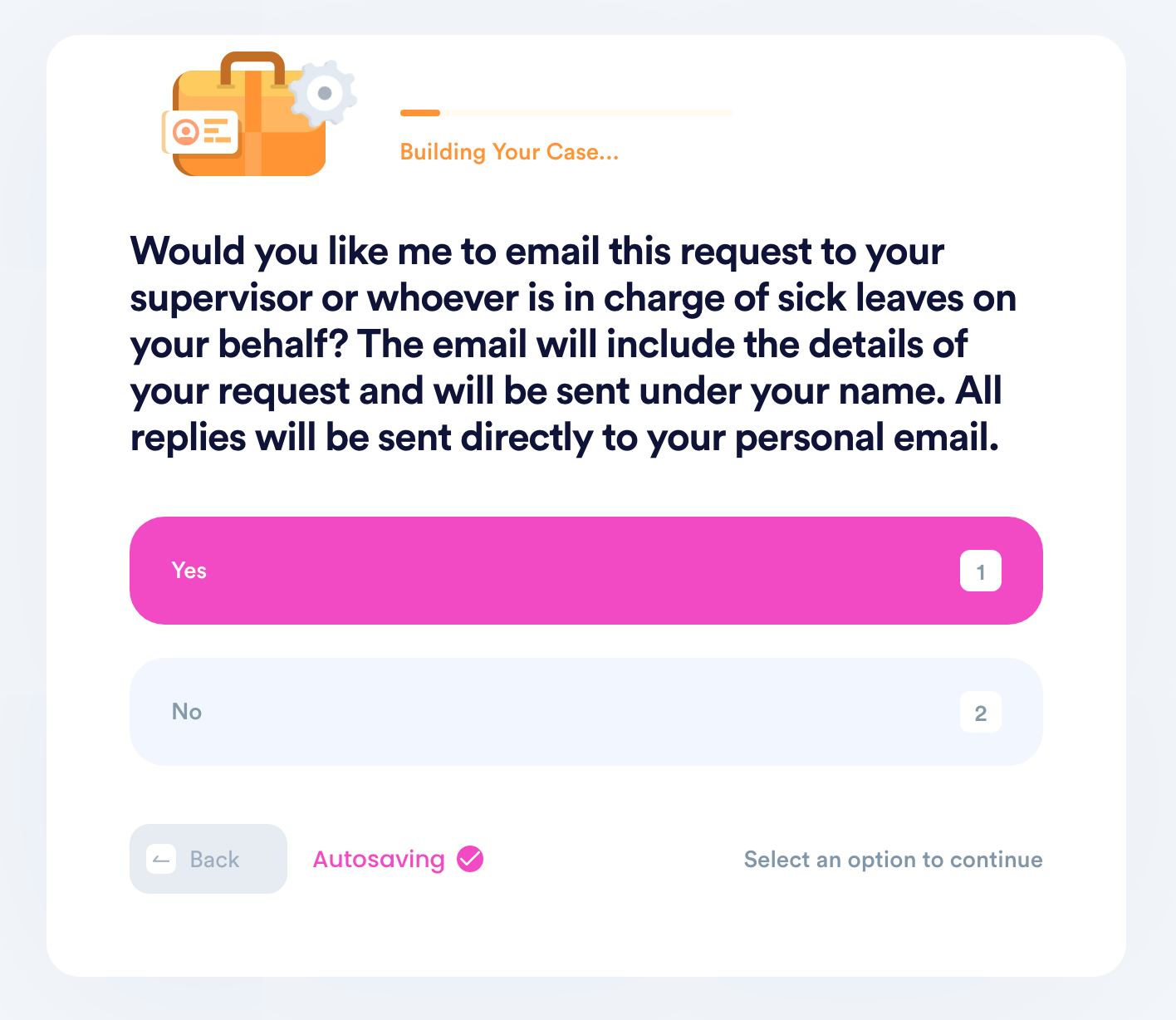 If your employer denies your request or fires you for going on leave, you can use our Small Claims Court product to sue them without having to pay for an attorney.
What Else Does DoNotPay Have in Store?
Our user-friendly platform provides solutions for all your bureaucratic problems and tiresome tasks. Once you sign up for DoNotPay, we can help you demand refunds from airlines and other companies, get compensation for late deliveries, and submit item return requests. The app also allows you to send online faxes, use our mailing services, and convert files to dozens of formats!
If you are unhappy with the situation at work, DoNotPay can file anonymous HR or work discrimination complaints in your stead. Discover how to generate legal documents such as divorce agreements and powers of attorney and have them notarized without heading to the notary's office!
Our App Reduces Education-Related Costs
Do you find it difficult to cope with college-associated expenses? DoNotPay sends help your way! Get ready to make your education journey simpler by:
If you believe that educating your child at home would be a less pricey option, we help you compose a customized notice of intent to homeschool in no time!