Who You Gonna Call—Best Buy Call-In-Sick Number
Many who have paid sick leave believe that's common ground, but it's not. Around 33 million Americans have to take unpaid leave or show up sick to work.
Some companies offer paid sick leave as a benefit to give themselves a competitive edge. What's the case with Best Buy? In this article, we'll tell you what the Best Buy call-in-sick number is and show you:
What sick leave rules the company has
What laws you can rely on
How to call in sick more efficiently if you
Best Buy Call In Sick Rules and Applicable Laws
Best Buy employees can call in sick based on the following:
The Family and Medical Leave Act (FMLA)
The first two are federal-level acts that protect employees from being forced to go to work sick. The FMLA provides 12 weeks of unpaid sick leave per year to employees of companies with at least 50 staff members—Best Buy has a lot more than that.
When it comes to the EPSLA, this temporary act provides employees with mandatory ten days of paid leave for any Coronavirus-related health issue.
State Laws
Since federal law doesn't provide any permanent paid sick leave law (yet), several states—15, to be exact—and D.C. decided to introduce state-level laws to provide better care for the employee. In some states without such a law, cities and counties have enacted local laws.
You should check out whether your Best Buy office falls under the jurisdiction of such a law before calling in sick. Check out the following table to find articles about individual state laws:
Call In Sick—Best Buy Policy
According to its policy, Best Buy will provide you with a different number of sick leave days, as shown in the table below:
| Employment Type | Amount of Paid Sick Leave per Year |
| --- | --- |
| Full-time employees | 48 hours (six days) |
| Part-time employees in CA, CO, DC, IL, LA, MA, MD, MT, ND, NE, OK, PR, RI, WY | 48 hours (six days) |
| Part-timers in other states | None |
| Seasonal workers | None |
Those who receive paid sick leave will get them in a lump sum at the beginning of the year, meaning that you don't need to accrue them over time. The leave time you get cannot roll over to the next year.
How To Call In Sick at Best Buy
You can use the following methods to call in sick at Best Buy:
The Best Buy call-in-sick number is 1-866-692-2947.
How To Call In Sick at Best Buy With DoNotPay's Help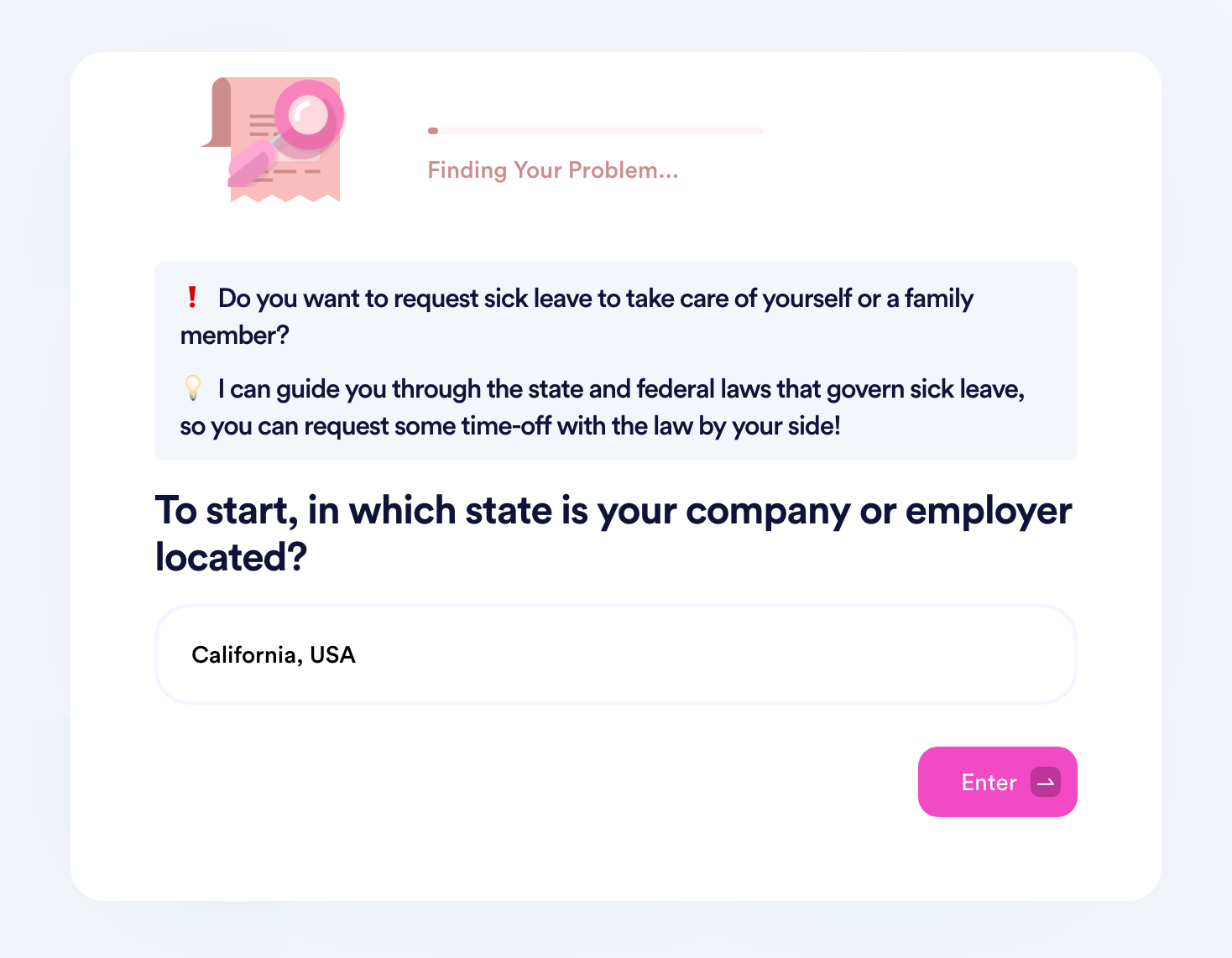 You can avoid having an awkward conversation and stuttering over the phone by deciding to make a sick leave request in writing. If you don't know how to write one or don't have the time to do it, you can rely on DoNotPay to write it for you.
Our app will consult the law and Best Buy's policy, and we'll draft a professional sick leave request letter based on the information you provide. All you need to do is and:
Navigate to the Request Sick Leave product
Insert the state the company is in
Answer a few questions about the company
Enter the dates on which you'll be absent from work
You can choose to download the letter or have DoNotPay send it to your employer.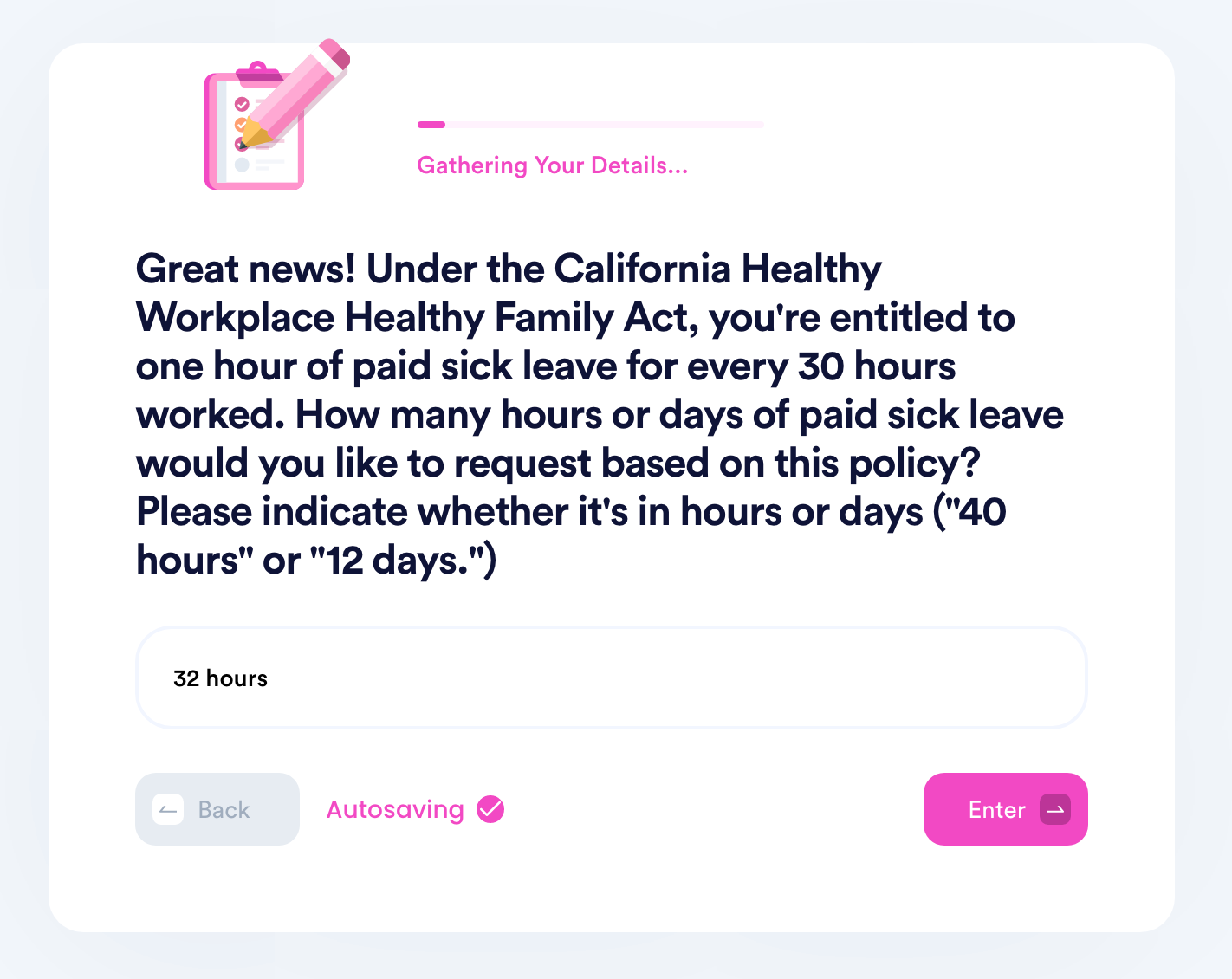 If Best Buy denies your request for no reason or punishes you for not showing up to work, you can sue the company with the help of our Small Claims Court feature.
What Else Can DoNotPay Do for You?
Our vast collection of products simplifies various everyday tasks, including:
Various mailing issues by:
Applications for:
Traveling tasks, such as:

Getting tourist visas the easy way

Appeals of:
Other tasks, such as:
Get More Money the Easy Way With DoNotPay
Is a tight budget a constant problem in your household? DoNotPay is here to reduce your expenses and help you get the money others owe you. Our app helps you get refunds from companies, find unclaimed money, cash out old gift cards, and terminate unused subscriptions in a jiffy!
You can also request violent crime compensation, demand chargebacks from airline companies, or claim your warranty or insurance without paperwork.