Breaking Down the Costco Call In Sick Policy
Many retail workers have complained about the inconspicuous absence of health care benefits and paid sick leaves available to them. Although most executive-level employees enjoy paid sick days, Costco employees deal with the risk of losing paychecks if they call in sick—even with COVID-19 making it especially difficult and unsafe to come to work with an illness.
This guide will walk you through everything you need to know about the Costco call in sick policy. If you're unsure about how to apply for paid sick leave or feel you have been wronged by your company, you can use DoNotPay to handle these issues.
Does Costco Have a Call In Sick Policy?
Costco employees can take up to three sick days in a year, which means If you are feeling unwell at work, you can call in sick and still get paid. This is applicable for employees who fall under Costco's KinCare policy, which states employees are considered eligible if they have worked at Costco for at least 90 days. Once you have used up your three days, each day you take off will cause you to lose money.
Your manager can also force you to go to work sick or mark your sick leave as an unexcused absence. Under Costco's attendance policy, 11 days of unexcused absence can get you fired.
The Family and Medical Leave Act
Under the Family and Medical Leave Act (FMLA), all eligible employees are entitled to paid sick days if their employer is subject to it—which Costco is. To be eligible for the FMLA protection, an employee must have:
Been employed by the company for at least 12 months
Worked a minimum of 1,250 hours in a year
Some people have reported that, while Costco is subject to the FMLA, the use of this benefit is frowned upon by the company.
Why Do People Avoid Asking for Sick Leave?
There are a number of reasons why many employees hesitate to call in sick, such as:
They have used up all their paid leave time for that year
Their employer does not allow paid sick days
They are afraid they will be punished or get fired for missing work
They cannot find anyone to cover their shift
Sick Day Mandates by State
Not all states enforce mandatory sick leave for employees. If you work at Costco in a state that does not regulate the number of sick days an employee can take, your manager can legally refuse to accommodate your request. It is best to read your contract and your state's laws thoroughly beforehand.
We can help you find information about the sick leave laws in several states, including:
Request Sick Leave With DoNotPay
If you are unsure about how to request a leave of absence due to illness or feel anxious about choosing the right wording for your sick leave email, you can use DoNotPay for a quick solution! We will generate a leave request letter on your behalf, and you can even choose to email it directly to your employer via our app!
To use this feature:
Log in to DoNotPay and locate the Request Sick Leave product
Tell us which state you live in so that we can show you which laws are applicable
Provide some information about yourself and your employer
Sign electronically and click on Submit
You can also download the letter and forward it to your supervisor on your own.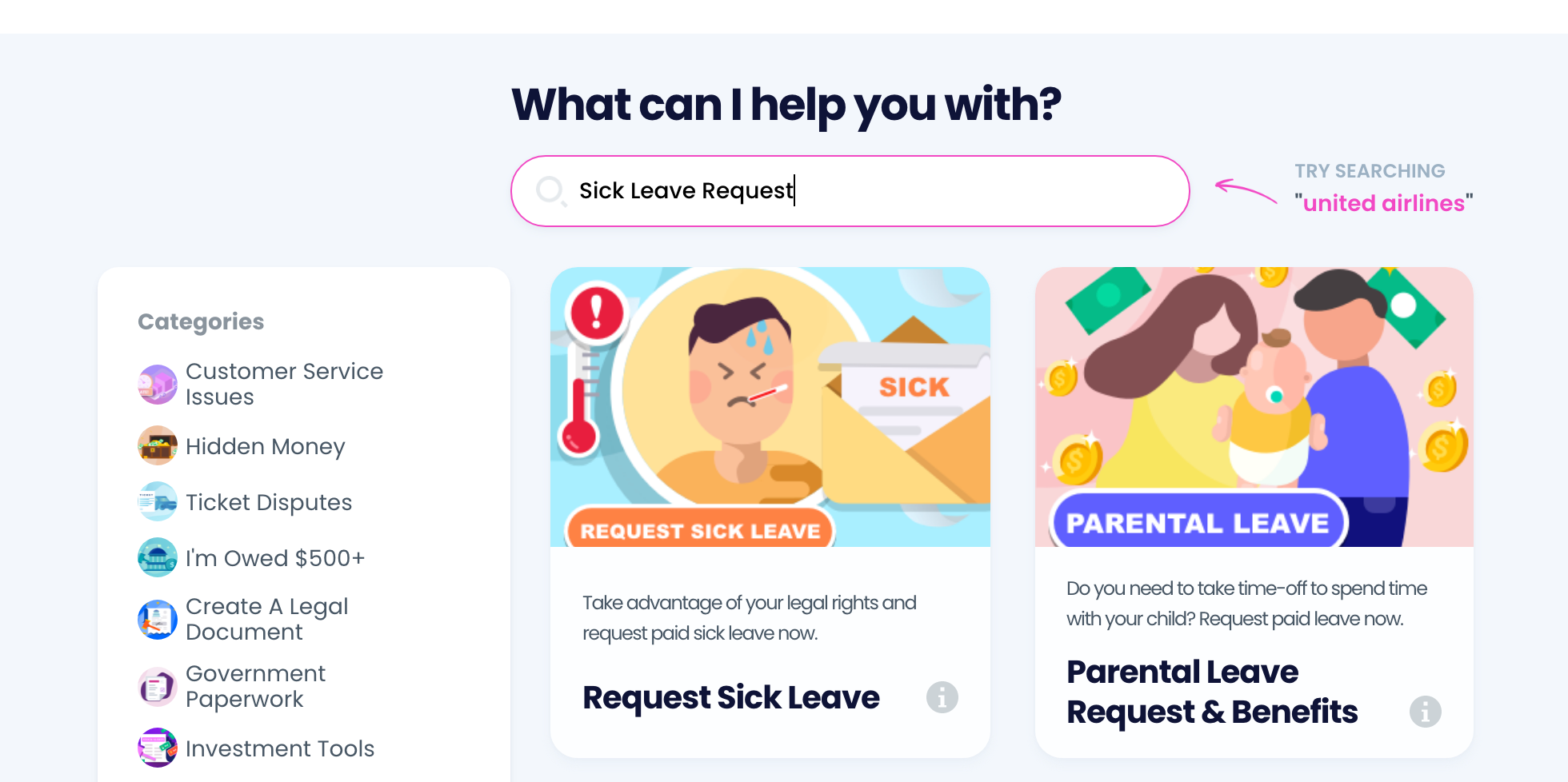 Our Platform Makes Your Life Simpler
DoNotPay offers a vast spectrum of life-changing services, including the ones listed below:
| Services | With Our App, You Can: |
| --- | --- |
| Eliminating spam and harassment | |
| Saving and getting more money | |
| Providing other useful services | |
DoNotPay Helps You Get the Necessary Paperwork in a Heartbeat
Do you need to compose a power of attorney, revocable living trust, or a health care directive but don't know how? No worries—DoNotPay can do it for you! If you need comprehensive and valid legal documents tailored to your wishes and needs, there's no better way to get them than subscribing to our app!
We can also draft personalized FOIA requests, divorce agreements, homeschool notices of intent, and various complaints.