Obtain Virginia Paid Sick Leave With DoNotPay
Many consider paid sick leave a given, but that is not the case. Since no federal law permanently mandates paid leave, employees are forced to work sick, take unpaid leave, or use up their vacation days.
Employees have to rely on local and state laws, and only 15 states (and the District of Columbia) have sick day rules in place.
In this article, we'll break down Virginia paid sick leave law. We'll also explain how you can secure sick leave easily if you subscribe to DoNotPay.
Are There Any Virginia Sick Leave Laws?
In Virginia, paid sick leave law states that employers have to provide paid sick leave, but the law applies to "essential workers" only. The law defines the following workers as essential:
Prison personnel
First responders
Child care providers
Domestic workers
Home health workers
If you fall under one of these categories, you'll receive an hour of paid leave for every 30 hours of work (up to 40 hours per year). They can carry over to the next year if you don't use them all, but the 40-hour cap remains the same.
The law also defines reasons for which you can use paid sick leave. They can relate to the employee themself, or to a family member the employee has to care for. The reasons are as follows:
Mental or physical injury or illness
Serious health condition
Preventive care
Medical diagnosis and treatment
How Can Others Get Paid Sick Leave in Virginia?
If you're not an essential worker, you have only three options to lean on:
Company policy
The EPSLA is a temporary act the federal government introduced to help both employees and employers during the COVID-19 pandemic. The act defines reasons for receiving paid sick leave and payment limitations, as shown in the table below:
Qualifying Reasons
Salary Limitations

Quarantine
Symptoms of and similar to COVID-19
The family paid leave:

Care for a child in isolation
Care for a child whose school closed due to the pandemic

$511 per day ($5,110 in total) for a 10-day leave
Up to $2,000 to employees on family leave
When it comes to company policies, Virginia law leaves it up to the employer to define the policy but will force the employer to honor the terms given in the contract.
You can also rely on the Family and Medical Leave Act (FMLA) if you don't want to be sick at work. The act offers unpaid sick leave on a federal level. With the FMLA, you can receive 12 weeks off per year.
How To Get Virginia Paid Sick Leave With Ease Using DoNotPay
If you're an essential worker or fulfill the EPSLA requirements, you can secure paid sick leave. To do that, you'll need to request it by calling in sick or sending an email. If you want to avoid an awkward conversation or ensure your written request is perfect, use DoNotPay.
Our app will draft a professional sick leave request letter based on the information you provide and the law that applies to your case. All you need to do is sign up for DoNotPay, navigate to the Request Sick Leave feature, and:
Insert the state where the company is located
Provide information about the company
Enter the dates on which you'll be absent from work
Specify whether you want:

DoNotPay to send the request to your employer directly
To email the request on your own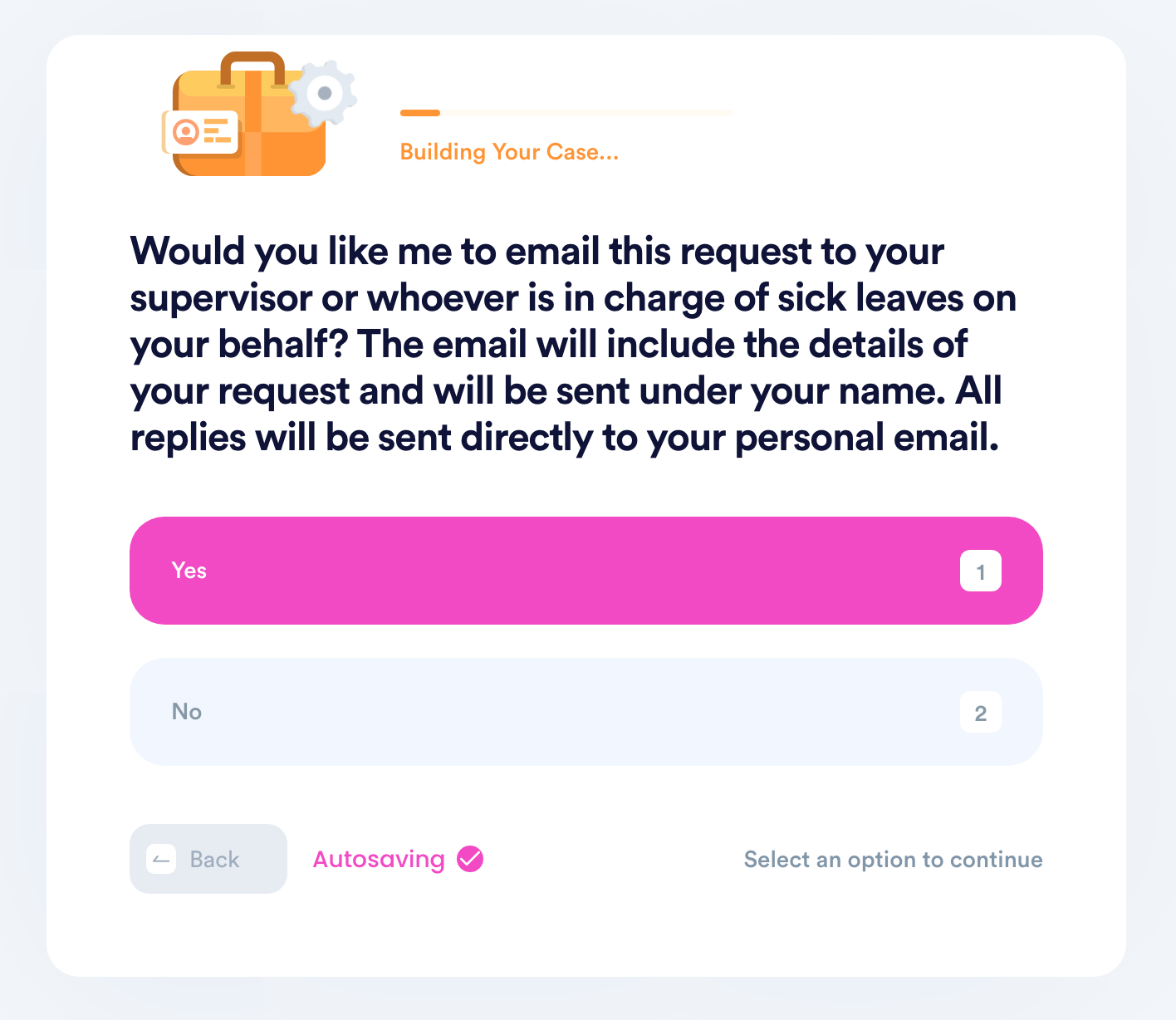 If your employer denies you your rights, you can sue them with ease using our Small Claims Court product. DoNotPay will guide you through the entire process, from drafting a demand letter to creating a script to use during the proceedings.
Administrative Issues Are No Longer a Problem With DoNotPay
By signing up with DoNotPay, you can say goodbye to tiring bureaucracy and:
Our App Generates Legal Documents and Letters in Your Stead
If you need some important paperwork, DoNotPay can generate it for you in record time! Our tools can assist you in drafting the following categories of documents:
| Legal Documents | Appeals and Letters |
| --- | --- |
| | |
All legal documents you create can also be notarized and faxed online in our app!