Your Guide to the DC Sick Leave Law
The DC sick leave law may allow you to avoid being sick at work—do you know what it entails?
As an employed resident in the District of Columbia, you have the right to take paid sick leave as long as you meet a few key conditions. In this guide, we will explore how eligibility for and use of sick leave work.
For many people, the hardest part about using sick leave is requesting the time off with their boss. DoNotPay can help—we'll show you how our Request Sick Leave product .
The Washington DC Sick Leave Law Basics
Sick leave regulations can differ from state to state. More than 33.6 million workers across the country lack any form of regulated sick leave. While there is no federal provision, the government will enact emergency legislation when needed.
Fortunately, there is a region-wide provision for sick leave in DC. DC residents like yourself should learn how the Accrued Safe and Sick Leave Act (ASSLA) works.
What Can I Use DC Paid Sick Leave For?
Whether it's a bad case of back pain or a simple cold, you should feel confident using your sick leave to rest and recover.
Acceptable uses for your earned sick time include:
Treating of a physical or mental illness, injury, or ongoing condition
Seeking medical care
Caring for a family member
Dealing with an incident of domestic violence affecting you or a family member
Who Qualifies as a Family Member?
ASSLA sick leave can be used to help any of the following in relation to an illness or injury:
Children
Spouses or common-law partners
Parents and parents-in-law
Grandchildren
Grandparents
Siblings
Care recipients
Household members
How Does Washington DC Paid Sick Leave Work?
The amount of time off you can earn under ASSLA depends on the size of your company's workforce:
| Number of Employees | Sick Day Accrual | Max Number of Days |
| --- | --- | --- |
| Up to 24 | One hour earned for every 87 worked | Three |
| 24–99 | One hour earned for every 43 worked | Five |
| 100+ | One hour earned for every 37 worked | Seven |
DC Sick Leave—Dealing With Your Boss
Even though you're legally entitled to sick leave, your employer may not be enthusiastic about granting it. Take comfort in the fact that your boss cannot force you to work, and they cannot fire you for being absent if you have earned the requisite sick time.
How To Take Sick Leave
Is it time to call in sick? Your company may use a specific phone line or online employee portal to manage time-off requests. Check for a policy to find out how you are expected to take sick leave. You may have to find your replacement for the time you will miss.
If there is no formal process, you can contact your boss in one of two ways:
Phone
DoNotPay Makes It Easy To Ask for Time Off
We know it can be challenging to talk to the boss about time off—allow DoNotPay to ease the process. Our Request Sick Leave product enables you to draft a professional request for time off in minutes.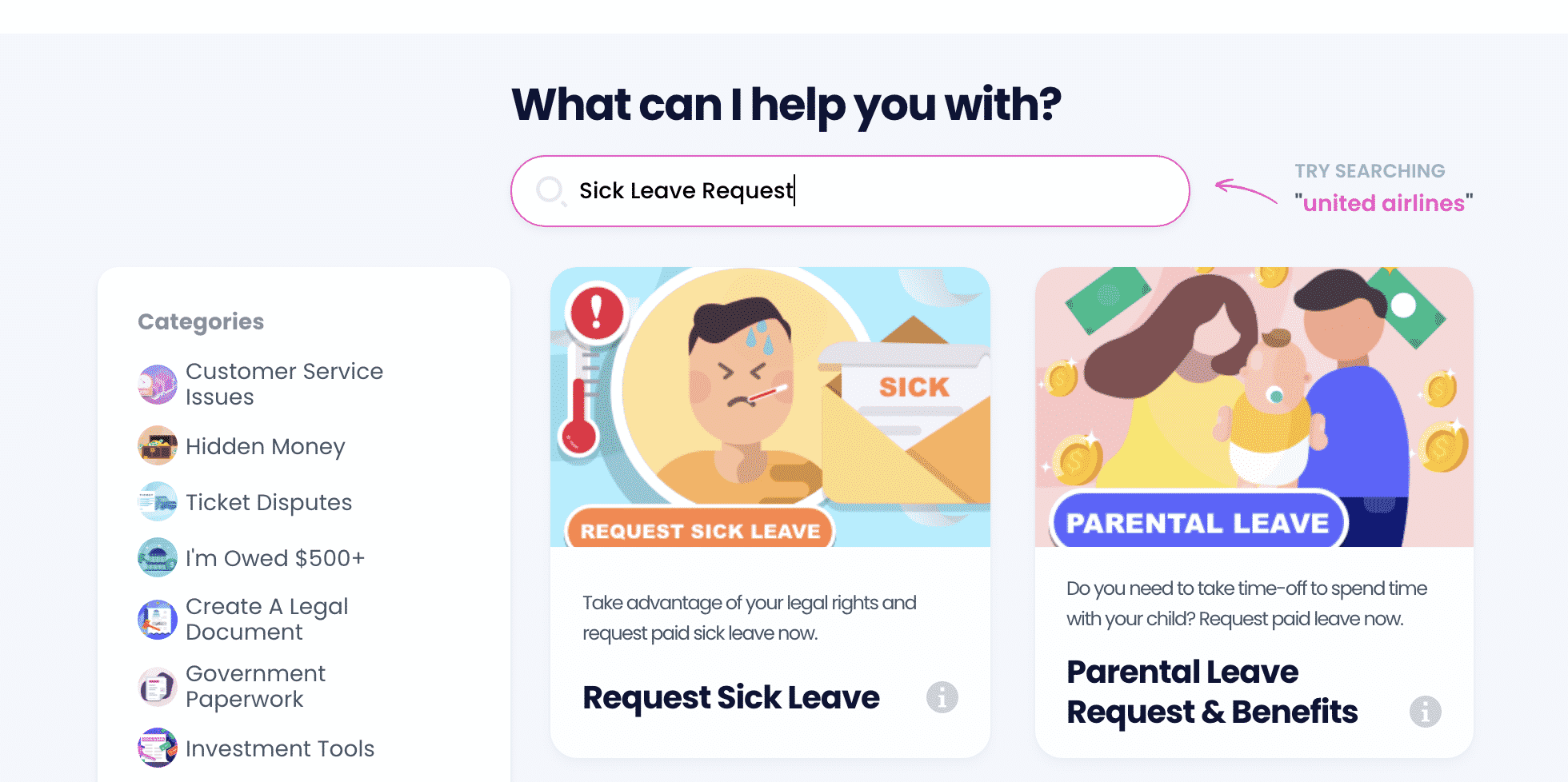 Here is how it works:
Navigate to the Request Sick Leave product
Input the necessary information about your employment
Specify which days you will be absent
Once you have completed the process, we will issue a formal sick leave request. You can choose to download the letter and give it to your boss, or you can provide their contact info, and we will take care of it for you.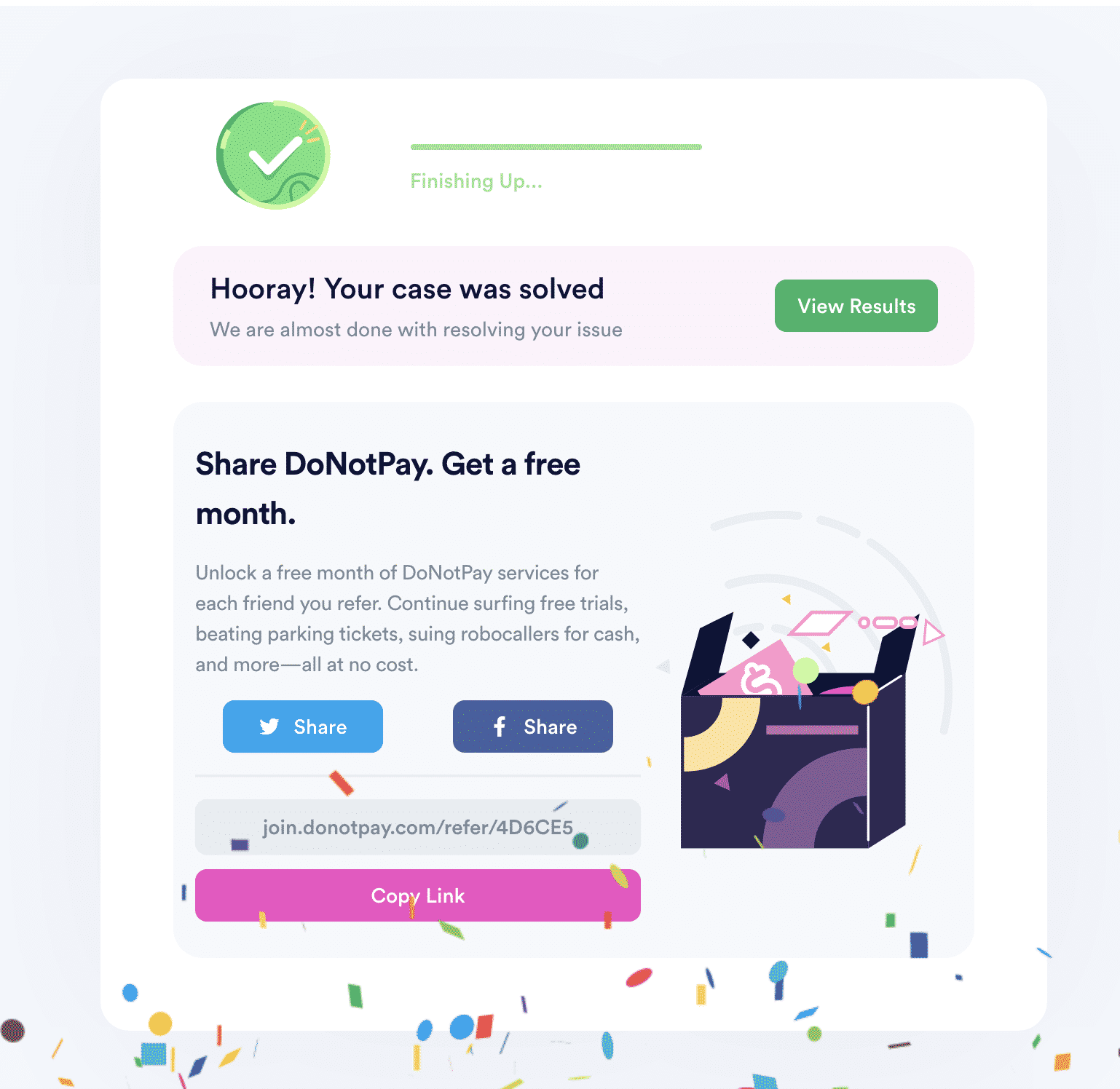 What Else Does DoNotPay Have in Store?
Our user-friendly platform provides solutions for all your bureaucratic problems and tiresome tasks. Once you sign up for DoNotPay, we can help you demand refunds from airlines and other companies, get compensation for late deliveries, and submit item return requests. The app also allows you to send online faxes, use our mailing services, and convert files to dozens of formats!
If you are unhappy with the situation at work, DoNotPay can file anonymous HR or work discrimination complaints in your stead. Discover how to generate legal documents such as divorce agreements and powers of attorney and have them notarized without heading to the notary's office!
Our App Reduces Education-Related Costs
Do you find it difficult to cope with college-associated expenses? DoNotPay sends help your way! Get ready to make your education journey simpler by:
If you believe that educating your child at home would be a less pricey option, we help you compose a customized notice of intent to homeschool in no time!