Paid Sick Leave Laws by State—What To Expect
The American dream tells us we can be entrepreneurs if we want, and we'll earn a better living than anybody else. The dream doesn't mention anything about having to work when sick. Around 33 million Americans don't have paid sick leave, and many more don't know they have, which is why a lot of employees decide to be sick at work.
The problem is, there is no federal law about sick leave, and only a handful of states and counties mandate this on their own. If you're in a state without any law, you have to rely on your company's sick leave rules.
This article will cover paid sick leave laws by state and show you which ones offer any protection to the employee. We'll also explain how you can use DoNotPay as the superior method for calling in sick without any hassle.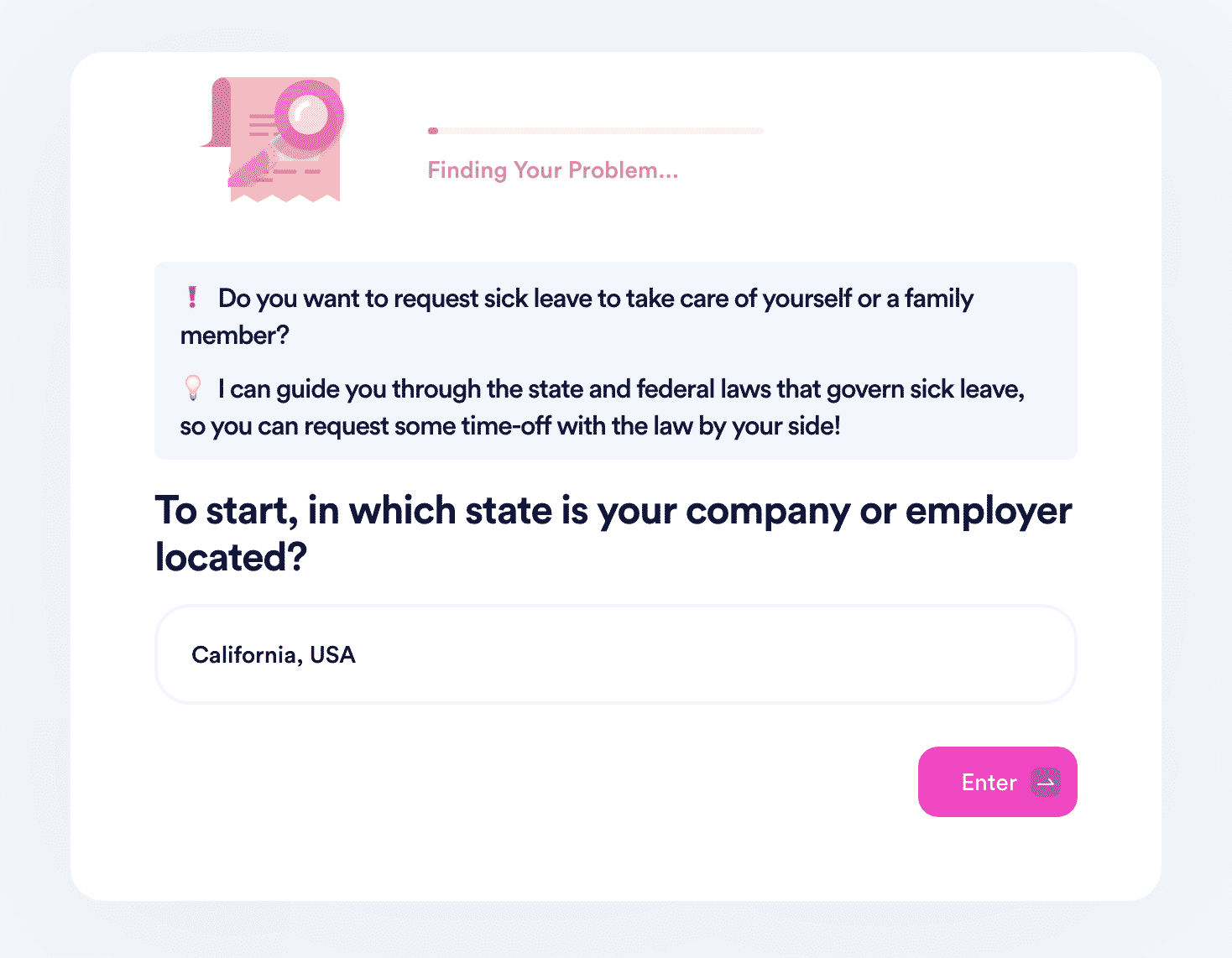 States Without Any Laws
The following states don't have any state-level laws regarding sick leave:
If you get sick in one of these states, don't worry—it's not a work-or-die situation. As an employee, you can still rely on:
The Family and Medical Leave Act (FMLA)
The Emergency Paid Sick Leave Act (if you contract COVID-19)
Your company's policy
You should also check out if your county has any local laws in place.
The Family and Medical Leave Act (FMLA)—Universal Sick Time Law
The FMLA is a country-wide labor law that provides employees with a job-protected unpaid leave of 12 weeks within a 12-month period. The Act doesn't cover all instances, and there are conditions you need to meet to receive leave, as shown in the table below:
Qualifying Reasons
Eligibility Criteria

Serious health condition
Family caregiving (providing care to a family member with a serious health condition)
Childbirth
Child adoption
Any exigency coming from the fact a family member is on active military duty

The company employs a minimum of 50 employees within 75 miles
You've accumulated a minimum of 1,250 work hours over the past 12 months
You have worked at least 12 months for the company
Paid Sick Leave Laws by State
Only 15 states and the District of Columbia have any regulations about sick leave or have plans for it in place. These laws cover:
Accrual period
Maximum days per year
Qualifying reasons
Covered employees
The following table contains articles with in-depth analysis of these state laws:
How To Get Paid Sick Leave With DoNotPay
You can ask for sick leave by contacting your HR department or sending an email request. Before you do that, you should know precisely why you're asking for one and what is the law or rule on which you base your request.
If you know there's a specific state law about sick leave, you should mention it in your leave request, but you don't have to do the research on your own—that's where DoNotPay comes in!
Our app will find all the rules by which your employer must abide in no time and inform you of your rights. Wel will draft your sick leave request without you having to do any of the writing.
All you need to do is sign up for DoNotPay and:
Open the Request Sick Leave product
Insert the state the company is in, and we'll show you what sick leave laws are in place (if any)
Answer a few questions about the company
Enter the dates on which you'll be absent from work
Choose whether you want DoNotPay to:

Send the request to your employer directly
Share it with you so you can email it on your own
If your employer still refuses to give you sick leave, you can use DoNotPay to sue them.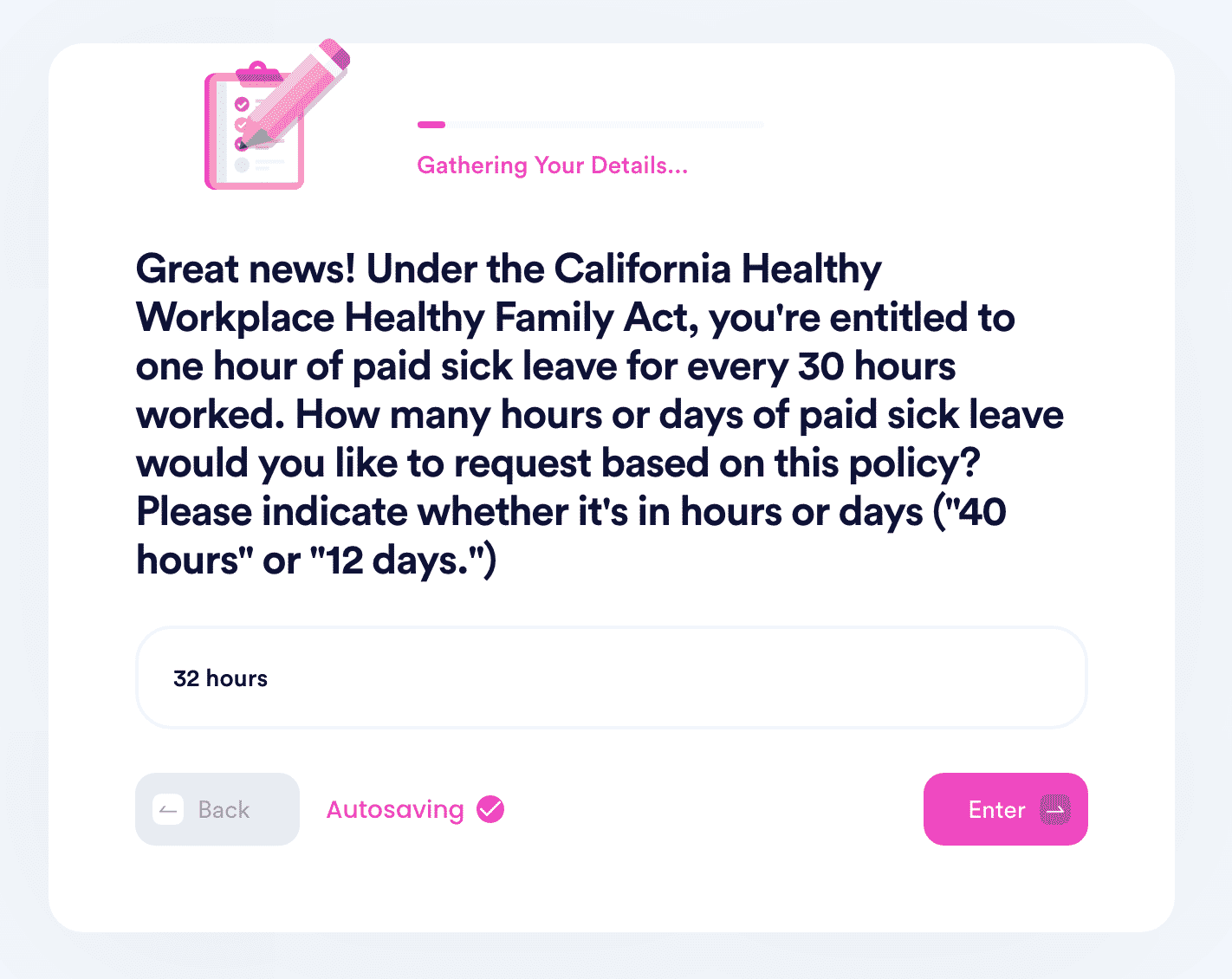 What About Other Perks Our App Offers?
DoNotPay offers valuable assistance with the following tasks:
DoNotPay Cares About Health Matters
Finding suitable and verified clinical trials you can participate in is often complicated and time-consuming. Still, with DoNotPay, it becomes a breeze! Our platform allows you to search through clinical trial databases and apply for the ones that seem acceptable to you.
If you want to make sure your health wishes are honored if you get too sick, we help you compose an advance health care directive based on your preferences. That's not all—you can also name a person who can decide on your finances and estate if you get incapacitated by creating a power of attorney in our app!