A Quick Guide to Colorado Sick Leave Law
The number of states requiring employers to provide paid sick leave is increasing, and Colorado is not left behind. Should you call in sick due to a cold, depression, back pain, diabetes, or migraines? What if it's your first day at work?
Understanding the rules of asking for sick days at work will help you take advantage of your legal rights. This guide will break down the Colorado sick leave law and show you how to create a leave request letter swiftly .
An Overview of the State of Colorado Employee Sick Leave Policy
Colorado employers must provide their employees with paid sick leave under the following laws:
Healthy Families and Workplaces Act (HFWA)
Public Health Emergency Leave (PHE)
Healthy Families and Workplaces Act (HFWA)
The Health Families and Workplace Act (HFWA) took effect on July 15, 2020, and states that:
Companies with more than 16 workers must grant their employees paid sick leave
Workers earn one hour of paid sick leave per 30 work hours
Under the HFWA, an employee can:
Start accumulating paid sick leave immediately after the employment begins
Utilize their paid sick leave as soon as it is accrued
Carry over 40 hours of unused paid sick leave from one year to the next
When you are separated from the company—due to retirement, resignation, or termination—the employer is not required to pay you for the unused paid sick time. Your unused leave time is reinstated if you are rehired within six months of leaving the company.
You can use your accrued paid sick leave for these purposes:
Tending to a mental or physical illness, injury, or another health condition that hinders you from working
Taking care of a family member who has a mental or physical illness or injury
Obtaining a medical diagnosis or preventive medical care
Seeking help if you or a family member has been the victim of domestic abuse, sexual assault, or harassment
Taking care of your child if the schools have closed due to a public health emergency
In Colorado, you cannot be forced to work when sick or get fired for exercising your right to paid sick leave.
Public Health Emergency Leave (PHE)
The PHE is an additional type of leave offered under the HWFA, and it applies in the event of a public health emergency—as follows:
Employees Who Typically Work
Approved Public Health Emergency Leave
40 hours or more per week
80 hours
Fewer than 40 hours in a week
Equal to:

The number of hours an employee is scheduled to work or be on paid leave in the 14-day period after requesting the paid leave
The number of hours an employee actually works in 14 days before the declaration of a public health emergency or leave request—whichever is later
You can use the PHE during a public health emergency for the following purposes:
Self-isolating if you show symptoms or are diagnosed with a communicable illness during the public health emergency
Obtaining a diagnosis or being treated for a communicable illness
Having a health condition that increases your risk of catching the illness
Taking care of a child or other family member whose school or workplace is closed due to the public health crisis
Employers are still required to comply with the federal Emergency Paid Sick Leave Act in such situations.
Draft a Formal Sick Leave Request Letter With DoNotPay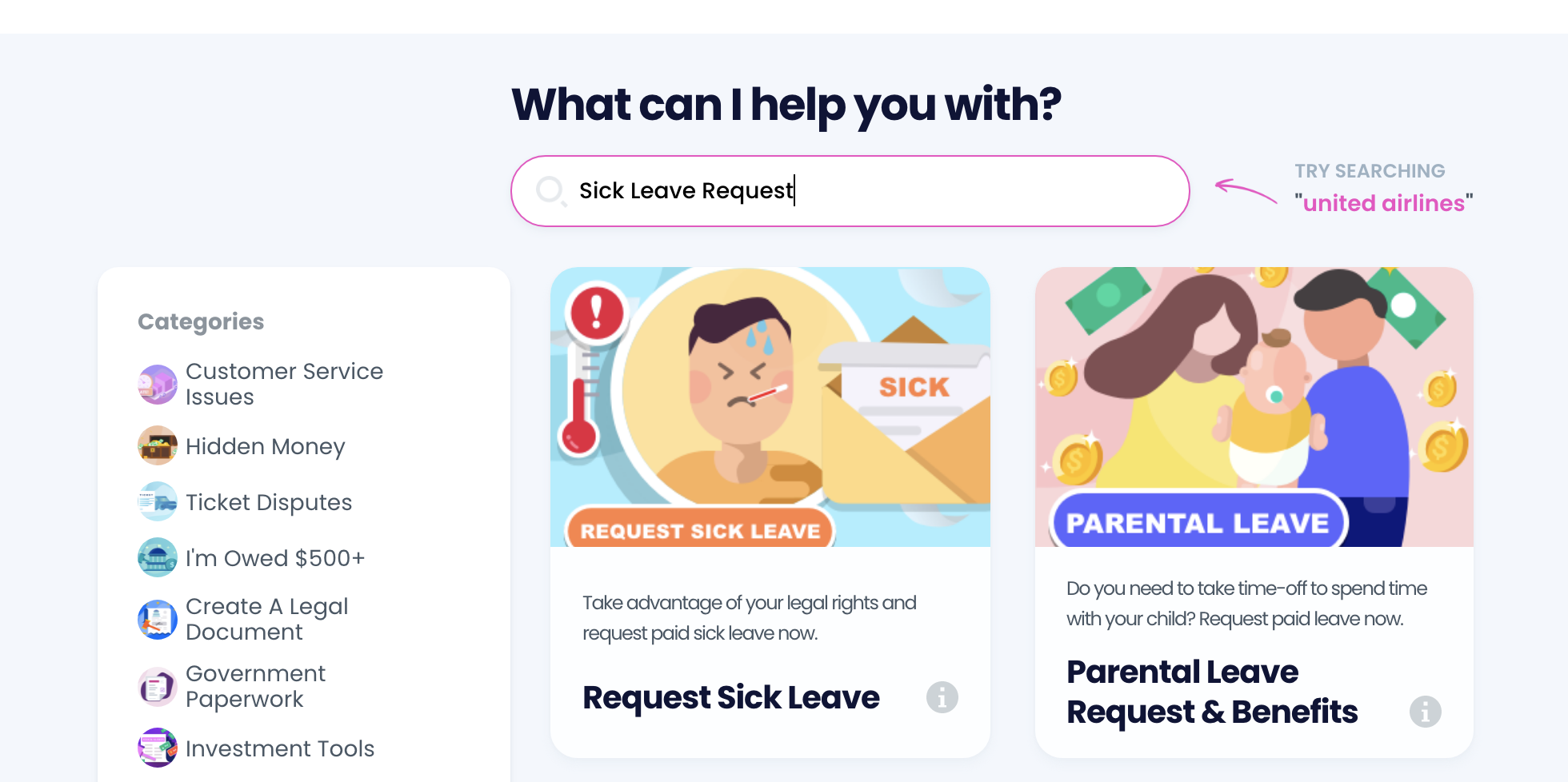 Skip the hassle of learning how to call in sick and looking for sample letters or email templates to send to your boss. You can create a formal and personalized sick leave request letter in a matter of minutes with DoNotPay.
All you need to do is:
Search the Request Sick Leave tool
Enter the state in which the company is located
Answer our chatbot's questions about the company and enter the amount of leave time you plan to take
DoNotPay can email the sick leave request letter to you or forward it directly to your employer. If you become sick at work and request time off but get fired for it, DoNotPay can help you sue your employer.
DoNotPay Is Your Ultimate Money-Saver
Don't spend your hard-earned money on subscriptions you don't use—cancel them with our app in a few simple steps! The best part is—that's not all we can do to help you save some coins. DoNotPay can also reduce other expenses by helping you:
Kiss Spammers and Harassers Goodbye for Good With DoNotPay
Our app offers handy features that can assist you with blocking irritating robocalls and getting rid of pesky spam texts and emails. It also gives you peace of mind by helping you fight workplace discrimination, stalking and harassment, annoying neighbors, and defamation.
With DoNotPay, you will always be able to maximally protect your safety by searching updated sex offender databases and avoiding unpleasant situations. Suppose you have already been a victim of harassment or any other crime. In that case, we can help you get compensation with no difficulties!