Understanding How To Call in Sick
Feeling a little under the weather? You may need to take the day off, but do you know how to call in sick?
The COVID-19 pandemic has taught us how unsafe and unnecessary it is to show up for work when you're contagious, whether you have the flu or a common cold. No one should be forced to work while sick. Remote work capabilities make it easy to stay in touch while you rest at home.
DoNotPay will assist in asking your boss for time off—our Request Sick Leave product helps you in minutes.
Can I Call in Sick for Work?
Whether you are suffering from a flare-up in back pain or have COVID-19 symptoms, you'll need to consider taking a few days off of work. Not everyone can do so—there are 33.6 million employed Americans that do not have formal access to paid sick leave.
You may be entitled to paid sick leave (or emergency paid sick leave) depending on the terms of your employment and your state. Your contract may allow for a certain number of sick days in a given period.
While there is no federal law that provides paid sick leave, there are different state laws. The most commonly cited is the Family and Medical Leave Act (FMLA).
What You Need To Know About the FMLA
The FMLA provides qualifying employees with up to 12 workweeks of unpaid leave a year. This is not federal legislation—it only applies to companies in the following states at the moment:
Arizona
California
Colorado
Connecticut
Maine
Maryland
Massachusetts
Michigan
Nevada
New Jersey
New York
Oregon
Rhode Island
Vermont
Washington
Washington D.C.
Do I Qualify for FMLA Sick Leave?
Provided that your employer is subject to the FMLA, you are eligible for paid sick leave if you meet the following three requirements:
Worked 1,250 hours in the 12 months before your absence
Employed at a business location where there are 50 or more employees within 75 miles
Have worked for the employer for 12 months (including non-consecutive work)
How To Call in Sick for Work
Even if your contract does not entitle you to paid sick leave and your employer is not covered by the FMLA, you should still avoid being sick at work at all costs. Working when sick will affect your productivity and put your coworkers at risk.
Your employer likely has a policy by which you can request sick leave. Most businesses have learned that sick employees will negatively affect the workplace.
If there is no formal system in place, notify your employer of your need for sick leave via:
Make sure to provide as much notice as possible. The sooner your manager knows about your intended absence, the more quickly they can mitigate the potential effects on business operations.
DoNotPay Will Help You Call in Sick
Not sure how to word your sick leave request email? DoNotPay will help—our AI-powered app has a Request Sick Leave product that can assist.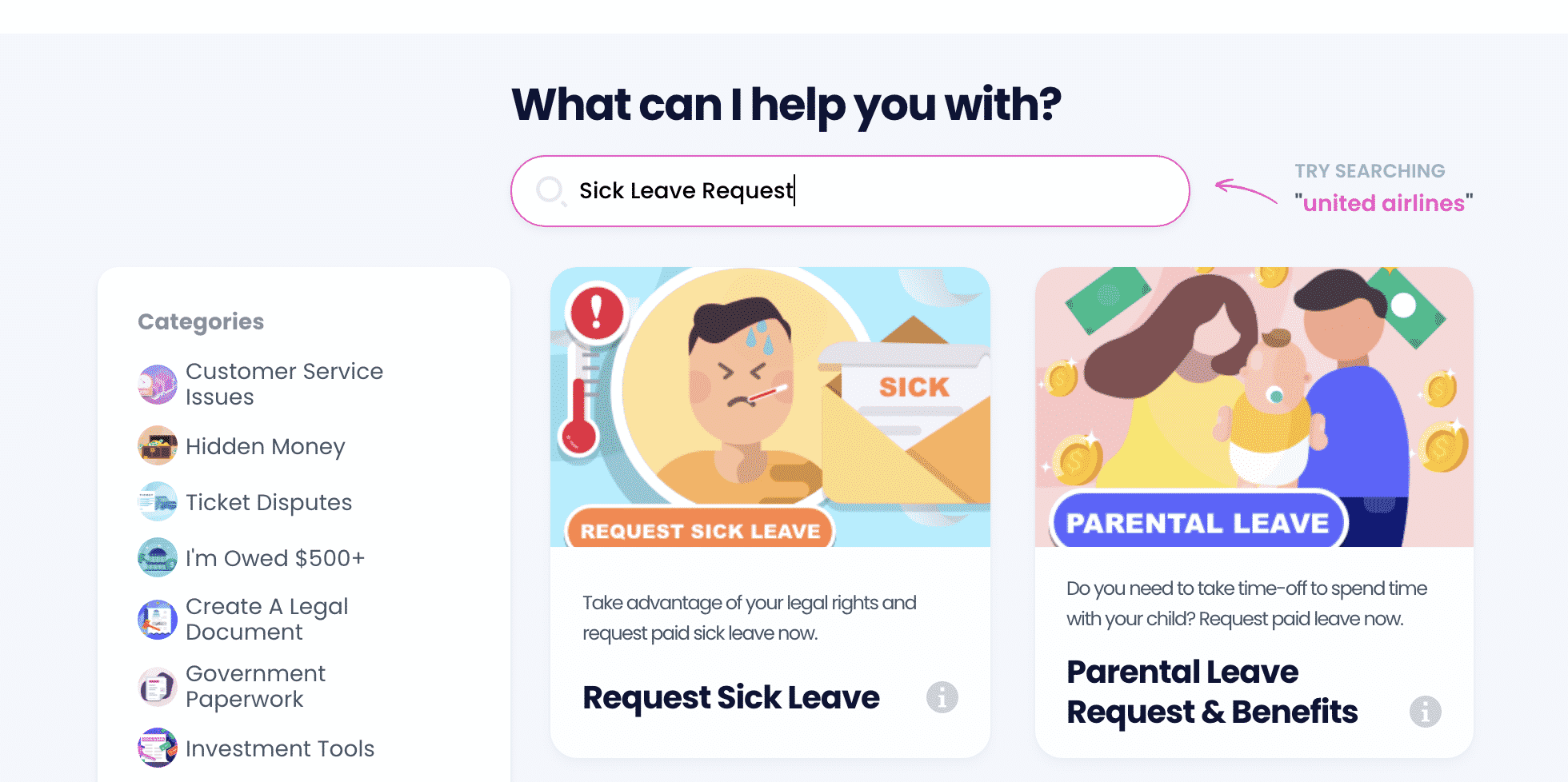 Here is how it works:
Select the Request Sick Leave product
Specify which days you will be away
Upload a photo of your doctor's note if you have one
Once you complete the steps, DoNotPay will generate a formal sick leave request. You can choose to download the letter and submit it to HR independently, or you can provide their contact info, and we will take care of it on your behalf.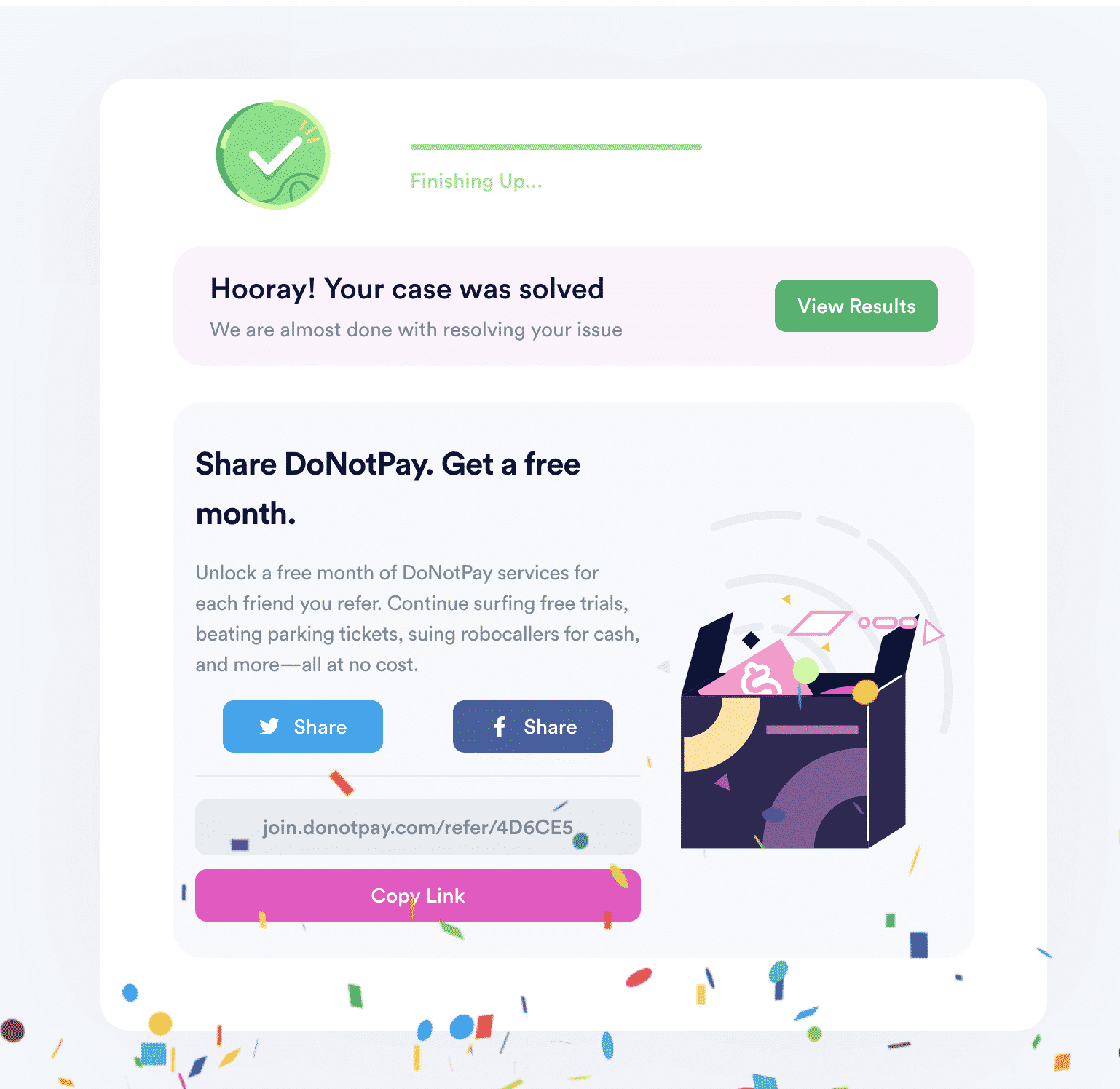 If you do not qualify for FMLA protections or lack a contractual provision for sick leave, your employer can fire you for calling in sick. If that should happen, DoNotPay can also help you sue your employer for wrongful termination using our Small Claims Court product.
Consult our state-by-state guide laws to find out if you qualify for sick leave:
Our Platform Makes Your Life Simpler
DoNotPay offers a vast spectrum of life-changing services, including the ones listed below:
| Services | With Our App, You Can: |
| --- | --- |
| Eliminating spam and harassment | |
| Saving and getting more money | |
| Providing other useful services | Convert various files to other formats |
DoNotPay Helps You Get the Necessary Paperwork in a Heartbeat
Do you need to compose a power of attorney, revocable living trust, or a health care directive but don't know how? No worries—DoNotPay can do it for you! If you need comprehensive and valid legal documents tailored to your wishes and needs, there's no better way to get them than subscribing to our app!
We can also draft personalized FOIA requests, divorce agreements, homeschool notices of intent, and various complaints.