How To Write a Call In Sick Email—Examples
Sick leave is not a universal benefit—over 33 million Americans don't have access to paid sick leave, and many companies often deny even unpaid sick leave requests.
If you don't want to be forced to work sick and need to stay home to recover, the most important step is to submit a sick leave request that your employer will accept.
When you call in sick, you can do it over the phone or send an email, which many people find more comfortable. In this article, we'll share some call-in-sick email examples and show you:
What your email must include
What laws on sick leave exist
How you can call in sick effortlessly if you subscribe to DoNotPay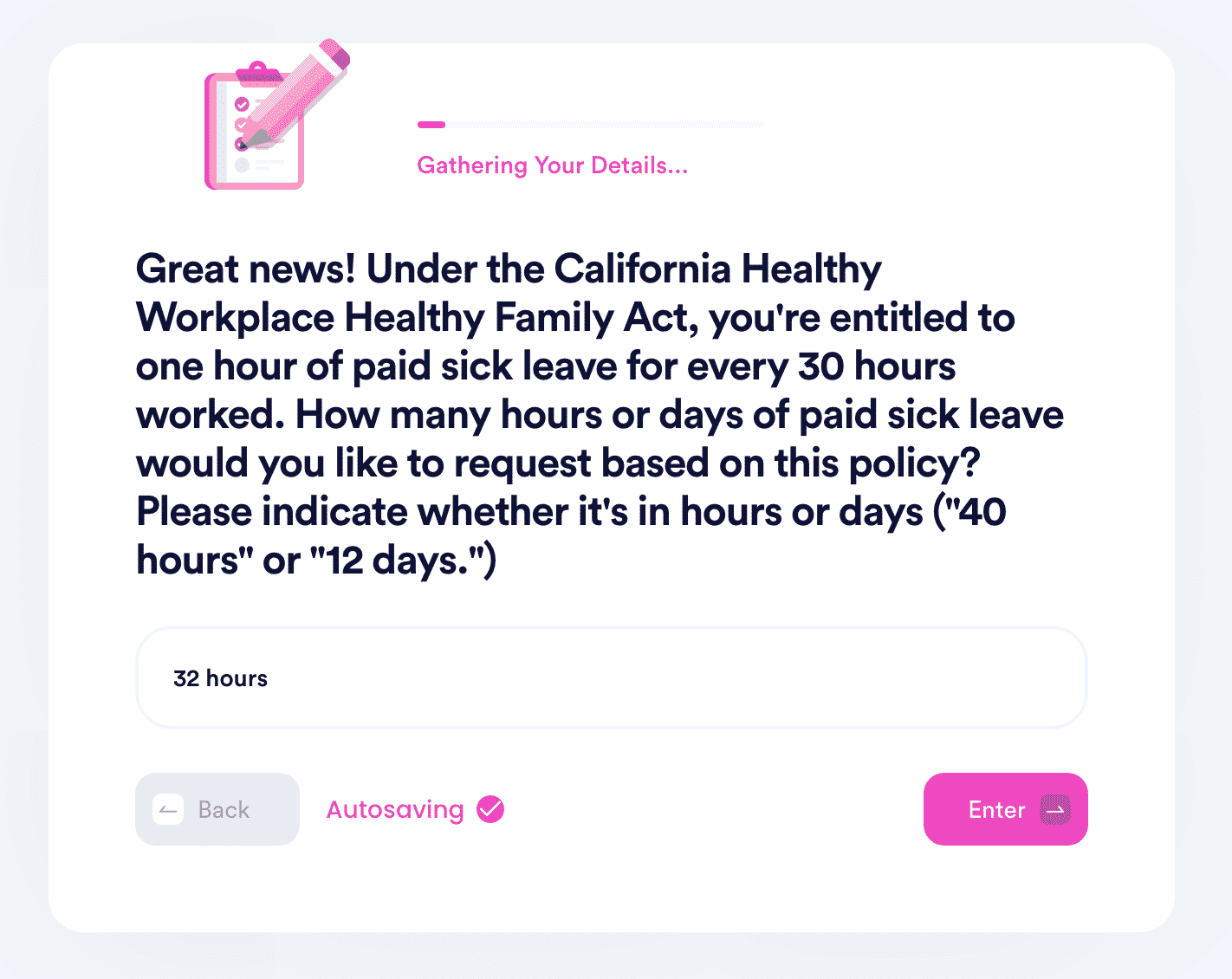 How To Write a Sick Note for Work
When writing a sick leave letter to your boss, you need to make sure you do it the right way. Check out the following table to learn the dos and don'ts of sick leave request emails:
What To Do
What Not To Do

Address them properly
Be concise
Write clearly and be upfront
Notify them how they can contact you
Say how many days you need off
Thank them for understanding

Start an email with unclear intentions
Share too many details about how you feel
Ask for permission
Ask how many days off you can get
It's of utmost importance to seem assertive. It's normal to expect to receive sick leave, so pretend like your letter is only a formality. Asking for permission to be sick and sharing too many details will make you seem disingenuous.
You should also make sure to send the email as early as possible to give them advance notice. If you need to stay home for more than three days, include a doctor's note.
How To Inform the Boss About Today's Sick Leave
While you should inform your boss in advance, you can't predict whether you'll wake up feeling too sick to go to work or not. Try to send a sick leave email to the boss as early as possible. If you can, you should also inform the boss which colleague will cover your work.
Call-In-Sick Email Example 1
"Dear [supervisor's name],
I won't be able to make it to work today due to a fever I developed overnight. You can contact me at [your email address]. Thank you for your understanding."
Call-In-Sick Email Example 2
"Dear [supervisor's name],
I will need to take five days off due to [illness]. [The name of the coworker] will take care of my workload, and you can contact me on my phone. Please find attached my doctor's note."
Sick Leave Laws
If you know your boss is stingy about sick leave and will likely reject your request, you can politely remind them of laws by which they should abide. As an employee, you can ask for sick leave based on:
The Emergency Paid Sick Leave Act (EPSLA) if you have COVID-19
The Family and Medical Leave Act (FMLA) if you work for a company with over 50 employees
State laws
While most states don't have any sick leave rules, 15 of them (including D.C.) mandate—or plan to mandate—paid sick leave.
Outside of these 15, there are also counties that regulate sick leave on a local level. Take a look at this table to find articles with information about paid sick leave laws by state:
Not Sure How To Go About It? Let DoNotPay Request Sick Leave for You
Writing a sick leave letter to the boss can be daunting as you don't want to make a mistake that will make you go to work sick. This is especially true if you need to remind them they have to honor the law.
DoNotPay can take care of this nuisance for you in no time, and you don't need to worry about how you're going to word it. Our app will check what laws apply and draft the entire letter via our Request Sick Leave feature.
All you need to do is sign up for DoNotPay and:
Select the state the company is in, and we'll show you what sick leave laws are in place (if any)
Answer a few questions about the company
Enter the dates on which you'll be absent from work
Choose whether you want DoNotPay to:

Send the request to your employer directly
Share it with you so you can email it on your own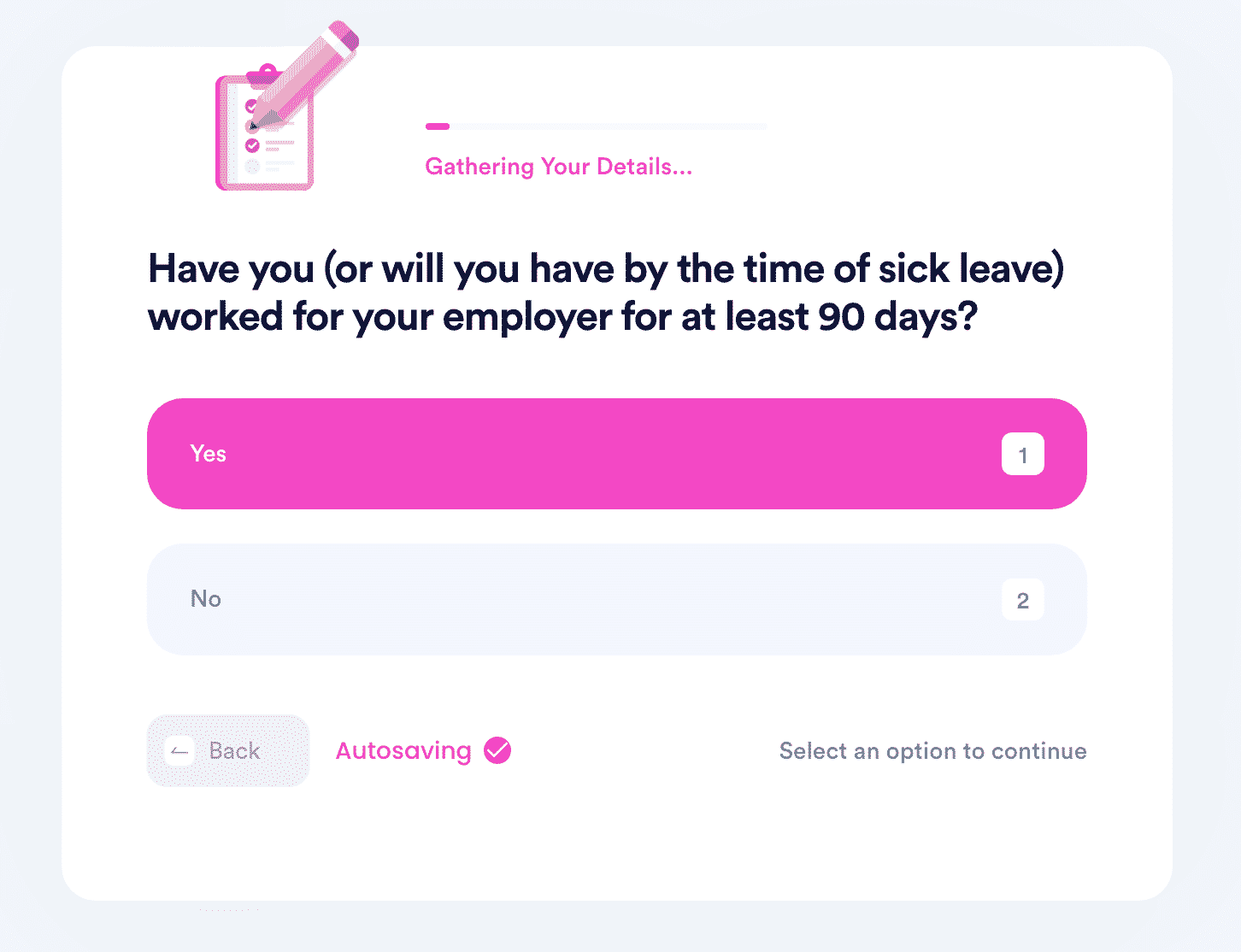 If the employer still denies you your sick leave or fires you, you can sue them via DoNotPay's Small Claims Court product.
Our Platform Makes Your Life Simpler
DoNotPay offers a vast spectrum of life-changing services, including the ones listed below:
| Services | With Our App, You Can: |
| --- | --- |
| Eliminating spam and harassment | |
| Saving and getting more money | |
| Providing other useful services | |
DoNotPay Helps You Get the Necessary Paperwork in a Heartbeat
Do you need to compose a power of attorney, revocable living trust, or a health care directive but don't know how? No worries—DoNotPay can do it for you! If you need comprehensive and valid legal documents tailored to your wishes and needs, there's no better way to get them than subscribing to our app!
We can also draft personalized FOIA requests, divorce agreements, homeschool notices of intent, and various complaints.