Breaking Down the Michigan Sick Leave Law
Did you know that there is a Michigan sick leave law?
Not all states have provisions for paid sick leave, but Michigan ratified the Paid Medical Leave Act (PMLA) in 2019 to ensure you don't have to be sick at work. Find out if you are eligible to claim paid sick leave by reviewing this comprehensive guide to the law.
If you have earned sick time and need to use it, DoNotPay can help—our Request Sick Leave product can .
Common Questions About the State of Michigan Sick Leave Policy
What businesses are covered by the PMLA?
Does Michigan paid sick leave law apply to you?
What can you use Michigan paid sick leave for?
Does your employer have to give you time off?
PMLA Coverage
The PMLA applies to all Michigan businesses with 50 or more employees, regardless of where the workers are located. It allows employees to earn one hour of paid sick time for every 35 hours worked. This allowance is capped at 40 hours per year.
PMLA Eligibility
Some forms of employment are excluded from coverage by the PMLA:
| Form of Employment | Eligible (Yes/No) |
| --- | --- |
| Full-time | Yes |
| Part-time (more than 25 hours per week) | Yes |
| Temporary | Yes |
| Union-members with a collective bargaining agreement | No |
| Variable (as per 26 CFR 54.4980H-1) | No |
| Government | No |
PMLA Uses
The relatively new Michigan sick leave law allows the following uses:
Dealing with a personal illness, injury, or health condition
Helping a family member with one of the above conditions
Managing health or legal ramifications of a domestic violence incident
PMLA Employer Obligations
Employers must circulate information about the act by affixing an approved poster in the workplace. Your boss cannot force you to work while you're sick, especially if you have accrued the necessary time off. The PMLA gives you the right to use this time as needed.
If you lose your job due to taking paid sick leave, you have grounds to sue your boss in small claims court.
Should You Call In Sick?
Not sure when it's necessary to stay home? It is best to err on the side of caution—a sore back will heal faster with rest, and even a common cold can spread through a workplace quickly.
The value of sick leave became clear during the COVID-19 pandemic, leading to the rollout of new emergency sick leave provisions. That's why medical professionals urge citizens not to enter the workplace while sick, no matter the severity of their health issues.
A Guide to Calling In Sick
Once you've confirmed that you are covered by the PMLA and have earned the requisite number of sick days, you need to inform your employer of your impending absence. Your company may have a specific policy to facilitate the process. You may be required to reach out to coworkers and arrange for someone to cover your shift.
In lieu of a formal policy, you can call in sick via:
Is the thought of asking for time off a little daunting? Allow DoNotPay to help.
DoNotPay Will Formalize Your Paid Sick Leave Request
We offer our Request Sick Leave product to ensure the message you send to your manager includes all the necessary information in a professional manner.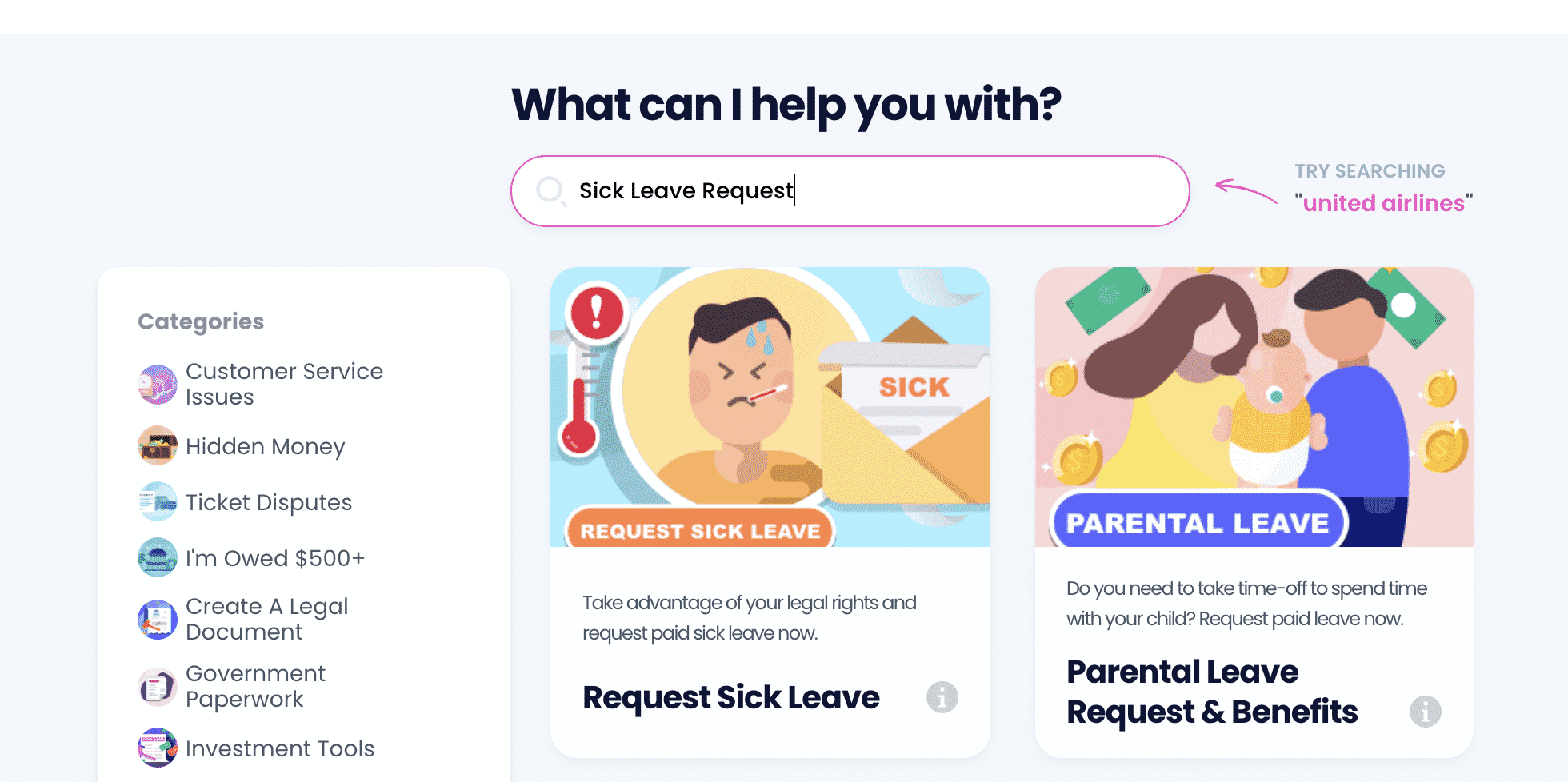 Here is what you need to do:
Select the Request Sick Leave product
Fill in the necessary details about your company
Upload a copy of your doctor's note
You can choose to download a copy of the letter or let us submit it to your management on your behalf.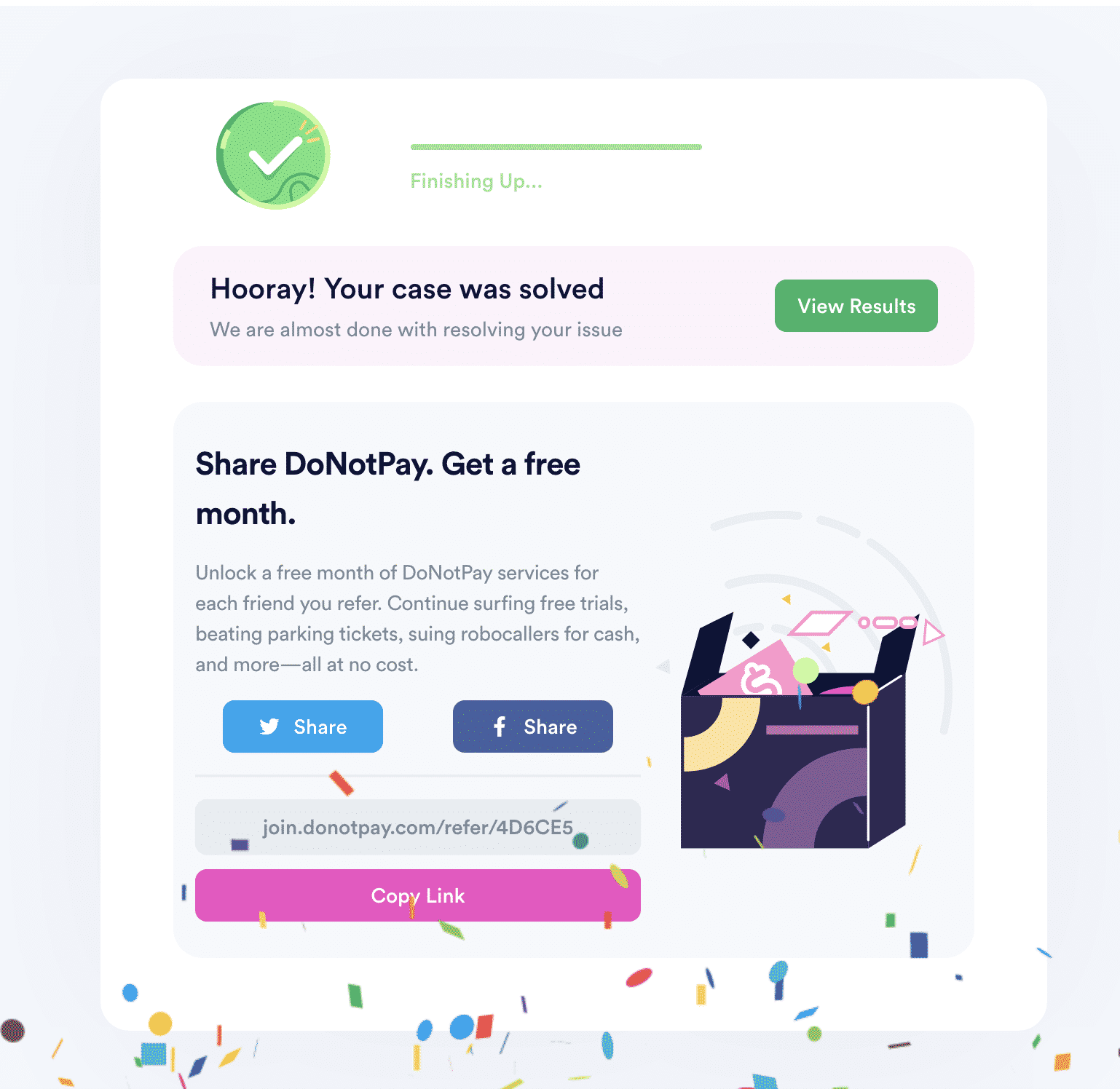 We Have Even More To Offer!
Find more information about the perks we offer in the table below:
Stay Safe by Relying on DoNotPay
One of the primary purposes of our app is to improve your safety. We help you stay secure and avoid incidents or privacy issues by:
Blocking:
Fighting against:
DoNotPay will also help you avoid unwanted personal info disclosure with single-use burner phone numbers. Our app can create a virtual credit card with a fake name and card details and prevent you from getting charged once your free trials expire!