Dissecting the Oregon Sick Leave Law
Are you unsure if you're allowed to call in sick?
Your boss may not have told you about the Oregon sick leave law. If you qualify for its coverage, you have likely accrued enough time to avoid having to be sick at work. Every state has different laws governing sick leave—it's important to understand what Oregon offers you.
This article will explain how paid sick leave works, what you are entitled to, and how to request time off. If you're worried about broaching the topic with your boss, try DoNotPay—our Request Sick Leave product will .
What Is the Oregon Sick Leave Law?
Oregon Paid Sick Time law allows eligible workers to earn one hour of sick leave for every 30 hours worked. You can accrue up to 40 hours per year.
Consider yourself fortunate—more than 33 million employed Americans lack access to benefits like this.
Oregon Sick Leave Law—Coverage and Eligibility
This legislation applies to Oregon-based employees of businesses with ten or more staff members (or six if it has a location in Portland). The following types of employment are not eligible for paid sick leave under this law:
Federal
Independent contracting
Work-study
Railroad work
Family-based employment
How To Use Oregon Paid Sick Leave
You may use your earned sick days for the following purposes:
Recovery from a mental or physical illness, injury, or health condition
Care for a family member recovering from one of the above conditions
Bereavement
Maternity or paternity leave
Closure of your workplace or your child's school or daycare due to a health emergency
Management of recovery or legal activities concerning an incident of domestic violence or a sexual offense
While this specific law does not apply to medical situations relating to COVID-19, the federal government has implemented emergency legislation to last the duration of the pandemic.
How Much Do You Earn While on Sick Leave?
The Oregon sick leave law enables sick leave for eligible employees. Whether or not it is paid depends on what the size of the business is and whether or not it operates in Portland:
| Number of Employees | Paid or Unpaid |
| --- | --- |
| Ten or fewer | Unpaid |
| Six or more (in Portland) | Paid |
| Ten or more | Paid |
When and How To Request Oregon Sick Leave
How sick is too sick to work? While you may feel pressured to go to work when dealing with a minor cold, the CDC recommends otherwise.
Oregon state laws make it illegal for your boss to force you to work while sick. Your manager cannot legally terminate your employment for using your accrued sick time. If your employer violates your rights, you can file a complaint with the Oregon Bureau of Labor & Industries.
If you need to take time off to manage an illness, check if your employer has implemented an official policy. You may need to fill out an online form or call a specific phone line.
Otherwise, you can contact your manager in one of two ways:
Phone
Drafting a sick note from scratch is easier said than done. If you're not sure where to begin, you should use DoNotPay.
Create a Professional Sick Leave Request Letter With DoNotPay
Our AI-powered lawyer offers a Request Sick Leave product to facilitate the process of composing a time off request letter.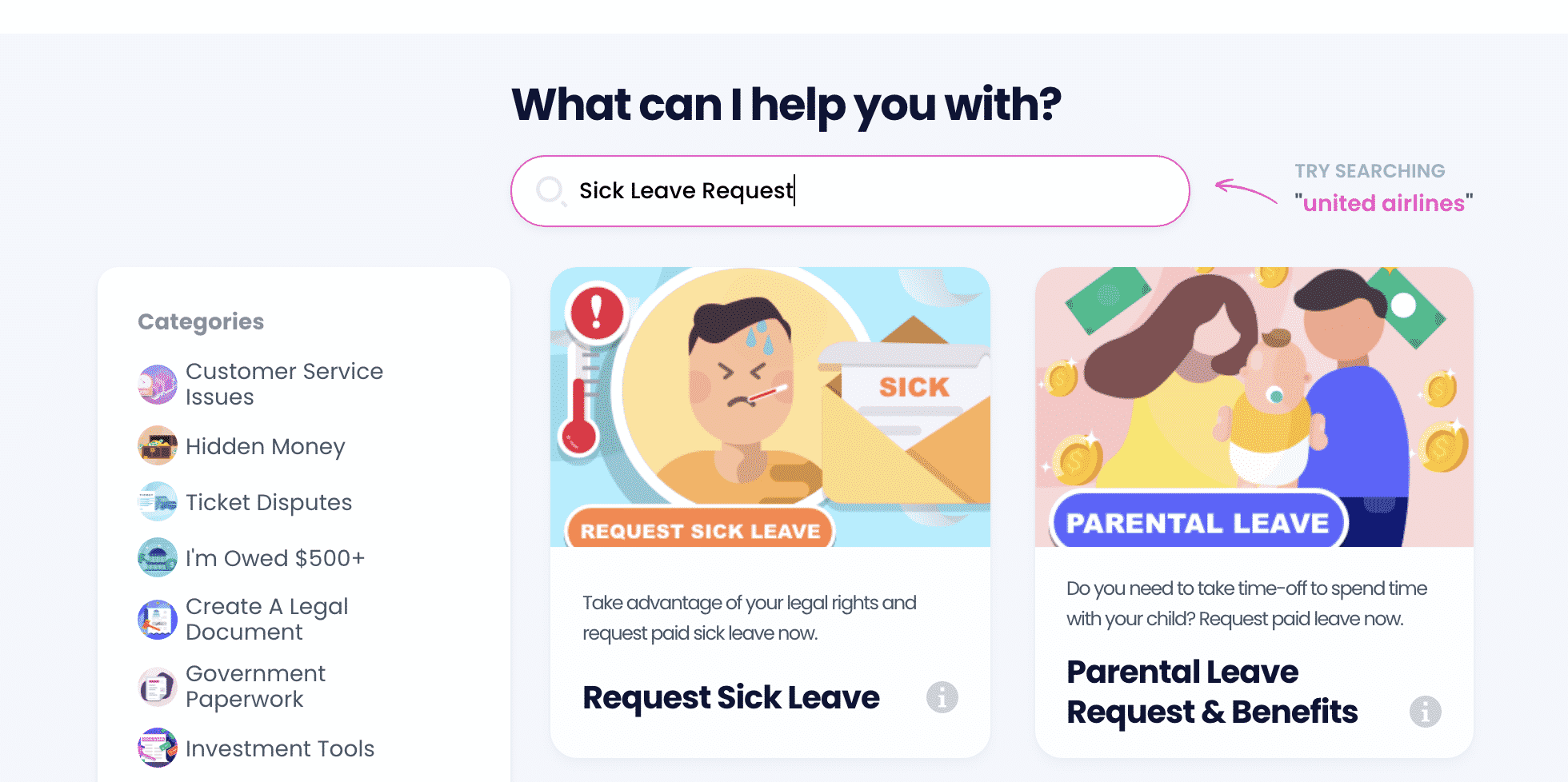 Here is how it works:
Choose the Request Sick Leave product
Tell us about your employer and expected absence
Upload a photo of your doctor's note, if available
That's it—you can choose to download a copy of the letter or let DoNotPay send it to your manager directly.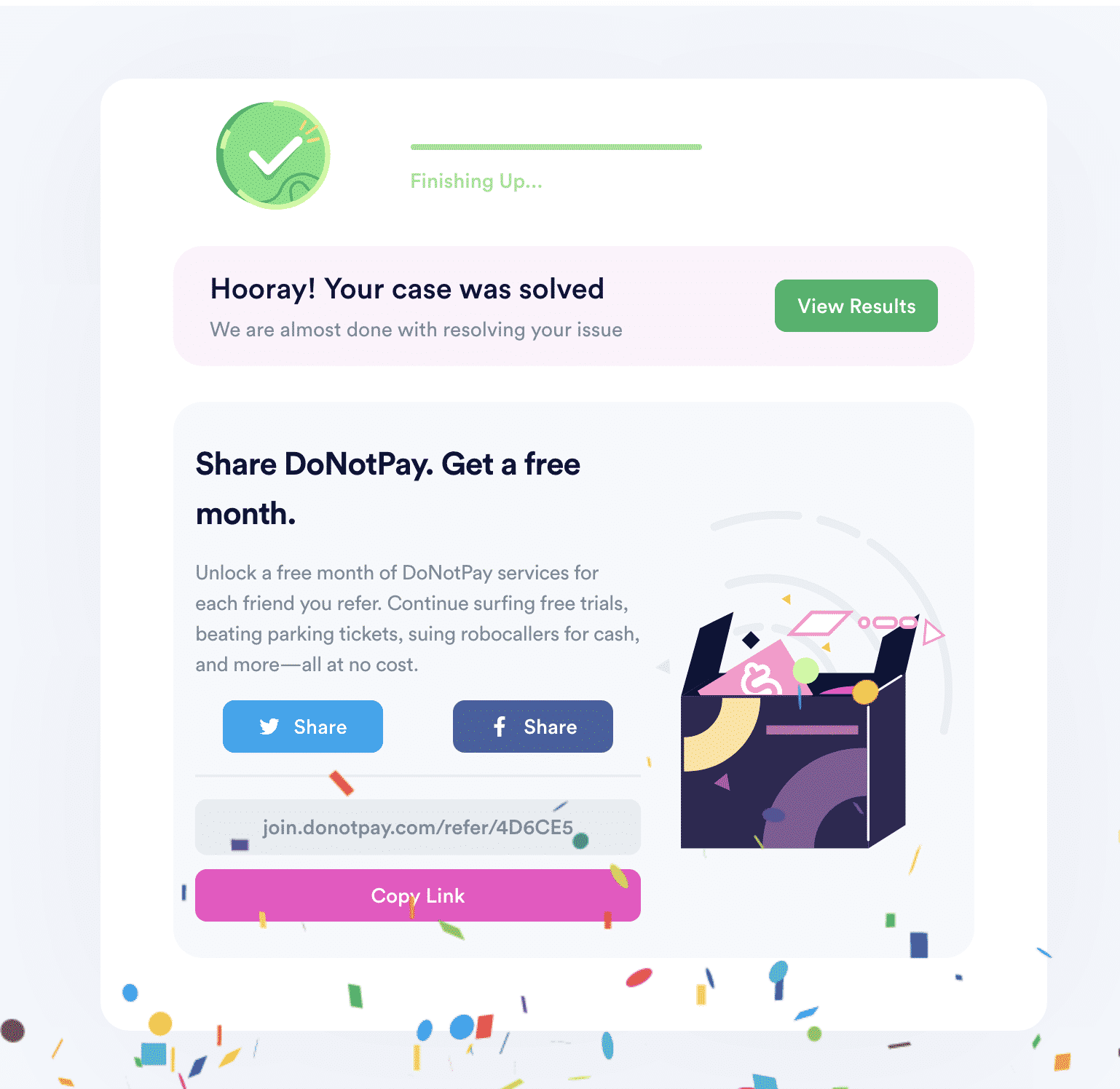 What About Other Perks Our App Offers?
DoNotPay offers valuable assistance with the following tasks:
DoNotPay Cares About Health Matters
Finding suitable and verified clinical trials you can participate in is often complicated and time-consuming. Still, with DoNotPay, it becomes a breeze! Our platform allows you to search through clinical trial databases and apply for the ones that seem acceptable to you.
If you want to make sure your health wishes are honored if you get too sick, we help you compose an advance health care directive based on your preferences. That's not all—you can also name a person who can decide on your finances and estate if you get incapacitated by creating a power of attorney in our app!