How To Call In Sick With Depression Using DoNotPay's Help
Calling in sick is never a pleasant affair—many employees fear the employer will doubt their sincerity about having a cold or back pain and force them to stay sick at work. That feeling intensifies if we want to call in sick for a mental issue that has a stigma attached to it—such as depression.
If you are feeling depressed and unable to work, you can ask for a day (or days) off. In this article, we'll show you how to call in sick with depression. We'll also explain how you can request sick leave with ease if you .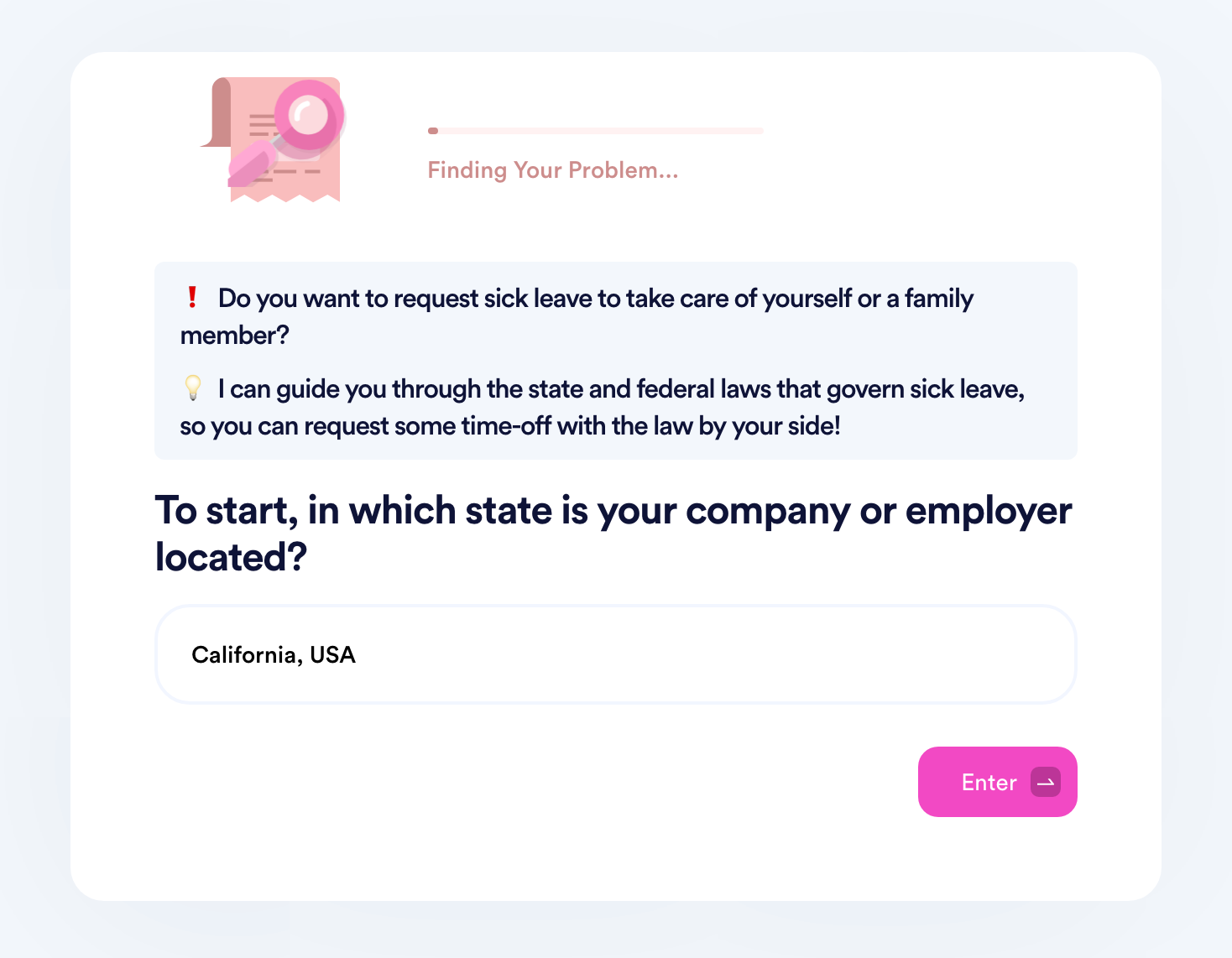 Can I Call In Sick for Anxiety or Depression?
As an employee that needs unpaid or paid sick leave, you can rely on the following four sick day rules:
The Family and Medical Leave Act (FMLA)
Out of the four, only the EPSLA doesn't mandate sick days for mental health issues, as it's a temporary act that only applies to COVID-19.
Most company policies see mental illnesses as a valid reason for not showing up for work and allow you to call in sick with anxiety or depression. The same goes for the FMLA, which classifies mental issues as a health condition.
Several states have paid sick leave laws. They differ on payments, days available, and qualifying reasons, but mental illnesses are covered in virtually every law. If you want to learn more about individual state laws, check out some articles from the following table:
How To Call In Sick With Depression
The biggest issue with requesting sick leave for depression is that employees refrain from doing it because they don't expect to get days off. Even today, there's a lot of stigma around depression and anxiety, and employees fear the employer won't believe they have it or that it affects productivity.
Still, the law is clear on this—it's a valid reason. When calling in sick, you should preferably do it via email or text to avoid a difficult conversation that would add to your stress levels.
When writing your request, you should:
Not go into too many details
Not lie
Tell the employer how long you're going to be away for
Name a colleague that will cover your work
Include a doctor's note if you have one
Doctor's Note
If your employer requires a sick note before accepting your request, your doctor can issue one for you. It'll help you prove your condition to the employer, and it'll be easier to call in sick in the future.
A valid doctor's note should contain:
Date and time of examination
Depression diagnosis
Recommended time off
Doctor's name and signature
DoNotPay Can Draft a Rock-Solid Sick Leave Request Letter for You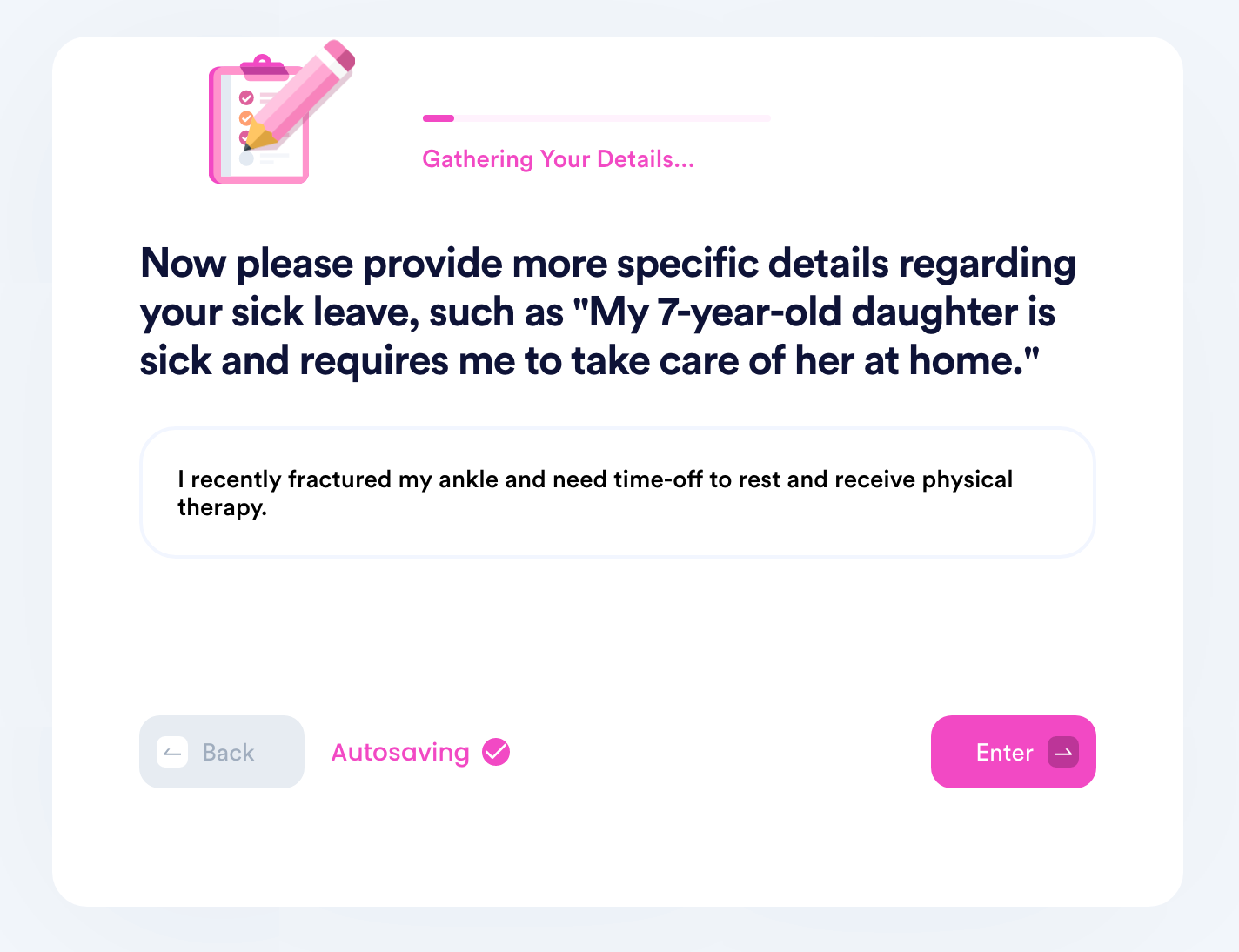 Calling in sick can be awkward, especially if you suffer from depression and fear your employer won't believe you. You can avoid that by requesting sick leave in writing.
If you don't know what the letter should say or find it too stressful to write it on your own, DoNotPay can help you! Our app will generate a professional sick leave request letter with the information you provide.
All you need to do is , navigate to the Request Sick Leave tool, and:
Insert the state the company is in
Provide information about the company
Enter the dates on which you'll be absent from work
Choose whether you want us to:

Send the request to your employer directly
Share it with you so you can email it on your own
Bear in mind that your employer may neglect the law and your health needs. They may still refuse your request and punish you for not coming to work. If that happens, you can use DoNotPay's Small Claims Court product and sue them with ease.
Get the Best Solutions for Everyday Tasks With Our App
DoNotPay has come up with multiple handy products whose purpose is to make your life simpler and more enjoyable! Don't hesitate to check out the features that will help you:
Complaints and Appeal Letters Have Never Been Easier To Draft With DoNotPay
Dissatisfied with a delivery? Use DoNotPay to file an item return request and get a refund from the merchant if the product didn't meet your expectations! We can also help you apply for a late delivery refund or help you claim your warranty or insurance if the product you purchased gets damaged or breaks down. Our multi-functional app also allows you to appeal potentially inaccurate property tax assessments, banned accounts, and seatbelt or parking tickets.
If you subscribe to our platform, you will have a chance to file anonymous HR complaints and prevent discrimination at work more effectively.