How To Get Vermont Paid Sick Leave
Paid sick leave is a benefit that not everybody gets to have—around 24% of employees don't have access to it.
Federal law regulates paid leave to a small extent, and employees have to rely on state laws. Only 14 states and D.C. have a sick paid law—Vermont being one of them—and employees from other states have to depend on their employer's good will.
In this article, we'll show you how Vermont paid sick leave law works and who is eligible for these benefits.
Want to avoid being sick at work? We'll also explain how to call in sick easily if you register for DoNotPay.
How Vermont Paid Sick Leave Law Works
The objective of the law is to establish the minimum amount of paid leave employers in Vermont must offer to their staff.
Employees can have up to 40 hours per year of paid leave, which can carry over to the next year if unused. The pace of accrual is one paid hour off for every 52 hours worked, including overtime.
To be eligible for paid sick leave, employees need to:
Be at least 18 years old
Work 18 hours or more per week
Work more than 20 weeks in a 12-month period
Not be a bona fide independent contractor
The law also defines five instances in which employees can request paid leave. The instances apply to the employee and eligible family members, as shown in the table below:
Qualifying Reasons
Eligible Family Members

Having an illness or injury
Requiring diagnosis, treatment, or care
Caring for an eligible family member
Arranging legal or social services related to medical care due to sexual assault, stalking, or domestic violence
Caring for an eligible family member whose school or business closed for health and safety reasons

Children
Foster children
Grandchildren
Spouse
Siblings
Parents
Parents-in-law
Grandparents
Vermont Paid Sick Leave During the COVID-19 Pandemic
While Vermont paid sick leave bill doesn't cover COVID-19, you can turn to the Emergency Paid Sick Leave Act (EPSLA). The EPSLA is a federal-level act that offers 10-day paid leave during the pandemic.
What if Vermont Sick Leave Law Doesn't Apply to You?
If you're not eligible for paid sick leave, you may still get it if your company's policy provides it on its own.
If not, you may be able to invoke the Family and Medical Leave Act (FMLA), which gives you 12 unpaid weeks off in a year. Bear in mind that there are rules under which companies are subject to the FMLA.
In all other instances, you'll either have to use your vacation days or be forced to work sick.
Request Sick Leave Effortlessly With DoNotPay's Help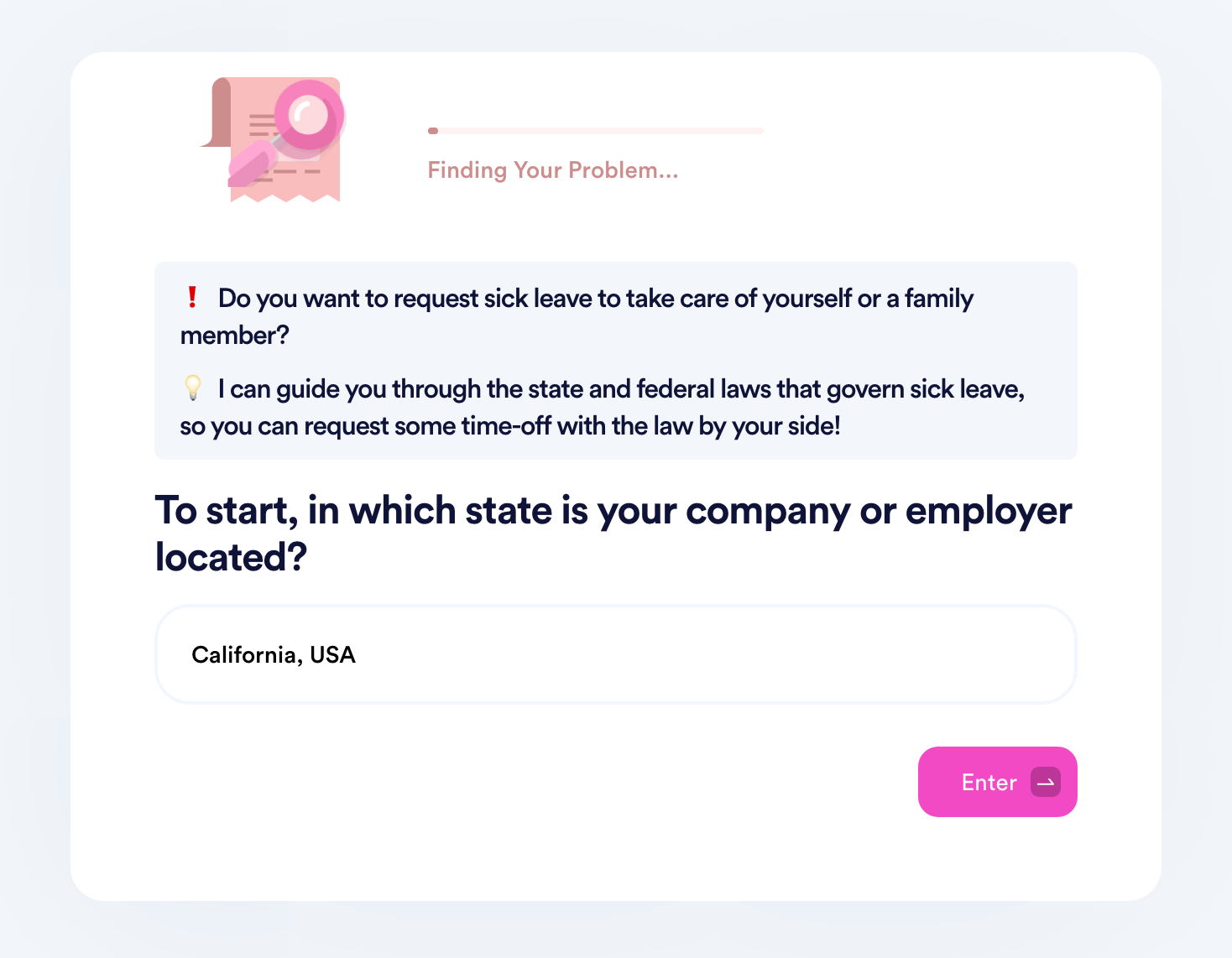 When you need sick leave, you'll have to make a request for it, usually over the phone or in writing. This can lead to an awkward conversation, and you might have trouble writing a perfect leave request letter that will make your employer approve it.
If you don't want to waste time racking your brains, you can use DoNotPay. With our Request Sick Leave product, we'll draft a request letter for you based on the applicable laws and the information you provide.
All you need to do is sign up for DoNotPay, and follow these steps:
Specify the state where you live and work, and we'll show you what sick leave laws are in place
Answer a few questions about the company
Enter the dates on which you'll be absent from work
Choose whether you want DoNotPay to:

Send the request to your employer directly
Share it with you so you can email it on your own
If the employer goes against the law and denies your request, you can use our Small Claims Court tool and sue them without paying expensive attorneys.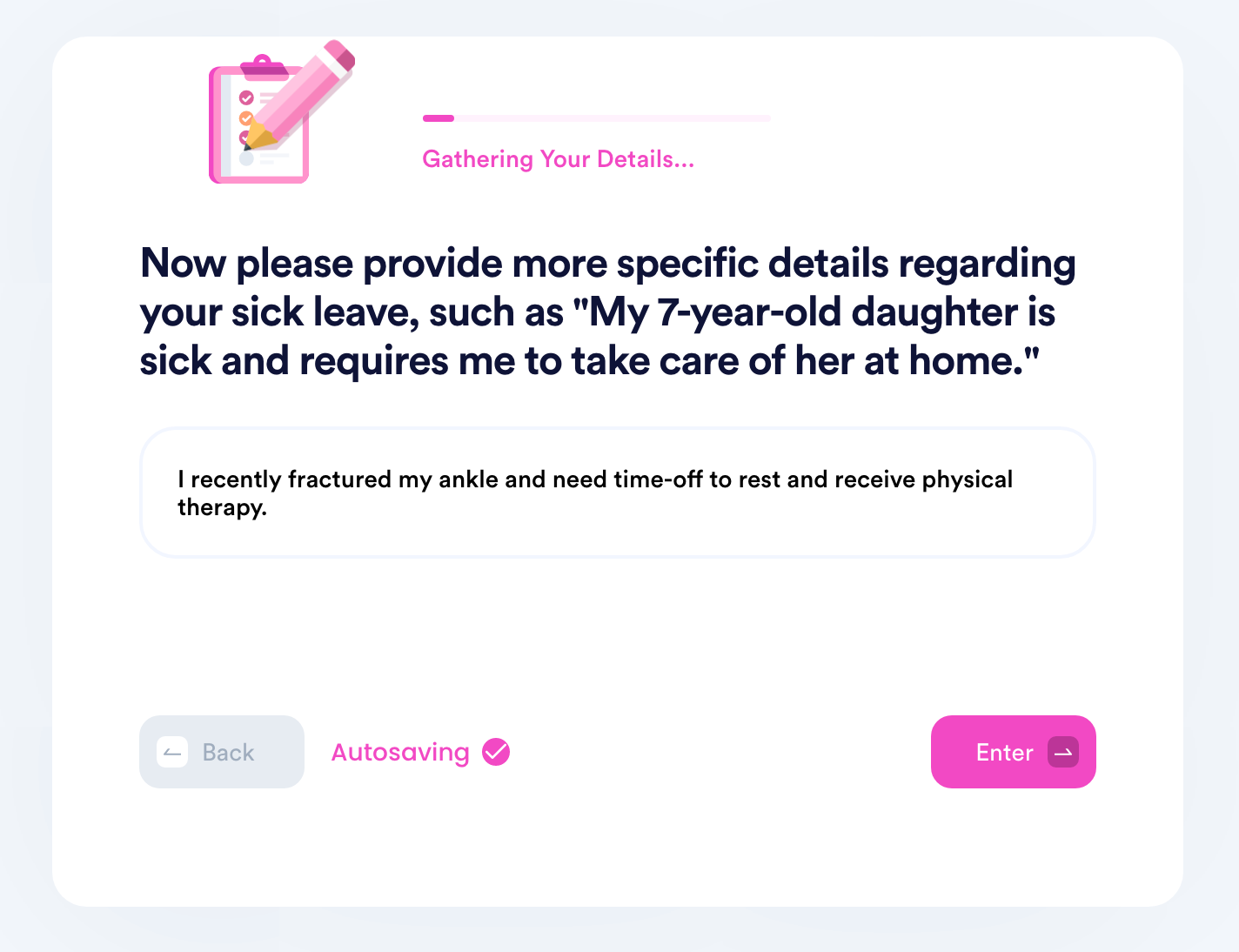 DoNotPay Handles Lengthy and Challenging Tasks on Your Behalf
No time to dedicate yourself to drawn-out procedures or solve administrative issues yourself? Keep calm—that's why DoNotPay is here! By creating an account on our platform, you will be able to:
Keep the Cash in Your Pockets With Our App
DoNotPay doesn't bring you money-saving hacks—it actually assists you in cutting out expenses and living more economically. The tools we provide are made to help you pay less for utilities, end unwanted paid memberships, have college fees waived, or get lower tax bills. You can also save more on education-related costs by applying for scholarships and other financial aid via our app!
If you have a few forgotten gift cards lying around, don't let them go to waste. DoNotPay can cash them out and send the remaining funds to your home address!