Sick Days at Work Rules You Should Know About
Many assume that you can request sick leave whenever you feel under the weather and unable to perform, but that is not always the case. There's no federal law that requires employers to give you paid sick leave, while only 15 states (including the District of Columbia) have some rules in place on a state level.
What happens when you need to take sick leave? Will you have to work if you're not in one of the 15 states? In this article, we'll explain sick days at work rules, and we'll show you:
Which states have paid sick leave laws
What the Family and Medical Leave Act (FMLA) is
How to call in sick effortlessly if you subscribe to DoNotPay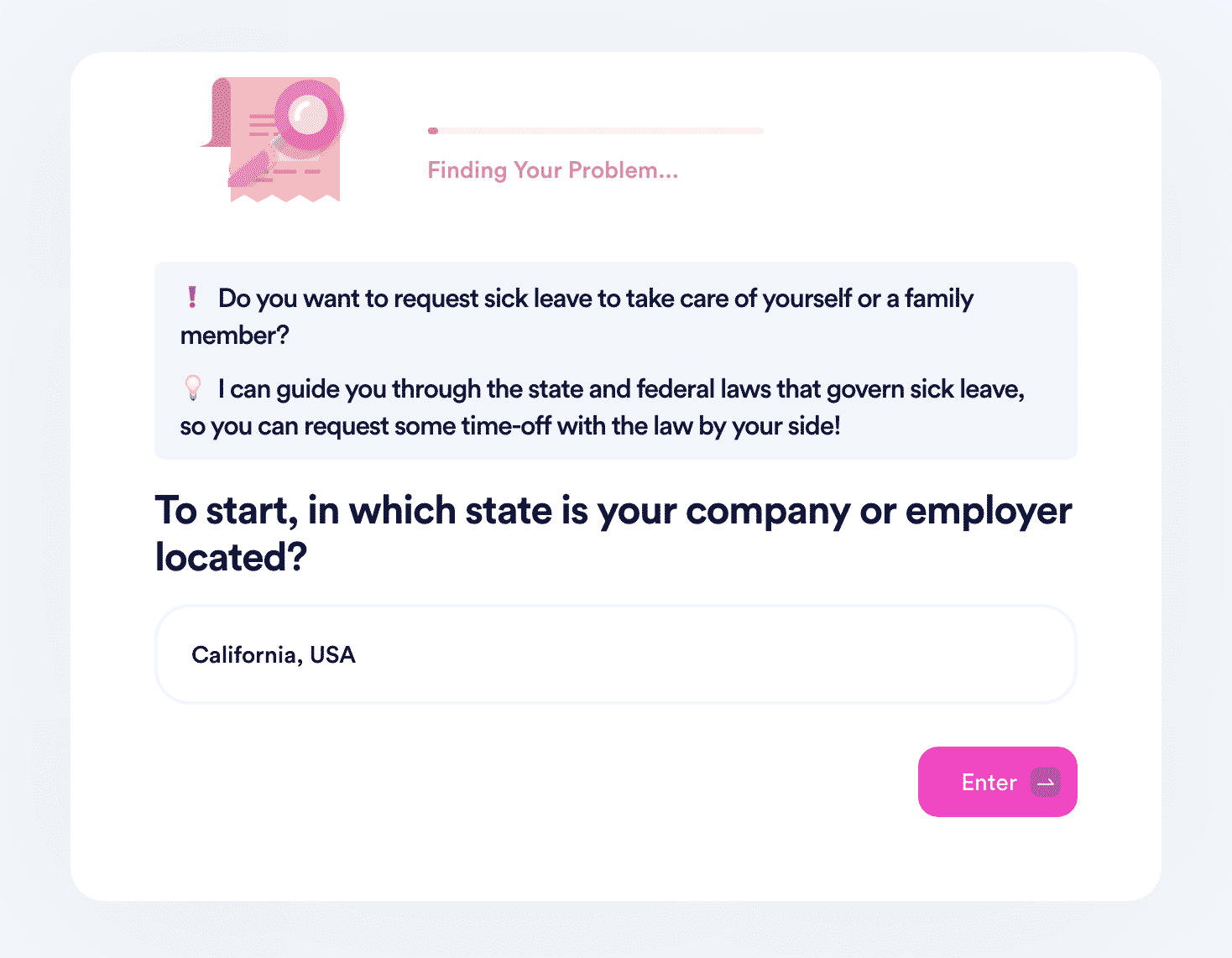 Sick Days at Work—Rules on State Levels
Although only 15 states have state-level laws (or plan to adopt them), several other states, such as Texas, have counties that regulate paid sick leave with local rules. You should check out what the rules are in both your state and county.
Consult the following table to find articles with information about states that regulate this on any level:
Sick leave laws typically define the following:
What the accrual period is
How many paid sick days you get per year
Which employees can receive paid sick leave
What reasons are valid for leave request approval
If you're not in one of these states or counties, that doesn't mean you'll have to turn up sick to work.
Companies have an individual sick policy at work, and you should check out what the conditions are. Most employers will provide you with either unpaid or sick leave—if you have no sick days left, they'll demand you take your paid time off.
Aside from company sick days, you can also rely on the FMLA if it applies to your place of work.
The FMLA—Federal Law Sick Days
The FMLA is a federal-level act that ensures all eligible employees receive an unpaid leave of 12 weeks within a 12-month period without any detriment to their job position.
To be subject to the FMLA, both you and the company must fulfill some requirements, as shown in the table below:
Qualifying Reasons
Eligibility Criteria for Employees
Eligibility Criteria for the Company

Childbirth
Child adoption
Serious health condition
Caregiving to a family member with a serious health condition
Reasons connected to a family member being on active military duty

Have worked for the company for a minimum of 12 months
Have at least 1,250 hours of work over the past 12 months

Employ at least 50 people within 75 miles of the office location
This is an unpaid sick leave—the only way you can get paid leave on a federal level is through the Emergency Paid Sick Leave Act. The act is in place during the COVID-19 pandemic and offers help to employees who contract the virus.
Need a Sick Leave? Request Time Off With DoNotPay in No Time
You can avoid contacting your HR department or sending an email request you're not sure will be approved. With DoNotPay's help, you can create a rock-solid sick leave request, and you won't have to worry about any of the writing.
Our Request Sick Leave tool will draft the letter for you based on the information you provide. You only need to sign up for DoNotPay and:
Insert the state the company is in, and we'll show you what sick leave laws are in place (if any)
Answer a few questions about the company
Enter the dates on which you'll be absent from work
Choose whether you want DoNotPay to:

Send the request to your employer directly
Share it with you so you can email it on your own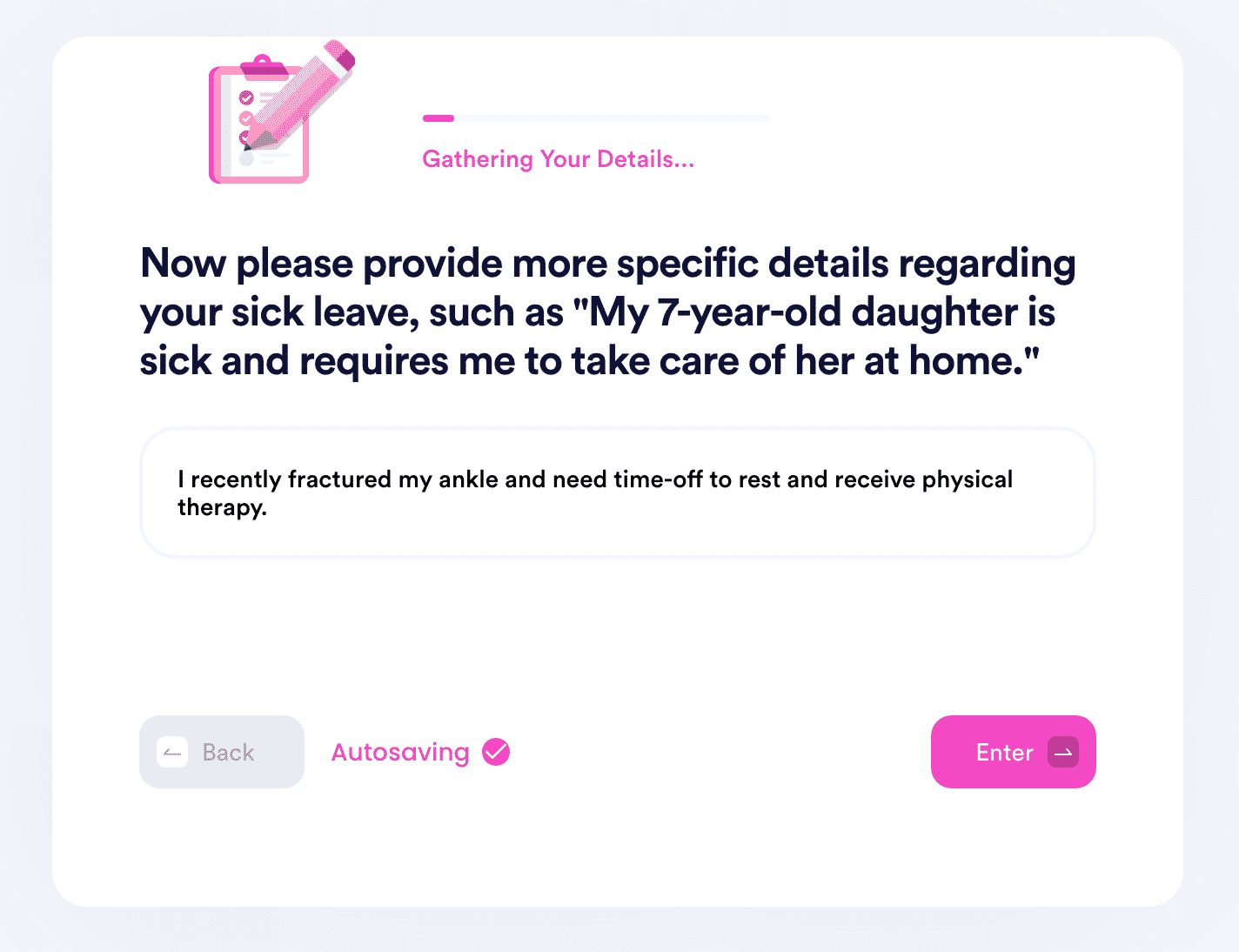 If the employer decides to deny your rights, you can use DoNotPay's Small Claims Court product and sue them without paying over the top for an attorney.
Expect More Help From DoNotPay
Do you want to know what else DoNotPay can do for you? Have a look at the following lists and discover some of our most prominent services:
| Type | Particular Services |
| --- | --- |
| Getting more cash or saving the existing funds | |
| Fighting various issues | |
| Other helpful services | |
Let Our App Fight Grabby Merchants in Your Name
Have you received a damaged item? DoNotPay helps you file a return request and get a replacement for the faulty product. We can reach out to companies and demand refunds or chargebacks in your stead or request late delivery refunds. This way, you avoid paying for the goods that didn't meet your expectations and standards.
Our app can also send refund requests to airlines and help you get compensated for postponed or canceled flights. You won't need to contact the particular company yourself—DoNotPay does the grunt work and lets you enjoy the results!