Should I Call In Sick if I Have a Cold? Here's What You Should Know
With the pandemic changing the way we view illnesses and precautionary measures, coming to work sick can put you and your colleagues at risk—even if you think you only have a cold. Should I call in sick if I have a cold? can help you find the answer!
Can I Ask for Sick Leave?
The United States federal laws do not mandate employers to provide paid sick leave to their employees. Many companies choose to do so, but the exact number of days you can take off depends entirely on your employer.
Companies that fall under the Family and Medical Leave Act criteria are also required to provide unpaid time off to companies due to illness.
Sick Leave Laws by State
Several states in the country make it mandatory for companies to provide time off to sick employees, but not all require the leave to be paid. The following table can help you get information about some states and their laws on this topic:
When Should I Call In Sick?
If you have a cold, the chances are it's nothing to worry about. You should still take precautions such as:
Wearing a mask
Maintaining social distance
Sneezing into your elbow or a napkin
You should immediately go home and isolate yourself if:
Your cold is accompanied by a fever
You feel nauseous or have a severe headache
Drink plenty of water and take the necessary medication. If your fever persists for more than 24 hours, consult a doctor and get tested for COVID-19.
What Can I Do Instead of Calling In Sick?
If you're feeling sick at work and are worried about putting yourself and your coworkers are risk, you can choose one of the following alternatives to calling in sick:
Talk to your supervisor and ask to work from home
Conduct all your meetings online or skip them if you can
Wash and sanitize your hands frequently
Wipe down all surfaces you come in contact with
Avoid touching your eyes or mouth
Why Do Some People Refrain From Calling In Sick?
Many people hesitate to call in sick for the following reasons:
Their company does not provide paid sick leave
They have used up all their paid days off
Their supervisor or manager did not allow them to take time off
They have too much work that cannot be delayed or delegated
DoNotPay Can Help You Ask for Sick Leave
The processes for requesting sick leave vary from company to company. Some employers expect their employees to fill out forms or send out formal emails, while others accept call-ins.
If you're struggling to ask for time off, use DoNotPay and leave the hassle to us. We can help you apply for sick leave quickly and without extra complications.
To do so:
and locate the Request Sick Leave product
Type in the information about yourself and your employer
Tell us where you live so we can show you state-specific regulations
Sign electronically and click on Submit
We will generate a custom request letter on your behalf if you are eligible for time off. You can also choose to email the letter directly to your employer from the app.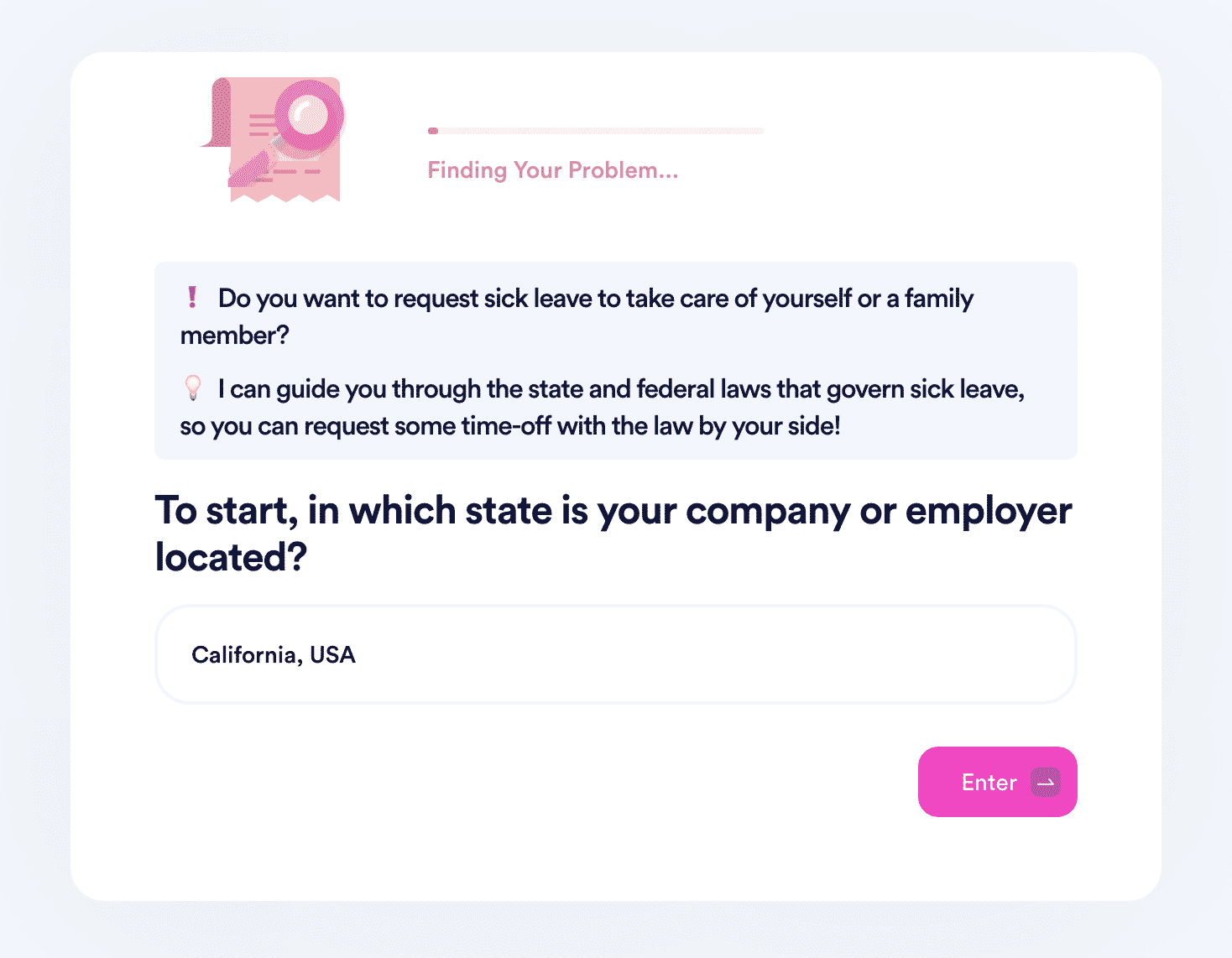 Feeling Wronged by Your Employer? Sue Them With DoNotPay!
If your employer is forcing you to work while you're sick or threatening to fire you for requesting time off, you can sue them in small claims court with DoNotPay! We can help you:
Draft the demand letter
Gather paperwork and fill out forms
File the lawsuit
Draft the argumentation script to be used in court
Let DoNotPay Help You With Various Tasks
The assistance we can provide doesn't stop here! Check out the table below for more details on our services:
| Improving Your Security | Making Your Everyday Life Easier | Creating Customized Paperwork |
| --- | --- | --- |
| | | |
Struggling To Be Economical? Rely on DoNotPay!
Our app—the world's first virtual lawyer—can help you save a significant amount of money in a few clicks! Starting from lowering your bills and reducing property taxes to claiming missing funds under your name, DoNotPay will keep the cash in your pockets.
Our system will also prevent you from financing unwanted or unused memberships and subscriptions by canceling them. You will be able to enjoy free trials without getting charged for them and get refunds from any merchant or airline company due to dissatisfying service!