Email Your Boss About Your Sick Child the Easy Way
Did your kid get sick, and do you need to take a few days off to take care of them? No one should be forced to work when they or their loved one is sick. That's why we are here to help you by telling you what your rights are!
Do you need to email your boss? Sick child leave should not be a problem if you know how to write a formal email informing your employer about your absence. DoNotPay can help you generate a sick leave request hassle-free.
Can You Get Time Off if Your Child Is Sick?
There are no federal laws that regulate unpaid or paid sick leave. Whether you can call in sick to take care of your child and how many days you can receive depends on:
Your workplace being subject to the Family and Medical Leave Act (FMLA)
Your state, county, and city laws
The FMLA provides employees in the United States with unpaid leave of up to 12 weeks a year if they:
Can't come to work due to sickness
Have to take care of a newborn
Need to care for a child, parent, or spouse who is severely ill
You can get unpaid time off under the FMLA if:
The company you work for employs at least 50 employees within 75 miles
You have worked for your employer for 12 months
You have completed at least 1,250 working hours during that period
Sick Leave Laws by State
The laws are different in every state and might change frequently due to the pandemic. Check out a few of our state-specific articles to find out more about sick leave policies:
How To Write an Email To Notify Your Boss That Your Child Is Sick
Here are the elements you need to include in your email if you need to call in sick and take care of your kid:
Reason for your absence—Keep the reason clear and don't go into much detail. State what symptoms your child has and specify the illness they're suffering from
Number of days you'll be absent—Your boss needs to know how many days you'll be absent from work so they can organize everything accordingly
Emergency phone number—You should provide an emergency phone number so your boss can reach you in case of a work-related problem
Doctor's note or other documentation—Attach any documentation that can serve as proof for your leave request, such as:

Doctor's note
Prescription
Medical certificates

Name of the person who will take over your work—If there's a need for someone to take over your projects or meetings, you should appoint a person in your email
Formal closing—You should end your email with a formal closing followed by your name
Notifying your boss about your sick leave on time is crucial. If you don't want to waste ages writing the email, ! We will generate a sick leave request letter for you in a snap!
How To Take Sick Leave From Work Effortlessly—Use DoNotPay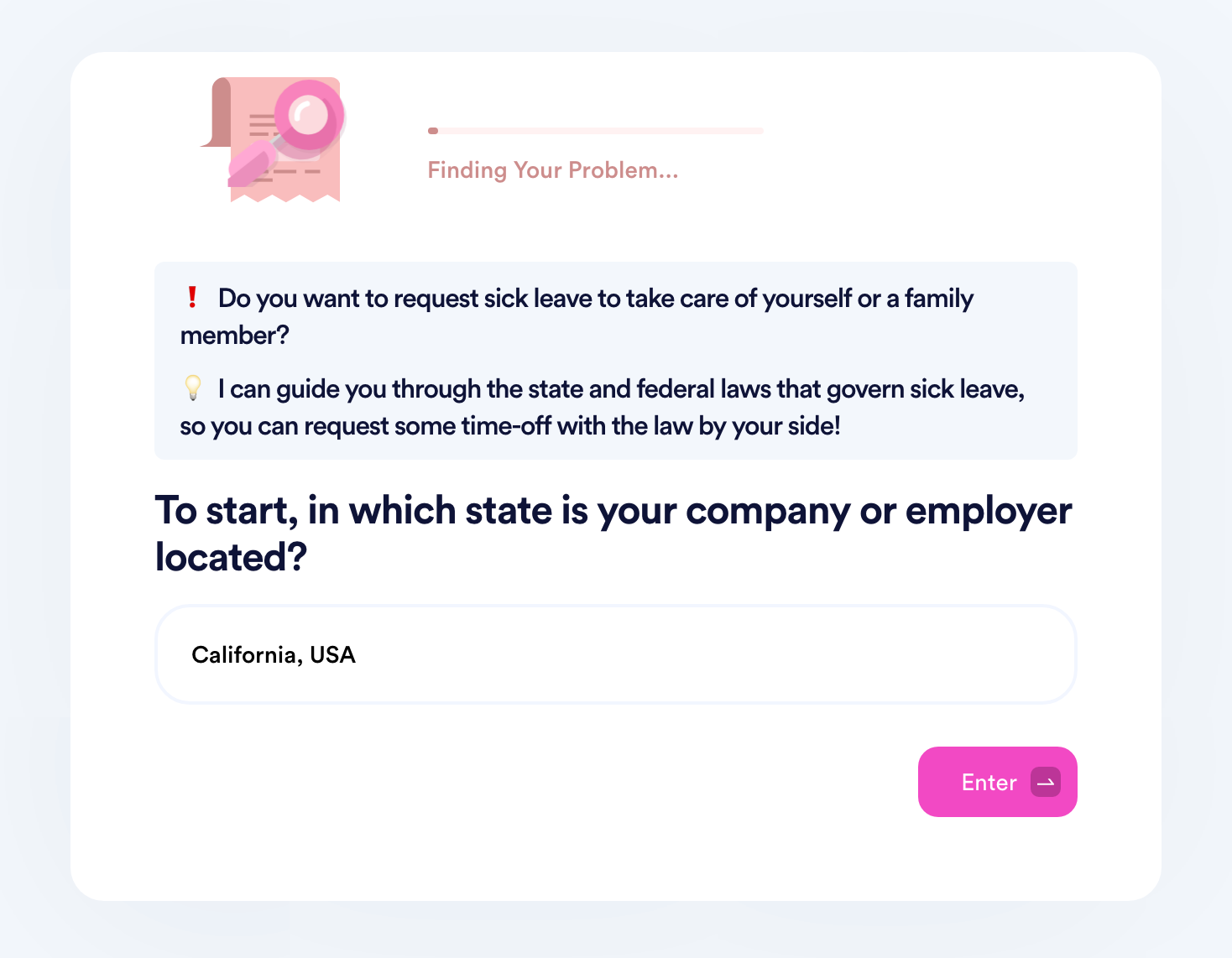 Need a more convenient and efficient solution to informing your boss about your sick leave? and let us handle everything for you!
Our AI-powered app can generate a formal sick leave request letter and forward it to your employer or send it to you so you can download and print it. DoNotPay is not only effective but also user-friendly. Here's what you should do:
Locate our Request Sick Leave tool
Specify how many days you'll be absent
Upload a photo of a doctor's note or any other valid documentation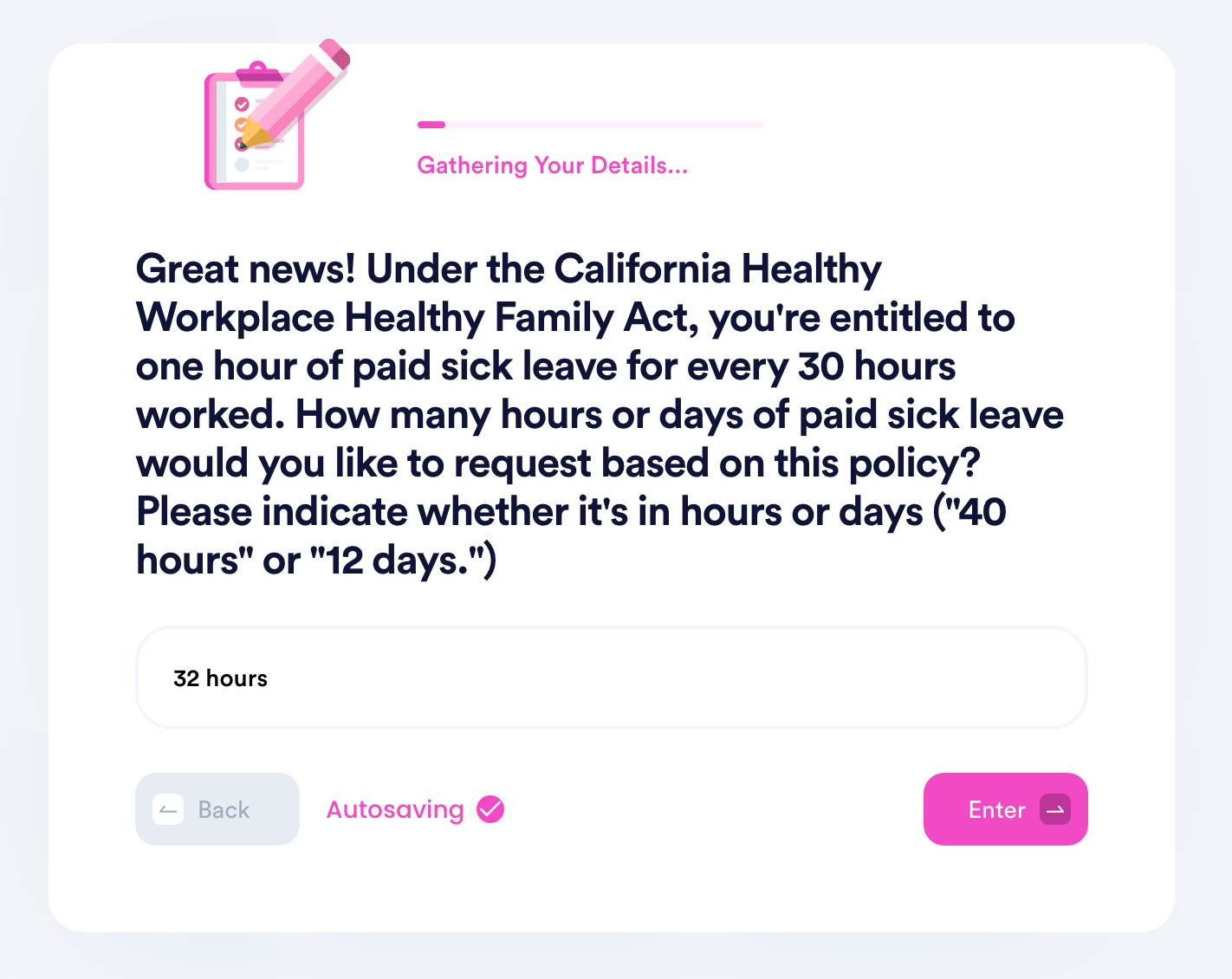 And that's it—you're done! If your employer threatens to fire you for calling in sick to take care of your kid even though you are legally allowed to do so, DoNotPay can help you sue them for wrongful termination.
Our Platform Makes Your Life Simpler
DoNotPay offers a vast spectrum of life-changing services, including the ones listed below:
| Services | With Our App, You Can: |
| --- | --- |
| Eliminating spam and harassment | |
| Saving and getting more money | |
| Providing other useful services | Convert various files to other formats |
DoNotPay Helps You Get the Necessary Paperwork in a Heartbeat
Do you need to compose a power of attorney, revocable living trust, or a health care directive but don't know how? No worries—DoNotPay can do it for you! If you need comprehensive and valid legal documents tailored to your wishes and needs, there's no better way to get them than subscribing to our app!
We can also draft personalized FOIA requests, divorce agreements, homeschool notices of intent, and various complaints.