Arizona Sick Time Law—Get Your Paid Sick Leave With DoNotPay
Sick leave should be a universal employee right, but it's not. Federal law has no permanent act about paid sick leave, and only a handful of states have laws about it. Luckily, Arizona is one of them, following the Prop 206 paid sick leave addition to the Fair Wages and Healthy Families Act.
In this article, we'll show you how the Arizona sick time law works and also explain:
What the Family and Medical Leave Act (FMLA) is
Who qualifies for the Emergency Paid Sick Leave Act (EPSLA) benefits
How to call in sick effortlessly by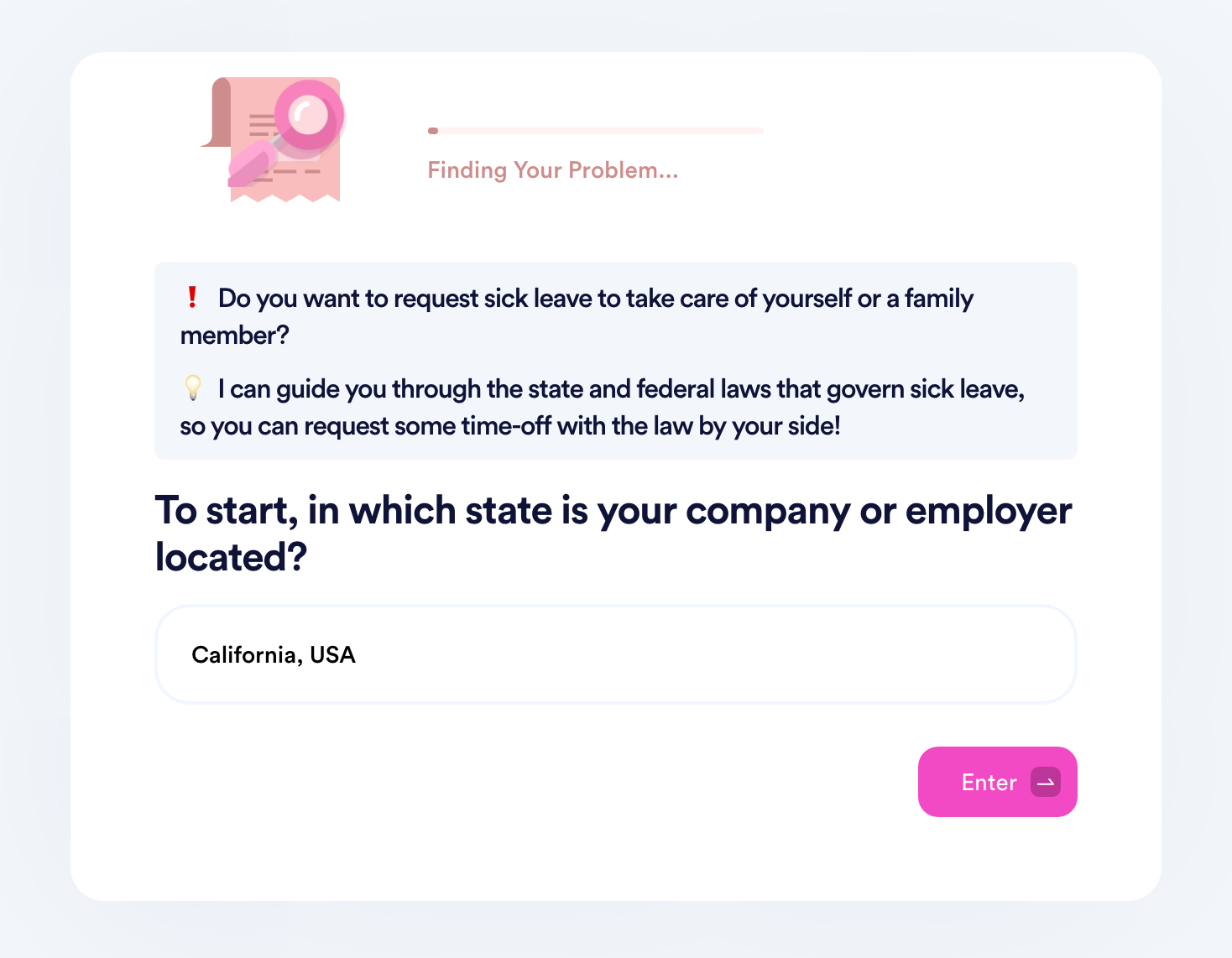 What the Arizona Sick Time Law Says
In AZ, sick time law demands that the employer provides annual paid sick leave days to the employee and not force them to work if they get sick at the workplace.
According to the Arizona sick leave law, after 90 days of being in a company, the employee accrues one hour of paid sick leave for every 30 hours of work.
The law also lists specific reasons based on which you can ask for sick leave, and it defines how much time off you can get per year.
Check out the following table to see the details of the law:
Qualifying Reasons
Amount of Paid Sick Time per Year
Methods for Calling In Sick

Preventive medical care
Physical or mental illness
Checkups with a health provider
Public health emergency
Absence due to violence or abuse
Taking care of a family member:

With an illness
In need of diagnosis
In need of preventive care

40 hours in companies with 15 or more employees
24 hours in companies with fewer than 15 employees

In person
In writing
Via DoNotPay
Any other means the employer agrees with
If you don't use up all of your sick leave time, you should check your company's policy. The time either rolls over to the next year, or the company considers it forfeited. In rare cases, the employer decides to pay it out to employees.
How the FMLA Works
The FMLA is the only permanent rule about sick days on a federal level. It ensures you'll receive 12 weeks off for sickness within a 12-month period, and the leave can in no way, shape, or form influence your job.
Note the following details:
It's an unpaid leave
You have to work at least 12 months for a company before using this benefit
You have to accrue at least 1,250 work hours in those 12 months
The company must hire at least 50 employees within a 75-mile radius
The EPSLA Rules During COVID-19
This act is a federal-level paid sick leave rule, but it is in force only during the COVID-19 pandemic. Thanks to the act, the employer must not force you to work if you contract the virus. They have to give you ten workdays off with salary if you:
Have to go into quarantine
Experience the symptoms of COVID-19 (or similar symptoms)
Have to care for a child in quarantine
Have to care for a child whose school is closed because of the pandemic
Request Your Arizona Paid Sick Leave Using DoNotPay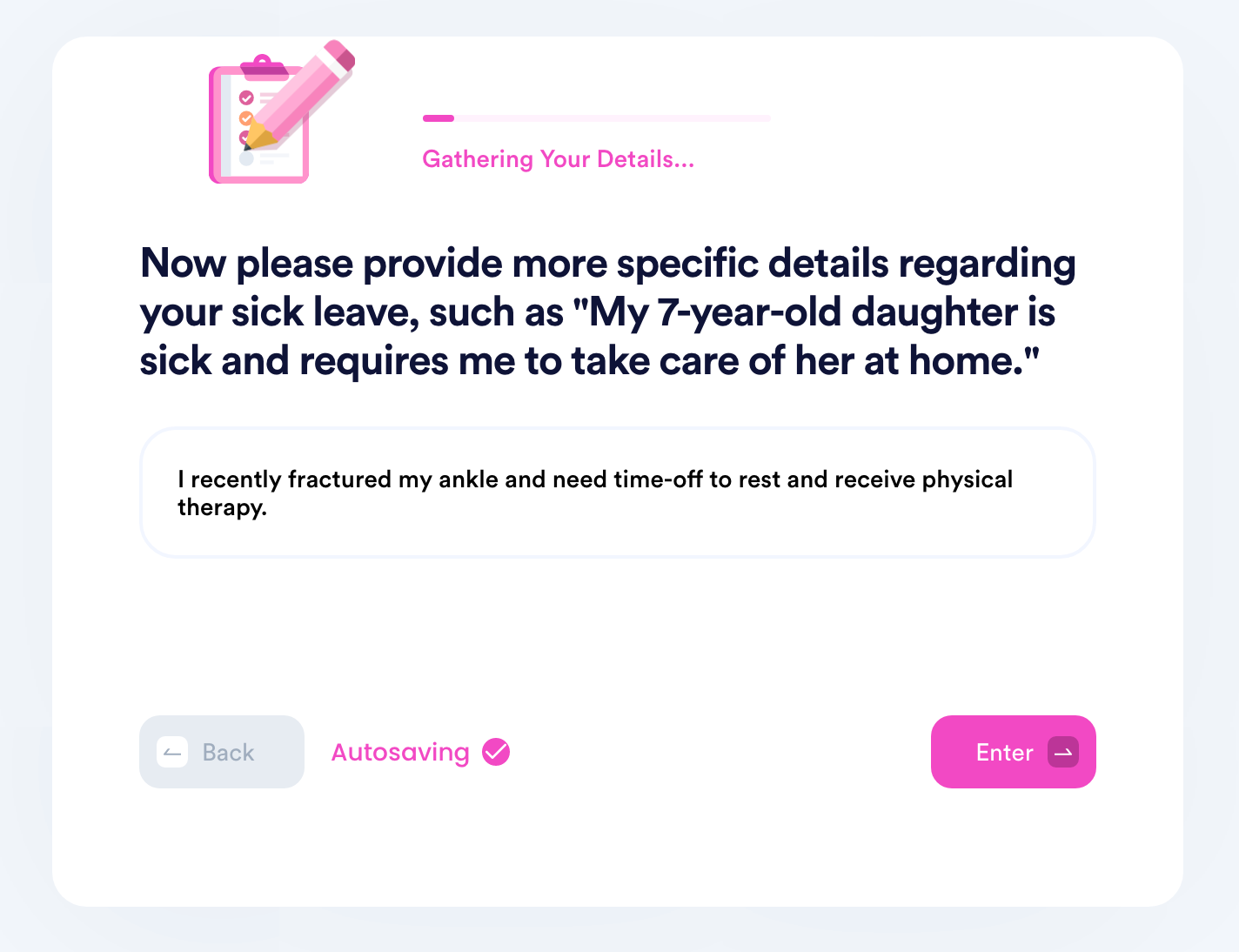 If you want to avoid the awkwardness of calling in sick or worrying about whether your request is good enough or not, you can use DoNotPay!
Our app will do everything instead of you—we'll consult Arizona paid sick leave laws and draft an airtight sick leave request based on the information you provide.
All you need to do is , select the Request Sick Leave tool, and:
Specify your state so we can show you what sick leave laws are in place (if any)
Answer a few questions about the company
Enter the dates on which you'll be absent from work
Choose whether you want DoNotPay to:

Send the request to your employer directly
Share it with you so you can email it on your own
If your employer still denies your request, you can sue them for wrongful treatment via our Small Claims Court product.
Our Virtual Lawyer Has Got Your Back
DoNotPay has solutions for all those burdensome tasks you would rather avoid or entrust to someone else. Our AI-empowered app can assist you with copyright protection, clinical trial applications, DMV appointments, FOIA requests, mailing services, item returns, and delivery refunds. It also generates standardized legal documents and gets them notarized or faxed with zero fuss!
Through the same app, you can:
File tourist visa applications
Make Education More Accessible and Affordable With DoNotPay
College expenses can be quite a burden for the entire family. Luckily, DoNotPay can have your tuition expenses waived or assist you in applying for various types of financial aid, such as scholarships.
We also offer you a chance to prepare for government tests in a much simpler way or contact embassies or consulates quickly and efficiently if you want to travel abroad to continue your education. If you are a parent who wants to withdraw their kid from a standard school, we will help you draft a notice of intent to homeschool and send it to the local authorities with no stress!