Answers to Your Maine Sick Leave Law Questions
Did you know you have the right to request paid sick leave?
Maine's sick leave law allows virtually all employees in the state to take time off as needed in relation to an illness. Employers are not always upfront about their subordinates' rights, which is why you need to do your due diligence and determine what you have access to.
Our guide will answer the most common questions employees have about the Maine sick time law. We'll also show you how DoNotPay can help you .
Maine Sick Leave Law FAQs
Given the lack of federal sick leave legislation, the details of available entitlements differ from state to state.
Most types of employment are covered by Maine's Earned Paid Leave (MEPL) law. While this legislation is not specific to sick leave, it is intended to give employees access to time off as needed for situations such as illness. This is distinct from pandemic-related emergency legislation and the Family and Medical Leave Act.
Common questions about MEPL include:
Do I qualify for sick leave?
What can I use sick leave for?
How much time off can I get?
Do I need a doctor's note?
Can I get in trouble for missing work?
Maine Paid Sick Leave Eligibility
The law applies to all employers with more than ten employees in the course of a 120-day period. Consult this table to verify that you are eligible:
| Employment type | Covered (Yes/No) |
| --- | --- |
| Full-time | Yes |
| Part-time | Yes |
| Per day | Yes |
| Domestic workers (earning more than $1,000 per year) | Yes |
| Seasonal | No |
| Independent contractor | No |
| Employed fewer than 120 days per year | No |
As this law was signed into effect in January 2021, it excludes any workers subject to a collective bargaining agreement until expiration.
Valid Sick Leave Uses
Sick leave isn't only for when you have a back pain flare-up or the common cold. Given that MEPL is an all-encompassing paid leave law, you can also use it for:
Caring for an ill family member of legal next of kin
Attending a medical appointment
Vacation
Professional development
Sick Leave Allowances
MEPL allows workers to earn one hour of paid leave for every 40 hours worked, up to a maximum of forty hours per year. You must work for your employer for 120 days before you can begin using your sick days.
Sick Leave Requirements
You should give your boss as much notice as possible before an absence. That doesn't mean you should feel compelled to be sick at work because it occurred suddenly.
You do not need to provide any medical documentation if your leave is for three days or fewer.
Employer Obligations
A good employer will urge you not to come to work while sick. Medical experts know that doing so leads to several consequences:
Your illness will last longer
Your productivity will plummet
You will spread your illness to other staff members
Your employer may try to force you to continue working while sick. If you refuse and lose your job for doing so, keep in mind that you can sue them for wrongful termination. DoNotPay can help—our Small Claims Court product will guide you through the procedure.
Calling in Sick 101
Not sure how to call in sick? While you could call your boss, send them an email, or even submit a formal letter, doing so can be stressful. Even when you're sick and you know you have earned your time off, asking for an approved absence isn't always easy.
That's why you should use DoNotPay instead.
DoNotPay Will Help You Use the Time Off You've Earned
Our AI-powered app comes equipped with a Request Sick Leave product to help you formally access the sick leave you've accrued.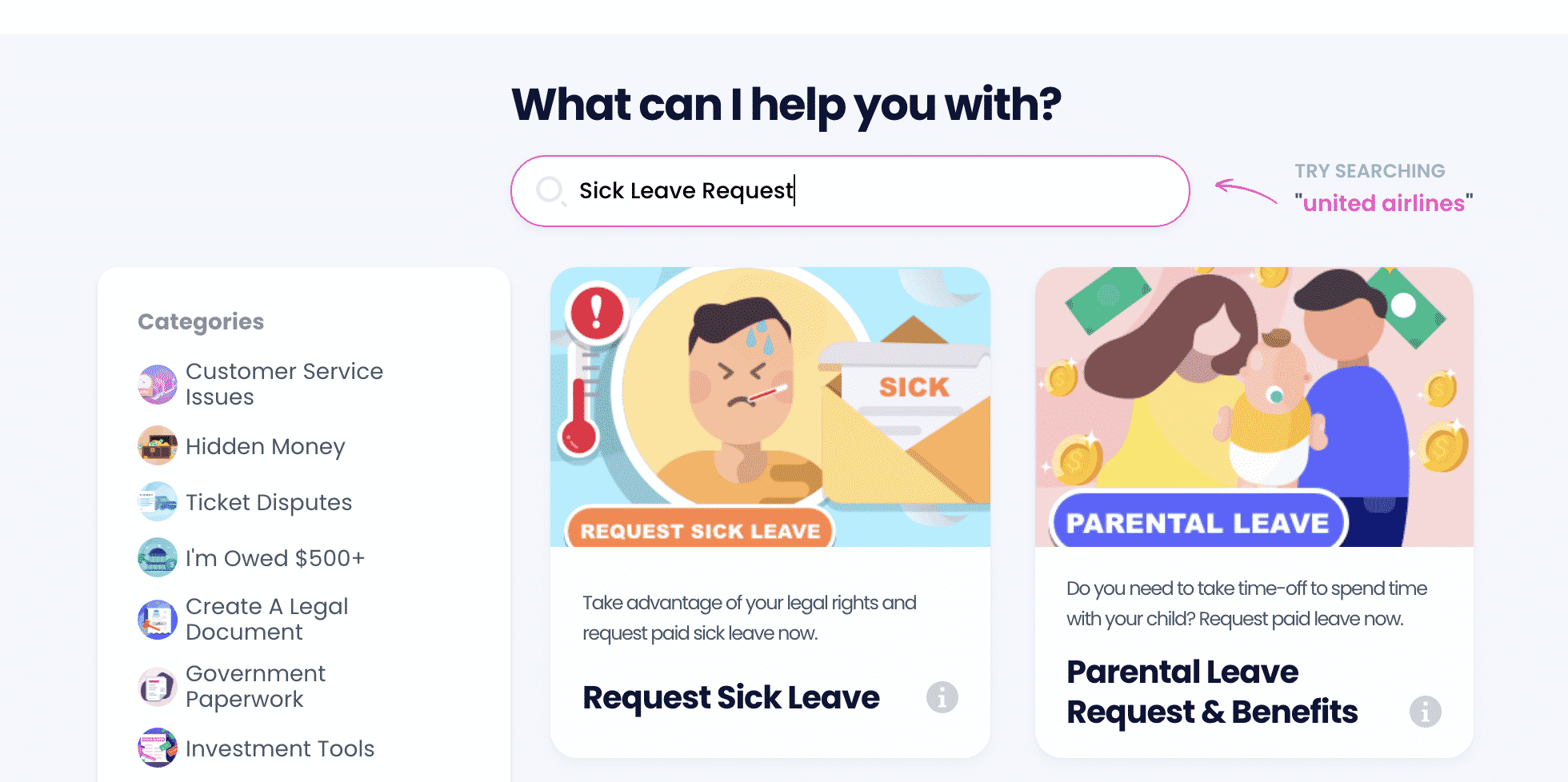 Here is how it works:
Select the Request Sick Leave product
Tell us about your job
Specify how long you will be away
Upload a photo of your doctor's note if necessary
Once complete, you can access your letter or have DoNotPay submit it to HR on your behalf.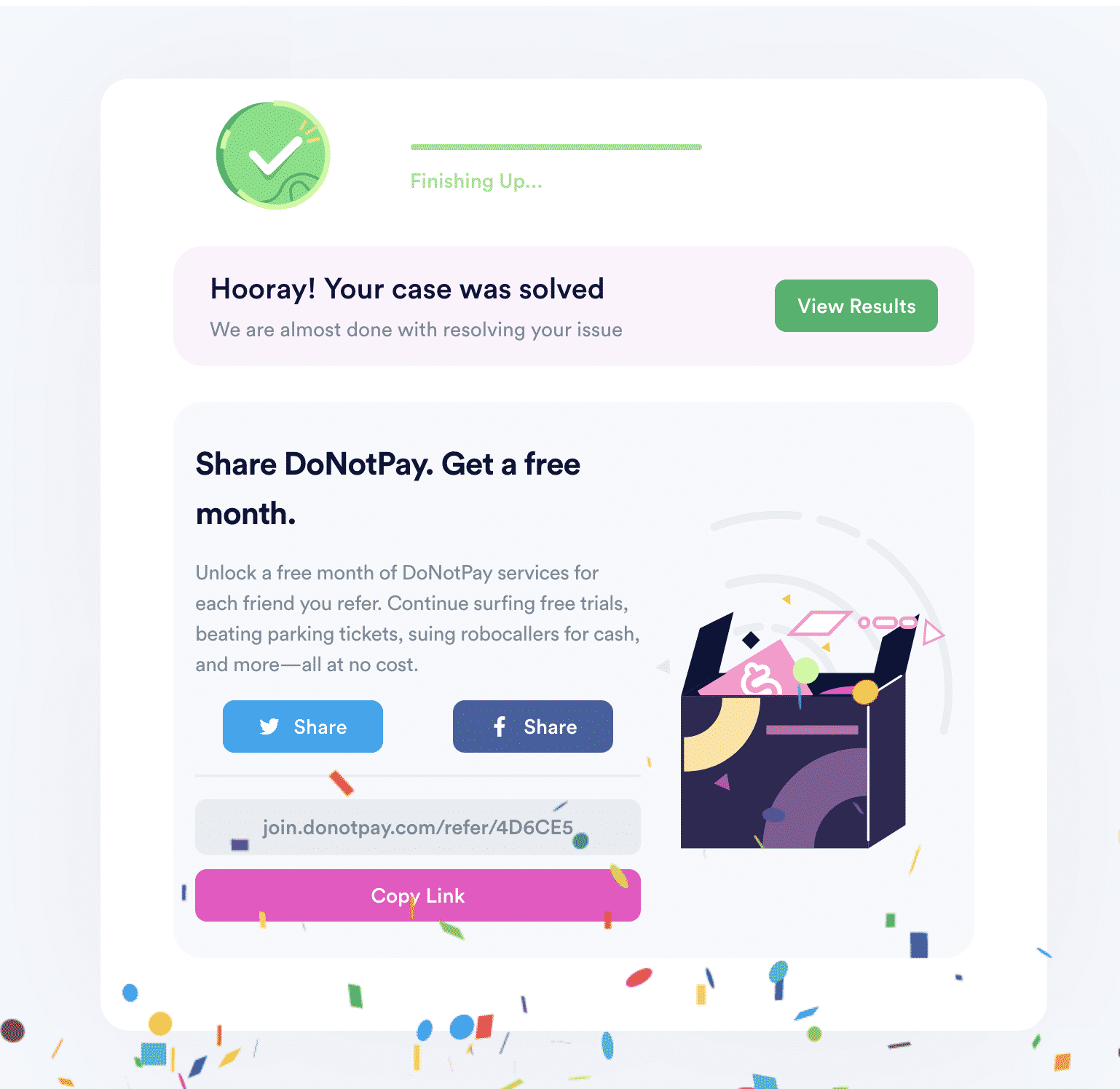 Get the Best Solutions for Everyday Tasks With Our App
DoNotPay has come up with multiple handy products whose purpose is to make your life simpler and more enjoyable! Don't hesitate to check out the features that will help you:
Complaints and Appeal Letters Have Never Been Easier To Draft With DoNotPay
Dissatisfied with a delivery? Use DoNotPay to file an item return request and get a refund from the merchant if the product didn't meet your expectations! We can also help you apply for a late delivery refund or help you claim your warranty or insurance if the product you purchased gets damaged or breaks down. Our multi-functional app also allows you to appeal potentially inaccurate property tax assessments, banned accounts, and seatbelt or parking tickets.
If you subscribe to our platform, you will have a chance to file anonymous HR complaints and prevent discrimination at work more effectively.