How To Call In Sick With Food Poisoning—A Foolproof Guide
Food poisoning is not something to joke around with, and you'd be within your rights to want time off work. If you're not careful, food poisoning can lead to many problems of the digestive tract and other severe consequences. That's why this guide is here to show you how to call in sick with food poisoning.
Register for DoNotPay—our app can help you:
Learn how to take sick days off from work if you're feeling unwell
Compose a leave request letter with our Request Sick Leave product
Sue your boss for damages if they fire you for taking sick leave!
Sick Leave Laws—What You Should Know When Calling In Sick
The U.S. doesn't have federal laws that regulate how many sick days employers should provide to their employees. Only 15 states and DC abide by the Family and Medical Leave Act (FMLA)—which mandates that employers provide unpaid sick leave to their employees. These states are:
Arizona
Colorado
California
Connecticut
Maryland
Massachusetts
Maine
Oregon
Michigan
Nevada
New York
New Jersey
Rhode Island
Vermont
Washington
Washington D.C.
In other cases, the number of sick leave days is determined by:
Family and Medical Leave Act—How Does It Work?
Provided that you live in a state that has adopted the Family and Medical Leave Act (FMLA), your employer is obliged to provide you with sick leave under these conditions:
The company you're working for has 50 or more employees in a 50-mile radius
You've worked at least 1250 hours before requesting time off
You've been employed at the company for at least 12 months
If you meet these criteria, you are entitled by law to a maximum of 12 weeks of unpaid time off.
You can call upon the FMLA in cases of:
Serious illness or injury
Illness or incapacity of a close family member
Childbirth and care for a newborn
Placement of a child for adoption
Calling In Sick With Food Poisoning—How Do You Initiate a Sick Leave Request?
No matter whether your state has adopted the FMLA, you still have the right to request sick leave from your employer. Working while sick can have adverse effects on both your health and the health and productivity of your colleagues.
You should first get informed about your company's specific sick leave policy by:
Reading about the terms and conditions of sick leave on your company's website
Contacting the company's human resources department
To submit your sick leave request, follow these guidelines:
Reach out to your manager via email or phone
Explain to them that you have food poisoning
Inquire about the number of sick days you have
State how you expect to be absent from work
Some employers may not take kindly to you taking time off, even if it's an emergency. If you want to create a comprehensive and convincing sick leave request letter that will ensure your rights are honored, DoNotPay is the way to go!
Let DoNotPay Help With Your Sick Leave Request
Don't let employers force you to work while sick. Use our AI-powered app, and we'll help you compose a professional leave request letter! Our Request Sick Leave product can assist you by:
Informing your employer about your illness
Specifying how long you'll be absent from the workplace
Calling upon any sick leave laws applicable in your state
Updating you on the progress of your request via email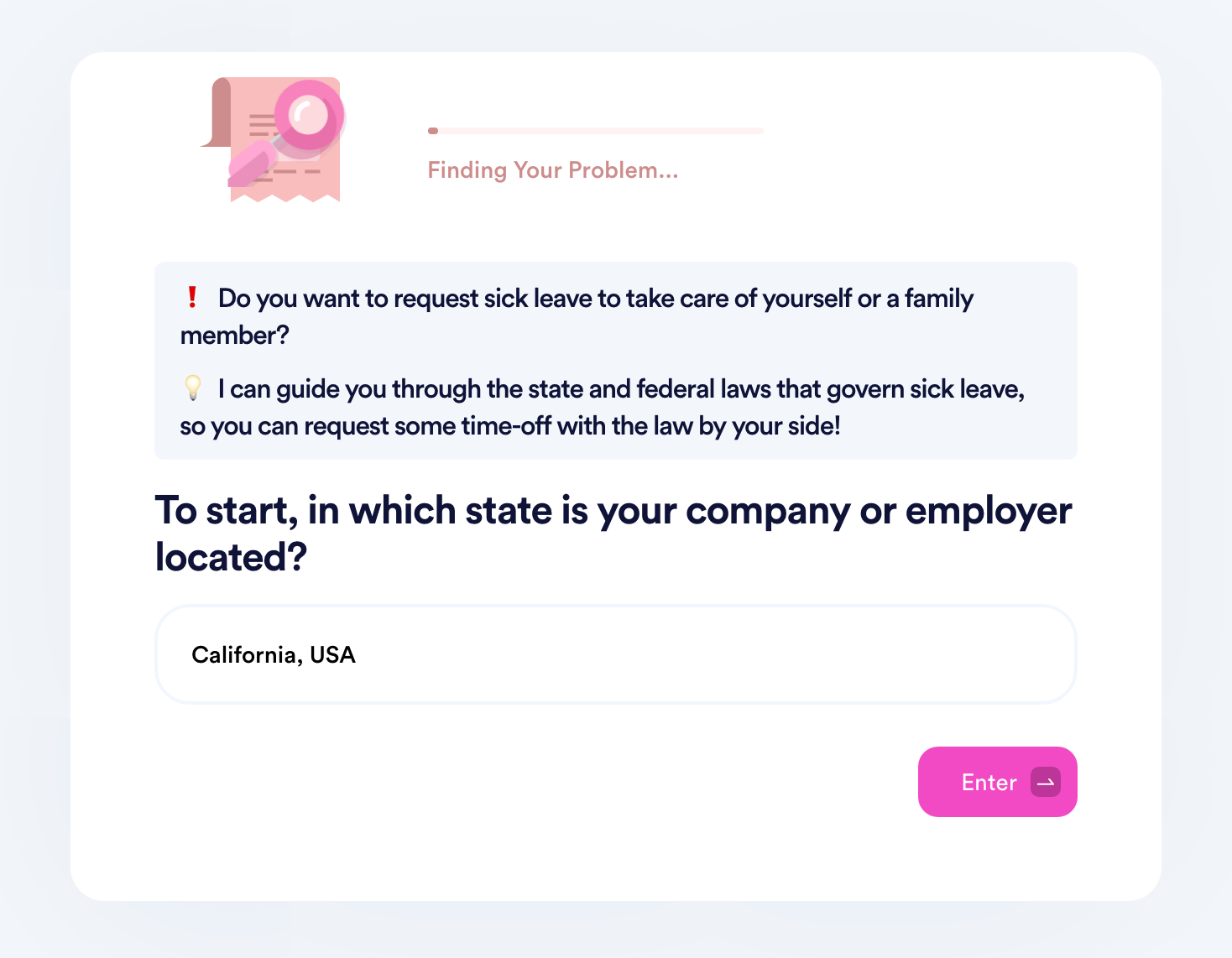 To request sick leave the easy way, follow these steps:
Pick the Request Sick Leave product
State the details about your company, and how long you'll be absent
Upload a doctor's note if you have it, and submit your request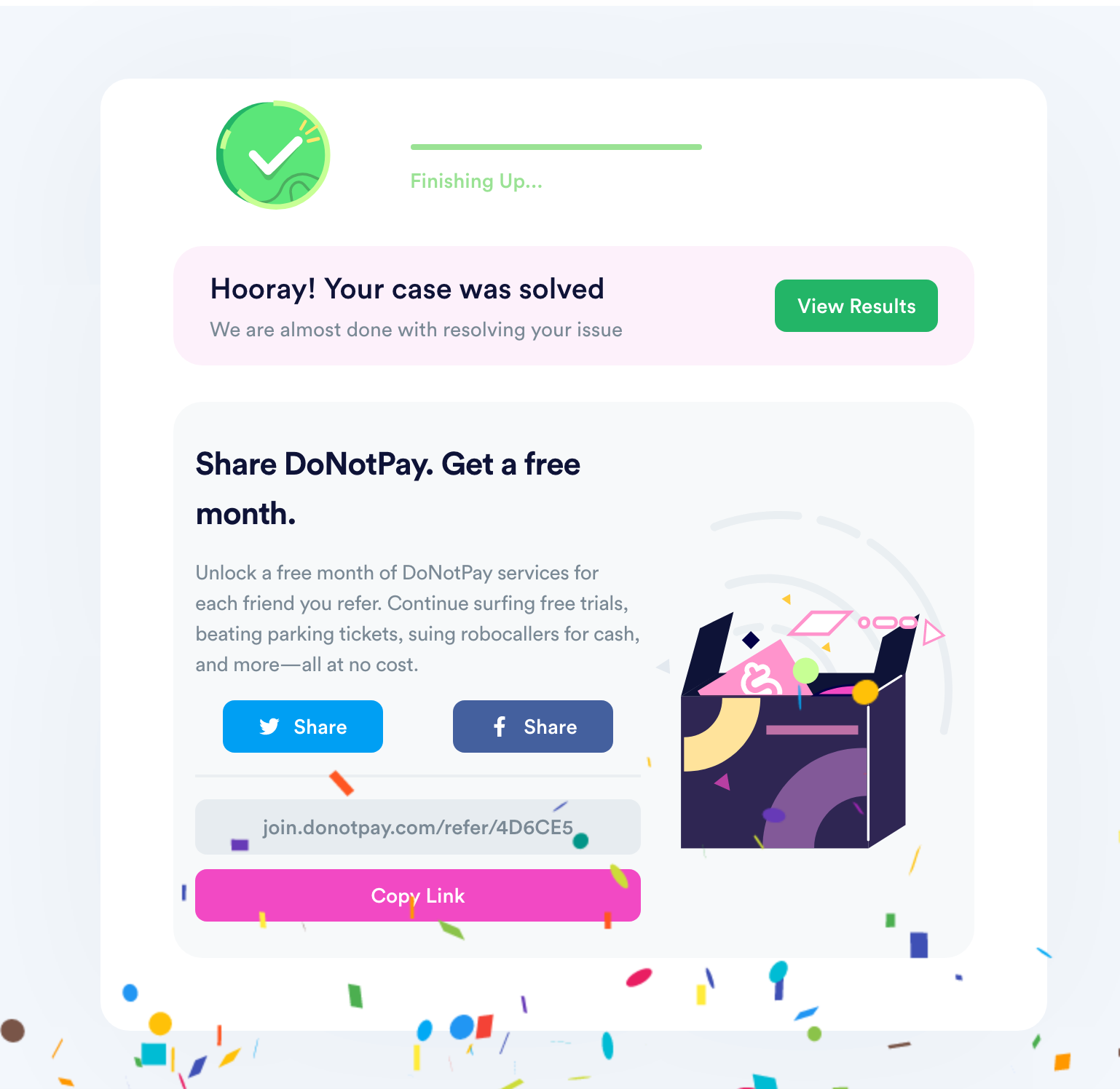 Interested in learning more about paid sick leave regulations during COVID-19? Check out our knowledge base and get informed on the Emergency Sick Leave Act.
If you want information on sick leave laws in specific states, browse through the following articles:
What Else Can DoNotPay Do for You?
Our vast collection of products simplifies various everyday tasks, including:
Various mailing issues by:
Applications for:
Traveling tasks, such as:
Appeals of:
Other tasks, such as:
Get More Money the Easy Way With DoNotPay
Is a tight budget a constant problem in your household? DoNotPay is here to reduce your expenses and help you get the money others owe you. Our app helps you get refunds from companies, find unclaimed money, cash out old gift cards, and terminate unused subscriptions in a jiffy!
You can also request violent crime compensation, demand chargebacks from airline companies, or claim your warranty or insurance without paperwork.