Everything You Need To Understand About the Plato's Closet Return Policy
Plato's Closet offers tons of high-quality secondhand goods to choose from, but you might not always find the perfect fit.
If you wonder how to return an unwanted purchase to Plato's Closet, you've come to the right place. Learn everything you need to know about the Plato's Closet return policy here and get your money back fast with DoNotPay's help!
The Plato's Closet Return Policy—Here's How It Works
If you'd like to return an item to Plato's Closet, you must do it within one week of purchase. Due to the pandemic, this return window is extended to two weeks after the store's reopening.
Most purchases are eligible for refunds. You can also get a refund if the item you ordered and paid for turns out to be out of stock. You will be notified via email if this happens.
Keep in mind that shipping costs are non-refundable.
The company will issue a refund to the original payment method within 2–3 business days of receiving your product, but this might vary depending on the store. For instance, some shops reimburse in the form of store credit, while others allow exchanges only.
Get in touch with your local Plato's Closet store to find out more, or send questions via email to pc-corporate-operations@platoscloset.com.
To qualify for a refund, the item in question must be in mint condition and have its tags attached. You must also provide the original receipt as proof of purchase.
Products from the following categories are non-returnable:
Clearance sale items (exchange only)
Final sale items
Accessories
Shoes
If your return request gets rejected, you should consider selling your item back to the store. The profit you get from the resell might not cover the original cost of purchase, though. Plato's Closet may also refuse to buy the item, especially if it was purchased from a different Plato's Closet branch.
The Plato's Closet Return Policy—How To Return Goods to Plato's Closet
You can return your Plato's Closet items only in person regardless of whether you purchased them online or in store. The process is fairly straightforward. Here's what you should do:
Carefully wash the items you've worn (if any)
Place the items in their original packaging and include the tags
Visit the Plato's Closet location where you purchased the items or the nearest one in your area
Approach a cashier to return the goods
The salesperson will inspect your goods to see if they qualify for a refund. This process typically doesn't take long unless the store is busy.
Need Help Returning Items to Other Stores? Sign Up for DoNotPay and Send Your Request in a Jiffy!
While Platos' Closet accepts only in-store returns, most other companies allow you to send your items via mail, which can be convenient if you'd like to avoid going to the store. Since most stores have a return policy that isn't very intuitive, the process of returning items can be a hassle.
If you wish to return purchases to other retailers, but you're not sure how to do it, or you don't want to waste time navigating their return policies, you can rely on DoNotPay.
With our app, you can deal with returns in just a few clicks, as follows:
Type Return My Purchase in the search bar
Give the app some information regarding your order
Submit the letter with your electronic signature
In just a few minutes, we will generate and send a personalized return request letter that explains the reason for your return and the solution you expect. Need a shipping label to mail your items? DoNotPay provides one free of charge!
Check out the table below to see some of the retailers DoNotPay can help you with: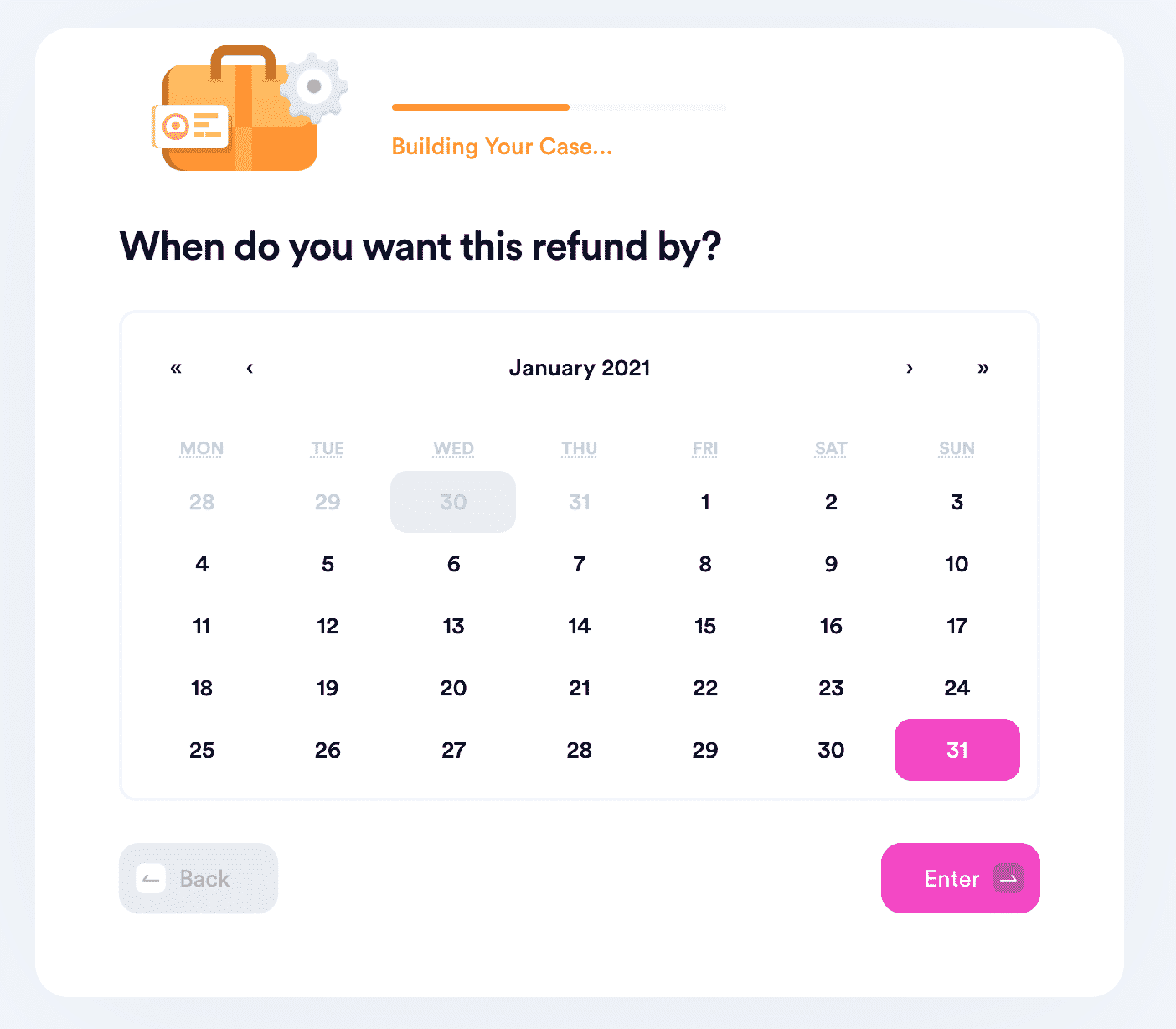 Demand a Refund for an Unwanted Plato's Closet or Any Other Company's Item With DoNotPay
What should you do if you don't get a refund although your goods are eligible for one? You can use DoNotPay to send a refund request fast! This is how to do it:
Find the Chargeback Instantly product
Select Get Protected
Answer a few questions and proceed with Sign and Submit.
Has Plato's Closet Wronged You? Sue It in Small Claims Court With DoNotPay's Help!
If you have problems with Plato's Closet and would like to escalate the matter, you can bring it to a small claims court. Are you worried about the expensive lawyer's fees? No problem—you can rely on DoNotPay and handle the issue without wasting an unreasonable amount of money.
As the first robot lawyer recognized by the American Bar Association, you can trust DoNotPay with a variety of tasks, including:
Writing a demand letter
Filling out all court forms
Gathering the essential documents
Lodging your complaints
Creating a script with the most compelling argumentation to use in court
Sick of Dealing With Companies? We'll Take Over
Companies that don't respect your consumer rights are the reason why DoNotPay exists—our range of AI-powered products is here to help you fight for justice.
If you want to demand a refund for a rescheduled flight, cancel your free trial using our virtual credit card, sue any company or individual in small claims court, appeal your parking tickets, protect your work from copycats, claim warranty and insurance, rely on your AI-driven personal assistant.
Don't want to pay sky-high lawyer fees for simple legal tasks? You shouldn't—use DoNotPay to draw up any legal document, including a child travel consent form, divorce settlement agreement, power of attorney, and many more.
Complete All Tasks From the Comfort of Your Home
As soon as you subscribe to our versatile app, you'll be able to do all of the following without leaving your home: