What To Do When You Need a Notary Public in Salem, Oregon
If your document requires a notary signature, you should start looking for a notary as soon as you can. Luckily, you no longer have to visit a notary public in Salem, Oregon, to have documents notarized. There are various other options we'll break down in this article. To notarize your document now, and get everything done quickly.
What Does a
Notary
in
Salem, Oregon
Do?
The Oregon Secretary of State, Corporation Division—which is located in Salem—issues notary public commissions. Oregon notaries must physically be in Oregon to be allowed to notarize documents.
Notaries in Salem and across Oregon can provide these notarial acts:
Take an

acknowledgment

Take a verification upon an oath or affirmation

Administer an oath or affirmation for

affidavits

or other documents

Witness or attest a signature

Certify a

copy

of a document

Protesting commercial paper
Different Notary Services Explained
There are several types of notaries, depending on the notary service they provide. You can pick:
Except for notary signing agents, who differ from other notaries, the typical notary service consists of the following:
Checking your ID or another acceptable form of identification

Asking several questions to verify your identity

Looking for signs of fraud or coercion

Ensuring you are of sound mind

Witnessing your signing of the document

Signing

and stamping the document
Understanding Oregon Notary Fees
Oregon Secretary of State imposes a limit on the fees notaries can charge. Every notarial act can cost no more than $10. Notaries must inform the clients of their fees beforehand. They can do so by displaying a fee list in a visible location or providing a copy of this list to their prospective clients.
In addition to the notary fees, notaries can charge extra for travel expenses and administrative tasks.
Is Online Notarization Permitted in Oregon?
Remote online notarization (RON) was signed into law in Oregon in June 2020. As opposed to some states that have implemented RON permanently, Oregon will allow it only until the end of July 2021.
Notaries who wish to notarize documents online need to meet certain requirements, including:
Completing the required training to become

online notaries

Choosing a vendor of the state-approved audio-visual technology to perform RON

Notifying the Secretary of State that they will notarize online

Obtaining electronic signature and seal
After July 2021, in case Oregon doesn't prolong the period when RON is allowed, you can hire an out-of-state online notary.
DoNotPay—Easy-Breezy Online Notarization
Whenever you need a document notarized, you can count on DoNotPay, as we will provide you with an online notary from a state that allows RON at that moment. No need to check the Oregon state regulations or look for an out-of-state notary on your own—we've got it covered!
and get your document notarized while you relax at home. Here's what you need to do:
Navigate to the

Notarize Any Document

product

Upload the document that needs to be notarized

Enter your email address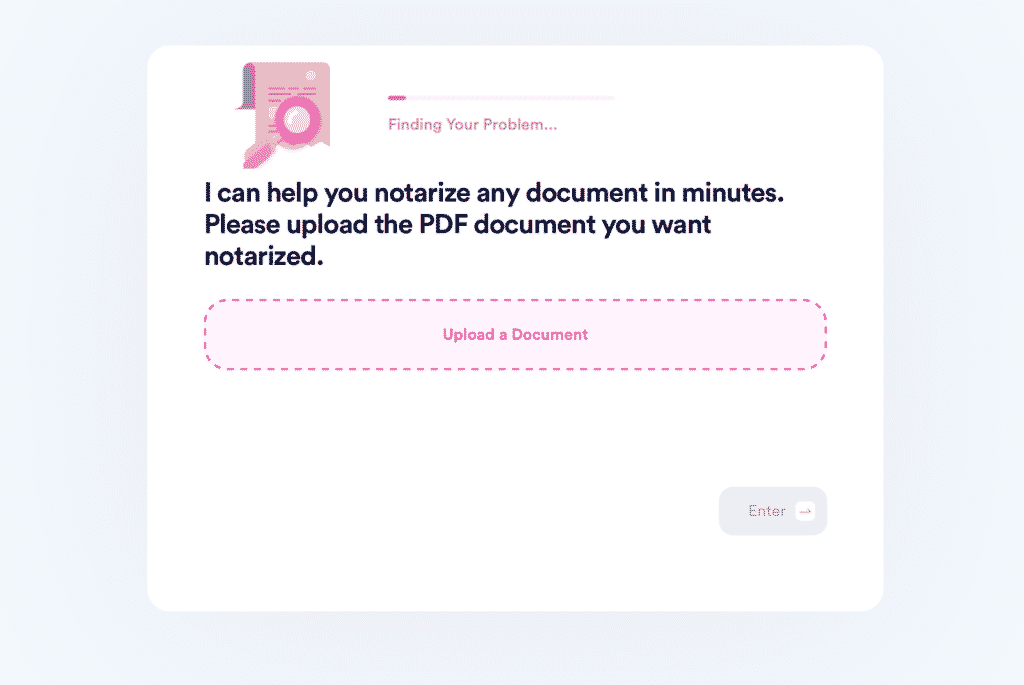 You'll receive an email with a link. Open it, choose the date and time, and confirm the appointment with your online notary. Remember to have your ID with you, a working webcam, and a stable internet connection.
Two-in-One—Use DoNotPay To Draft and Notarize Documents
Handling legal documents can be overwhelming and time-consuming. This is why DoNotPay strives to cut the time and effort you need to fax, draft, and notarize documents.
Thanks to our Standardized Legal Documents tool, you can use our app to create the following contracts and agreements:
Business documents

Non-Disclosure Agreement

LLC Operating Agreement

Bill of Sale

General Business Contract

Non-Compete Agreement

Independent Contractor Agreement

Real estate documents

Intent To Purchase Real Estate

Residential

Lease Agreement

Quitclaim Deed

Estoppel Certificate

Miscellaneous documents

Prenuptial Agreement

General Affidavit

Parenting Plan (Child Custody Agreement)

Child Care Authorization Form

Promissory Note
Learn More About Notarization With Our Help
If we haven't answered all of your notary-related questions, you can check out the numerous articles in our learning center covering notarization in general, as well as how notarization works across the U.S.
Here are some of our insightful notary articles:
General Questions
Notarization in Different States

Missouri

Ohio

Massachusetts
Admin Issues Giving You a Headache? Resolve Them With DoNotPay!
Scheduling a DMV appointment, applying for clinical trials, requesting refunds from companies, and getting in touch with your loved ones in prison are all difficult and time-consuming tasks. You have to take many steps before you can get any of these over with, and that's why our robot lawyer app is here to help.
No matter if you need assistance with appealing parking tickets, signing up for free trials, canceling various subscription services, or maybe preparing for government tests, DoNotPay will provide you with easy solutions.
Having Financial Struggles? Rely on the World's First Robot Lawyer
Many Americans struggle to make their ends meet at the end of each month. With that in mind, we've created plenty of features that will save you both time and money in the most efficient way.
Using our AI-driven app, you can get help with bills, get refunds from airlines, find unclaimed money in any state, or earn off annoying robocalls or stalkers and harassers. If you want to fight for your right, DoNotPay will also assist you in suing any person or company in small claims court.
No matter the admin task at hand, our robot lawyer will provide swift and effective assistance.