A Guide to Finding a Notary Public in Portland, Oregon
Notarization is a necessary but burdensome procedure, partially because it takes a lot of time to choose a notary that can make your documents legally binding.
If finding a notary public in Portland, Oregon is a difficult task for you, we've got you covered! This guide will show you how to set a virtual meeting with your local notary and notarize your documents from any location!
What Documents Can You Notarize in Portland?
The list of the legal documents you can notarize in Portland includes:
Deeds

Estate trusts

Loan documents

Litigation paperwork

Patent assignments

Property ownership transfer

Authorizations for a minor to travel
How Much Does It Cost To Notarize a Document in Portland?
Oregon proposes specific notary costs that apply to all parts of the state, including Portland. Some of them are listed in the table below:
| | |
| --- | --- |
| Notary Service | Costs |
| Mobile zones #1–5 | From $45 to 85 for up to four copies |
| Estate document with a single signer | $85 |
| Estate document with two signers | $100 |
| Extra signatures | $5 per signature |
| Notary acknowledgment | $10 |
| Witnessing a signature | $10 |
| Affirmation or verification of oath | $10 |
| Notarized copy | $10 |
| Protesting commercial paper | $10 |
| Administering oath | $10 |
| Printing and shipping | Negotiable |
How To Search for a
Notary Public in Portland
on Your Own
Since Oregon doesn't have an official search tool for notaries, you can use some of the following methods:
What Does a Standard Notarization Process Look Like in Portland?
What makes regular notarization difficult is the complicated procedure. It usually requires going to a notary office, except when you choose mobile or online services. If so, you can meet with an official at your preferred location or schedule a virtual meeting.
The notarization procedure in Portland includes the following phases:
Looking for a convenient notary

in your vicinity

Booking an appointment with the chosen official

Paying notary fees

Providing a valid identification document, such as an ID, passport, or driver's license

Having your document revised—the notary must check it for blank spaces, incomplete information, or missing pages. They can refuse to notarize your document if:

You are signing it because someone forced you to do it

You seem like you are under the influence of drugs, medications, or alcohol

The identification document you provided isn't valid

They notice any unclear or ambiguous sections

The provisions in your document don't align with Oregon laws

Signing the document in the presence of the notary

Obtaining the

notary's signature

and seal
In case you forget an ID or make a mistake while composing your document, the notary won't be able to notarize it. This means you will waste your time repeating the procedure until all criteria match, which can be stressful and frustrating.
If you prefer to avoid these difficulties, turn to DoNotPay and have your documents notarized hassle-free!
Can DoNotPay Help You Find a Notary?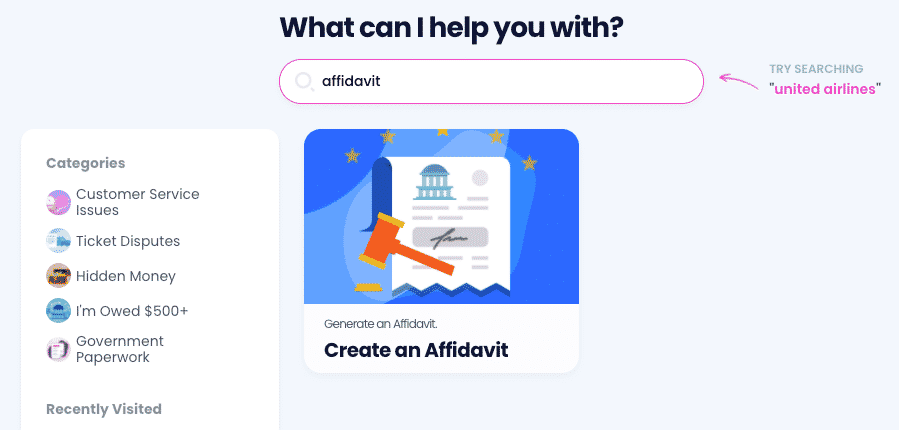 If you don't have time to comb through each Oregon or Portland notary database, our service can do it for you! DoNotPay helps you set a video appointment with a Portland notary quickly and notarize your will, lease, advance directive, or any other document virtually.
Note that remote online notarization in Oregon is currently allowed only until July 2021, which is why you should check its availability before you proceed further.
To use this tool, follow these simple steps:
in your preferred web browser

Navigate to the

Notarize Any Document

service

Attach the contract you want to have notarized

Enter your email address so that we can send you a link to set your meeting with a notary
The best part about our service is that it won't cost you an arm and a leg like many other online notary apps. By paying a low monthly fee, you gain access to this and many other DoNotPay's features!
We help you schedule appointments with notaries and notarize legal documents in any part of the USA, including:
Create Your Contracts With DoNotPay's Customizable Templates
Many people struggle with drafting legal documents since they don't understand legal terms and aren't proficient in writing contracts. This is where DoNotPay enters the scene!
Avoid spending a fortune on attorneys and draw up numerous documents by modifying our standardized legal templates.
The procedure is simple—all you need to do is:
in your preferred web browser

Type the name of the particular contract in the search box

Tell us what you want to include in your document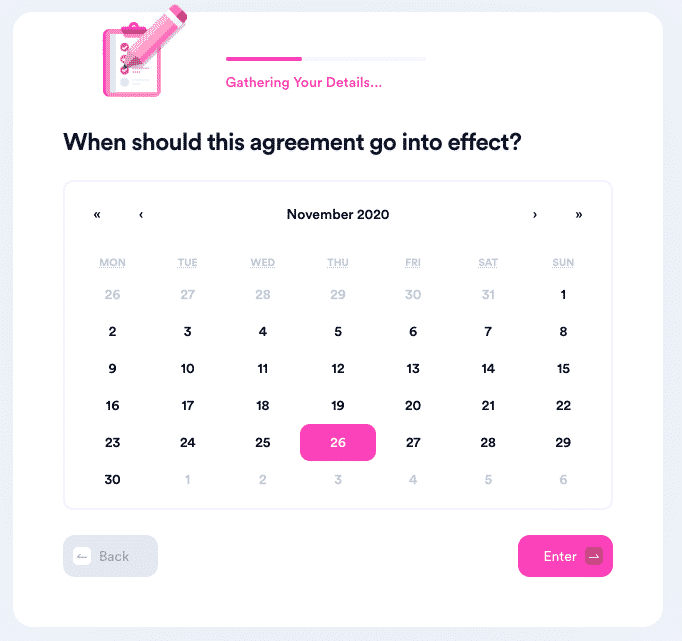 After submitting your details, we create a valid agreement you can sign and notarize using our Notarize Any Document feature.
The following table shows all document templates we offer and some useful contract-related guides from our learning base:
We Can Generate
We Can Educate You On

Child Care Authorization Form

Non-Compete Agreement

Promissory Note

Independent Contractor Agreement

LLC Operating Agreement

Quitclaim Deed

Residential Lease Agreement

Non-Disclosure Agreement

General Business Contract

Bill of Sale

Parenting Plan (Child Custody Agreement)

Estoppel Certificate

Prenuptial Agreement

Intent To Purchase Real Estate

General Affidavit

Mobile Home Purchase Agreements

Finders Fee Agreements

Equipment Rental Agreements

Business Associate Agreements

Lease Purchase Agreements

Settlement Agreements

Joint Venture Agreements

Buyer Representation Agreements

Asset Purchase Agreements
DoNotPay Offers a Variety of Services
DoNotPay is the ultimate virtual assistant that takes over all those annoying tasks you don't want to deal with!
Need to schedule your DMV appointment? Want to get your college fees waived? Have to draft a legal doc quickly?
We can do all that and much more!
Our app waits on the phone line with customer service of any company for you, reports robocalls, and helps you file lawsuits in small claims court.
We can also help you deal with your parking tickets, get rid of spam emails and texts, or find and sign up for reputable clinical trials!
Keep Your Money in Check With DoNotPay
How often do you sign up for a free trial and then forget to cancel it before it expires? Unexpected charges are the worst, but you can prevent them if you use our free trial card. DoNotPay's virtual credit card is not connected to your bank account, which means that no money can be taken from it.
We can also help you get refunds for unsatisfactory purchases or compensation from airlines for delayed or canceled flights.
In case you are struggling with warranty claims, bill payments, insurance, or tax reduction, DoNotPay can solve these issues as well.
Our app also has the largest database of unclaimed assets in the United States, so you can find and claim your lost funds quickly.