How To Get Documents Notarized Without a Visit to a Notary in Bend, Oregon
Notarizing documents can be stressful for many people because it's a complicated process that involves scheduling appointments, visiting offices, and paying notary fees. If you need to find a notary in Bend, Oregon, we can help!
DoNotPay is the platform that can help you get a document notarized, be it a will, trust, affidavit, car title, copy of a high school diploma, or anything else. If you , we'll solve this bureaucratic issue for you in no time.
What Does a Notary Public in Bend, Oregon, Do?
The state of Oregon authorizes the notaries public to perform the following notarial acts:
Take

acknowledgments

Witness the signing of a document

Administer oaths and affirmations

Identify the signers

Take verifications upon oaths and affirmations

Verify signatures

Sign

and put a stamp on documents
How To Find a Notary Public in Bend, Oregon
There are a few ways you can search for a notary public in Bend, Oregon:
Using specialized platforms

Checking with local businesses and institutions for in-house notaries

Performing Google search
Specialized Online Platforms for Finding Notaries
You can use different platforms for locating notaries in Bend, Oregon. They are:
Local Businesses and Institutions That Offer Notary Services
Many people aren't familiar with the fact that several businesses and institutions have notaries on their staff. You can try finding a notary in:
What Do Google Search Results Show?
Some of the Bend notaries you can find by searching Google are listed in the table below:
| | | |
| --- | --- | --- |
| Notary Public | Address | Contact Information |
| Postal Connections-East Bend | 2660 US-20 #610, Bend, OR 97701 | 541-382-1800 |
| Central Oregon Notary | N/A | 541-241-3959 |
| Deschutes Mobile Notary | N/A | 541-550-9373 |
| Jiffy Mobile Notary & Loan Signing Agents | 61470 Duncan Ln #1, Bend, OR 97702 | 541-797-6635 |
| Cascade Notary Services | N/A | 360-798-9030 |
| The UPS Store | 740 NE 3rd St Ste 3, Bend, OR 97701 | 541-385-1130 |
The businesses that show no address usually offer mobile notary services only. It's best you call them for more information.
Can a Notary Public in Bend, Oregon, Notarize Your Documents Online?
Remote online notarization (RON) is allowed in Oregon through July 2021. This means that a commissioned notary in Bend can notarize your documents online via a live audio-video call on specialized platforms for online notarization. The notary must go through remote online notarization training first and be present in Oregon when performing notarial acts.
The current law also allows notaries from other states to notarize documents for citizens of Oregon.
The maximum notary fee that an online notary in Oregon can charge you is $25.
DoNotPay Is a Sure Way to a Quick and Effortless Online Notarization
The best way to find reliable online notary services is via DoNotPay. With our platform, you'll avoid in-person notarization and hefty fees that mobile notaries charge.
All you need to do is and follow the steps below:
Find

Notarize Any Document

product

Upload your file that you want notarized

Type in your email address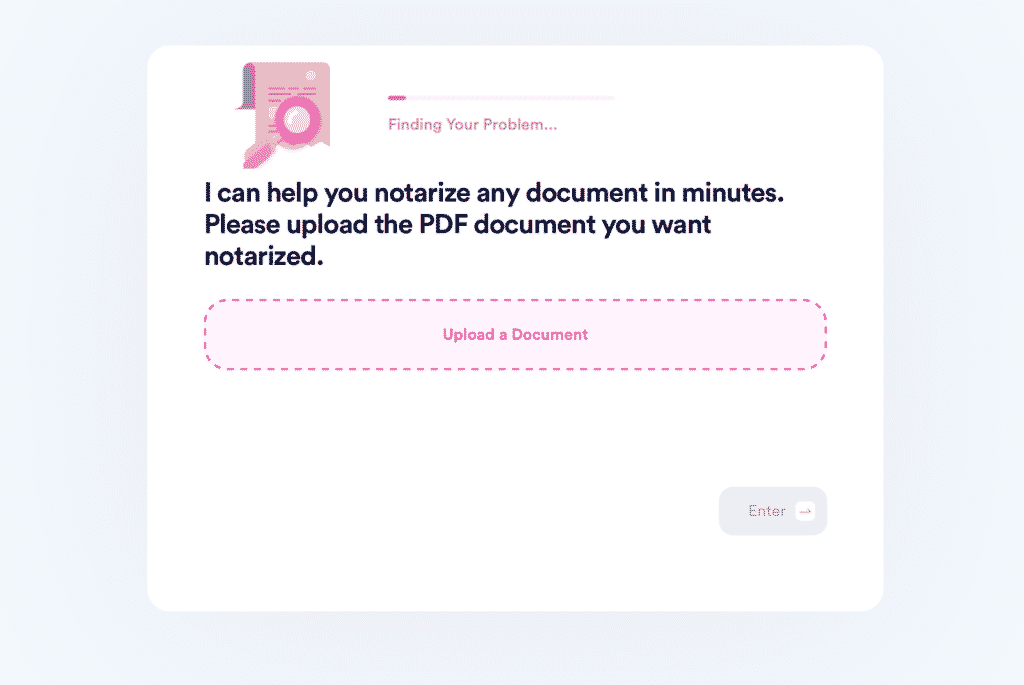 DoNotPay will send you a link that will take you to a page for scheduling an appointment with an online notary. During your appointment, the notary will examine your ID and witness the signing of your document. Three little clicks—that's all it takes!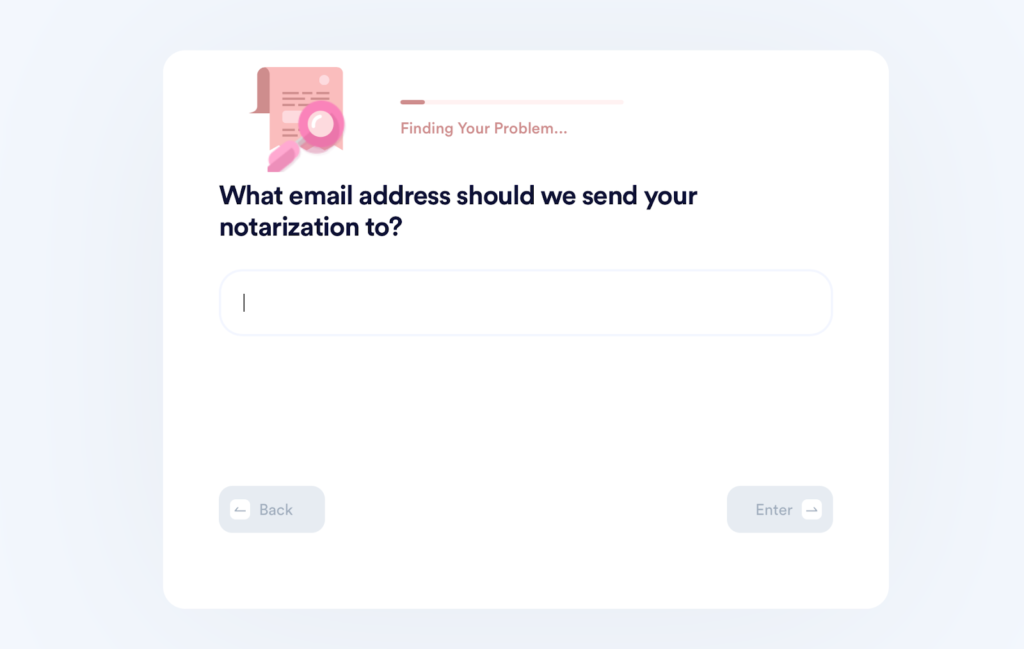 Find Out More About the Notarization Process With DoNotPay's Help
Do you have more questions? We have answers! Our ever-growing learning center will come in handy when you're looking for additional information about confusing notarization processes.
Here are just some of the questions DoNotPay has answers to:
If You Don't Have a Legal Document Yet, DoNotPay Can Help!
Our tool for drafting legal documents goes hand in hand with our Notarize Any Document product. If you don't want to spend a small fortune on attorneys, you can check out our list of currently available document templates:
Non-Disclosure Agreement

Bill of Sale

Independent Contractor Agreement

LLC Operating Rules Document

General Business Contract

Non-Compete Agreement

Quitclaim Deed

Lease Agreement

Estoppel Certificate

Intent To Purchase Real Estate

Prenuptial Agreement

Promissory Note

Parenting Plan

General Affidavit

Child Care Authorization Form
We're constantly updating this list, but if you don't find the contract template you need here, you can learn how to create other legal documents by yourself in DoNotPay's learning center.
Use DoNotPay's Features to Your Advantage!
DoNotPay offers a myriad of helpful services you can use to resolve your everyday hurdles.
Do you need help paying bills or finding and claiming missing money? Are you interested in applying for clinical trials in your area? We can help you solve these and many more issues in no time!
Here are some other problems you can handle effortlessly with our help:
Hiring a Lawyer Can Cost a Small Fortune—Rely on DoNotPay Instead
If you're on a tight budget and can't pay a lawyer to help you create legal documents, file a claim in small claims court, or handle stalking and harassment, DoNotPay has a solution for you.
Our app will help you create various documents, including child travel consent forms and complaint letters for a problematic neighbor.
Are you a victim of a crime and need help applying for reimbursement of your crime-related expenses? You can sign up for DoNotPay and allow us to handle your crime victims compensation on your behalf.
DoNotPay can also connect you with an online notary and enable you to get your documents notarized from the comfort of your home.