No Need To Pay a Visit to a Notary Public in Omaha
Do you tend to go to a notary's office every time you need to get your documents notarized? No need for that any longer!
if you would like to avoid searching for notaries, driving to their offices, and meeting them face-to-face. We will connect you with a notary public in Omaha or any other city or state quickly. Your only task is to pick a suitable time and show up for your remote online appointment.
What Can a Notary Public in Omaha Do?
A certified notary public in Omaha can notarize wills, trusts, real estate deeds, contracts, or other legal documents. Notaries can also perform the following:
Take:

Issue summons

Execute protests

Administer oaths and affirmations
How Much Can a Notary in Omaha Charge?
The state of Nebraska—like some other U.S. states—sets maximum amounts for notary fees. Here is a review of prices you can expect:
Notary Service

Maximum Notary Fee

Protest

$1

Jurat

Notice of protest

Taking an

affidavit

Recording a protest

Administering an oath or affirmation

$2

Acknowledgment

$5

Remote online notarization

(RON)

$25 for RON

An above-listed fee for the performed notarial act
Mobile notaries charge extra for their travel and time, but even these rates cannot be higher than those set by the Nebraska Department of Administrative Services. To avoid unpleasant surprises, you should inquire about mobile notary fees once you get in touch with the notary.
Want To Look for a Notary in Omaha by Yourself?
If you would like to search for a notary public on your own, you could start looking at public places near you, such as:
Law offices

Courthouses

Credit unions

Public libraries

Stores, such as

AAA

Financial institutions

Postal and shipping providers, including

UPS

Some

banks

, such as

Bank of America

or

Wells Fargo
As some of these businesses keep a notary public on their staff, you might get your documents notarized there free of charge if you are their customer.
If you prefer using the internet for your search, the following websites can be useful:
Notary Public in Omaha—Choose a Suitable Type
You can choose one of the following notary types to get your documents notarized:
Notary Public
Explanation

Regular notary

These notaries public work:

In companies

In independent offices

It might take you some time to meet with a regular, in-office notary as you will first have to:

Look for a notary

Ask about the

notary fees

Set up an appointment

Collect the necessary documents

Take a current ID document

Head to the notary's office at the agreed time

Electronic notary

E-notaries also require you to visit them at their offices to get your documents notarized. The only difference between an electronic and regular notary is that an e-notary will notarize documents in electronic form, e.g., Microsoft Word or PDF files

Mobile notary

While mobile notaries provide the same

notary services

as the in-office ones, they will meet with you at a suitable location, including:

Your office

Restaurant

Hotel

Hospital

Your home

Hiring a mobile notary can be practical if you would like to:

Avoid visiting a notary's office

Organize for an elderly or disabled person to sign a document

Keep in mind that you will end up paying more for this service since mobile notaries charge for their travel and time

Online notary

Online notaries perform all notarial acts and provide the

notary signature

:

At top speed

Remotely via a live audio-video call
to connect with an online notary quickly and get your documents notarized safely from the comfort of your home.
Trustworthy Remote Online Notary Service
DoNotPay strives to invent and design new tools to deal with burdensome administrative issues.
If you prefer spending your time and energy on something more valuable than looking for, contacting, and visiting a notary, we can take care of all these dreary issues for you!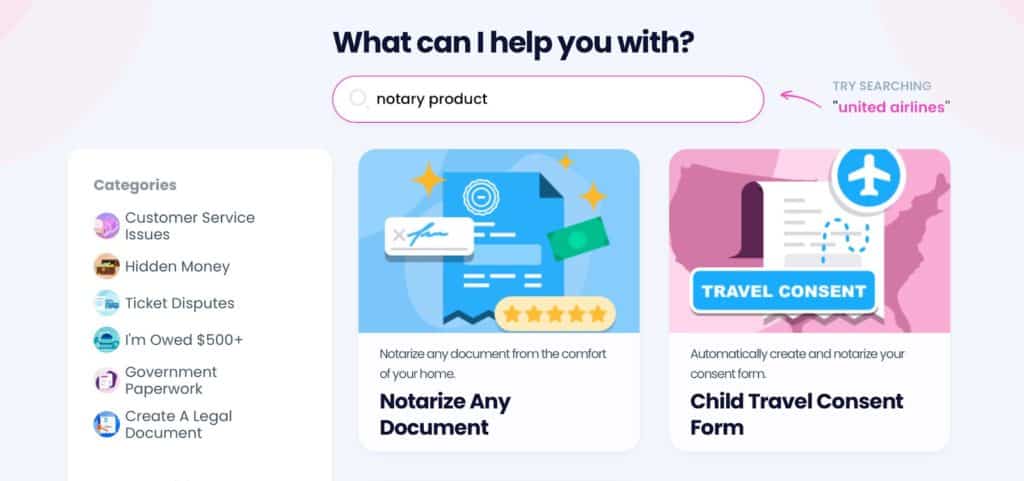 Not only can our app save you time, but it can also:
Connect you with a

notary who works 24/7

, so you can get your documents notarized at night, during holidays, weekends, or any time that suits you

Help you avoid health risks—particularly

in pandemic times

—as you do not need to meet with a notary public physically
Three-Step Notary Prompt Connection
DoNotPay's notarization process is quick, smooth, and effective.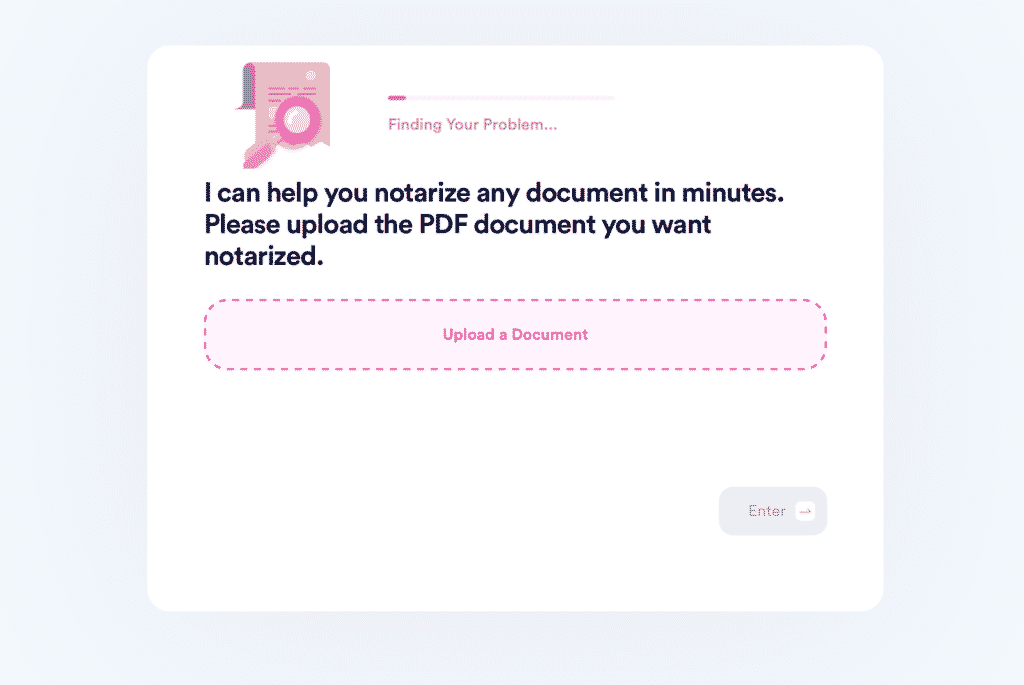 To get your documents notarized without a hitch, and go through these brief steps:
Select the

Notarize Any Document

feature

Upload the document you need to get notarized

Provide your email address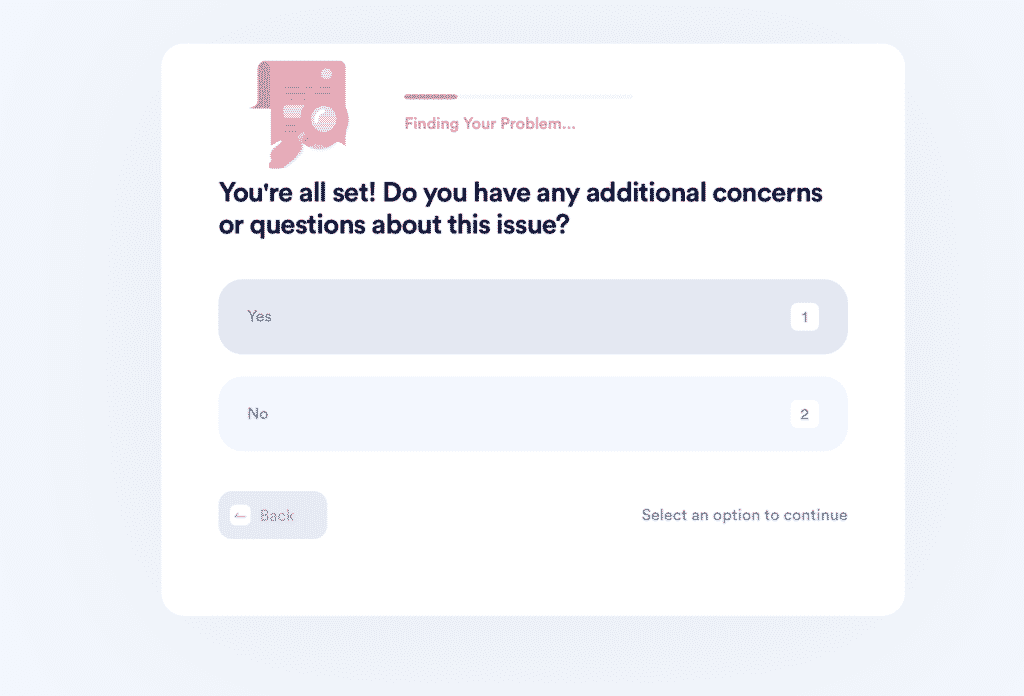 DoNotPay will email you a link that directs you to a notary's schedule to pick an appointment time.
You can get your documents notarized from any place. Our remote online notarization is available across the USA, including the following states:
Tennessee

Idaho

Ohio

Missouri
DoNotPay Helps You Deal With Various Problems Worry-Free
DoNotPay has developed a wide variety of products you can use to manage numerous tasks.
Do you want to get a refund from a company? Are you wondering whether you can request compensation from airlines for poor Wi-Fi or canceled flights? Is hiring a lawyer to draw up legal documents too expensive for you? Sign up for DoNotPay and solve your issues in a matter of minutes!
Use our AI-powered app to get rid of robocalls, spam emails, and text messages.
Need help locating and canceling all your unused memberships? DoNotPay has a product for that too!
Prepare for your driving test using our Government Tests Prep feature and schedule a meeting with the DMV to take the test through the same app. We can even help you claim your car insurance or warranty and contest parking tickets in a flash!
Learn How To Protect Your Privacy With DoNotPay
Protecting your personal info online can be challenging but not impossible. The next time you come across a service that requires phone verification, make sure to use our Burner Phone product and have us generate a fake phone number you can use.
Our virtual credit card can help you sign up for free trials without having to disclose your name, email address, or credit card info.
Are you thinking about connecting with an inmate pen pal? Make sure to keep your real address a secret by relying on DoNotPay. Besides helping you send letters to inmates, we can also receive mail from the prison on your behalf, scan each letter, and send it to your email address.