Get Inspired at the North Carolina Homeschool Convention!
Homeschooling your child can become a treadmill of the same routine, activities, and lesson ideas.
Whether you are a newbie homeschooler or a teacher with years of experience, you may find yourself needing ideas or inspiration to give your child an education that is significantly better than traditional schooling.
Conventions are an opportunity to meet like-minded people, get new input, and check out innovations in the homeschooling world, and Thrive! North Carolinians for Home Education (NCHE) conference ranks among the best.
DoNotPay takes you through the benefits you can get from the North Carolina homeschool convention!
Why Is Homeschooling Such a Hot Topic?
Homeschooling your child means taking them out of the traditional school system to teach them yourself.
Parents who decide that homeschooling is the right choice do so for reasons of:
Whatever the reason for considering homeschooling, you are not alone—the number of homeschooled students is growing every year across the U.S.
The barriers to entry can be tough, though.
Depending on the state you live in, there may be any number of administrative hurdles to jump over and requirements to fulfill before you can start your homeschool.
Where better to find out how to get started in homeschooling than at a convention?
What Is the NC Homeschool Convention All About?
Thrive! The NCHE homeschool conference takes place every year in May in a convenient location in North Carolina.
The conference is designed to be a one-stop shop for all your homeschooling needs and aims to "Equip, Encourage, and Connect" anybody involved in homeschooling.
The event offers:
Speakers
Trade fair
Events for children
College fair
Workshops and breakout sessions
Speakers
The speakers at each annual conference are recognized experts in their field, and they include:
Education experts
Psychologists
Experienced homeschoolers
Faith-based experts
There is also ample opportunity to engage with the speakers on more informal terms.
Trade Fair
The trade fair features vendors and providers from across the range of homeschooling, such as:
Events for Children
The conference organizes fun activities for kids that allow you to get the most out of the program without having to worry about your children.
College Fair
Over 25 colleges and tertiary education institutions are represented at the college fair, meaning that you—and older students—can check out further education opportunities after graduation.
Workshops and Breakout Sessions
The conference program includes a raft of smaller workshops dealing with all aspects of homeschooling.
Workshop topics include sessions for:
Parents of preschoolers
Parents of gifted children
Homeschooling with a chronic illness
Multicultural homeschoolers
Homeschooling with a home business
Adoptive parents
New homeschoolers
Military families
There are usually also opportunities to learn about various curriculums, such as:
Breakout sessions also allow interaction on hot topics for homeschooling parents, including:
How Else Can the NC Homeschool Conference Help You?
One of the most challenging areas of your homeschooling journey is how to deal with your school district to make sure you're legally compliant.
Homeschool legal experts are always on hand at conventions, but signaling your intent to homeschool your child is a fairly straightforward procedure in most states.
In NC, you have to send a letter of intent to homeschool in advance of taking your child out of school.
The good news is that you with the most important part of ensuring your legal compliance—we can generate the letter of intent to cover your state's requirements and even send it automatically if you choose!
DoNotPay Is Your Go-To Homeschool Helper!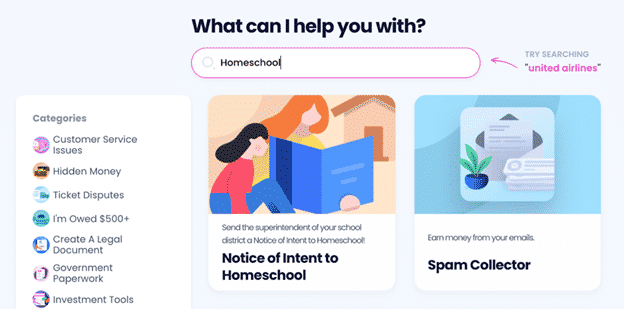 If you are starting out in homeschooling, our app can get you over the first hurdle!
We can create the letter you need to make sure your school district knows of your plans—leaving you to concentrate on the challenges of teaching and nurturing your child.
Here's what you need to do to get your letter of intent to homeschool:
in your web browser
Click on the Notice of Intent to Homeschool feature
Answer a few questions about your child and homeschool
That's it—your letter will be ready in no time. You can print it out or let us deliver it automatically.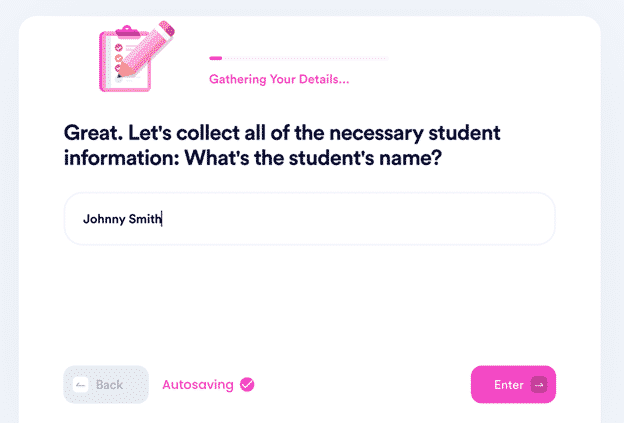 Don't Let Admin or Legal Issues Wear You Down—Hand Them Over to DoNotPay
Do you believe you may have some missing assets? Use DoNotPay's nifty product before the government claims them! Have you ever wanted to enter sweepstakes without purchasing anything? Our app will sign you up for them quickly! Trying to figure out how to reduce your property taxes or utility bills? DoNotPay can show you the way. Want to avoid getting charged for free trials that never fail to auto-renew into paid subscriptions? We'll help you cancel them before they expire.
Anything else you may need? Check out how our app can:
Check Out Our Other Robust Products
It doesn't stop there—DoNotPay can help you send a defamation demand letter, create passport photos, get gift card cash back, get any document notarized, request access to public records, claim insurance and warranty, request a college application fee waiver, appeal parking tickets, and much more.
Sign up now to get access to any of our products for one low monthly fee!