Planning Your Homeschool Curriculum? NC Laws and Options Clarified by DoNotPay
Deciding to homeschool your child is the first step in a long road to educational independence.
Once the decision is made, you have to understand your local laws, develop a curriculum, and plan your timetable to deliver the best education possible.
North Carolina is not the easiest state to homeschool in, but knowing the requirements will equip you to make sure your homeschooling is successful.
This article will answer all your questions about your potential homeschool curriculum in NC and help you get started!
NC Homeschooling Requirements in a Nutshell
The most important aspects of NC homeschooling law concern the following questions:
Who can teach?
What should be taught?
Who Can Teach?
As a parent, you are allowed to be a homeschool teacher as long as you have at least a/an:
High school diploma
GED
Equivalent qualification
If you join or start a homeschooling co-op, your child can also be taught by other parents, meaning that you don't have to take sole responsibility for lessons in every subject.
What Should Be Taught?
North Carolina doesn't specify which subjects should be on the curriculum, but homeschool students have to take standardized tests every year to check their progress against students in public schools.
You can determine the grade your child is taught at—the state doesn't specify criteria for grading students. You can also promote your child at any time during the school year, but you should plan for the possibility that you will want to re-enroll them in public school at some point.
In such a case, the school principal will assess your child to determine the appropriate grade based on your child's knowledge level across standard subjects.
How Should You Choose a Curriculum in North Carolina?
Within the limits of the subjects that are tested in the annual standardized assessments, you still have the freedom to choose how you teach your child.
The best curriculum is one that:
Takes account of your child's learning preferences
Is flexible enough to fit your schedule
Keeps education fun and motivating
Allows you to monitor progress
To get the optimal curriculum, you can choose to:
Design Your Own Program
If you are confident in your abilities as an educator, designing your own curriculum gives you a chance to customize your education program to your child's needs.
Building a bespoke curriculum involves understanding each subject and planning:
Overall learning goals
Topic choices
Lesson plans to reach the goals
It also means that you can employ a mixture of teaching styles on top of traditional classroom teaching, such as:
A custom NC homeschool curriculum can fire the imagination and enthusiasm of your child!
Buy an Off-the-Shelf Package
Pre-designed, comprehensive curriculums are available from various suppliers in various price ranges and offer a convenient solution if you are a homeschooling novice.
Most curriculum packages are specific to a school grade and cover the recommended subjects at the correct level. You can also get programs for specific needs. Here are some of your options:
While you are bound to the teaching method your package uses, you benefit from the ease of having ready-made:
Lesson plans
Projects to complete
Assessment tools and tests
Admin tools to track progress, attendance, and awards earned
How To Start Homeschooling in NC
The only other important piece of homeschooling legislation that you need to know is the requirement to notify your school district of your intentions.
You have to send a letter of intent before you take your child out of school, but you do not need to renew the notification every year. You can send the letter and begin homeschooling whenever you want, and your letter should include:
Your eligibility to teach
The name, address, and school grade of your child
The name of the homeschool, its administrator's details, and its address
Getting your details wrong, omitting anything, or failing to send the letter in time can jeopardize your homeschooling plans and place your child under suspicion of truancy, so DoNotPay has a solution to make sure everything goes smoothly.
We can and even send it on your behalf if you choose!
Launch Your NC Homeschool With DoNotPay!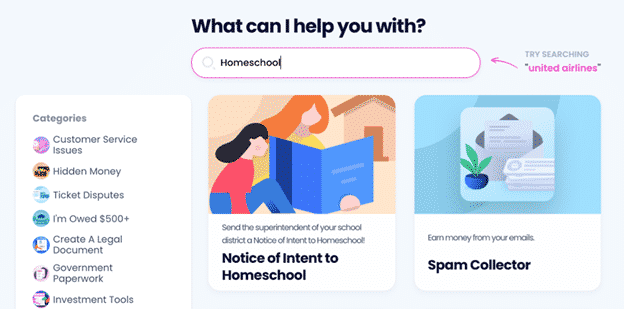 You can rid yourself of one of the major administrative hurdles in North Carolina by using our Notice of Intent to Homeschool product—giving you a tailor-made letter of intent that ticks all the legal boxes in NC.
Here's what you need to do to get your letter:
in your web browser
Click on our Notice of Intent to Homeschool feature
Answer a few brief questions to submit the details we need
In a flash, your letter will be ready to go—you can either print it out and deliver it or let us send it for you.
If you want to have it notarized, we can even do that for you hassle-free with our online notarization service!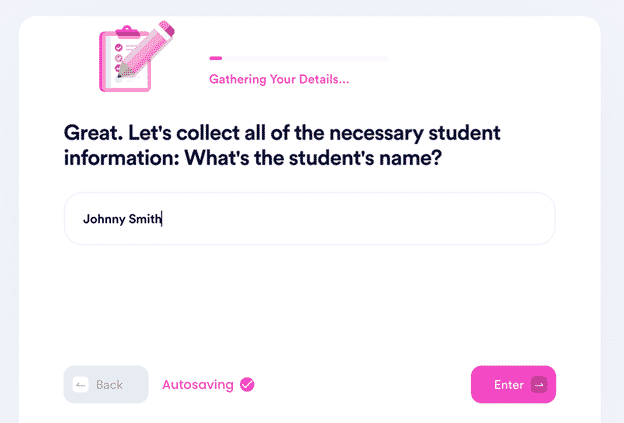 Don't Let Admin or Legal Issues Wear You Down—Hand Them Over to DoNotPay
Do you believe you may have some missing assets? Use DoNotPay's nifty product before the government claims them! Have you ever wanted to enter sweepstakes without purchasing anything? Our app will sign you up for them quickly! Trying to figure out how to reduce your property taxes or utility bills? DoNotPay can show you the way. Want to avoid getting charged for free trials that never fail to auto-renew into paid subscriptions? We'll help you cancel them before they expire.
Anything else you may need? Check out how our app can:
Check Out Our Other Robust Products
It doesn't stop there—DoNotPay can help you send a defamation demand letter, create passport photos, get gift card cash back, get any document notarized, request access to public records, claim insurance and warranty, request a college application fee waiver, appeal parking tickets, and much more.
Sign up now to get access to any of our products for one low monthly fee!