The Ultimate Guide on How To Take a Flattering Passport Photo
Passports are valid for ten years, so you'd probably want to look good in your photo. Why are passport photos so unflattering? Is there a way to ensure you don't look grumpy or just overall bad? Yes, and we can show you how!
DoNotPay provides the best guide on how to take a flattering passport photo within five minutes! and get the best digital passport photo in the blink of an eye!
What To Wear and What To Avoid When Taking Your Passport Photo
What you need to consider when taking a passport photo is your wardrobe. Here is a list of clothing guidelines that you should follow:
General attire—Preferably wear everyday clothing. You are not required to wear business attire, but you can if you want to. You cannot wear a uniform, costume, or camouflage attire
Neckline—Make sure you wear a shirt with a high enough neckline to be visible in the photo. The passport photo measures 2 x 2 inches, so when it gets cropped, you may look naked if your neckline is low
Color of your shirt—Since you're required to take the picture in front of a white background, try wearing a colored shirt to prevent blending into it
Glasses—If you wear sunglasses or tinted glasses, the photographer will ask you to take them off. In case you wear prescription glasses, you need to present a signed doctor's statement to confirm that you shouldn't take them off
Hats or head coverings—No hats, scarves, or head coverings are allowed. If you wear them for religious reasons, you must make sure that your face is visible
Additional Passport Photo Attire Guidelines
There are some additional passport photo guidelines related to hair and accessories, as explained in the list below:
Makeup—Since you can't alter or retouch your photos, consider using light, subtle makeup to hide your blemishes and dark circles
Jewelry—Wear minimal jewelry. Any jewelry that obstructs your facial features needs to be taken off
Hair—Your hair shouldn't cover your face, but that shouldn't stop you from looking your best! You may even want to get a haircut and blowdry right before your appointment to ensure that your picture comes out flawless. If you want to tie your hair up, avoid using barrettes, scrunchies, or headbands
Tips for Taking a Good Passport Photo
Once you're ready, the next step is getting your picture taken. According to the passport photo requirements, you need to have a neutral expression, but that does not mean you have to look grumpy.
Here is a list of what you can do to take a good passport photo:
Push your head a little forward to make your jawline appear stronger
Avoid forcing your eyes open because your eyebrows will automatically raise, giving you an unflattering look. Try squinting them a little to make sure they remain open
Practice your facial expressions in front of a mirror, and keep in mind that they should be as neutral as possible. You can smile slightly
Get enough sleep the night before to prevent dark circles and puffy eyes
How To Take a Decent Passport Photo
For some people, it is ideal to take passport photos at home, while others want to get them taken by a professional. If you're heading out to get your passport photo taken, don't forget to keep a small pouch with your makeup and hair essentials for some last-minute touch-ups!
Whichever option you choose, following the steps below will help you take a decent passport picture:
Dress up appropriately for the photo, and make sure you bring a mirror to check if everything is in place right before the photoshoot
Reapply makeup if you have oily skin before getting your picture taken. Dab a little bit of oil-absorbing powder to avoid looking shiny in your photo
Arrange your hair over your shoulders so that your face is visible
Sit or stand in front of a white background and face the camera directly. Make sure the lighting is even, natural, and flattering
Take a deep breath to fix your posture, straightening your back and shoulders
Strike your pose
Wait for the camera to click. You should take multiple photos so you have more options to choose from.
DoNotPay Is the Best Passport Photo Editor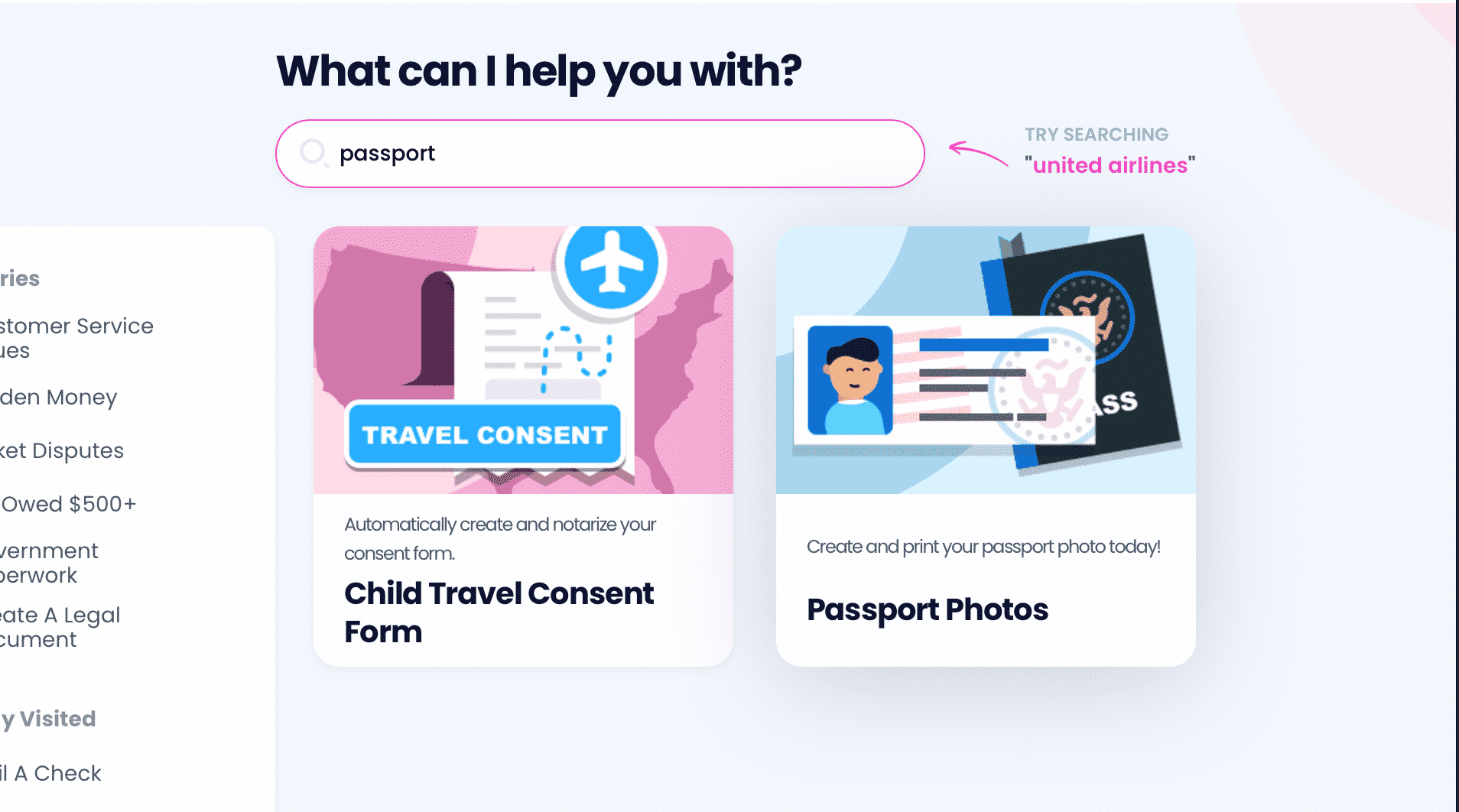 Are you tired of wasting time and money on passport photos that don't fulfill the official government requirements? Let us help you out! With our Passport Photos feature, we can adjust your picture according to the expected standards and email it to you in a flash! All you need to do is follow these steps:
from your web browser
Choose the Passport Photos tool
Take a headshot or upload an existing one
Add your email address
In case you want printed copies, provide your home address, and we will ship them to you within three to ten business days.
DoNotPay's Learning Center Can Provide More Info About Passport Pictures
Want to learn more about passport photos? DoNotPay's learning center can provide valuable info, such as:
| | |
| --- | --- |
| | Frequently Asked Questions |
| | |
Find your place of residence in the table below to see where you can have your passport photo taken:
Manage Your Tasks Easily With Our Help
DoNotPay is the perfect solution whenever you need to resolve legal or bureaucratic matters. Here's a fraction of what our AI-driven app can help you out with:
Lowering your property taxes
No Matter What You Need, DoNotPay Is by Your Side
Do you have a bunch of subscriptions that you waste money on but don't even use? We can help you cancel them effortlessly! After that, our app can initiate a refund request and make sure you get your money back.
Facing financial difficulties? DoNotPay can help you lower your bills, get free raffle tickets, get gift card cash back, find your missing assets, and so much more!
For a low monthly fee, you'll get access to our impressive range of products, so sign up now!