How Long Does It Take for a Package To Arrive? Get All the Deets!
You see it; you like it; you order it; where is it?
Whether you purchased an item online or a friend sent you something, all you can think about is probably "how long does it take for a package to arrive." We'll break down how the delivery process works and show you what to do if your package doesn't reach you.
How Long Will a Package Take To Arrive on Average?
Delivery time depends on various factors, such as:
Your location
Distance from you and the sender
Courier company
Mail class or shipping service
Size and weight of the package
Time of the year
Working hours
Weather
Transport delays
Typically, a package is delivered in one to nine days. You can check our articles on specific couriers to learn more:
How Long Will It Take for My Package To Arrive—USPS
The United States Postal Service (USPS) is one of the most trusted shipping services. If you're awaiting a package from the USPS, check the table below for an overview of the delivery time:
| | |
| --- | --- |
| Service Type | Ship Time |
| Priority Mail Express | Overnight to two days |
| Priority Mail | Between one and three days |
| First-Class Mail | Within three days |
| First-Class Package Service | Between one and three days |
| USPS Retail Ground | Between two and eight days |
| Media Mail | Two to eight days |
Why Is My Package Taking So Long To Get Delivered?
Unless a courier service officially states that a shipping schedule is guaranteed, you should know it is only an estimate. Before you jump the gun and consider your package lost forever, here's a list of potential reasons behind the delay:
Incorrect address—Perhaps the sender gave the wrong address, or you made a mistake in your order. Contact the sender and check whether you have written confirmation of the shipment with your address
Bad weather—In case there was a horrible storm or a power outage due to weather conditions, your package might not have been shipped. You can visit the company's website to see if they posted an announcement concerning the issue
No one home—When you are not there to accept the delivery, a courier usually leaves a pickup notice. This way, you can get your package at the nearest post office. Ask your roommates, family members, or neighbors whether a courier came and try finding the pickup notice
Unexpected circumstances—Sometimes, the staff gets sick, a delivery truck breaks down, a road gets closed off, or something unforeseen happens. You can contact customer support reps and ask whether they have any info about your delivery
Holiday rush—If you ordered your Christmas presents, chances are, so did a lot of people. The shipping company may be overbooked and may not be able to deliver everyone's packages on time. They're not Santa!
Lost package—Worst case scenario is that your parcel somehow got lost. You can wait for your package for seven to fourteen days, but if you've checked all the other possibilities, and it didn't turn up, it might be missing. You should file a complaint with the courier or sign up for DoNotPay, and we'll help you get it done in a few clicks
Can I Track My Package?
You should be able to check the status of your delivery on the courier's website or application. You may need to have an account and a tracking number to perform the search.
Is Your Package Late, Lost, or Damaged? DoNotPay Delivers a Solution!
Once you get down to the bottom of your package issue, we can help you take steps to resolve it. Whether your package is delayed, missing, or damaged, DoNotPay has got it covered.
Our Late Delivery Refund product is designed to save you both time and money. We can file a complaint and send a refund request to the shipping company.
You don't have to wait in line, spend hours on the phone, or go through endless forms online—there's a better way, and it only involves the following steps:
Type in Late Delivery Refund
Select your shipping service (e.g., UPS, FedEx, or Amazon)
Answer a few questions regarding your package
The world's first robot lawyer can take it from here. DoNotPay will send your claim right away.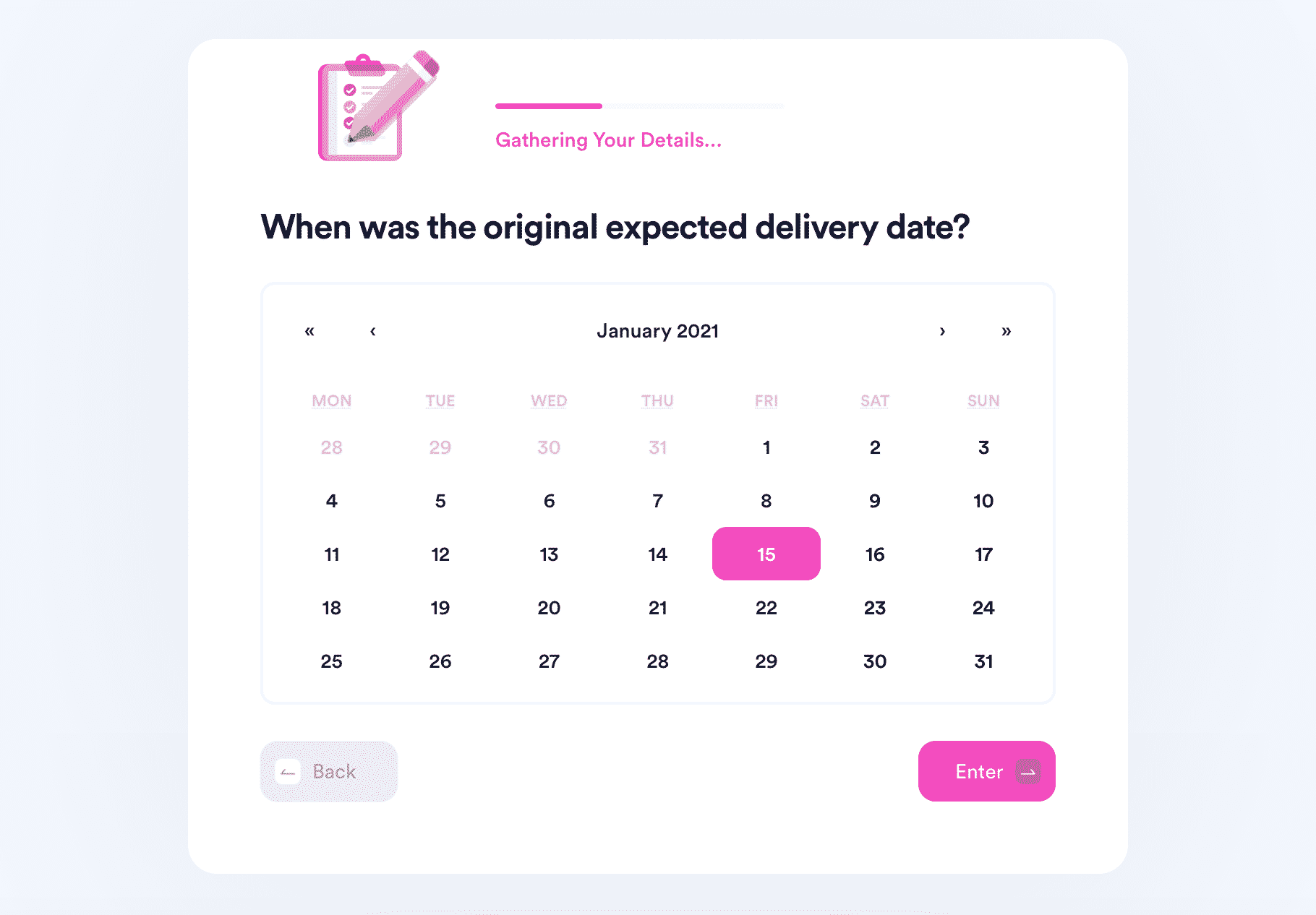 You Have More Delivery Questions? DoNotPay Delivers the Answers!
If you have any more questions—general or service-specific—our learning center is the place to be. Here's an overview of what we can help you with:
| | | | |
| --- | --- | --- | --- |
| UPS | USPS | FedEx | Amazon |
| | Package not picked up by the USPS | | |
General questions we can provide answers to include:
DoNotPay Takes Care of Your Consumer Rights
Whether the products you ordered are late, missing, or faulty, you can ask for your money back through the DoNotPay app. We can help you get refunds from any delivery service or company you purchased from, and we can also digest any seller's return policy so that you can both send the product back and get a refund!
DoNotPay is an advocate of consumer rights and can help you bypass time-consuming and tedious processes when dealing with small-time sellers and multinational retailers alike! Check out some of what we can do for you in minutes:
Use Our AI-Lawyer App to Your Advantage!
Apart from protecting your consumer rights, DoNotPay can break down and fast-track many legal procedures for you. Use our app to do any of the following and more: