Why Did My Package Go Farther Away—USPS Package Delays Explained
Why did my package go farther away? USPS often promises your package will be delivered on time, but that's not always the scenario. Unexpected issues can occur and cause your package to go farther away from your location. In such instances, we got your back! Sign up for DoNotPay, and learn how to track your package at any time from the comfort of your couch! We'll also show you how to file a claim and request a refund in minutes!
Why Did My USPS Package Go Farther Away?
Your USPS package may have gone farther away because of the following reasons:
Reason
Explanation
Employee human error
Mail sometimes has to be sorted manually due to:

A damaged barcode
Bad handwriting that the computer can't read

It's common for packages to get sent to the wrong places in such cases

Sender error
Senders often put the wrong address or ZIP code when placing an order. Putting the wrong destination info leads to the package going to the wrong address
Paired mail
Mail can get stuck together due to the sticky peel-away seal on the envelopes. When that happens, both packages get sent to the location where only one of them was intended to go
Why Did My Package Leave My State—How To Track Your Package
Although the scenario is inconvenient, the good news is that you can track your package at any time to see where it got sent. This is how:
Track Your Package Via
What To Do
USPS website
To track your parcel online, follow the next steps:

Go to the USPS website
Provide your tracking number
Hit Enter

If you don't have your tracking number, you should reach out to the shipper and ask them to send it

Text message
Text your tracking number to 28777 (2USPS) to track your parcel
USPS mobile app
Download the official USPS app for Android or iOS and use it to track your package at any time
Phone
If you want to track your parcel over the phone, follow these steps:

Call 1-800-222-1811
Explain your request to a USPS rep

Know that the reps don't have any additional info apart from what they can find on the official USPS website
Why Did My Package Go Farther Away—Common Reasons
If you're wondering why your package went farther away from your location, check out the list of the most common reasons packages get delayed:
Wrong address—If you gave the wrong address or misspelled anything when placing an order, it's possible your package will get delayed. You would need to contact USPS and correct the info
Weather—Poor weather and natural disasters, such as floods and fires, are some of the usual reasons packages are stuck, delayed, or even lost in transit
Traffic—Rush hours, roadblocks, and similar traffic conditions often lead to packages getting delayed and rerouted
Customs clearance—Certain states require you to provide specific documentation to receive packages. If you fail to do so, packages will most likely be stuck until the issue is resolved
International shipping—If your package was shipped from overseas, it will probably take longer to arrive
Lost package—It's not uncommon for packages to get lost for various reasons. If this happens to your parcel, you can file a claim or request a refund
Undeliverable shipment—Certain items are prohibited and forbidden from selling. If what you ordered is restricted, your package will either be destroyed or returned
Improper packaging—Packages that are not safely packed will get stopped in transit, destroyed, or returned
Should I File a Claim if My Package Goes Farther Away?
If you notice your package went the wrong way, you can't file a claim right away. USPS lets you file a claim if your package is lost or damaged. You'll have to wait to see whether it will find your package and deliver it to the right address first. If it doesn't, your package will be considered lost. That's when you'll be able to file a missing package claim within 60 days of the mailing date.
DoNotPay Helps You File a Claim and Request a Refund in Minutes!
USPS says delivered but no package? If you want to file a USPS missing package claim or request a refund, DoNotPay provides you with the easiest way to do so! Why spend hours waiting in lines or waste time talking to reps when you have a more convenient option at your fingertips?
DoNotPay uses the info you provide to cut your work in half and send a claim in your stead! Here's how it works:
Choose the Late Delivery Refund feature
Pick USPS and answer a few questions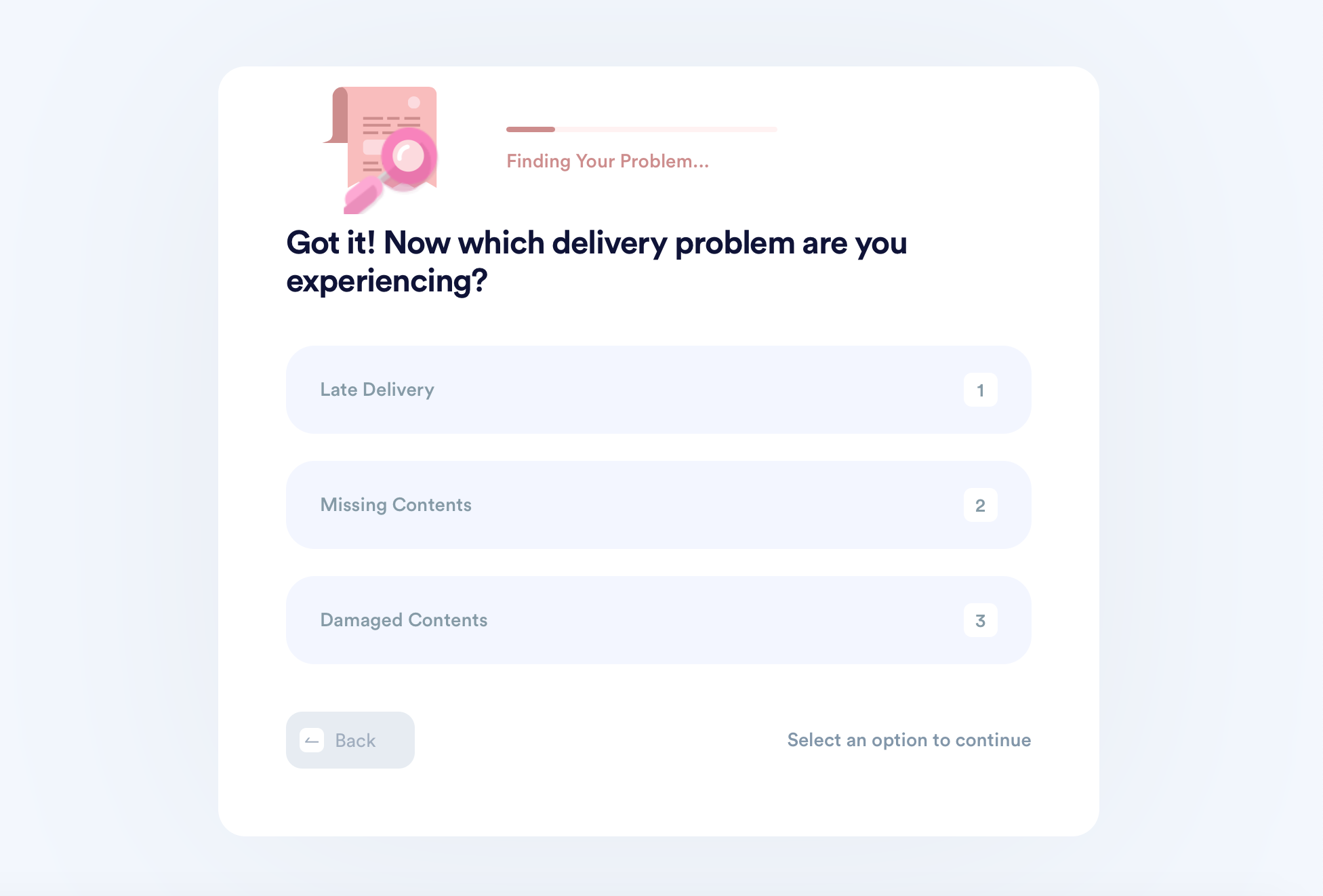 We'll submit a claim to the USPS claims department in your stead, and you're done!
If you want to file a USPS insurance claim, DoNotPay steps in with a super simple way to do so in a few minutes!
We also explain how to find your FedEx and UPS missing packages easily, how late USPS delivers packages, and what to do if USPS says delivered in the mailbox, but there's no package in sight. If you want to file a claim for an Amazon, USPS, FedEx, or UPS late delivery, we'll show you how to do it!
DoNotPay Has Your Back Every Step of Your Customer Journey
Helping you apply for a late, damaged, or missed delivery refund is only a fragment of what we can do for you. If you aren't satisfied with the service you've received or an item you've purchased, all you need to do is fire up your DoNotPay app.
We can bypass any company's customer service, draft a refund demand letter, or initiate a chargeback process in your stead. Our app can also digest the company's return policy and help you send the faulty product back. You won't have to lift a finger as our app does everything automatically after you answer several essential questions related to your purchase. If you decide to mail a letter to the company yourself, we'll tell you how you need to draft it to get exactly what you need.
It doesn't matter whether you bought a package for an incarcerated loved one, expected an insured mail delivery, or made a purchase to redeem a gift card but still have a few bucks left on it—we'll help you make the most of the situation. Our app can get your gift card cash back, file an insurance claim, and connect you with the loved one in jail.
How Far Do DoNotPay's Services Go?
Our app can prove handy in a variety of other situations, such as:
Visit our learning center for a full range of our services.