Due to Operating Conditions, Your Package May Be Delayed—What To Do
Are you concerned because UPS says that, due to operating conditions, your package may be delayed? Don't fret! We'll explain what you can do in situations like this one.
and learn how to file claims and request refunds effortlessly!
Due to Operating Conditions, Your Package May Be Delayed—Explained
If you have been informed that, due to operating conditions, your package may be delayed, it's possible that one of the following issues occurred:
The address you provided contains incorrect info
You weren't present when a courier driver attempted to make a delivery
There was incorrect information in the order form you completed (a city name written in a street name field or similar)
You changed the delivery address after the initial address was confirmed by the system
Customs caused a delay due to incorrect or incomplete documentation
The access to your property requires a courier to have an access code that you failed to provide when placing the order
The items you ordered were marked as undeliverable—certain items are restricted and can't be transported, so if you order such an item, it will probably cause a delay
There were unforeseen situations, such as bad weather, roadblock, or other occurrences outside the courier's control
Certain temporary technical issues occurred—in situations like that, you should be informed that an issue arose, and a new delivery time estimate should be provided
The good news is that no matter which of these issues caused a delay, you can contact a courier and have it resolved. If they are unresponsive or refuse to cooperate, you can file a claim for a missing package and request a refund.
How Do I Track My Delayed UPS Package?
There is more than one way to track the delayed package. Check out the table below for details:
Tracking Your Delayed Package With
What To Do
Reference Number
If you don't have the reference number, ask the shipper for help, and complete the next steps:

Go to the UPS Tracking page
Click on Track by Reference Number
Type in the necessary info

UPS My Choice
Signing up for UPS My Choice allows you to track your package without the reference number. Here's what you need to do:

Sign in to your UPS My Choice account
Follow your package using the Follow My Delivery live map

UPS InfoNotice
In case the UPS driver can't deliver the package to your address, you'll get a UPS InfoNotice. This is how you use it to track your order:

Visit the UPS Tracking page
Enter the 12-digit number from your UPS InfoNotice
Can I File a Claim for My Delayed UPS Package?
While you can't file a claim for a delayed package, you can file it for lost or damaged packages. If a courier fails to deliver your delayed package, it will be considered lost, and you'll be able to file your claim.
You can visit the UPS Claims page and file your claim following the next steps:
Create a UPS account or sign in to an existing one
Provide the required info (such as the tracking number, status, etc.)
Pick Lost Package as the issue you want to report
Select Next
Provide all the necessary documentation and as much evidence as possible to support your claim
Hit Submit
If you're looking for an efficient and straightforward way to file claims from the comfort of your couch, DoNotPay offers a convenient solution!
File a UPS Claim and Request a Refund With DoNotPay in a Few Clicks!
You can request a refund if a UPS driver doesn't attempt to make your delivery by the guaranteed date and time, but you don't have to do it on your own! DoNotPay jumps in with a neat feature that helps you file a claim in only a few clicks!
Avoid spending hours waiting in lines and follow these steps to file a claim or request a refund in minutes:
Access the Late Delivery Refunds feature
Pick the courier and provide the required info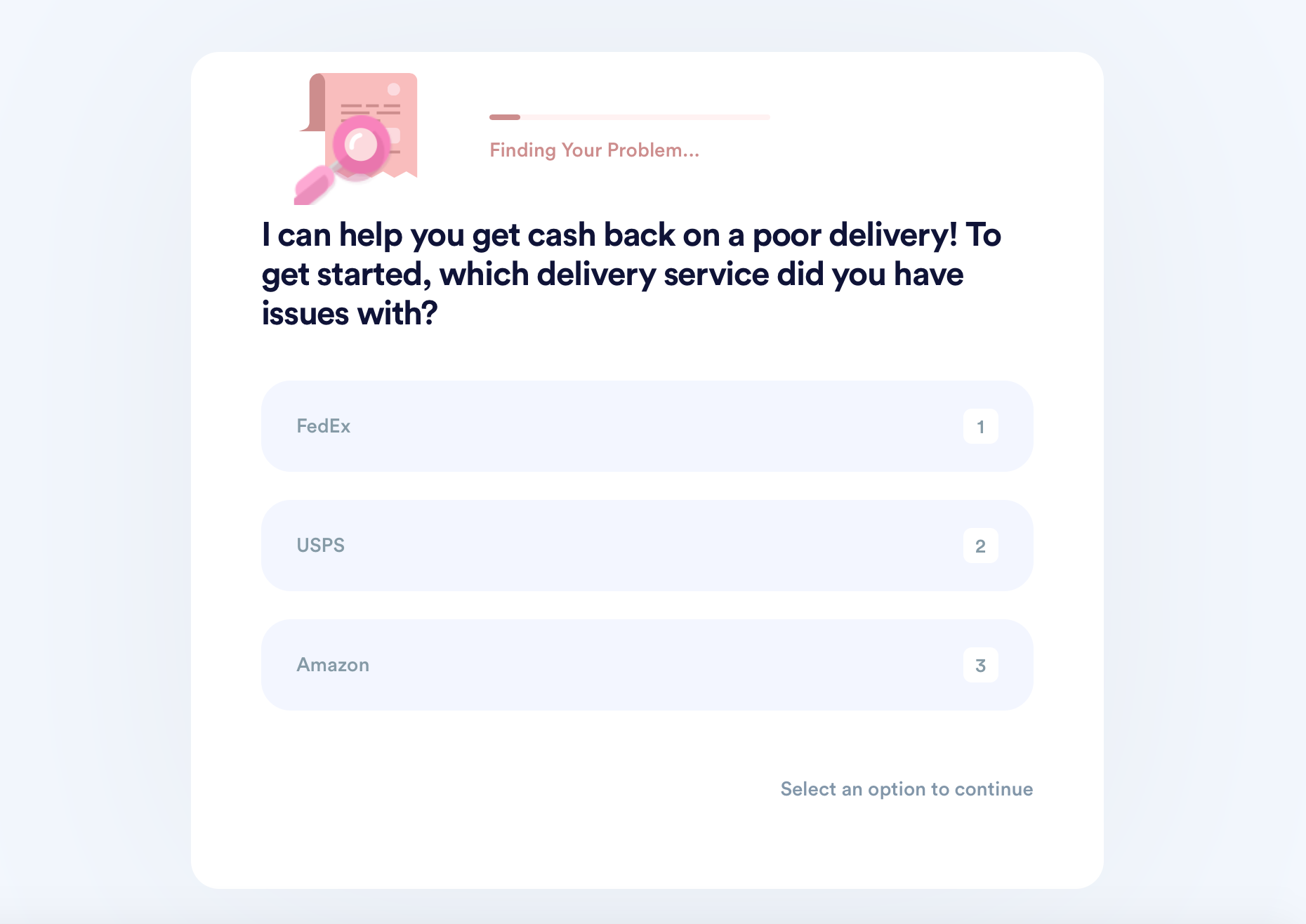 Our app will send your claim to the UPS claims department, and you can rest assured your claim will be processed in a timely manner.
We can also help you track USPS and FedEx lost packages and show you how to handle Amazon, USPS, and FedEx late deliveries!
DoNotPay Helps You Resolve Other UPS-Related Dilemmas!
If you need further info regarding UPS services, we're happy to provide you with answers to the commonly asked questions, including:
How Else Can DoNotPay Be of Assistance?
DoNotPay will help you take care of your item delivery problems and send a delivery refund request in your stead, but we can do so much more along the way. Use our app to find out how you can return an unwanted item to any company or get a refund for any service.
Not only can we clear a path to your rightful refunds, but we can get you the cash that's left on your gift card balance and secure any compensation you deserve. Use our app to get compensation for:
How To Use DoNotPay the Right Way
Many companies start spamming you with unwanted correspondence as soon as you start using their products or services, but our app can put a stop to that. If you use DoNotPay's Burner Phone and Virtual Credit Card products, you'll never have to supply your real info to random companies again. We'll make sure that you can subscribe to any free trial risk-free or cancel a service you don't use in a matter of minutes!
We'll also help you do boring tasks quicker or take care of them entirely on your behalf. Use our app to draft documents and contracts, get them notarized, or send them using an online fax functionality of our app. We'll schedule a DMV appointment for you, help you get access to public records, or find out what property tax exemptions you qualify for and how to apply in record time.