Why Is Amazon Delivery So Slow? DoNotPay Answers Your Questions and Offers Solutions
If you're asking why Amazon delivery is so slow, you've probably been waiting for a package forever. There are many reasons for late deliveries, but luckily, there are also multiple solutions to the problem.
We will explain the Amazon shipment process and show you how to file a claim for late delivery in a flash with DoNotPay.
What Are the Usual Shipping Times on Amazon?
Before taking any action, you should understand the Amazon shipping times to know whether your package is late or not. The estimated time of arrival depends on the shipping option you choose:
Free—your order should arrive within five to eight days
Prime—you're eligible for:

Standard shipping (four to five business days)
One-day shipping
Two-day shipping
Amazon packages usually arrive between 8:00 a.m. and 8:00 p.m. local time, but if you want to determine the shipping time more precisely, go to your Cart and:
Select Proceed to checkout
Enter your shipping address
Choose the shipping speed
Press Continue
Pick a payment method and continue
How To Track Your Amazon Package
When you determine that your Amazon package is late, you should track it down. This will show you whether it's:
Still being delivered
Been dispatched to the wrong location
Upon shipping your order, Amazon will send you an email with a unique identifier. This number will then be scanned as the parcel passes through destinations, and you will have real-time updates on the whereabouts of your package. To track the parcel, you must:
Sign in to your Amazon account
Go to Your Orders
Choose the order you want to track
Click on Track Package
Why Are Amazon Packages Being Delayed?
Amazon could be late with the delivery because of:
COVID-19—Amazon has started prioritizing medical supplies, household items, and other essential goods due to the pandemic
Problems in transport—There's a chance that the label got damaged during the sorting process, which resulted in a failed delivery
Weather conditions—If your location is facing bad weather, the courier will have to postpone the delivery
Small P.O. box—Your package might not fit the P.O. box, so it has to be returned
Reseller timeliness—If you ordered an item from a third-party seller, your delivery might be late because of a non-Amazon issue. In that case, you'll have to contact the seller. To do so, go to the Order Detail page and click on the Contact Seller button
Natural disasters—If your area was hit by a natural disaster recently, your package will probably arrive two to three days after the estimated delivery date
What To Do About a Delayed Amazon Delivery
If your order status says that your package has been delivered, but 48 hours have passed since the expected delivery time and you still haven't received it, these are the steps to take:
Verify your shipping address
Check if there's a notice of attempted delivery
See if someone, such as your neighbor or family member, accepted the delivery for you
Search around the delivery location
Check your P.O. box
Ask for a refund if none of the above works
How To Get a Refund From Amazon
You have multiple ways to complain to Amazon regarding late delivery. Here's a table listing the options and explaining them in detail:
Refund Option
Details
Phone
Call 00 1 206-922-0880 and explain your issue to Amazon's customer support representatives, who work around the clock
Amazon website
Use the chatbot on the Amazon website to report the late delivery or:

Sign in to your Amazon account
Go to Your Orders
Locate your order
Select Problem with order
Click on Request refund
Type in your problem in the text box
Hit Submit

DoNotPay
Sign up for DoNotPay and file a claim in a matter of clicks. You won't have to waste time dealing with customer support, as we'll do it for you
How To Use DoNotPay and Get a Refund in No Time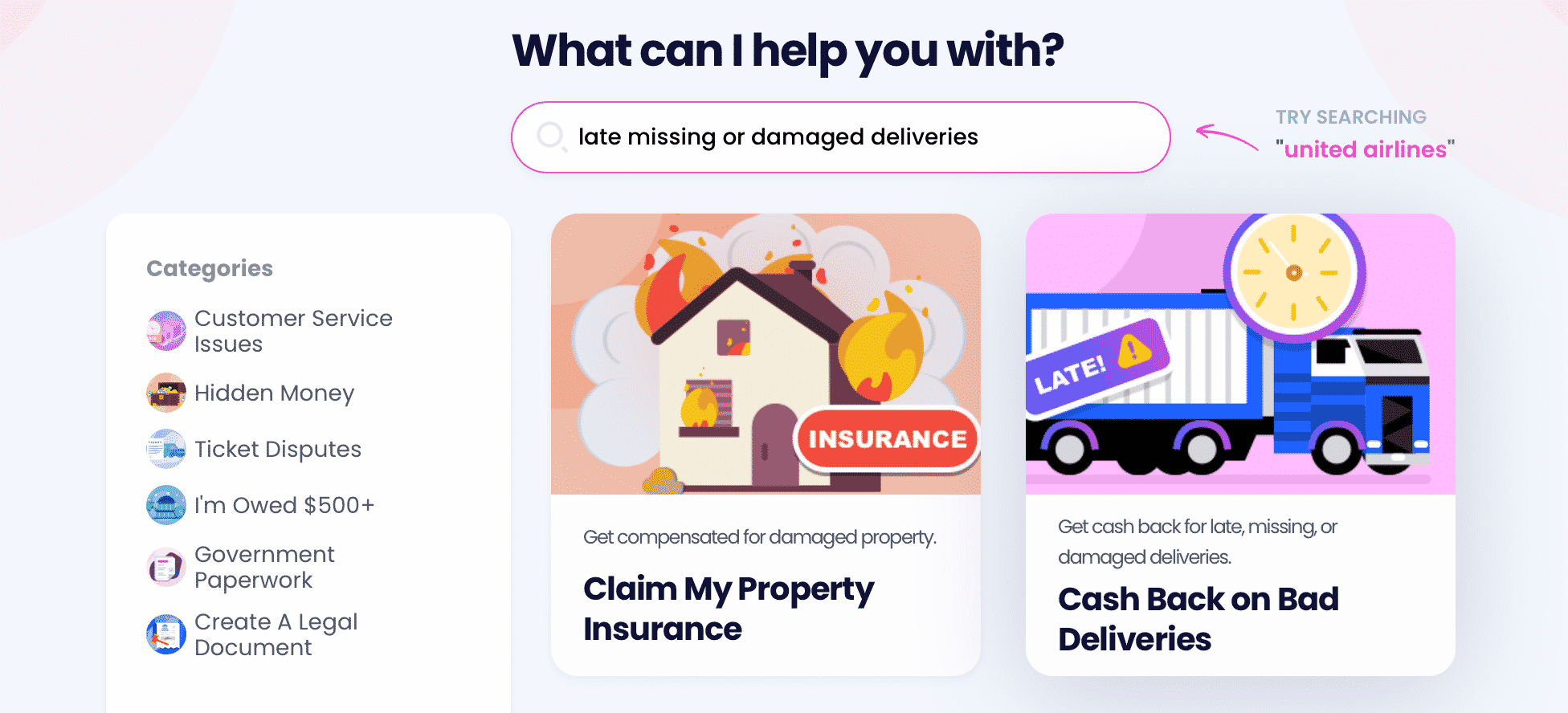 Whether Amazon sent you the wrong item or is late with your delivery, DoNotPay helps file a claim and get your money back without wasting time and nerves! Our Late Delivery Product is simple to use and is the most efficient solution for getting a refund. Here's how it works:
Choose the Late Delivery Refund product
Select the courier used and provide details about the shipment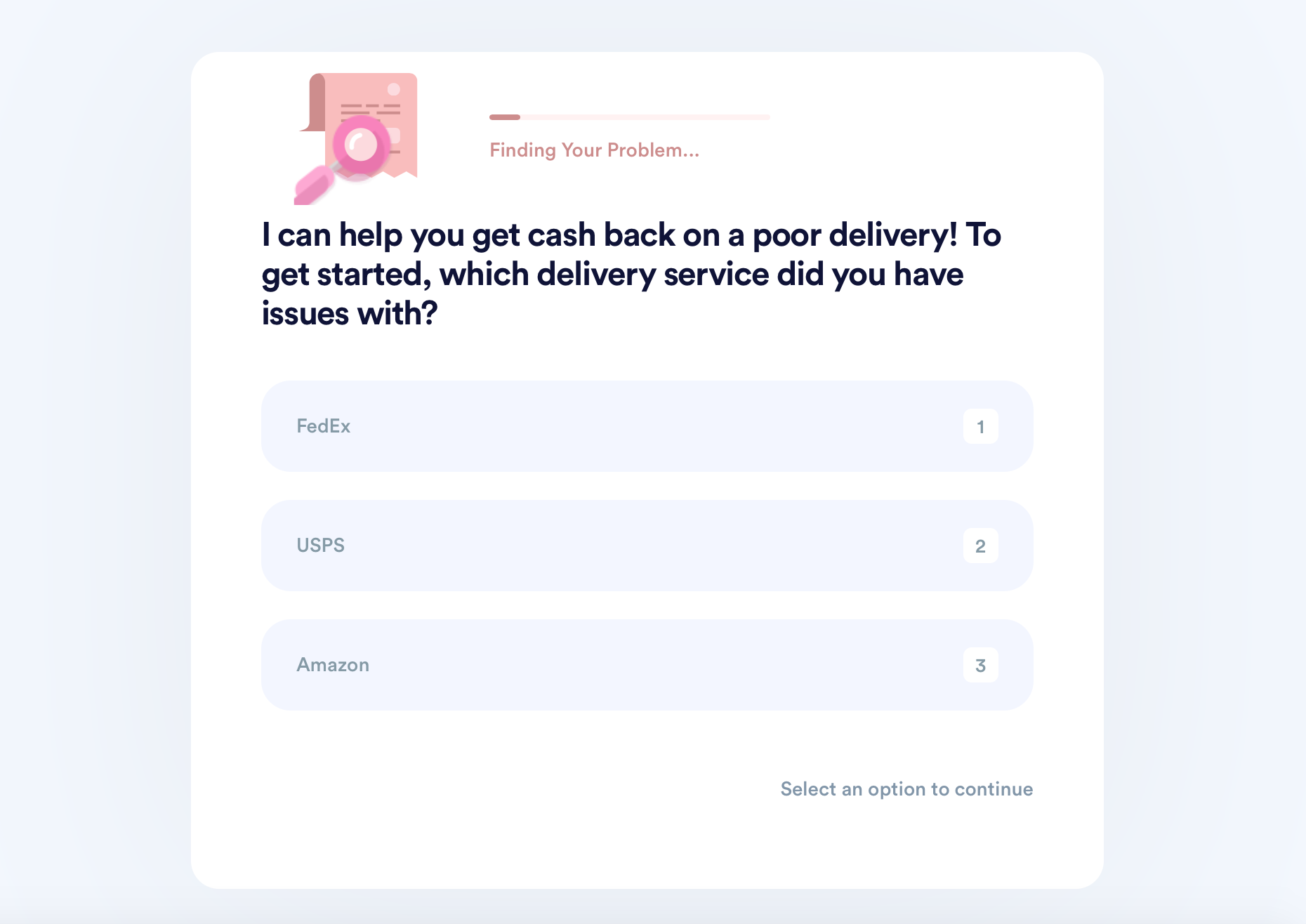 We will submit a claim in your stead to the courier's claims department so you don't have to deal with customer service representatives or fill out long forms.
DoNotPay also offers handy articles about:
Deal With Companies on Your Terms Using DoNotPay
Claiming late, missed, and damaged item delivery refunds is only one in a sea of services you can get with our app. We can show you how you can:
As if that were not enough, we can also unsubscribe you from a company's email list, stop any annoying robocalls or robo texts they are bothering you with, and cancel any service or free trial you're unhappy with or are no longer using. Our Free Trial Card and Burner Phone products can help you try out any service without being spammed or auto-charged later on.
What Other Services Can DoNotPay Extend?
DoNotPay is invaluable when dealing with companies and their confusing policies, but we can also help you bypass tedious government procedures. If you use our app, you'll have no trouble filing FOIA requests, passing government exams, reducing property taxes, as well as drafting legal documents and getting them notarized in a single app!
To top it off, we'll also help you claim lost assets, delay bills, locate an inmate, report stalking and harassment, or take anyone to small claims court in any U.S. state.