FedEx Says Delivered, but No Package in Sight—How To Solve
When expecting a parcel shipped by FedEx, at times, you may get a notification saying your order has been delivered but find nothing in your mailbox. Despite being an inconvenience, these cases are quite common in the world of shipping.
What's wrong if FedEx says "delivered", but no package was handed to you? Find out where your parcel is, how to act if it turns out that your FedEx parcel is late or lost, and how report it and get compensated!
How To Check the Status of Your FedEx Package
When you're not sure what happened to your package or if it takes too long to arrive, you should track it first. You will need a tracking code or a transportation control number (TCN). A FedEx Office order number or a door tag code are also acceptable.
There are four ways to check the delivery status:
Using the FedEx online tracking service
Downloading the FedEx Mobile app and inputting your tracking details
Calling customer care service at (800) 463-3339 and saying track my package
Sending a text message containing follow and your door tag code to 48773
What if FedEx Says My Package Was Delivered, but It Wasn't?
If you can't find anything in your mailbox even though the status update says "delivered," there's still a chance that your parcel is somewhere around. Here's what you can do before reporting an issue:
Check other areas around your home—If you live in a house, look around the mailbox, front door, and the other parts of your yard. The deliverer may have left the package in a safe place, such as a porch, back door, or carport
Ask your neighbors if the parcel has been delivered to them by mistake—At times, if the house or flat number isn't visible, the parcel may end up at your neighbors'
Reach out to the person who was supposed to bring the parcel—Many shippers provide recipients with the deliverer's contact information. Calling the delivery person and checking the whereabouts of your package may solve the issue fast
Wait for a day or two—In some cases, the status changes to "delivered" too early—even before the package reaches the recipient
Once you are sure that the parcel didn't arrive, you should contact FedEx and inform them about the problem. Disclose all required shipping details—your full address, tracking number, or any other necessary info. The company's representative should start an investigation and get back to you when they have any updates, usually within a few days.
Can I Demand a Refund if My FedEx Package Is Late?
FedEx announced that—starting from April 6, 2021—customers can demand refunds only for late packages shipped with:
FedEx International First
FedEx First Overnight
FedEx International Priority
FedEx International Priority Freight
FedEx Priority Overnight
FedEx Standard Overnight
The money-back guarantee for all other services is suspended until further notice.
Here are the ways to request a refund from this courier:
Method
Information
Phone
(800) 463-3339
Mail
FedEx Customer Relations

3875 Airways, Module H3 Department 4634

Memphis, TN 38116
FedEx Never Delivered My Package—What Should I Do?
If FedEx confirms that your package got lost, you can file a claim with them. Here's how to do it:
Visit the official website
Pick the Support tab and click on File a Claim
Complete an online form by entering the necessary details
Attach the supporting documentation
Submit the claim
This option also helps when a FedEx parcel gets damaged in transit or some items are missing from it. Certain limitations may apply, which is why it's advisable to always check the latest insurance information.
Get a Refund for Poor Delivery Service With DoNotPay
Getting a damaged parcel or finding out that your long-anticipated order got lost on the way can be quite frustrating. Instead of wasting hours on hold trying to reach customer service to demand your money back, use DoNotPay and request a refund from FedEx, USPS, or Amazon in less than five minutes!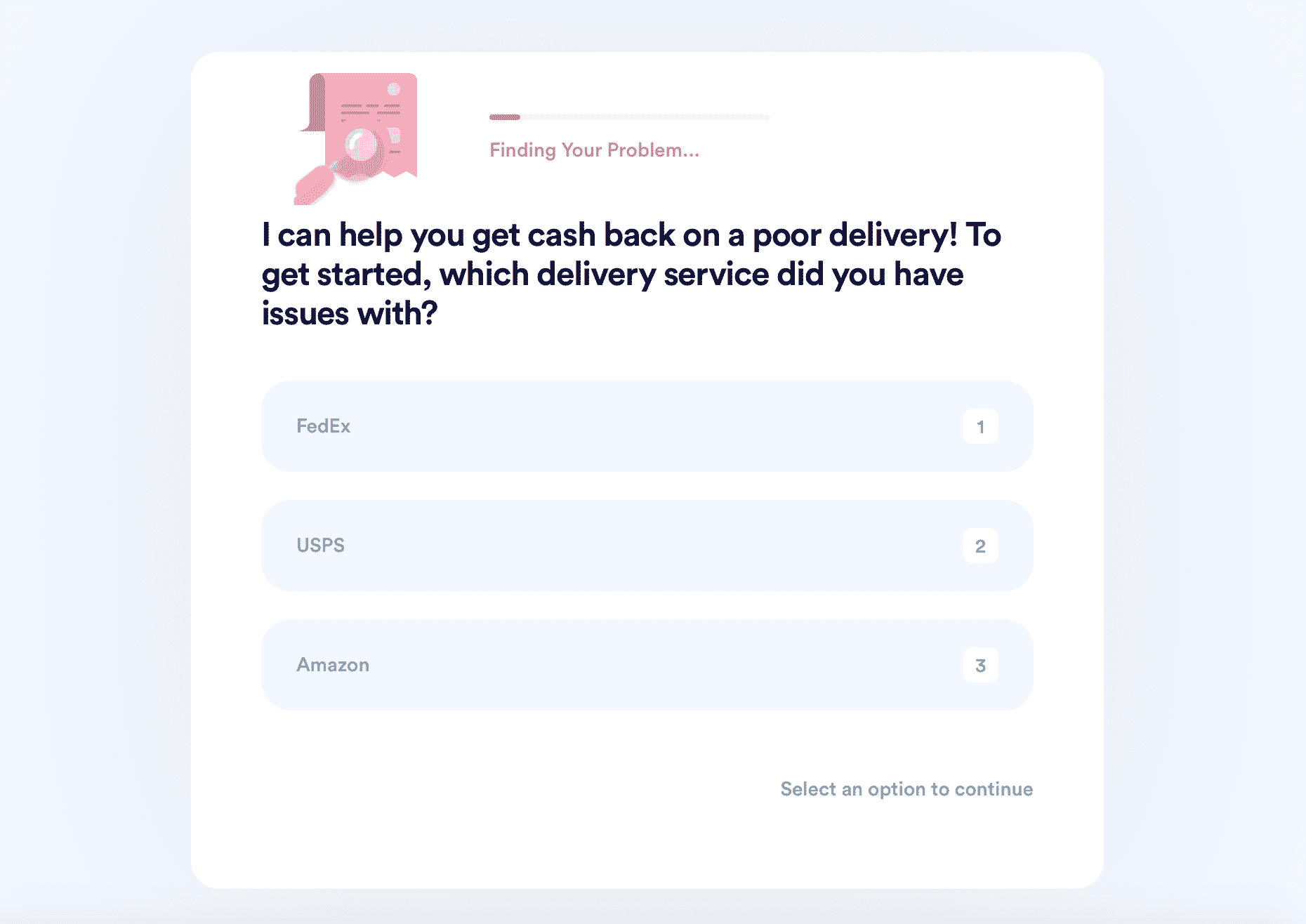 Our Late Delivery Refund service helps you inform the courier about the problem and raises a refund claim in your stead. Once you provide us with the necessary details, we will pass your complaint to the courier's claims department, saving you from drawn-out negotiations and stressful conversations!
Here's how you can use our feature:
in any web browser and log in to your account
Navigate to the Late Delivery Refund product
Select FedEx
Disclose the necessary shipping details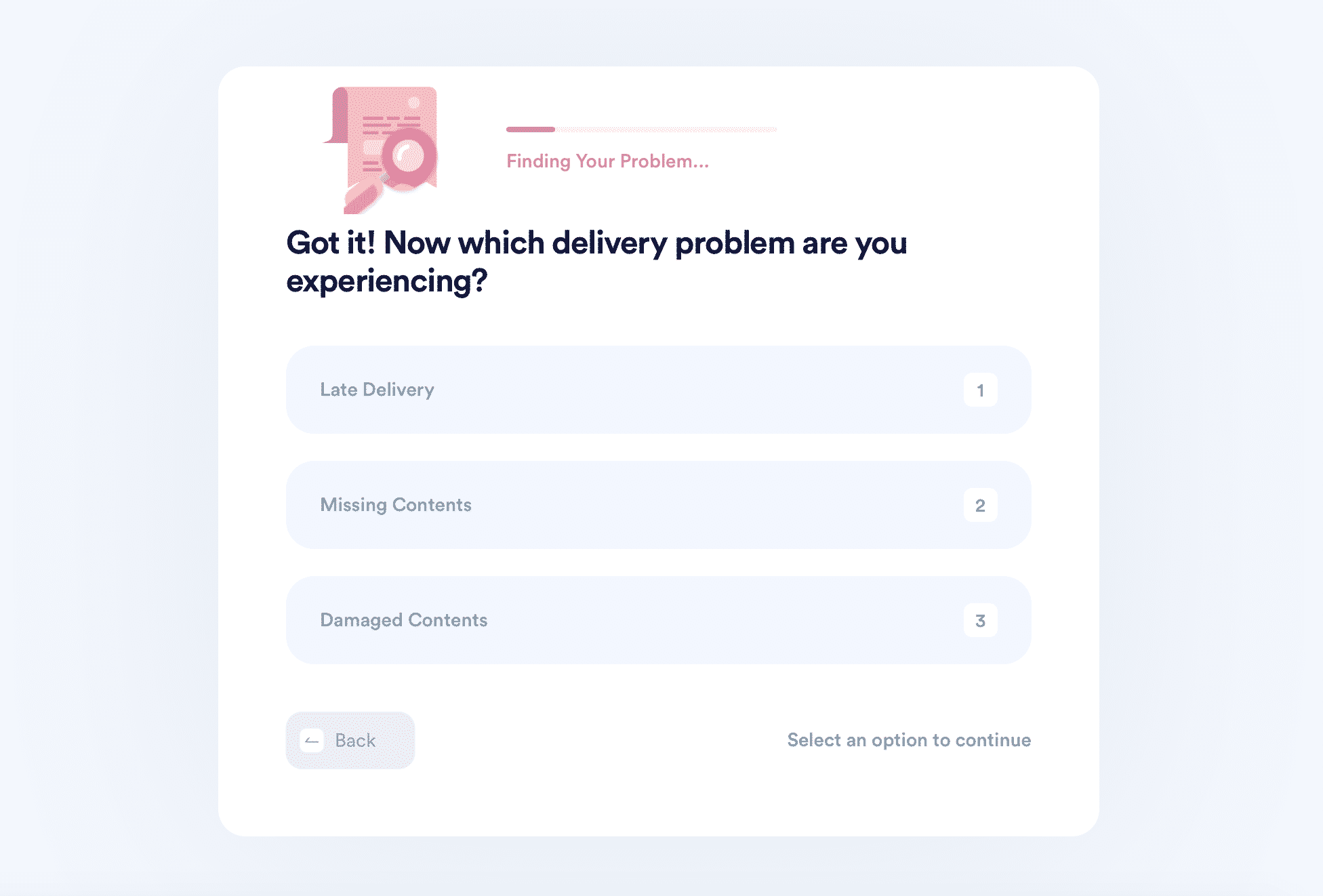 Other guides from our learning center can also teach you how to:
Find Hidden Money With DoNotPay Effortlessly
Our app can do more than request delivery refunds for you. We can help you identify all your hidden expenses and save your money for more relevant matters. If you use DoNotPay, you can:
Earn Some Extra Cash With DoNotPay's Help
Not only can we eliminate all hidden expenses you have, but we can help you put more money in your pocket! We don't let you forget the smaller but meaningful gains you can make from gift card cash backs, raffle ticket wins, or warranty claims. Our nifty app can also assist you in getting some serious cash by way of chargebacks, insurance claims, airline compensation, college fee waivers, paid clinical trials, or crime victims compensation. We can also show you how to sue any company or individual for compensation in small claims court.