Has Amazon Sent the Wrong Item? DoNotPay Will Provide You With the Easiest Solutions
Whether you don't know where your package is or Amazon sent the wrong item to you, there's no need to worry because DoNotPay is here to help! Our easy-to-follow guide provides you with all the necessary steps you'll have to take if you want to file an insurance claim, return the item, or submit a claim.
You can forget all about dealing with customer service or writing complaints yourself—DoNotPay will do it all for you!
Amazon Sent Me the Wrong Item. Now What?
The first step you want to take in case you received the wrong item from Amazon is to try tracking your package. This might seem illogical, but you have to check whether:
In the first case, you will only have to return the package and wait for yours. The latter case requires you to either:
Contact Amazon
Return the item
Request a refund
Submit a claim
Sign up for DoNotPay and resolve your issue in a flash
How To Track Your Amazon Package
To track your Amazon package, you will have to follow a few steps:
Log in to your Amazon account
Select Returns & Orders
See the status of your latest order
Click on Track package to see where it is
If the status says delivered and you haven't received your shipment, then it's time to take further action.
How To Report the Problem With Your Delivery
There are two ways for you to return the wrong item to Amazon:
| | |
| --- | --- |
| Option | Details |
| Phone | Dial 00 1 206-922-0880 and talk to Amazon's customer service that works round the clock, all week long |
| Website | Visit Amazon's website and answer their chatbot's question regarding your issue |
Returning the Wrong Item to Amazon
You have to return the wrong item to Amazon in 30 days since the reception. If you send it after the deadline, you will have to pay for both the replacement item and the original one.
To request a replacement, you will have to:
Log in to your Amazon account
Go to Your Orders
Select Return or replace items next to the item you want to replace
Choose a reason for the replacement in the Reason for return menu
Use a return label provided to you to send the wrong item back
Amazon will also refund the full postage cost and the Import Fees Deposit upon processing your return request and confirming that it sent you the wrong item.
If you want this whole process to go faster, sign up for DoNotPay and use our Item Return Request or Late Delivery Refund product. Our app can help you if Amazon is late with delivery, you received damaged goods, and more!
How Long Will It Take for Amazon To Process Your Refund?
Once Amazon receives your item—which can take up to 25 days—it will take them two business days to process the refund. You will then have to wait three to five days for the refunded amount to show up in your bank account.
Either way, you won't have to worry about it if you decide to use DoNotPay. We will demand that they process the request by a specific date.
How To Request a Return the Easy Way Using DoNotPay
If you want to make the return process easier by not calling Amazon's customer service or using the official website, you should use DoNotPay! We have developed the Item Return Request product that allows you to return any wrong delivery in minutes. Our app will make sure the process goes swiftly, and all you have to do is:
Find the Item Return Request product
Answer a few questions about your purchase and include photos (if applicable)
Submit your request
The custom return request letter that we'll generate for you and send to Amazon will include:
The explanation that you received the wrong item
The deadline so that your request is processed faster
How To Submit a Claim With DoNotPay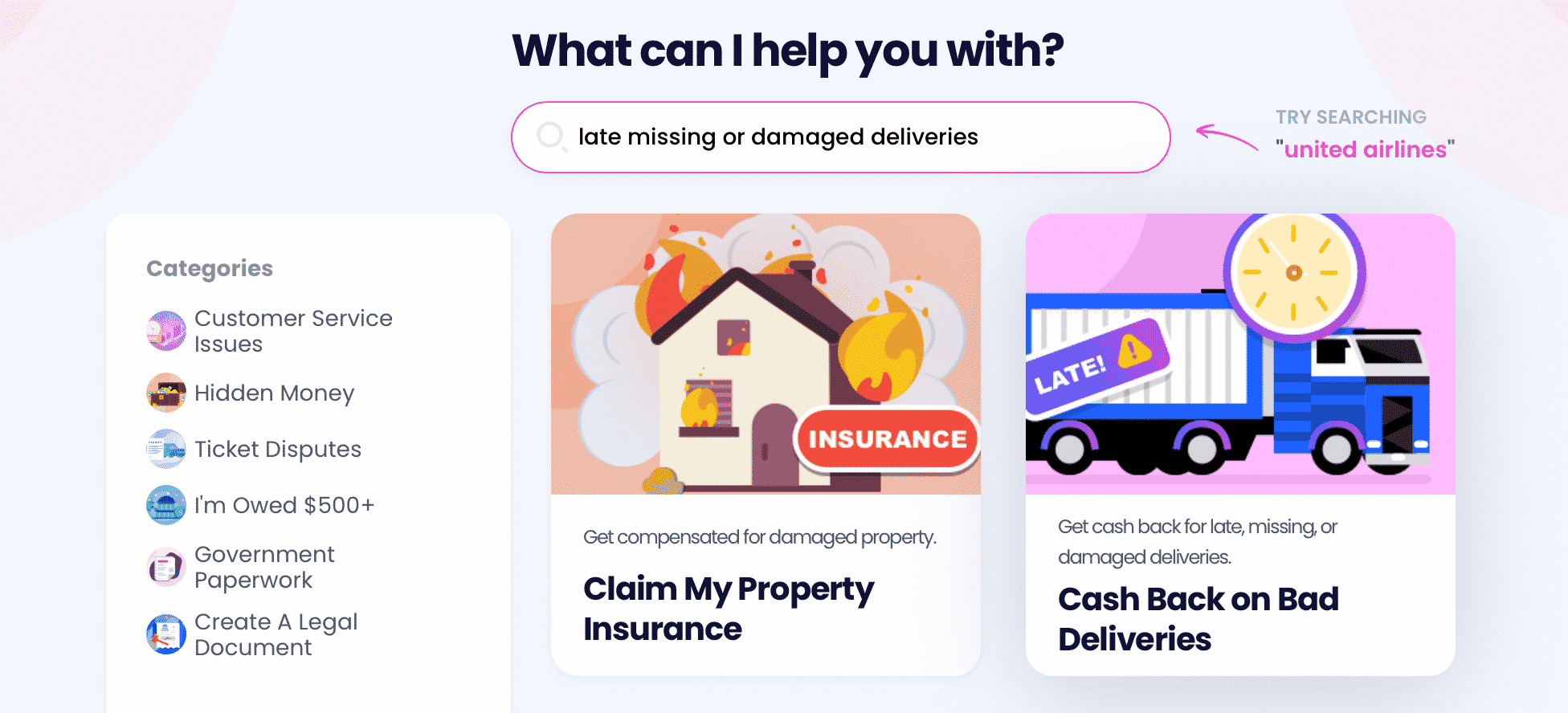 In case you want to submit a claim, DoNotPay has the perfect solution for you. Our Late Delivery Refund product will help you file an Amazon delivery complaint and request a refund in a couple of clicks. To use this handy product, just follow the next few steps:
from any browser
Select Late Delivery Refund
Choose the courier and provide the details about the shipment
DoNotPay offers a plethora of helpful articles on delivery-related problems, such as: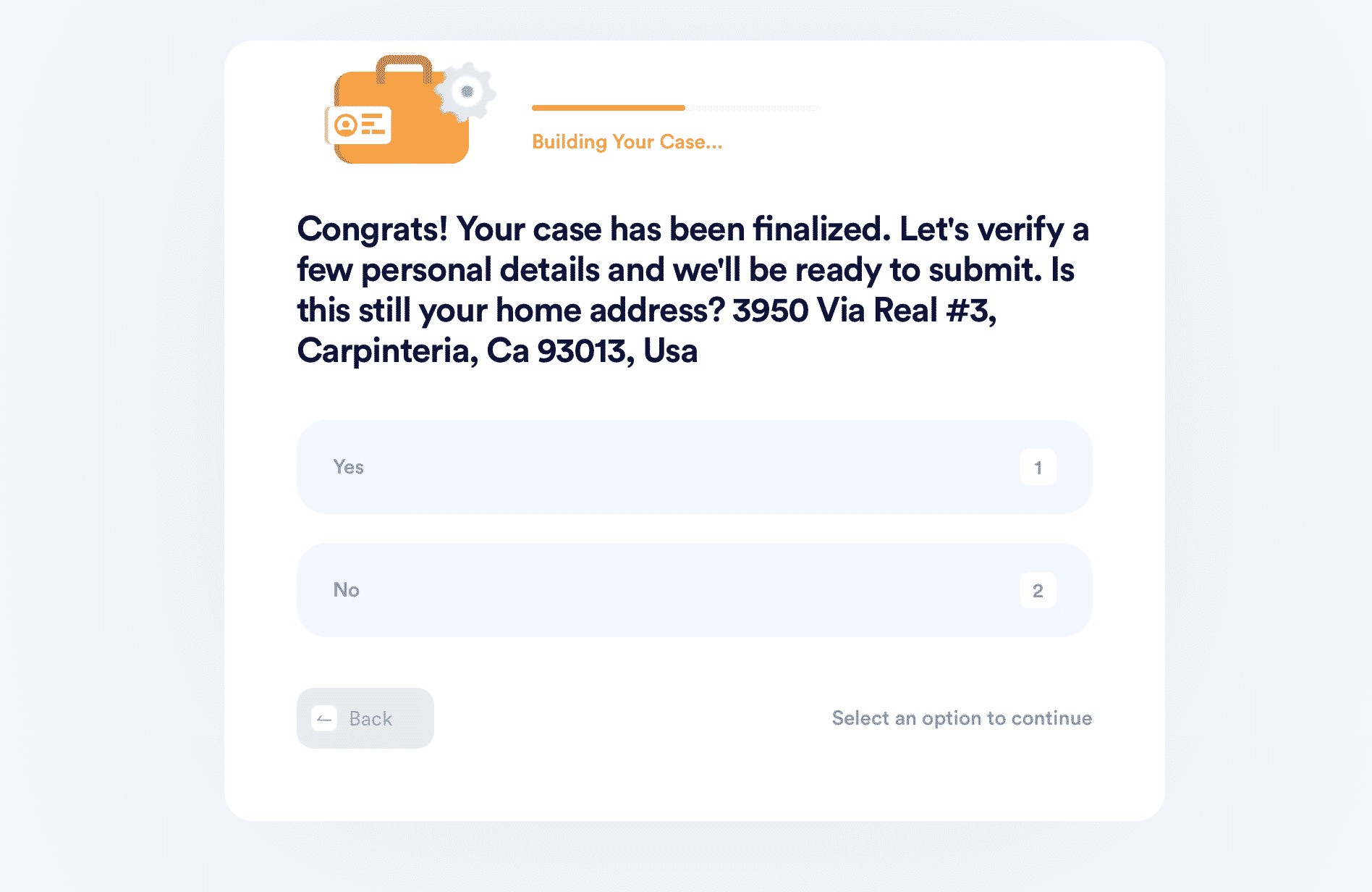 DoNotPay will submit a complaint and compensation claim on your behalf to the courier's claim department, saving you both time and nerves.
How Else Can DoNotPay Be of Assistance?
DoNotPay will help you take care of your item delivery problems and send a delivery refund request in your stead, but we can do so much more along the way. Use our app to find out how you can return an unwanted item to any company or get a refund for any service.
Not only can we clear a path to your rightful refunds, but we can get you the cash that's left on your gift card balance and secure any compensation you deserve. Use our app to get compensation for:
How To Use DoNotPay the Right Way
Many companies start spamming you with unwanted correspondence as soon as you start using their products or services, but our app can put a stop to that. If you use DoNotPay's Burner Phone and Virtual Credit Card products, you'll never have to supply your real info to random companies again. We'll make sure that you can subscribe to any free trial risk-free or cancel a service you don't use in a matter of minutes!
We'll also help you do boring tasks quicker or take care of them entirely on your behalf. Use our app to draft documents and contracts, get them notarized, or send them using an online fax functionality of our app. We'll schedule a DMV appointment for you, help you get access to public records, or find out what property tax exemptions you qualify for and how to apply in record time.